Home
»
Apple
,
IOS
Air PlayIt – Stream Video & Music From Your Mac or Pc to Your IOS Devices
While there are several choices in streaming music & video from your computer (Mac or PC) to your iPad, iPhone, or iPod Touch – Air PlayIt is a great option as it's simple to setup, it's free and one super nice feature is you can create separate folders with separate signins. Most of the drop files to be streamed software do not offer separate folders unless you pay so it's nice that Air PlayIt seems to be a secure and free option.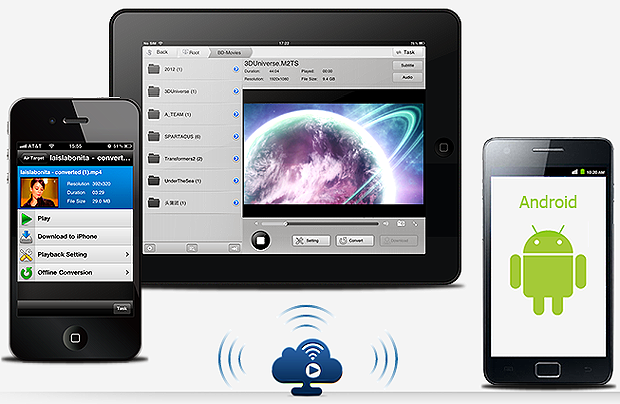 Start by downloading the Mac or PC app that acts as "the server." (right side – click on appropriate OS).
Installation is simple and straightforward.
It might look a little daunting but it's very straightforward.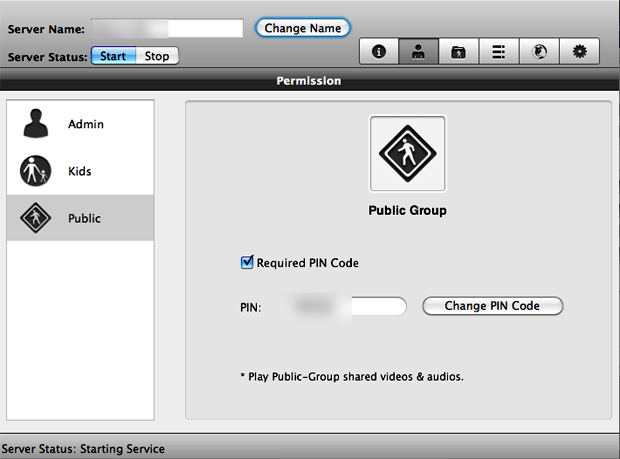 It will fill in your computer name (top – blurred out here).
You have three groups to allow access to. Yourself/Adults (admin), Kids or anyone else. You assign a PIN here.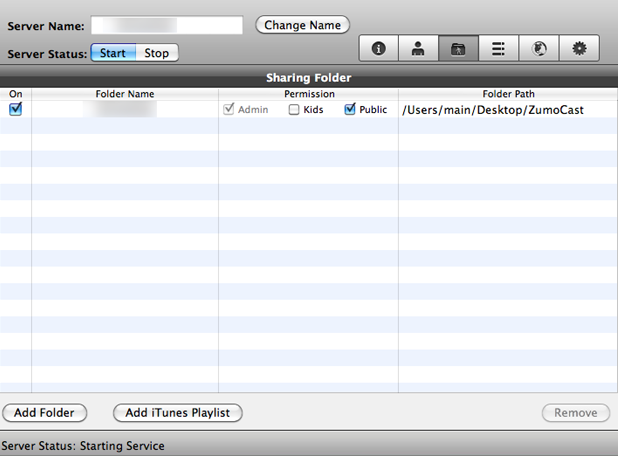 Next TAB is the one that points to your files – simply select the access level to THAT FOLDER. If you want to stream movies to your iPad at home or allow family members to – select ADMIN & PUBLIC. You can put the kids movies in a separate folder only they can access. You can turn off "public" access simply by de-selecting the option. Keep in mind they'll need the PIN and your server address to see the folder.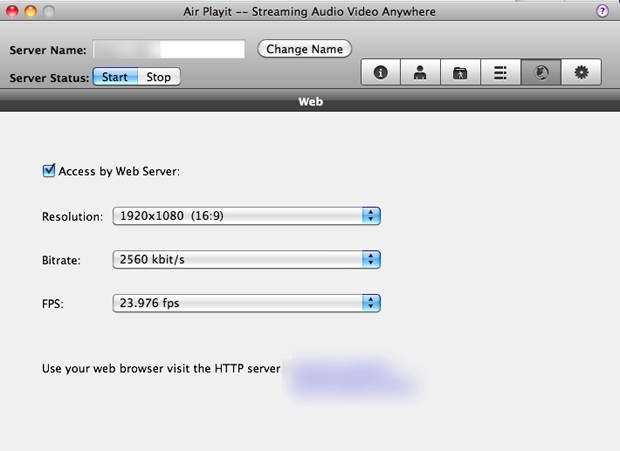 And as you can see, there are lots of quality settings.
Once you are set there, you can download the free IOS app (or Android app).
Now open the APP on your iPad or iPhone … it will look something like this. It will search your WiFi network for the server software on your Mac or PC. Then select that device (presuming you only have one WiFi networj in your house).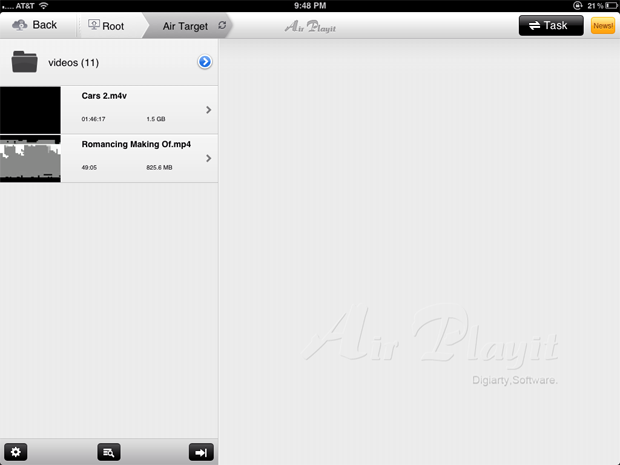 It will show your folder you assigned and list the films available. It plays a tons of formats (320 different video & audio formats to be exact – you can check the website for more details). It will even do automatic conversions from one format to a iPad compatible one if necessary. I did not test this out.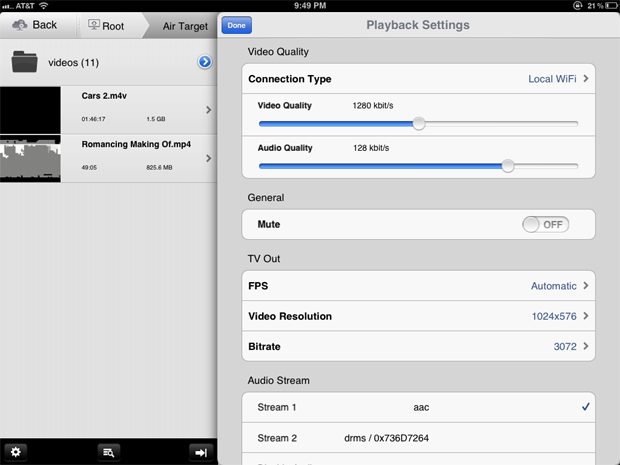 Once you tap play, it's pretty self explanatory so I did not bother with that screen shot. Quality is very nice – it obviously depends on the quality of your conversion – so if your conversion was done at high res, it'll play back at high res. It plays back without stutter – though of course, ultimately it's your WiFi signal strength.
(here was our last post on conversion software for DVD to digital files)
But again, you get a lot of nice options on playback.
It also does a nice job of playing protected DRM films from iTunes that you have purchased. While there is a LOCK ICON the file, if you tap it, it'll ask you if you want to play it via SAFARI (the Apple browser). Tap yes and it will launch and play the movie in SAFARI. It is a little odd but it plays fine, the resolution looks great and if you tap the FULL SCREEN setting, the browser bar goes away so it's like viewing any other film.
Air Playit means if you have a library of films on a hard drive, you do not need to waste time downloading it to view it on your IOS device – if your needs are mostly home or family member viewing over your WiFi network, this option is also great as it allows you to separate out kid friendly films in a separate folder that only they can sign into.
I did not test the outside your WiFi viewing as you have to fiddle with your firewall and that's another can of worms since every one of the 29,000 routers and firewalls are configured differently. If this feature is important to you and you're comfortable with it – it's pretty straightforward and you should know what you're doing if you can use the words firewall, port or IP address without cringing. 🙂
But at its most basic, it works great in sending video or audio files from your main computer to your IOS device (or Android devices) without you have to load files.
There are some other solutions which I'll cover in another post but it's the first free solution I've seen with multiple folder log ins.