Home
»
History
,
Music
Alan Lomax Folk, Blues, Americana Music Trove Now Available Online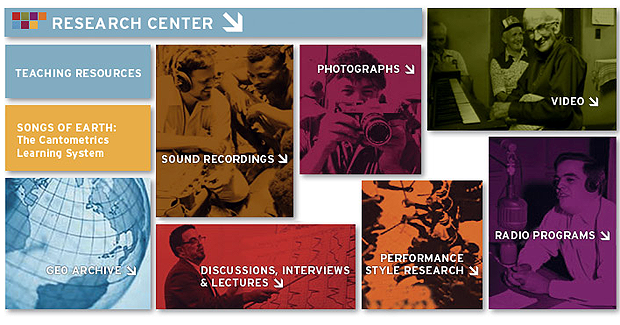 Some 17,000 music tracks, photographs, videos, lectures are all available stramed online at the Cultural Equity Research Center – cataloged and search-able.
For those that do not know who Alan Lomax is … (from Wikipedia):
From 1937 to 1942, Lomax was Assistant in Charge of the Archive of Folk Song of the Library of Congress to which he and his father and numerous collaborators contributed more than ten thousand field recordings. During his lifetime, he collected folk music from the United States, Haiti, the Caribbean, Ireland, Great Britain, Spain, and Italy, assembling a treasure trove of American and international culture.
A pioneering oral historian, he also recorded substantial interviews with many legendary folk musicians, including Woody Guthrie, Lead Belly, Muddy Waters, Jelly Roll Morton, Irish singer Margaret Barry, Scots ballad singer Jeannie Robertson, and Harry Cox of Norfolk, England, among many others. After the bombing of Pearl Harbor he took his recording machine into the streets to capture the reactions of everyday citizens. While serving in the army in World War II he made numerous radio programs in connection with the war effort. The 1944 "ballad opera", The Martins and the Coys, broadcast in Britain (but not the USA) by the BBC, featuring Burl Ives, Woody Guthrie, Will Geer, Sonny Terry, Pete Seeger, and Fiddlin' Arthur Smith, among others, was released on Rounder Records in 2000.
He also produced recordings, concerts, and radio shows, in the U.S and in England, which played an important role in both the American and British folk revivals of the 1940s, '50s and early '60s. In the late 1940s, he produced a highly regarded series of commercial folk music albums for Decca records and organized a series of concerts at New York's Town Hall and Carnegie Hall, featuring blues, Calypso, and Flamenco music. He also hosted a radio show, Your Ballad Man, from 1945-49 that was broadcast nationwide on the Mutual Radio Network and featured a highly eclectic program.