Home
» OUR STORE
OUR STORE
Take Five A Day: The Checklist Magazines!
From 2006 to 2020, we published a "yearbook" with EVERY single, deluxe, multi-pack, box set, exclusive, canon playsets, on card, or box set UNOPENED etc, etc … and also every CAR released that year OPEN. It is a COMPLETE recap of the year so whether you collect mint on card or are an opener, it is complete.
Whether you wondered what you missed or want to look fondly back, each year is completely captured in each "yearbook."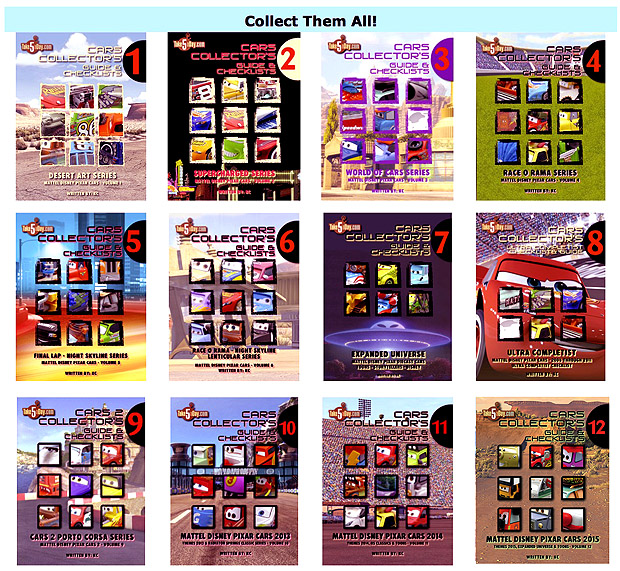 These issues are generally completed by January or February of the following year as we wait until absolutely everything has been released. That year's release does not always follow a calendar year so sometimes, in January we are still getting that "year's" releases.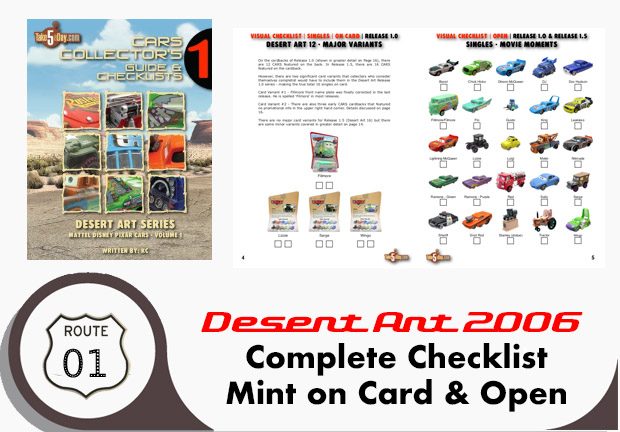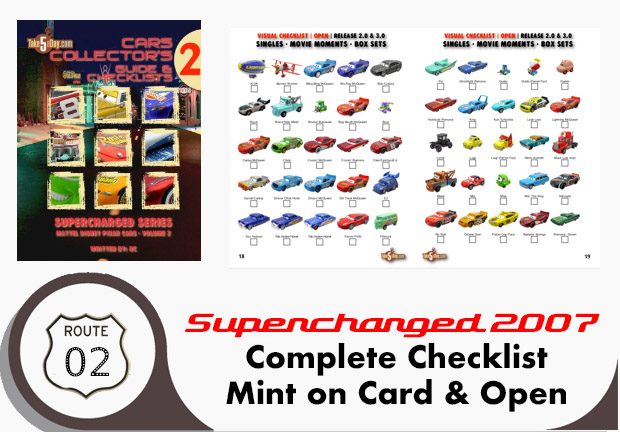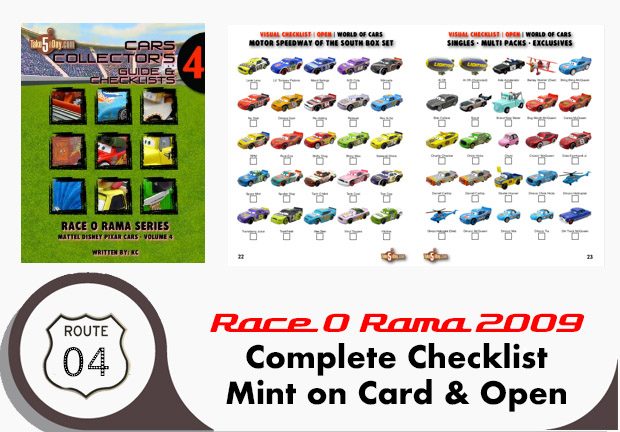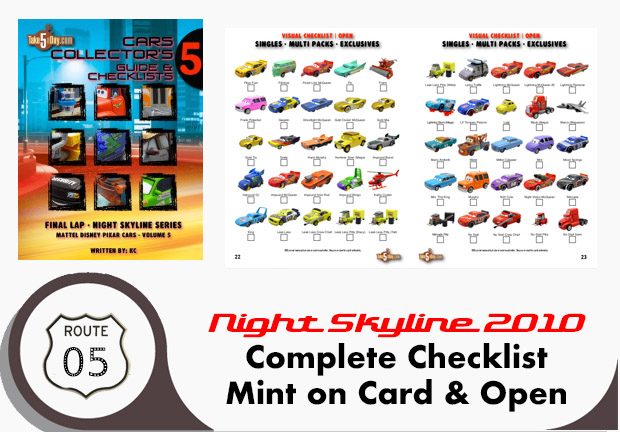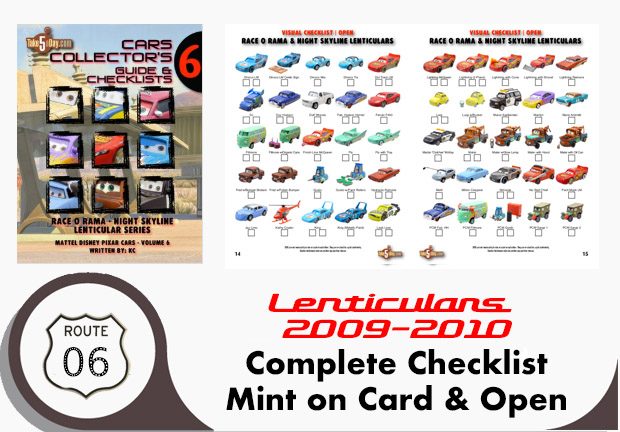 #9 CARS 2 Porto Corsa (2011-2012)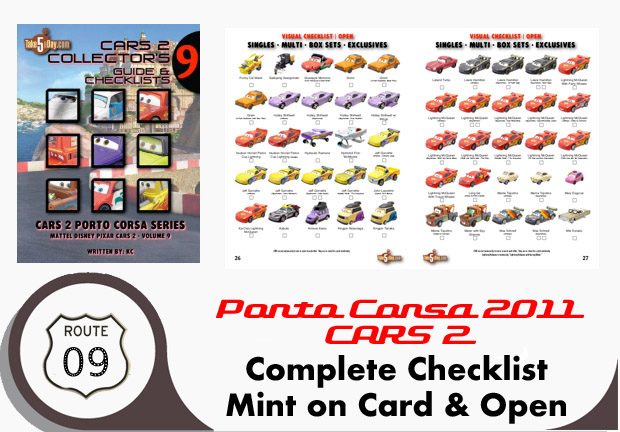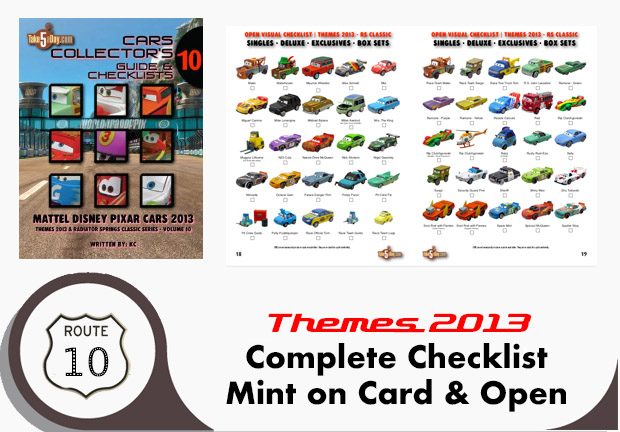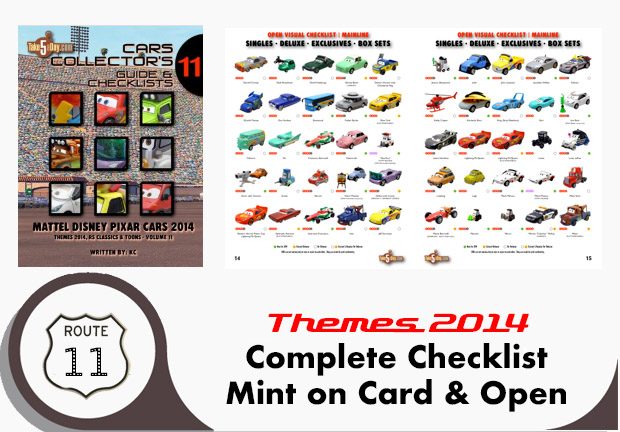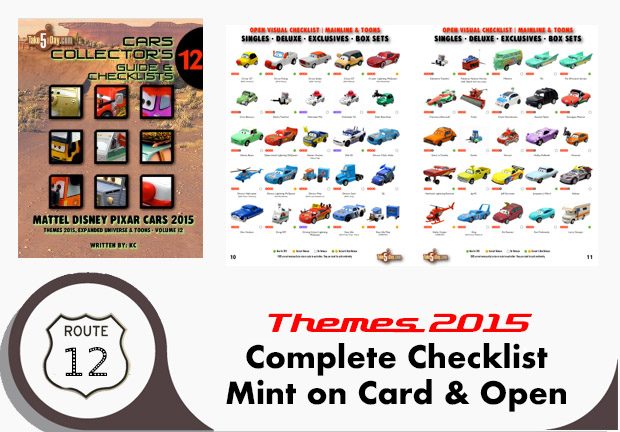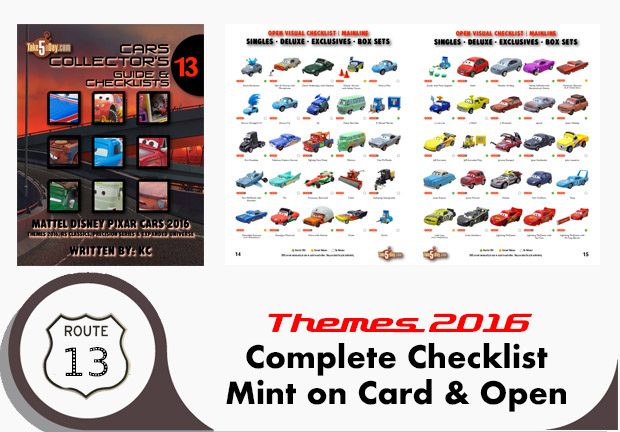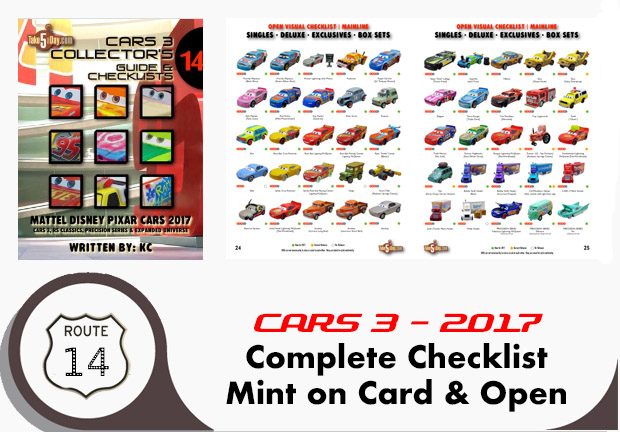 #15 Radiator Springs Red & Black (2018-2019)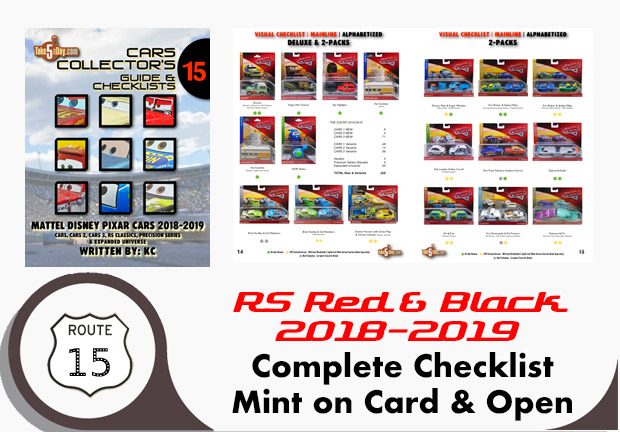 The 2020 Yearbook #16 LINK is HERE.
NOTE – #7 Expanded Universe & #8 Ultra Collectors are out-dated and are no longer available.
Our STORE at MAGCLOUD to view them all.
Create a FREE ACCOUNT at MagCloud to preview ALL the pages!
Once we complete the "Yearbook" for that year, we incorporate the new releases into our oeral checklists. These checklists only show OPEN CARS diecast (and not on card, unopened box sets, etc … that is ONLY available in the yearbooks).
If you are an opener collector or want all the OPEN photos together, we have three complete OPENER issues.
There are 2 complete open issues for ALL the CARS diecasts (CARS 1, CARS 2, Toons, Expanded Universe, etc … EVERYTHING)  – one is in alphabetical order and one in year by year (chronological order).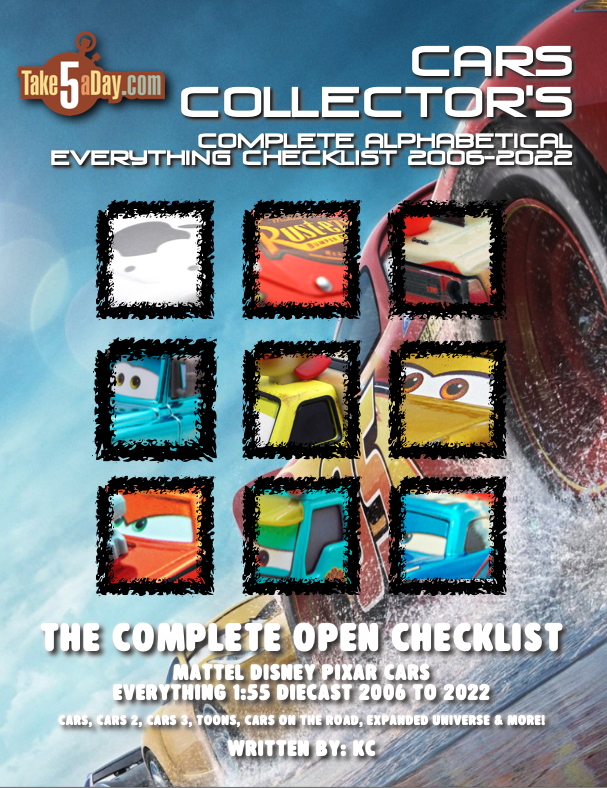 Mattel Disney Pixar Diecast CARS: The Complete Everything CARS Open Checklist 2006-2022 – MagCloud Link.
MagCloud also ships worldwide.
or
The AMAZON listing is the same as the MagCloud edition except that they insist the title not contain the words Mattel, Disney or Pixar so the modified title …
TakeFiveaDay 1:55 CARS Die Cast (Complete Collector's Guide 2006-2022) – Amazon Link
UK, Spain, France, Italy, Germany, Japan, Canada & Australia. It might be listed elsewhere – do a search, if not, email me and I can see if there's a specific link … of course, it's only in English.
This magazine checklist shows EVERY release in ALPHABETICAL ORDER from A to Z. Every new diecast in alphabetical order from whether it's from CARS, CARS 2, CARS 3, Toons, Storytellers, Holiday Storytellers, mail-away exclusive and even properly scaled Disney Store CARS all together.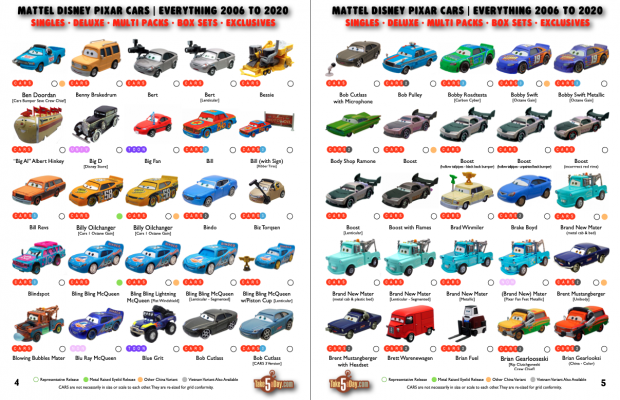 Or if you want a PLANES/PLANES FIRE & RESCUE checklist only ...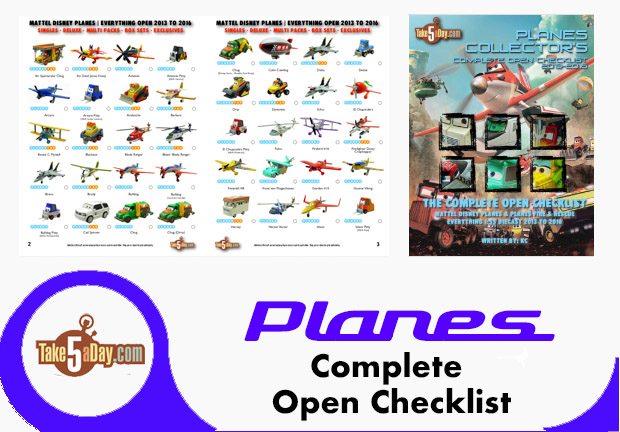 You can preview all the issues here. Click on each issue and then on PREVIEW to flip through the pages.
MagCloud also offers DIGITAL versions of all the checklists.
These are printed on-demand and 100% secure as you are purchasing directly through MagCloud who will print and mail them directly to you. We do not see your transaction.
We have also added TWO Amazon versions of the overall OPEN checklists:
They contain the EXACT same information and photographs – the only difference are the Amazon versions are more "book" like with heavier stock covers and Amazon offers free shipping.
Mattel Disney Pixar CARS: Complete Diecast Singles 2006-2010: Volume 1: On Card • Mint in Box (Mattel Disney Pixar CARS: Complete Diecast Mint on Card & Box)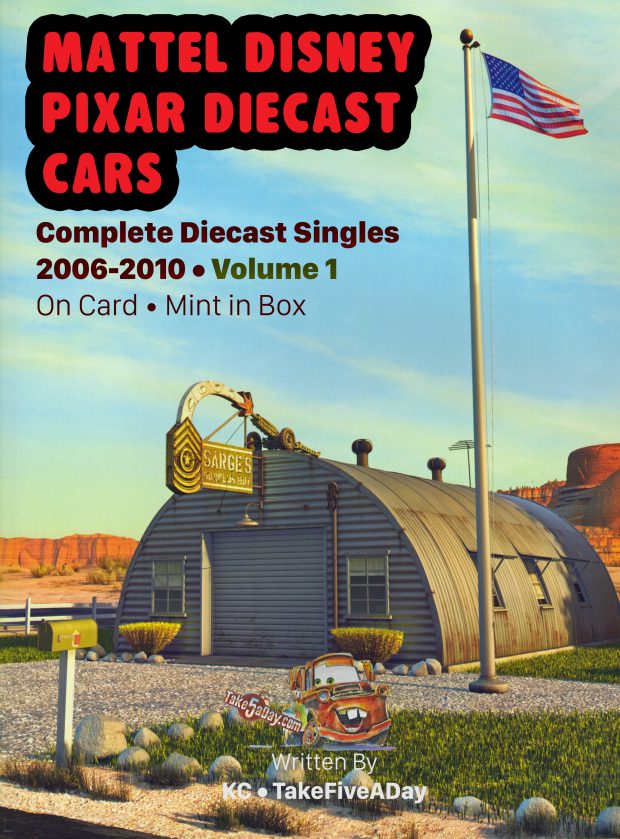 Thanks for your support of T5!
Or the Mattel Disney Pixar CARS Character Encyclopedia – Written for DK Publishing.