Home
»
Apple Mac
,
Mobile
,
movies
MacX DVD Ripper Pro: Best Way to Copy & Convert Your DVD's in 2011 + CONTEST!
As some of you might've stumbled upon, most of the movie studios have updated their DVD "protection" scheme to create problems with many other DVD copying & converting software.
You get an error message you don't have enough disc space even though you have hundreds of GB's left on your HHD or the disc takes 20-minutes and is still not mounted.
MacX DVD Ripper Pro takes care of that and is updated for the latest 2011 schemes and roadblocks that the studios try to throw at us.
When I buy a DVD, I want transportability. I want to view it on my iPhone or iPad. I am not a pirate and I am not uploading to offer it anyone else. I simply want more convenience. It's great when they offer a multi-disc version with a digital copy but often times they do not … and as much as I like iTunes, I am not willing to pay another $14.99 when I'm holding the DVD in my hand and want to watch it on my iPad.
And while DVD's seem fairly impervious to damage, they are easily scratched so it's much easier to deal with a device loaded with a couple dozen movies than carrying around 20-discs in the car or on the road.
Most movies are about a MB a minute at a great resolution so you can figure a 90-minute movie at excellent quality will be about 1.5 GB … now you can go a little lower on the resolution but you can generally figure about 1 GB for a solid resolution conversion-rip. Based on the storage space you have, you can determine how many movies you can load.
If you plan on converting-ripping a lot of DVD's to your device, I recommend buying an external DVD reader-burner like this $37 Samsung one from Amazon.
I find the peace of mind is worth the extra $40 – it's so much easier to disconnect an external drive and remove a disc if a problem arises than trying to dislodge a disc stuck inside your machine. If you only a few dozen DVD's to convert, it's probably un-necessary but if you have hundreds, then it's probably worth buying an external drive to save wear and tear on your internal drive and of course, peace of mind and easier to resolve stuck disc problems.
MacX DVD Ripper Pro could not be easier to use.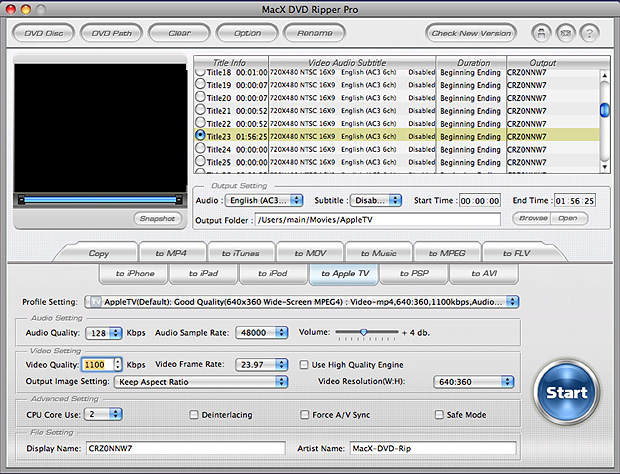 This is pretty the one and only screen of the app.
At first glance, it can look a little overwhelming but I think for 98% of users, a couple mouse clicks will get you going.
Click on DVD Disc in the top left tab. It will pretty much search and find the DVD disc in your drive – presuming you only have one DVD disc drive – click OKAY on the DVD disc you want to convert. It will take a few seconds to load the the "TITLE" info on the right.
The "NORMAL."
Under normal circumstances, your DVD (movie) disc has the the main movie, some trailers and maybe a few mini featurettes so they will be listed in that "title" area.
If you want copies of them all, just click on each line item in the TITLE INFO area so the button on the left is highlighted. If you only want the movie converted, then just click on the movie. If the name is cryptic, just look at the time length – the movie should be the longest one.
In the OUTPUT settings section, you can even switch from English to a dubbed language choice, whether you want subtitles and the "output folder,' where you want the file to be saved to.
Then in the bottom tabs, you can select what file format you want. I'm not going to bother covering them all because if you know all your choices, then you are an advanced user and you don't really need all the detailed info.
For most users, the choices are really APPLETV, IPAD or IPHONE as they cover all the formats you need for the most flexibility.
AppleTV is the highest resolution and will allow you to play it on your computer (Mac or PC) and of course stream it to your AppleTV device hooked to your TV.
But the AppleTV resolution and setting is too high to drag straight into your iPhone or iPad so if you want a file designed for your iPad or iPhone, you might prefer to select the iPad or iPhone setting.
It's great if you have an older iPad, iPhone or iPod as you can select the specific resolution choices for your device.
Once you select the TAB choice – you then select the "PROFILE SETTING" popup menu.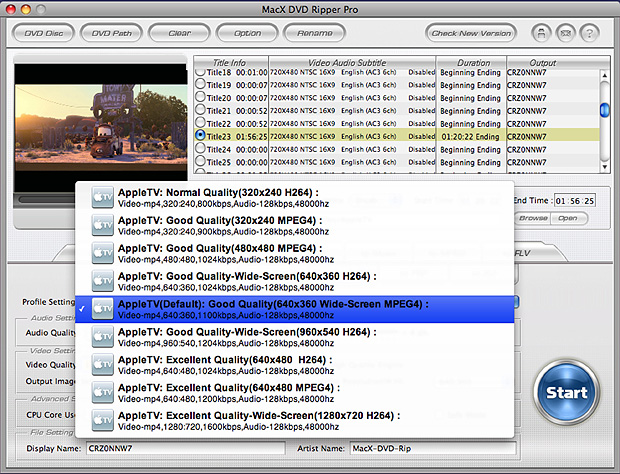 There are different ones for each choice – here are the AppleTV choices. You can experiment but I would generally recommend EXCELLENT QUALITY WIDE SCREEN H.264 for all your choices but you can decide what you like best. The tradeoff is the higher the quality, the longer it takes to convert and the file size is the largest.
(If you are ripping-converting your iPad or iPhone, then select one of the iPhone or iPad popup choices to assure it will be compatible, AppleTV settings are too high to directly copy and transfer over to your portable iDevices though fine for a laptop).
The other settings are pretty straightforward … some are optional …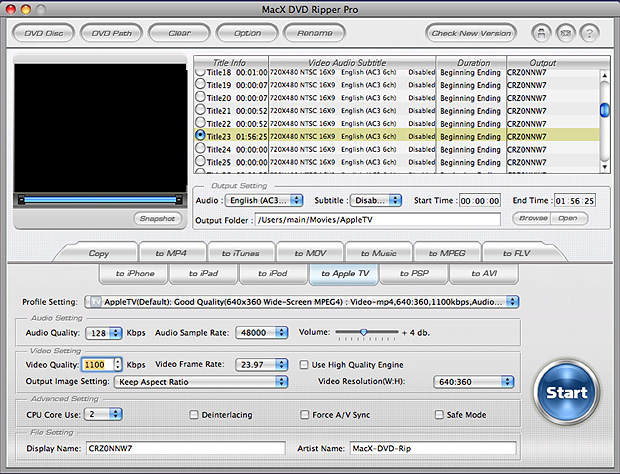 The Audio Quality is for advanced users if you want to tweak.
The Video Quality numbers will change depending on the PROFILE SETTINGS you choose above but again not necessary to further tweak unless you want to.
I do select HIGH QUALITY ENGINE which slows down the conversion a little but you get a beautiful conversion – again, it varies. Maybe if you are ripping for the kids, you skip this setting to speed up converting? 🙂
Sometimes if you see "banding" when watching a DVD, you will want to select DE-INTERLACE or FORCE AV SYNC if for some oddball reason the audio and video are not synced – unlikely but setting is there for some low end DVD's.
Then just click the big button, START. It takes over from here – it might take anywhere from 30-minutes to a couple hours depending on the processor speed of your Mac or PC. (This review only covers the Mac version but there is a PC version which should look essentially the same).
Now, the reason you need MacX DVD Ripper Pro is that many movie studios have looked over the "free" DVD converting-ripping software and have purposely created roadblocks to confuse them … For instance, here is the CARS DVD.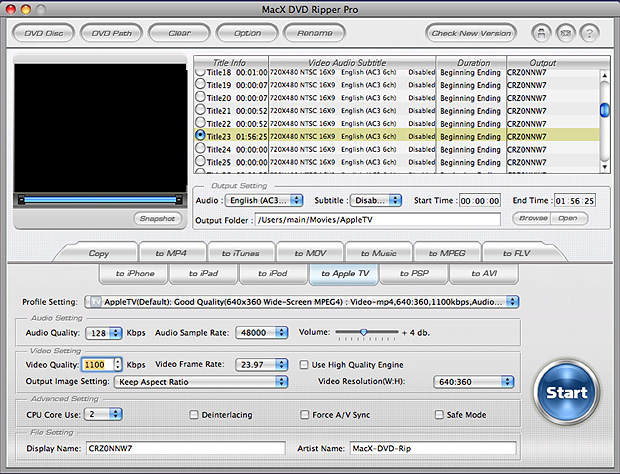 If you look closely, you'll see a bunch of tracks (like Track 24 & Track 25) which has a running time of zero just to confuse most DVD ripping software but MacX DVD Ripper Pro sees through and lists the proper ones to convert including Track 23 which is the main film. See the blue scroll bar on the top left, you can also preview scroll that track to make sure it's the one you want. You can rip-convert more than one track by clicking on each one you want so the blue bubble is selected.
For instance, if you want the PETER PAN trailer … click on the left button to "add" it to your queue.
It's TRACK 35, not evident from the title but scrolling through the preview window will assure you it's what you want (or don't want).
You'll also notice that if you select and move the scroll bar, the "START TIME" and "END TIME" window will change (middle right). This allows you just to select a portion to rip-convert. It would be nice to have a chapter option but this visible preview is a nice alternative.
And you even get a screen grab option … for instance from the Mater scene above, you get a nice high res snapshot by clicking on SNAPSHOT (er, duh 😉  ).
All and all, MacX DVD Ripper Pro works great and the quality is great.
It's both simple for those who just want to simply click by selecting a few choices and convert a DVD to a digital file to view on their handheld device.
For power users, every setting has an option for you to tweak – including a lot of features I did not discuss in great detail such as a huge select of file formats and even making a DVD copy to a DVD.
You can read more here and here about all the power user options and tech specs.
But for the casual user who just wants to do it without effort and just wants it to work – MacX DVD Ripper Pro is an easy and great choice.
While there are some free options out there that worked well before, in 2011 this is simplest the best and easiest solution with at least half the DVD distributors implementing some weird "error" addition to the DVD to try and screw up your DVD reader and computer when you try and make a backup or digital copy.
With MacX DVD Ripper Pro, they actually figured out what weird scheme has been implemented and with a few clicks, you are good to go.
You can buy it here at the Digiarty store.
But wait there's more! They sent along a review copy for us and THREE FREE copies of MacX DVD Ripper Pro to give away.
CONTEST STARTS now and ends Saturday, March 5, 2011 11:59:59 PST US. You may enter once every 12 hours with the following block of text (filled in) in the comments below:
CONTEST ENTRY
The movie I have seen most in my life is _____________. I think I have watched it ______ number of times.
(Don't be embarrassed if it's WEEKEND WITH BERNIE'S – we won't tell anyone, we swear! 🙂  ).
International entries welcomed.
(there is a PC version also so if you are selected as a winner, let us know if you want the Mac or PC version).
Thanks Digiarty!