Article Archive for 19 March 2012

Fisher Price Wheelies
Posted in
Toys
on 19 March 2012
Stats: and
2 Comments
I could swear this toy line reminds me of something …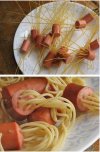 Astound Your Kids … Well, at Least for a Second …
Posted in
Food
on 19 March 2012
Stats: and
8 Comments

Mattel Disney Pixar CARS 2: Quick Changers Animated GIF's from John H.
Posted in
Disney Pixar CARS 3
,
Mattel Disney Pixar Diecast CARS 3
on 19 March 2012
Stats: and
5 Comments
Not only did John H. photograph his entire Quick Changers for your collecting edification but for your entertainment pleasure, he has made animated GIF's of them in action. Too cool! (here's the entire set so far). Thanks, John H.! Nice! You can check out photos of the Crash & Change Track Set from earlier today.