Home
»
Advertising
,
Checklist
,
collecting
,
Film
,
Marketing
,
Mattel Disney Pixar CARS
,
Retail
,
TV
Mattel Disney Pixar CARS: The T Case Assortment
2008 is drawing to a close.
CASE T might be one of the last cases for the Mattel calendar year 2008. They like to start the year a few months earlier than most people 😉
So, not a bad case as it will give people a chance to catch up though there's really only two new CARS …
Here is what should be in Case T …
Axle Accelerator (3)
Bling Bling McQueen
Cactus Lightning McQueen
Dinoco Chick Hicks
Dudley Spare (Octane Gain Pitty)
Doc Hudson
Ferrari F430
Fillmore
Fred ('Stickers' CHASE VERSION)
Leroy Traffik
Lightning McQueen
Kathy Copter
Pit Crew Member Fabulous Hudson Hornet
Roman Dunes (No Stall Crew Chief)
Stacey (Leak Less Pitty)
Tar Lightning McQueen
>
Again, no real guarantees until it's cracked open.
The only disappointing news is that Fred (re-scaled) "blank" is no longer scheduled for this box so every Fred in this shipment appears to be the 'stickers' chase version.
It looks like there will be 20,000 of "Stickers Chase" Fred along with "Stickers Chase" McQueen (in CASE R) produced. While I have no idea of the number of sealed boxes Mattel actually sells of each, it would seem to be a pretty close approximation of how many each cases are produced – about 20,000. The calculation would go something like this – there are about 3,500 Wal-Marts, 600 TRU and 1,500 Targets in the US, while they each don't carry the same amount of CARS, presuming they each get an average of 2 cases, that is about 12,000 cases with the remaining 8,000 going to smaller retailers (KB, supermarkets and third party sellers) … it seems logical that each of the 20,000 cases includes a 'chase' CAR … of course, I'm not saying it's 100% correct but it seems safe to guess that way. But NO GUARANTEES of course, not by me nor Mattel 😉
Unlike the Hot Wheels/Matchbox shipments where no one is quite sure what is in a case until it's open, based on the past 2 years, it's pretty much 99.999% assured that the 'quasi-announced' cases are correct when it's the next few shipments we are discussing. It's like the weather, tomorrow is rarely a surprise … next Thursday is another story.
While Fred will be harder to miss, I'll bet a few people skirt over the McQueen thinking they have it all …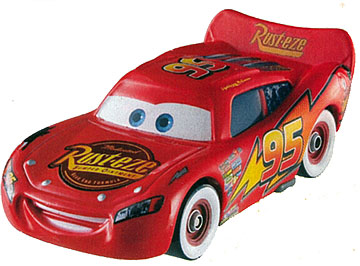 Good luck!
(BTW, there is no CASE S …)
Latest word on Movie Moments.
Piston Cup Racers (with updated launchers name & packaging change).
Gift 3-Packs (no real changes – dates pushed back).
WM Mack, Storytellers and More …
Don't Forget the Collector's Club launching next week.
Also Don't Forget to Enter New Contest!



metroxing

16 July 2008

Advertising, Checklist, collecting, Film, Marketing, Mattel Disney Pixar CARS, Retail, TV


10 Comments