Home
»
Advertising
,
Apple
,
CARS
,
Checklist
,
collecting
,
Film
,
Marketing
,
Mattel Disney Pixar CARS
,
Media
,
Retail
,
Toys
,
TV
Mattel Disney Pixar CARS: Piston Cup Racer Checklist & What's Next (Fall 2008 Update)
Of course, if you bought the Motor Speedway of the South set, you now have 36 Piston Cup Racers … not counting duplicates.
If you're collecting them only as they are released, you should have 14 of the Piston Cup Racers:
Lightning McQueen
Chick Hicks
Dale Jr.
Gasprin
The King
Leak Less
Nitroade
No Stall
RPM
Octane Gain
Re-Volting
Tow Cap
Trunk Fresh
Vinyl Toupee
With of course, Trunk Fresh & Re-Volting hitting the shelves bringing us to 14 available outside the set.
Re-Volting (Race & Chase Gift Pack).
Next up, the quasi-announced Gift 3-packs of Shiny Wax & Spare Mint (with a Pit Crew & a Crew Chief) …, that would be 15 & 16.
The latest two are Easy Idle & Tank Coat coming as the next launchers (or newly named – Pit Row Racers). No actual date but just during autumn …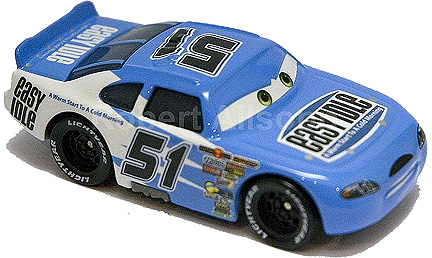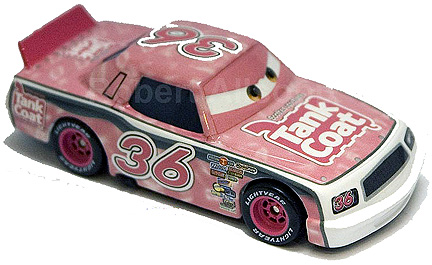 Now, we have the next Pit Row Racers/Launchers after them including: Fiber Fuel, Mood Springs, Retread, Shifty Drug & Vitoline. There is NO release date – just scheduled so these probably won't be out until late 2008 or early 2009. (Shiny Wax will also be released as a launcher but not shown again as the Gift 3-pack version should be out first).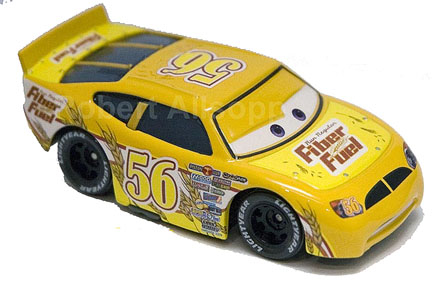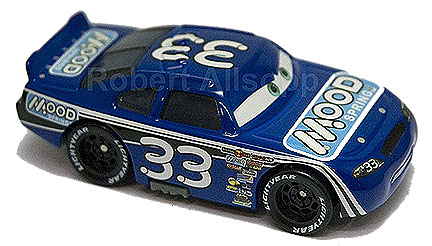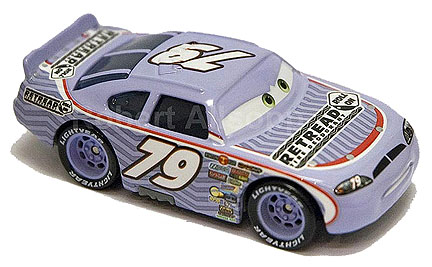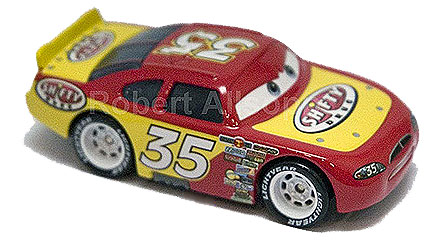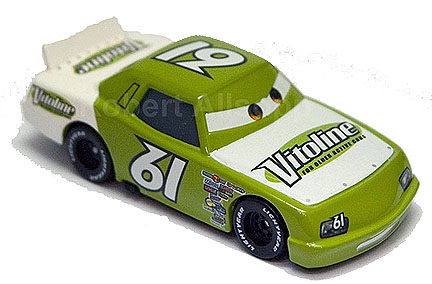 There are scheduled for the the Fall of 2008 list: Sputter Stop, Transberry Juice, & View Zeen in what appears to be as singles (based on the TRU promotion).
For Sputter Stop, Transberry Juice, & View Zeen, it doesn't appear they will be a Movie Moments pack and it seems unlikely they will appear as singles – my feeling is they will be part of a box set, Dinoco 400 Part II? Like last year's 7 Piston Cup Racers, we'll get 4 repeats and these 3 as the new? Now sure but I'm throwing it out there … and/or will they be designed like the Race & Chase Gift Pack above so if we buy all 20 Gift Packs along with the Motor Speedway track, we can build a giant track?
So, at the end of 2008 or early 2009 – we should be at @26 Piston Cup Racers available outside the Motor Speedway set which brings up several interesting points.
a) That means only 10 Piston Cup Racers are un-scheduled as of now … including of course, the Apple Car – our thoughts on its arrival is here.
b) How will this affect the MSOS set pricing? Now, that 26 of 36 CARS will presumably be available by Spring 2009?
c) If you're collecting down the line, do you care if a Launcher release is substituted in for what came with the Motor Speedway set. Well, if you do, you might want to keep track of the production numbers assigned to the Motor Speedway CARS – they are different from the regular releases … of course, it's impossible to keep track of each version – for instance, my opened, original April 2006 McQ has no production code under the CAR but the latest launcher does and presumably that number is different than the WOC version and the SC version … suffice to say, I think it's easier to keep track of the MSOS set & any deviation from this (yes, numbering for Tow Cap & Gaspirin from the Movie Moments IS DIFFERENT than than the numbering for the MSOS set – even though you would've thought they'd be the same based on the presumption they'd be in production at about the same time.
For those who like to see a sampling of production numbers from the MSOS set, please check out our EDITGRID MSOS page and feel free to add your numbers into our DB. There is NO password or login.
Below is our updated chart if what's out in what format – known upcoming releases have a black border but note that until it actually gets released, consider that info an approximation.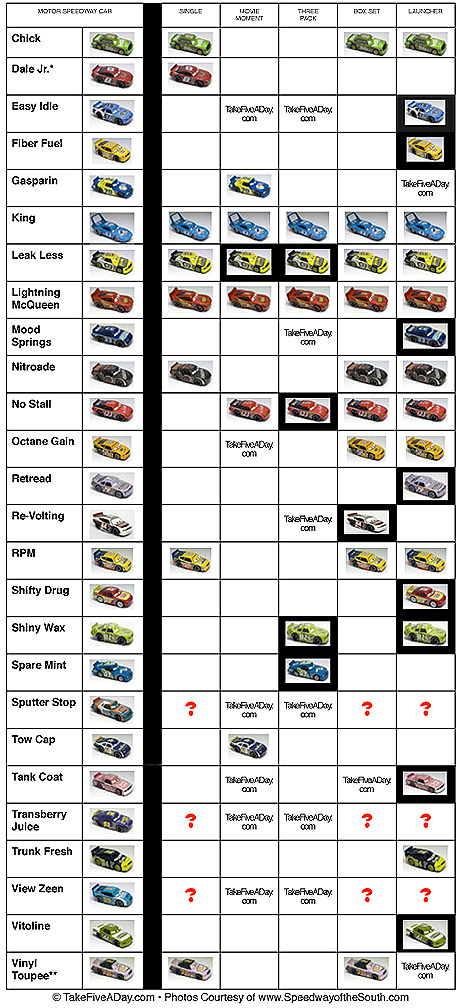 * Of course, at this point, Dale Jr's 'aggro' face is only available as a MSOS Piston Cup Racer … when Mattel switches from the WOC motif, will Dale Jr. be changing to v2.0?
** Vinyl Toupee was available in the UK as a bagged version as part of a promo.
ALL Piston Cup Racer PHOTOS courtesy of Robert & www.SpeedwayoftheSouth.com and used with his permission. Be sure to check out Robert's site for full-sized photos of all the racers. Thanks!
And happy collecting!
For those who want to see your Piston Cup collection grow visually? Check out the Photo Checklist post.
More specific info on launchers are here.
The trailer/haulers that accompany each racer – preview here! Release schedule here.
Piston Cup racers coming in the Gift 3-packs are listed here.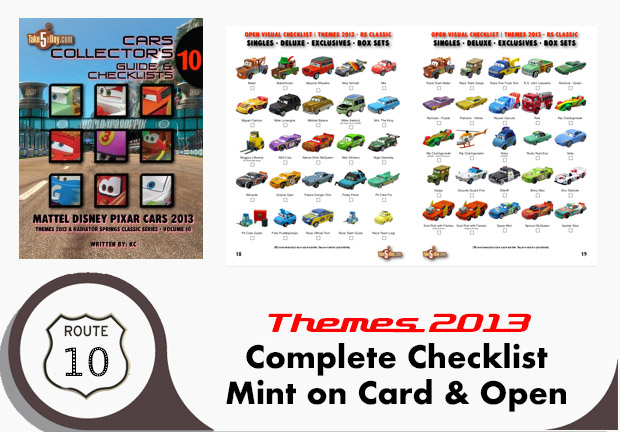 metroxing

4 June 2008

Advertising, Apple, CARS, Checklist, collecting, Film, Marketing, Mattel Disney Pixar CARS, Media, Retail, Toys, TV


47 Comments