Home
»
Advertising
,
Checklist
,
collecting
,
Film
,
Marketing
,
Mattel Disney Pixar CARS
,
Retail
,
Toys
Mattel Disney Pixar CARS: Step Forward Official Movie CARS … Um, Smell Swell McQueen & Wedding Ramone, Not So Fast
What makes the Mattel Disney Pixar 1:55 CARS one of the greatest diecast CAR lines ever?
1) Most critical of course – detailed sculpting by master hands;
2) Also important – The multitude of choices;
3) Appropriate & quality materials (aka: production);
4) And most subtle of all, the other main aspect for the greatness of the line has been its fairly strict adherence to the movie.
We love the movie, we want the CARS that are in the movie and Mattel has delivered.
Of course #1 is great sculpting – that is part accuracy but mostly artistry. You just have to look at the Disney Store diecasts to see what happens when it's all just slapped together … McQueen is a little short and squat which others are widely out of scale overall, they just are just product because they needed something to fill a store shelf. Of course, Mattel is also producing mass market items but their attention to details is just a starting point – more importantly, they captured the spirit of the characters. That's what sets it apart and makes it great and an all time classic.
Add in the second critical ingredient for success, now 2+ years later, we have over 100 characters – great and amazing!
But great sculpts and lot of characters can be wasted if the production quality isn't there … and while we have a few quibbles here and there, it's just nitpicking – you don't have to look far to see Mattel's decision to go with the cheaper all plastic for the body and wheels of the Speed Racer line to see where things can go astray. While the sculpts were nice and there was certainly a wide selection, by going with all plastic for the body & wheels – they didn't do the line any favors. It didn't help the movie bombed but if everything was in place, diecast collectors would've been all over the line anyway.
And lastly, another great component of why this line is a keeper and a classic is its fairly strict adherence to the movie.
Sure, there were/are a few production errors here and there – some rims the wrong color, some missing decals and a few quibbles about scale but really, not much to complain about in comparison to everything that's right with the line.
There have only been two 'official releases' that are of questionable canon.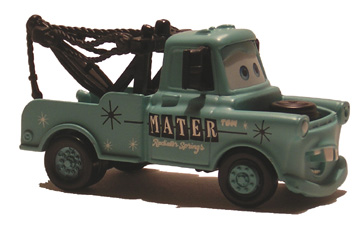 Rollin' Bowling Mater as he's now called is never seen in the film. While we did see a (Brand New) Blue Mater, the logo treatment for his towing service did not look like this and while in the flashback scenes, we never saw him without his (brand new) blue hood.
You can see that the Brand New Mater diecast is a great approximation to the flashback scene Mater:
… down to correct rim colors … so for many, Rollin' Bowling Mater is not considered canon and for them, not part of their diecast collection … and it would be a good argument if Rollin' Bowlin' Mater only appeared in the Rollin Bowlin' Mater game … but since Rollin' Bowling Mater was included in the BJ Warehouse set and later (and more importantly), the 2006 Factory Set, it's pretty hard to argue against its 'canonism' even if he never actually appears in the film.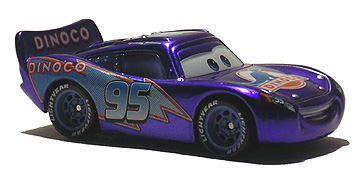 Blu-Ray McQueen also never appears in the film and is not canon. For some, that is enough not to add him to their collection and in this case, for strict adherents to the CARS DIECAST "fundamentalists" 🙂 … there's not much argument from anyone.
However, that's entirely your call. We will not judge you – personally, I thought he was pretty cool so why not.
There are also a couple Macks that fall under this category – for instance, in the film, Mack is never a multi-car transporter and did not transport these three CARS at the same time. The Mega Mack playset of course has him carrying entire parts of a town … 🙂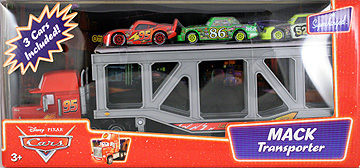 But since Mack is all plastic and his transporter is out of scale anyway, it was a minor issue that didn't require us to form an Ecumenical Council 🙂 …
However, we are entering a new phase where your dogma will be tested …
There is an upcoming Mack as Walmart Transporter …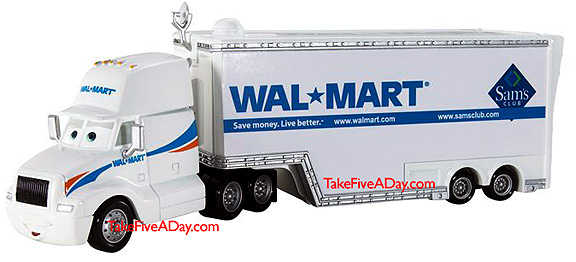 Are you a believer or would you cast him out like a sinner stone?
HOWEVER, this is a minor decision in comparison to what's coming next … (next as in the next few months – unsure exactly when).
Say hello to "Smells Swell McQueen" and "Wedding Day Ramone."
THE UPDATE & FOLLOWUP POST IS HERE – Comic Con photos & the story behind this release.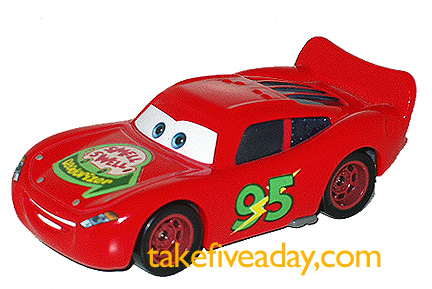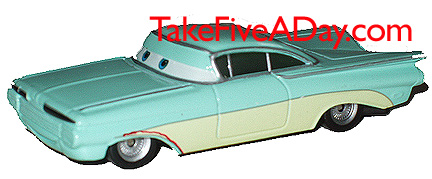 First, yes, these are diecasts, they are from Mattel, they are 1:55 in scale.
And yes, you thought there were no more Ramone colors …
While I don't have all the details yet, it appears they will each be included with a book in a series called CARS Storytellers. I'm presuming there is a story that matches each CAR.
REVISED!
The full list of 12 CARS in the series with the 4 NEW CARS in RED is:
Brand New Mater
Doc Hudson
Dusty Rust-Eze
Flo
Fred
Retro Ramone
Red
Rusty Dust-Eze
Smell Swell Lightning McQueen
Sponsorless Lightning McQueen
Tractor
Wedding Day Ramone
Of course, the two OBVIOUS NEW ones are photoed above and since the others do not have a "new" prefix/name attached to it, we can probably presume they are re-issues of the CARS already out … AND YES, they are listed separately when you would think it would be logical that since "Wedding Day" Ramone looks like (Still in Her Wedding Coat? 🙂 ) Flo – shouldn't they be paired together in their own wedding story? Unsure but they are listed on separate lines with their own production codes so I'm going to presume there are 11 different books with 11 different CARS (yes, it's 11, not 12, I went back to check) but of course, when they are released, we'll know for sure.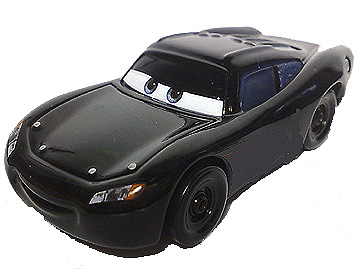 (not real pic of Sponsorless McQ – this one was easiest to mock up – I'm presuming Sponsorless McQ will be all red).
Of course, I trolled the internet to see if I could unearth something more – I did find an old series of Disney Storyteller books with audiocasettes … not sure if they are resurrecting the series – now on CD presumably if they are.
But anyway … we grow another branch of the CARS family … you going to call them kin? Or are you going cast aspirations? 🙂
Personally, since it's metal, since it's Mattel and since it's 1:55, I'm in …
Thanks "T" for the photos!



metroxing

13 July 2008

Advertising, Checklist, collecting, Film, Marketing, Mattel Disney Pixar CARS, Retail, Toys


19 Comments