Home
»
CARS
,
collecting
,
Mattel Disney Pixar CARS
Take Five a Day Contest #2: SIGNED Lightning Storm McQueen
Thanks to everyone who entered our first Contest and has moved with us to our new site.
Congrats to Christine C. – winner of Contest #1 and whose son is playing with the winning prize properly – open & with a smile 🙂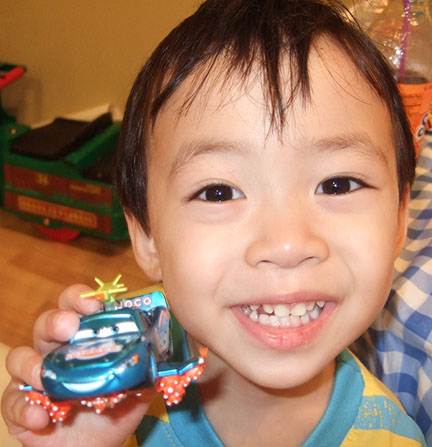 Well, it's time for CONTEST #2 – and it's a great one!
Martin Arriola, the Mattel designer who manages and supervises the CARS design team has signed a SD Comic Con Lightning Storm McQueen for us!
But since this one is real special, we'll make the giveaway a little special also – we want to make sure this Lightning Storm has a nice place of honor at a deserving CARS collector and it's not just as an eBay item 🙁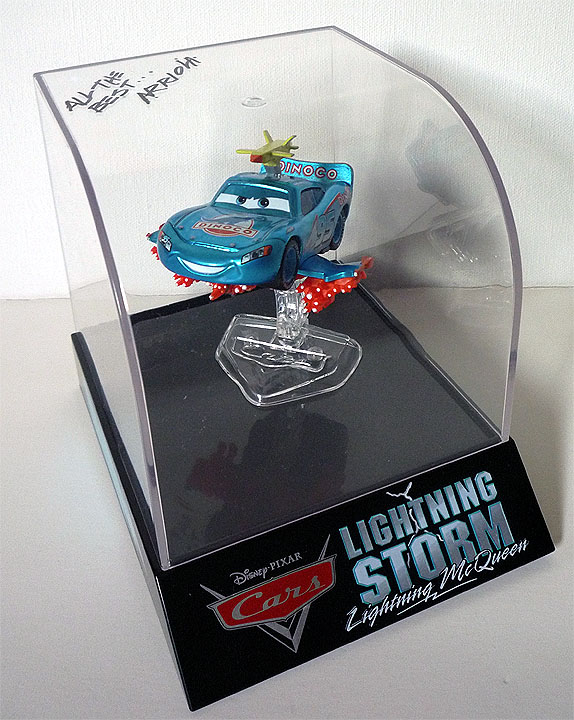 So, the first part is still totally random. Send no more than 2-emails per email address in an 24-hour period to: CONTEST CLOSED-OVER from right now to September 1, 2008 midnight U.S. PDT. Thanks for entering & voting! WINNER HERE

We're not going to be fanatics if you're a few minutes off each day, that's fine but we can see if you submit more and yes, you can submit more than one email address but again, no more than 2 per email every 24-hours.
In the subject line – make sure it reads: SDCC (all caps, no caps, etc is all fine).
No need to write anything in the body of the text – just make sure SDCC is in the subject line of your email. Your only eligibility requirement is that your email REPLY TO address works for the first part of the contest.
On September 1 (US PDT), we will draw FIVE names. Those 5 selected will then you will be required to subject a photo of where you will place this LS McQueen in your collection and we'll let the readers of TakeFiveADay decide the ultimate winner. (the 5 selected will all be different entrants – even if your name is selected twice, you will only be allowed to enter 1 photo and we select a new/additional entry choice).
We will give you a final date by which you will submit a photo then. (Do NOT submit photos now, you only need to submit a photo if your name is drawn).
Privacy & marketing notice – we will not save your emails nor contact you ever again except for the 5 semi-finalists. Once your name has been selected as a semi-finalist, you'll have 48-hours to contact us and if you're interested in continuing in the drawing by submitting a photo. If you decline, we will select an alternate. When we announce the semi-finalists, we will then figure out how the voting will proceed.
Thanks and good luck!
(And yes, international entries welcome).


metroxing

15 August 2008

CARS, collecting, Mattel Disney Pixar CARS


10 Comments