Home
»
Advertising
,
collecting
,
Marketing
,
Mattel Disney Pixar CARS
,
Retail
,
Toys
,
TV
Mattel Disney Pixar CARS: R Case Unboxing – 100% (Less Than 3K in Warehouse Update)
R Case has arrived and all those that have opened them and places like Children's Toy Closet which has opened nearly a dozen R cases – ALL have the Chase "Stickers" McQueen or as he's officially known – Lightning McQueen with Bumper Stickers.
So, in theory 100% – make sure if you're buying the case, they promise it's factory sealed and of course, out of (presumably) 20,000 sealed cases for 20,000 "Stickers" McQueen, there might be one, two or a dozen that are mis-packed so it's virtually a 100% done deal but until you get yours, no one is promising anything so keep that in mind.*
(*Note – this is presuming your seller treats FACTORY SEALED as a fact and not as a suggestion).
AUGUST 15, 4:45 PM UPDATE – someone has kindly asked their Mattel rep how many cases are in the warehouse – the answer works out to roughly about 3,000 cases. Of course, not every retailer (WM, Target & TRU) has gotten their case(s) yet – it's either in transit, in their own warehouse or it might be sitting in the back room BUT as of right now, there are only about 3,000 cases left for re-ordering … um, not bad for two days of official release. So, outside of the orders placed by WM, Target, TRU, Kamrt and possibly KB – there looks to be only about 3,000 more cases or about 3,000 more "Stickers" McQueen still nestling in a Mattel warehouse.
So, if you're pondering about possibly ordering a case, better think and act fast …
Here are some new shots of the CAR itself plus older repeat photos of it still in packaging… (no, not mine – mine not in hand yet)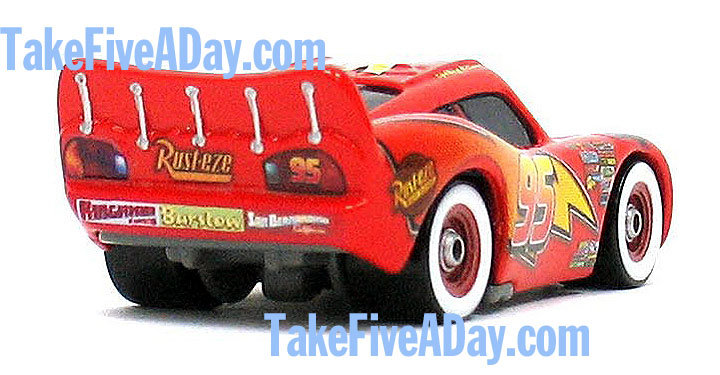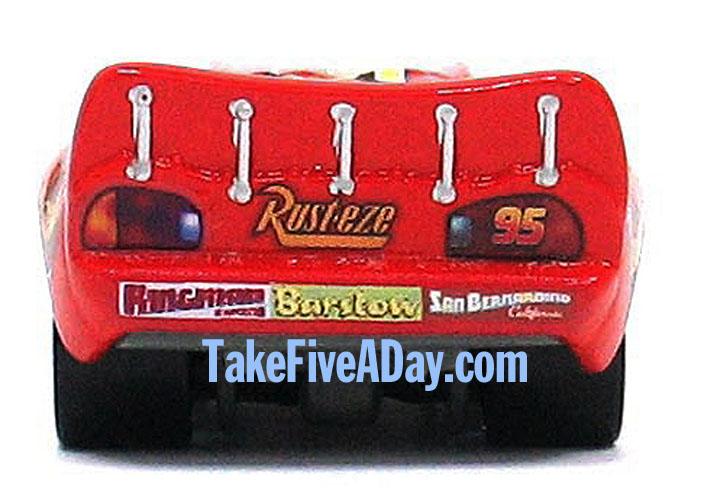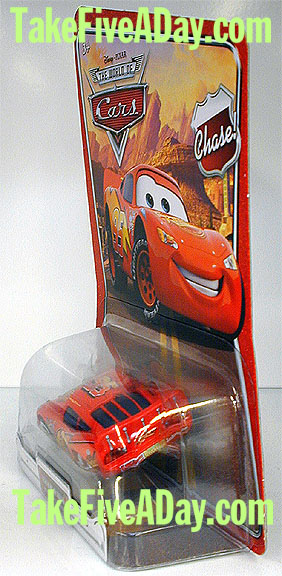 Unboxed R Case photos courtesy of Children's Toy Closet …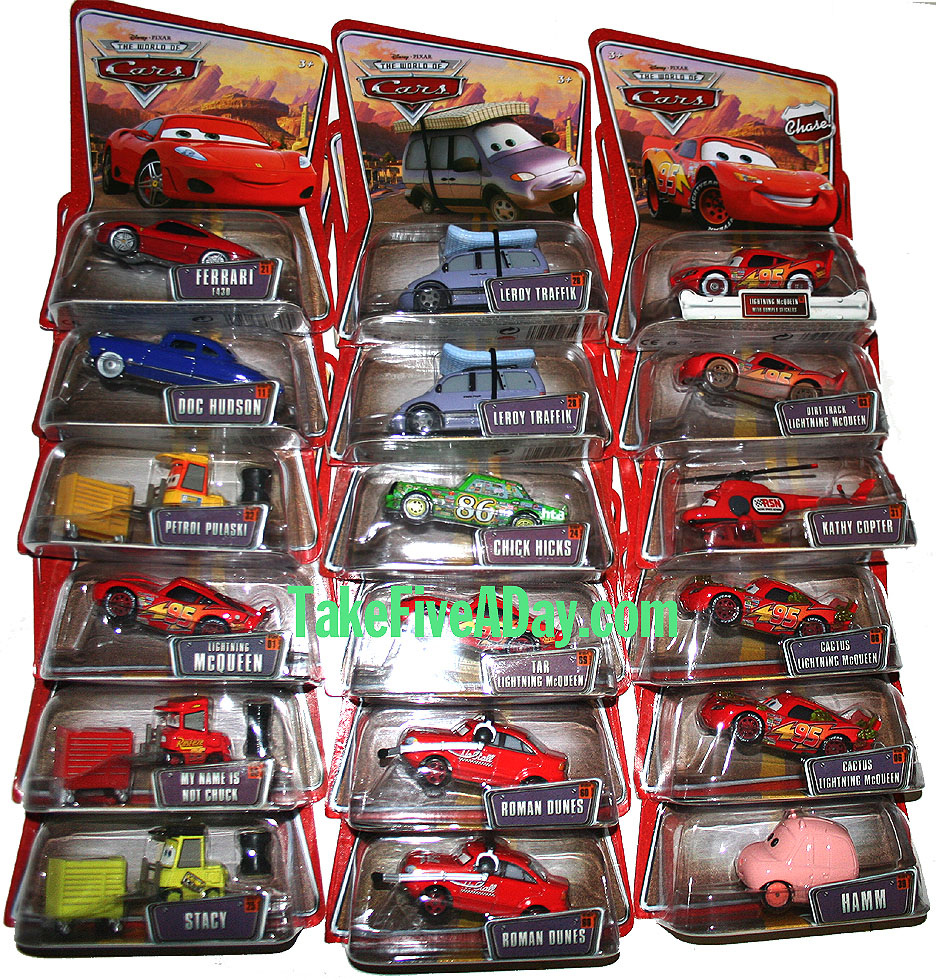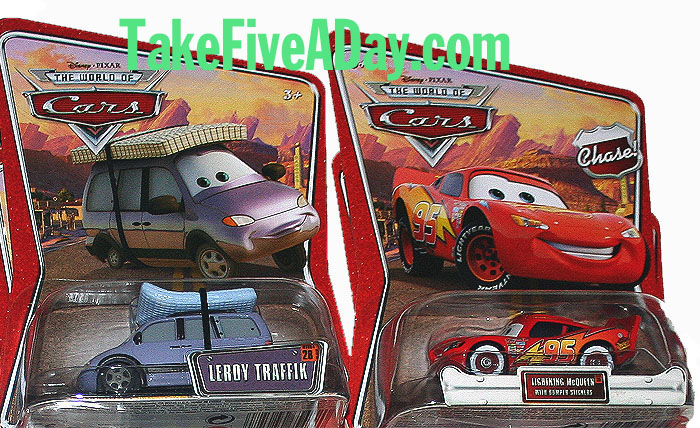 Yes, it matches what we listed …
R Case
Cactus Lightning McQueen (2) (first WOC card appearance)
Chick Hicks
Chief No Stall (2) (NEW)
Dirt Track Lightning McQueen
Doc Hudson
Ferrari F430
Hamm (first WOC card appearance)
Kathy Copter
Leroy Traffik (2) (NEW)
Lightning McQueen
Lightning McQueen ("Stickers" – CHASE)
My Name is Not Chuck
Petrol Pulaski (RPM #64 Pitty)
Stacy (Leak Less Pitty)
Tar McQueen
Happy hunting or for those waiting by the mailbox or porch – please a hardy thank you and wave will suffice. Please do not kiss or make out with the delivery person … (kids might be watching 🙂 … that's what the back of the delivery truck is for 🙂 )
And remember don't fall for the following eBay selling lines …
Doc Hudson! Rare, one of 20,000 in the R Case!

Chick Hicks! Rare, one of only two, signed by me – eBay seller – "LOTSCARS!"

Ferrari F430! Hard to FIND! One of only 20,000 from CASE R – free photo proof!

Lightning McQueen! Fresh from the factory – Production Code from a month ago – now, that's fresh paint and tampo decals!
For those who wonder about the "NEW" snipe? They are randomly inserted into shipments – sometimes "NEW" sniped cards will arrive first in certain stores and not in others – there is no real rhyme or reason – in the spot checks before, they almost always have the EXACT SAME PRODUCTION dates so it's just a marketing gimmick – the CARS are produced on the same dates and most CARS that have appeared in the WM lineup last year have so far all gotten a "NEW" snipe except for Al Oft the Blimp … so will Cactus McQueen? Maybe not – since it too like Al Oft has appeared in the Sam's Club box as well on a Gift 3-pack …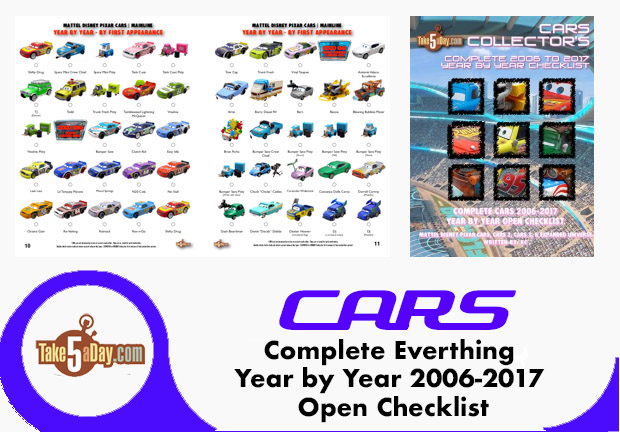 metroxing

14 August 2008

Advertising, collecting, Marketing, Mattel Disney Pixar CARS, Retail, Toys, TV


70 Comments