Home
»
Advertising
,
Checklist
,
collecting
,
Film
,
Gadgets
,
Marketing
,
Mattel Disney Pixar CARS
,
Media
,
Retail
,
Toys
,
TV
Mattel Pixar Diecast CARS – The Top 10 "Rarest" (Summer 2008 REVISION)
So, now that we've all digested the Motor Speedway of the South set (um, hopefully not literally, though that Tach-o-Mint looks good enough to eat) and people wonder whether to open, to display or to bash them, it's time for the Top 10 "rarest" Pixar CARS in reverse order. This does not include variations from production – this is just a countdown by sheer numbers:
Hovering Outside the Top 10?
Sarge
Sarge began production in 2005 so it's hard to figure out how many were made since there were gaps in production, how many were opened during the initial wave of just for opening and playing with and of course, how many were actually recalled and returned.
So, 100,000 left out there?
"Just Out in Stores."
10) Any CAR a month or two old – anything that is only one shipment probably numbers in slightly over 50,000 range (as most are packed two to a case) now – this will vary depending on what retailers has ordered of course …this number will change quickly depending on when the follow-up arrives but in some cases, it's hard to tell – for instance, until the appearance of PT Flea & Flik in the Target Value 2-Pack of Movie Moments, there was only one shipment of Movie Moments with PT Flea & Flik – and since WM did not seem to have ordered any … there were probably only 5,000 to 10,000 PT Flea & Flik's out there – but now with the Target Value 2-Packs, there is certainly a lot more but still not exactly Bug Mouth McQueen …
"Some of the Piston Cup Racers"
I'm grouping these together. As we move further down the list, we'll have more definite numbers – here, I'm really just guessing. If you add up the big three retailers, you have about 10,000 storefronts + third party re-sellers.
There are three groups of Piston Cup racers:
The Common:
Lightning McQueen, King, Chick, Leak Less, etc … they're obviously not part of the rare Top 10.
But the following just make the list …
The Limited Group:
Some just arrived as part of the MSoS set so really, they hardly number over 1,000 but for instance Trunk Fresh #34 was part of the Wal-Mart Action Alley Display (makes the cube seem pretty exciting, huh?) – how many are on the cube? 10 of each? Presuming 90% of WM's get them – that's @35,000? Plus, they're not an exclusive so others will eventually get them – a total of 50,000? Still somewhat limited but not really all that limited.
No Stall #123 is also part of the WM cube AND will be part of a new MM 2-packs so add another 10,000? AND No Stall #123 was also part of the Dinoco 400 set (Target exclusive box set) so after this summer, No Stall might be nearing 100,000?
Shiny Wax #82 & Sparemint #93 are coming as 3-packs – along with the MM's of Gasprin #70, & Tow Cap #4 – just like Gasparin/Tow Cap – while not impossible to find, they require a little more work – though Gasparin/Tow Cap will be scheduled in many more MM boxes, probably they'll number no more than 50,000 by end of summer.
Vinyl Toupee #76 & Octane Gain #58 are both probably past that number. In the US, both were part of the Dinoco 400 set while Octane Gain was also a launcher. Vinyl Toupee was also available in the UK as part of a promotions so both probably number in the same 50,000 range.
Re-volting #84 is scheduled for a new box – probably in the 25,000 range?
Lightning McQueen (Lighting Fast Speedway Variant)
Separately, you can probably include the Lightning Fast Speedway Lightning McQueen (variant) in this below 50k availability.
The WORLD OF CARS Lightning Fast Speedway set is the one that unfolds into a figure-8 and stepping on the "pedal" shoots McQueen around the track. For some reason, McQueen is a two-piece McQueen (more details here). Since he only seems to be available in this set. All of the WOC versions seem to contain the two-piece McQueen but some of the SC versions did also …
All TRU's definitely seem to have it in stock – others have seen it at the other retailers so it looks like it's more than a few thousand but how many more? You can read more details from our original post along with other "variants" of the line.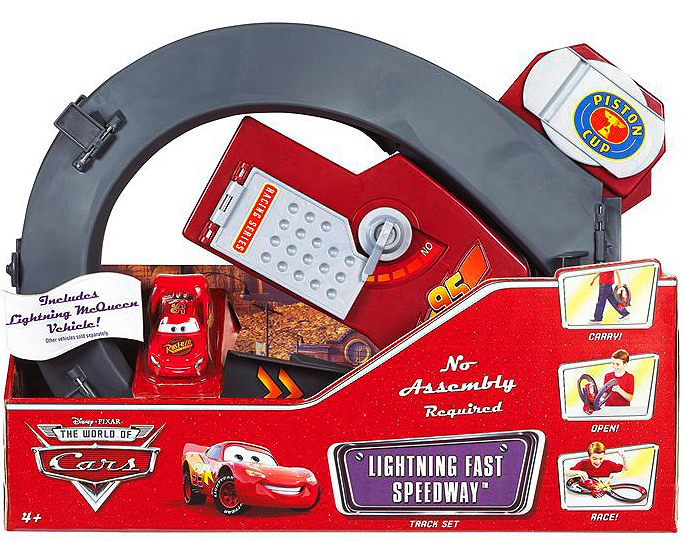 WOC PT Flea & Flik – only one shipment so far and scheduled for only one more (FOR NOW) – but things could change in the fall.
So, the CARS of #9 & #10 are really more limited just by release pattern and what retailers have ordered. There is no artificial limit – they are and will be less limited as time goes along because they are all 'open production' CARS.
However, starting from here on out, these are the ones with announced or closed production numbers. In theory, once closed – they will not return BUT if they do return, it will be slightly to vastly different – whether that's in the packaging, the design, or the paint we'll have to see …
8 ) "CHASE" Lightning McQueen with "Stickers" & Fred with "Stickers."
@20,000 (UPCOMING NEW)
Yes, Mattel is using the words 'CHASE' 🙂 or 🙁 (not my word).
First, don't shoot me, I'm just the messenger and of course, nothing is set in stone as there might be changes but as on now, it looks like we have our first actual designated 'chase' CARS within the regular line. For those non-rabid collectors, a chase car (or action figure) means a variant that is packed fewer or randomly in cases because the production number is lower …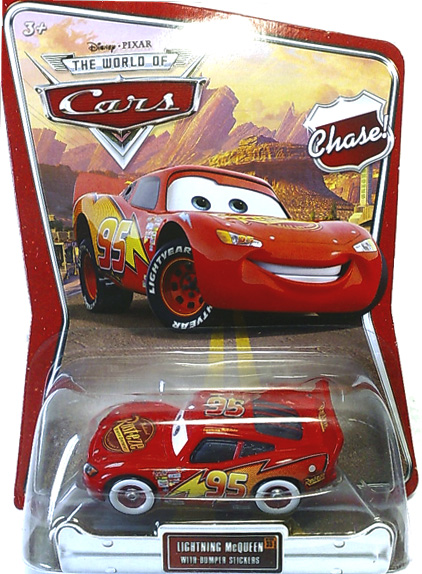 (screen shot from film)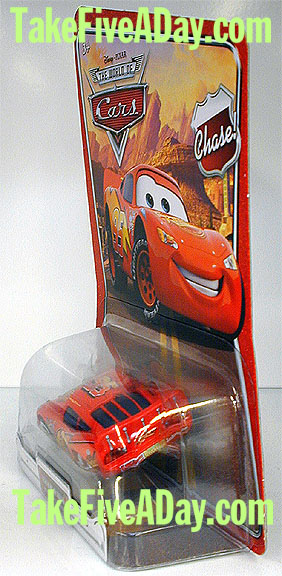 (photo of actual retail "stickers" McQueen – no, not mine)

(photo of actual retail "stickers" McQueen – no, not mine)
And Fred at the end of the movie showing off his …
More details about FRED here and the upcoming CASE T.
@15,000
First offered in November 2007 in conjunction with the CARS Blu Ray DVD. By purchasing a DVD, signing up for the Disney Movie Rewards Club and sending in about $3.70 for shipping, you received a "free" CAR – the Blu Ray Lightning McQueen. There were 15,000 offered for this promotion. In 2008, there was an additional offer made in in Italy BUT Blu Ray McQueen was not the actual CAR fulfilled – instead, they substituted Faux Wheel Drive. Update & More Details HERE.
6) Supercharged Movie Moments of (Red) Mia & Tia and Mr. & Mrs. The King.
During the art switch-over from Supercharged to World of CARS, there was only one shipment of Movie Moments where Red Mia, Red Tia & Mr. & Mrs. The King made it out on Supercharged cards. Of course, that's an internal number only Mattel knows but I'm guessing it was less than 15,000 and maybe as few as 5,000? This was the shipment that the US PT Flea & Flik on Supercharged card was canceled (and sent to Canada instead).
On that related note, there was 1 (most likely just one) shipment to Canada at the same time where the Movie Moments front card was all in English of PT Flea & Flik (normally, all Canadian cards are tri-language). And separately, there were three ENGLISH-ONLY Supercharged single cards sent to Canada that were NOT available in the US (Dinoco Helicopter, Fred & Yeti, the Abominable Snowman). Since Canada is not nearly as large of a market and there are not 10,000 toy retailers, my feeling is that there are probably no more than a couple thousand of Supercharged ENGLISH-ONLY PT Flea & Flik, Dinoco Helicopter, Fred & Yeti, the Abominable Snowman but there's no way to be absolutely certain. However, since the difference is only in the cards and not the CARS themselves and technically not part of the US releases, it's not officially on this list.
BTW, the backs of the cards are in the tri-language and while Yeti is available in the US on a Supercharged card – Yeti, the Abominable Snowman is only available as a WORLD OF CARS card in the US (aka: English only on the front).
@7,000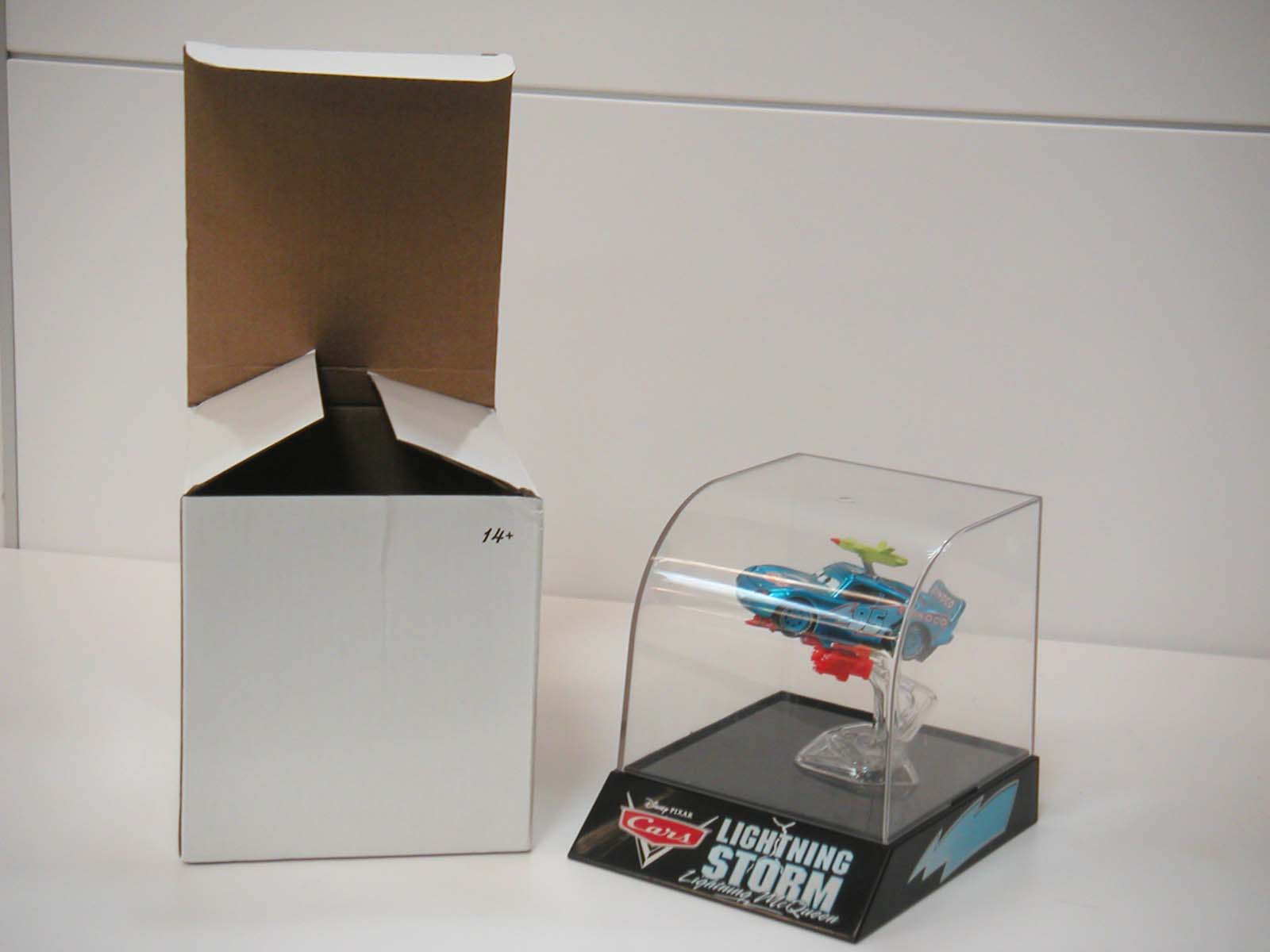 Exclusive – available only at the San Diego – later available on the new Mattel MattyCollector.com site for @4 hours. Available with clear stand, black base and plexiglass cover. Subsequent "regular" releases will be different. See our "oversized" post for a detailed photo. The 7,000 total now includes the additional LS McQ's that were created for the launch of MattyCollector.com.
4) 23-SELECT Piston Cup Racers from the Motor Speedway of the South set:
Apple Car #84, Bumper Save #90, Clutch Aid #121, Dale Jr. #8 (variant), Easy Idle #51, Faux Wheel Drive Dirt Decals #54, Fiber Fuel #56, Gask-it's #80, Lil' Toquey #117, Mood Springs #33, n2O Cola #68, Retread Roll-On #79, Rev 'n' Go #73, Shifty Drug #35, Sidewall Shine #74, Sputter Stop #92, Tach-o-mint #101, Tank Coat #36, Transberry Juice #63, View Zeen Corrective Windshields #39, & Vitoline #61
@1,000
These are the CARS that are only available as part of the Motor Speedway of the South set offered at Mattel's Red Line Club in May, 2008. This list will be updated as these CARS are offered in other configurations.
There are a handful of these that are also "unauthorized factory" versions that while produced in the same factory, their sales & release were not approved by Mattel.
So, for the most part, they look as though they may have come from the factory but are considered "unauthorized."
Unlike the old days where most outside the official line were:
Rejects picked up off the floor or from the trash and finished hastily or sloppily in some corner of the factory.
Extras that walked out the back door.
Customs (hand painted over another CAR's factory paint).
Or Counterfeits where either the factory secretly ran extras at night – generally with cheaper, inferior, or shoddy material scraps and painted sloppily … or another factory using discarded molds …
In the case of CARS, we have a new phrase to add, "unauthorized & unapproved factory production." Using the exact same materials, tampo decals and paint – extras were made in quality that matches Mattel's releases. Clearly only someone in a management position could keep the factory line going or starting up later that night (and in some cases, even changing paint colors!)
They don't seem to number more than about 25 per CAR so it's safe to presume @1,000 is still mostly accurate.
3) 16-Car Desert Art Card "Rollin' Bowlin' Mater" and "Dirt Track McQueen."
@500
While both these CARS are available separately in other formats, they are ONLY available on 16-CAR Desert Art Cards as part of this set. The set was available as an exclusive at Mattel's Red Line Club in November, 2007.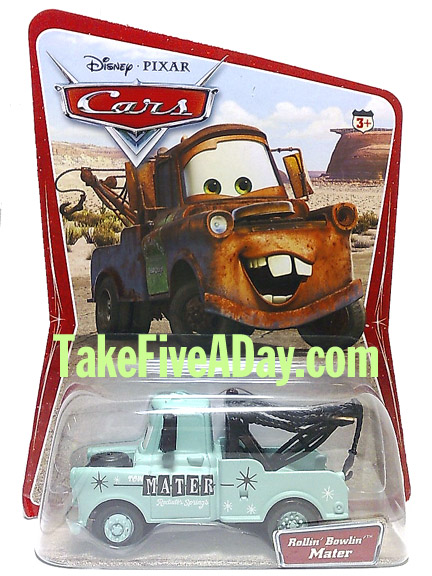 @50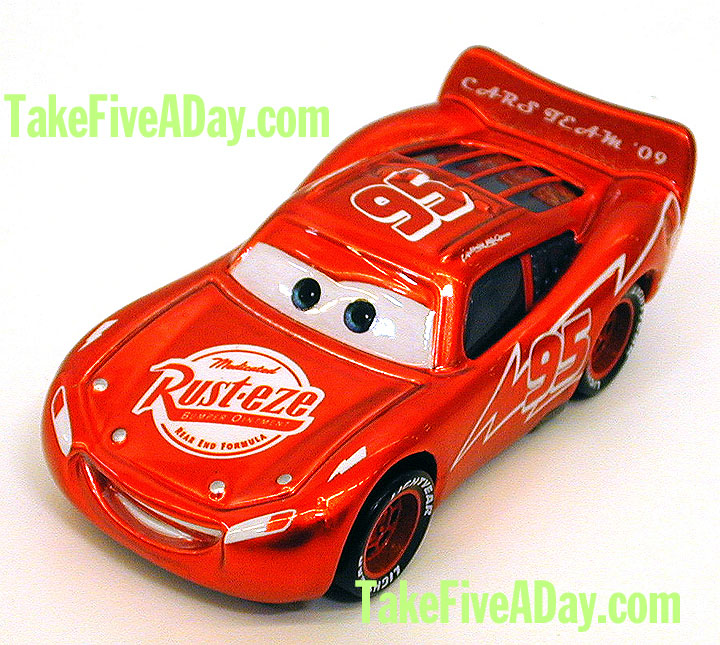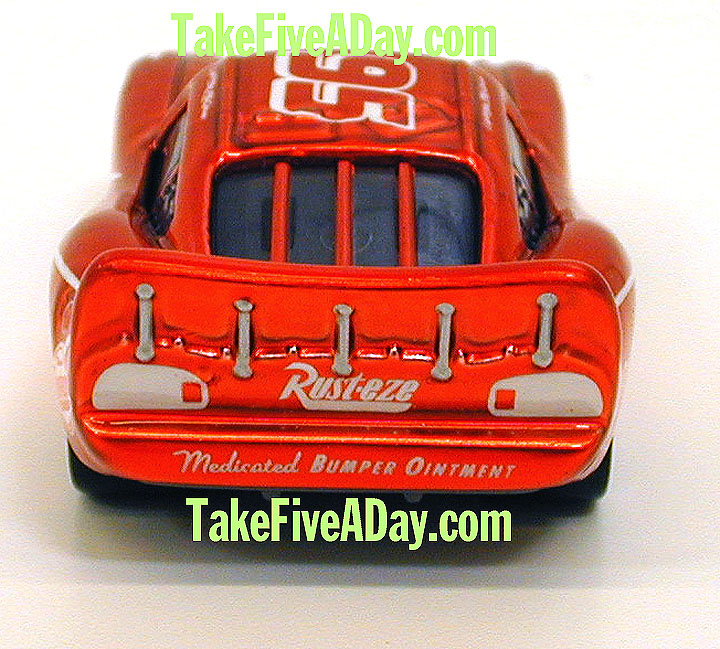 Finally, after much machinations and to and fro, I can honestly tell you the two photos above are photos of the REAL 1 of 50 CARS presented to Mattel/Disney/Pixar employees at their Fall brainstorming session in 2007.
It is believed there are also 'fake' versions of this one floating around so if you plan on buying/bidding for one – take our advice from this Red Ransburg post here …
This photo below is of the more common "fake" version being peddled as 1 of 150 and while there was a belief it was for an Asian Mattel meeting, that turned out to be part of the 'fake' story – there was NO such meeting where the CAR below was presented to anyone.
Some of the main difference being the real 1 of 50 CAR has no silver piping around the hood and the spoiler words are smaller.
(fake)
1 as in ONE.
It is believed this is a one-of-a-kind CAR created for this set … that the President of TRU won in the CAAF Auction for $13,000 last year. We don't have a 100% confirmation but if you're at the this guy's house, be sure and snap us a picture or maybe you can convince his collection will never be complete without the Motor Speedway set so why not just give it to you … and again, snap us a picture 🙂
For current pricing trends on the rarest of CARS, be sure to check our related post.


metroxing

30 May 2008

Advertising, Checklist, collecting, Film, Gadgets, Marketing, Mattel Disney Pixar CARS, Media, Retail, Toys, TV


6 Comments