Home
»
Advertising
,
Checklist
,
collecting
,
Film
,
Toys
,
TV
Mattel Pixar Diecast CARS: Blue Blu Ray McQueen – The Updated Story
tSince I'm getting a lot of questions, it looks like it's time for an updated Blu Ray McQueen post.
Last November, 2007 – to commemorate the Blu Ray DVD release of CARS, Disney & Mattel offered a Blue Ransburg chrome McQueen free with every purchase. Though Blue Ransburg chrome McQueen does not actually appear in the film, it was still a cool and fun looking McQueen to add to our collection.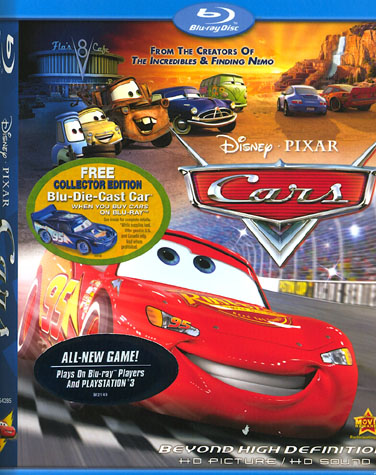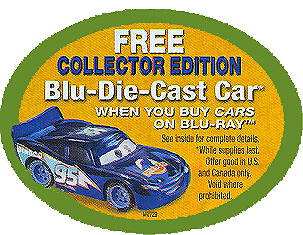 Inside the DVD was a sheet with the code – enter in at the website before the redemption period – send in @$3.79 and after a few weeks later, a "free" Ransburg blue McQueen was yours. The redemption period was November 5, 2007 to January 31, 2008. They began fulfillment long before the redemption period was over – sometime in early December, early orders were beginning to be filled. Original post HERE.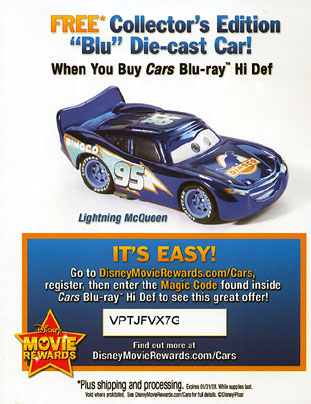 The CAR arrived in a padded brown envelope, and no additional packaging other than a small plastic bag.

The bag from the US Blu Ray promotions looks like this.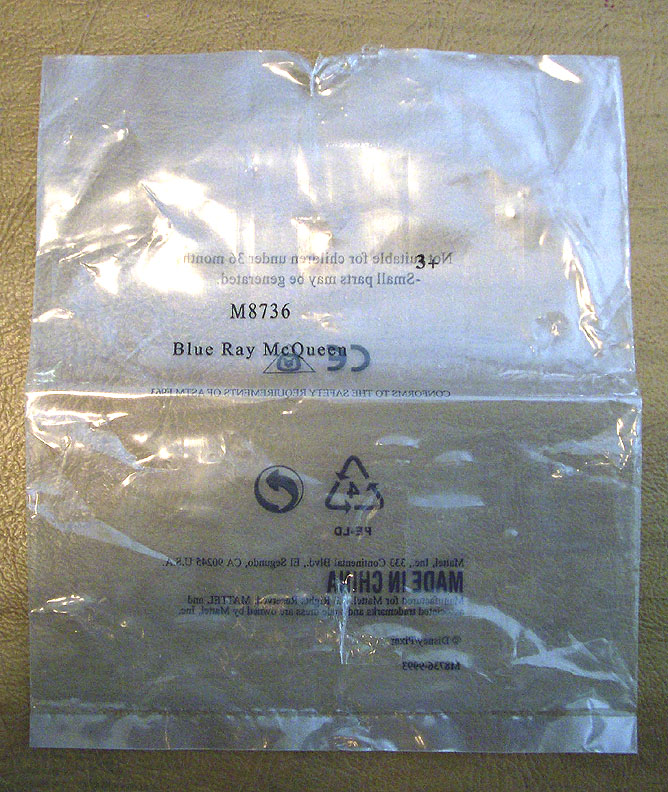 The key things to note is that it reads © Disney/Pixar and has the official Mattel product code for the CAR – M8736 on the bag.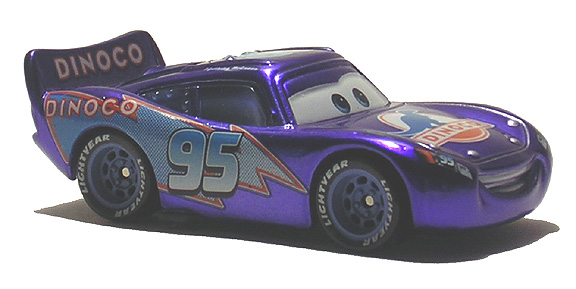 Here is a snap of my actual CAR – as you can see, it's more purple than "blue."
The SECOND important criteria to verify the Blu Ray is from the US promotion is the date code. It should read 2427 which meant it was assembled/completed on or about the 242nd day of 2007 … or Friday, 31 August 2007. Plenty of time for it to be packed and shipped to Disney warehouses to begin fulfillment sometime in December of 2007. If you received your CAR directly from Disney and your date code is NOT 2427, drop us a comment.
The announced production amount was 15,000 and fulfillment seemed to be pretty much 100%. Even people who mailed them in toward the last days received a CAR – there was no substitution CAR or other item … but as with any promotion, people missed out – and the Blu Ray McQueen routinely sells for $50-$80 on eBay, (LINK to our post on Top Ten Rarest Pixar CARS).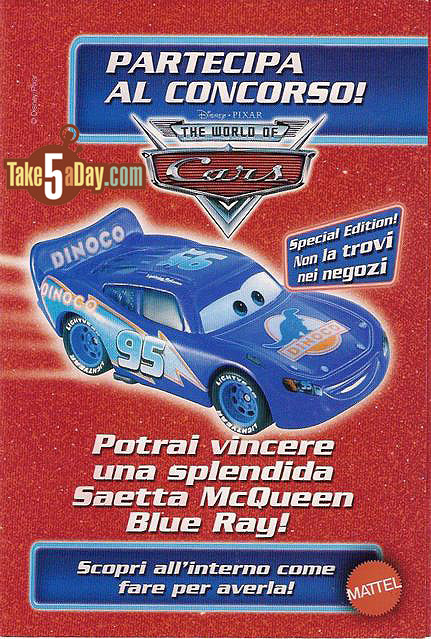 In May 2008, in an Italian Disney CARS comic book and as a coupon/flyer in toy stores, they offered a Blu Ray McQueen as part of the promotion (it's over now, BTW).
The offer portion was: Send in 4 UPC barcodes of singles or 2 from Double Pack (Movie Moments) to get a free Blu Ray McQueen (no shipping or handling charges).
The second part of the offer was to send 6 UPC barcodes and get a free Blu Ray McQueen and you will be entered in a drawing of where there would be three winners – winning sets of a children's bedroom filled with Cars merchandise – including a CARS themed TV, CARS table, and many other Cars things.
BUT maybe the US promotions was too successful and they ran out of Blu Ray McQueen's? Or maybe someone overstep their budget in being able to go back and making another batch of Ransburg blue McQueen's? – They changed the final redemption fulfillment.
Instead, they sent everyone a FAUX WHEEL DRIVE car along with a MINI two-pack as a make-good. MINI's not shown as they are the same as the US versions.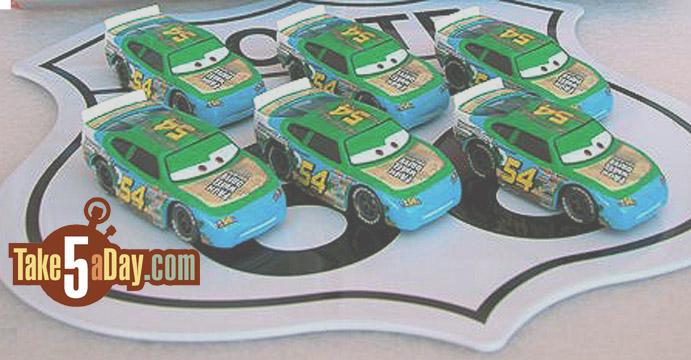 Thank to reader "Aroldo" who finally filled us in on the details of the offer and of course, the 6 CARS he got for sending in his UPC's … nice use of the Route 66 sign! 🙂
So, this means that we are back to @15,000 for the worldwide total of Blu Ray McQueen's.
Recently, there have been another batch of Blu Ray CARS being sold that look for the most part similar  though according to most, more obvious flaws in the paint and some with the 2427 EA code stamp … one key difference is that they are being shipped with a German language baggie.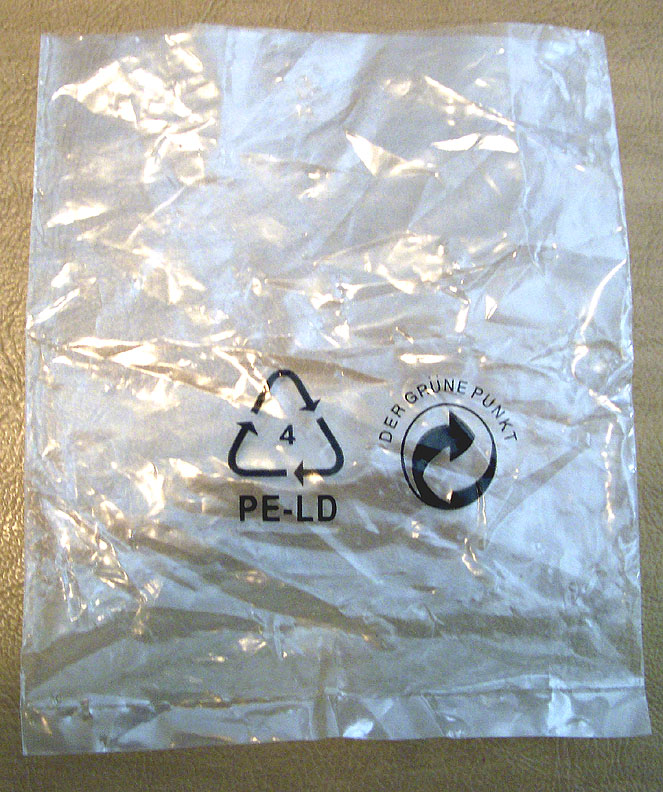 Where did these come from and what are their value? Well, that's for you to judge but it does now appear the @15,000 production number for the US promotions is firm and there has been no more official production – again, the fulfillment of the Italian promotions actually fulfilled with Faux Wheel Drive.
So, it's probably logical to presume these extras are ones being made at the same factory but without Mattel's approval or quality control. No idea to the numbers but since the original baggies are no longer around, they are presumably using the baggies for German Faux Wheel Drive promotions.
Its value? Well, that's your call but if you want only the original 15,000, there are the three things to look for:
a) STILL SEALED in the brown/tan Disney fulfillment mailer. (Considered SEALED/MINT/UNOPENED)
b) STILL WITH THE Mattel baggie (MINT)
c) With a production date of 2427 EA.
Keep in mind, the "extra" "factory unauthorized ones" sometimes also has the production date of 2427 but they may have "conveniently" lost the Mattel baggie or the original mailer envelope … so if a Blu Ray McQueen CAR is being sold missing those two elements (a & or b) … then the value you place on it may be different.
Micky, thanks for the photos of the baggies – both US & German-language ones.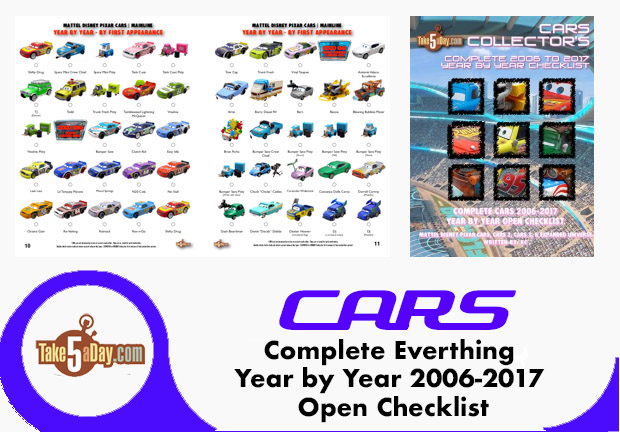 metroxing

24 August 2008

Advertising, Checklist, collecting, Film, Toys, TV


3 Comments