Home
»
Advertising
,
Checklist
,
collecting
,
Design
,
Film
,
Financial
,
Marketing
,
Mattel Disney Pixar CARS
,
Media
,
Retail
,
Toys
,
TV
Mattel Disney Pixar CARS: Matty Collector's Club – Live Update

Launching today, Mattel is going to give fans from all around the world a chance to own the SD Comic Con Lightning Storm McQueen (as well as some other figures sold at the SD Comic Con).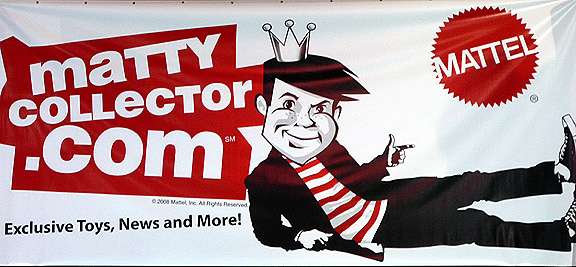 The site, www.MattyCollector.com, goes live at 11 AM Pacific Time US … which when my brain is functioning correctly is 2 PM on the East Coast (US). You are on your own in GMT and military time.
Hosting/Owning/Running the site is Matty Mattel. You can read his history and update it at Wikipedia.
From Wikipedia …
"Matty was featured on all Mattel products and TV commercials from 1959 through 1970 as the company's logo. He was the familiar mascot that jumped atop the giant "M" in Mattel TV commercials and shouted, "You can tell it's Mattel, it's swell". The serrated seal with Matty seated and waving from the giant "M" was replaced with a new serrated seal design with the name Mattel printed across it in 1970, which was the company's 25th anniversary."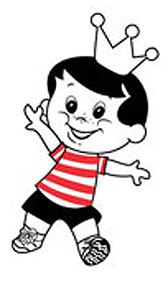 But he's all grown up for Mattel of 2008 … here he is intro-ing Darth Mater at the Comic Con.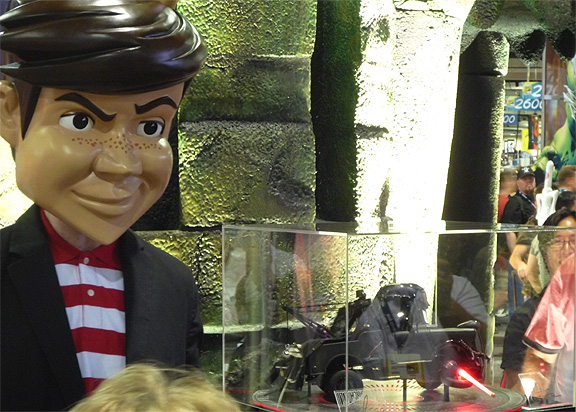 But, hey – that's all nice – what about the website?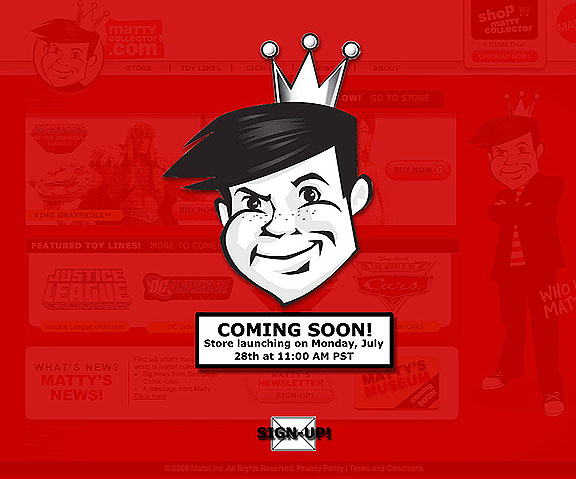 About 2 hours away now.

If you're a fan of not just CARS, you can get all four available exclusives from the show for $90 USD. They are all nicely done – especially McQueen of course – great detailing, nice paint …
But of course, you're probably here for the big kahuna at the show …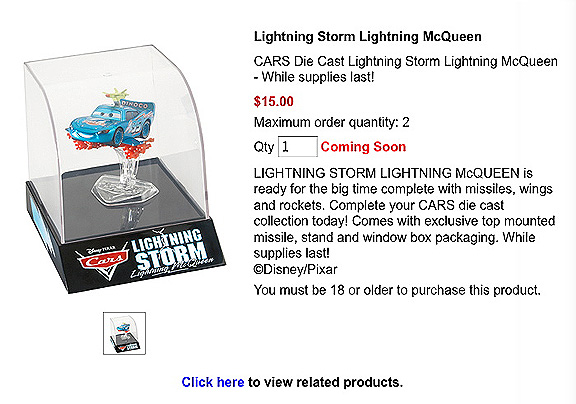 (you can click on the graphic to jump to Mattel's direct ordering page).
BTW, the SDCC LS McQueen's are NOT numbered – only the 'bootleg' ones have numbered 0000 of 46XX stickers.
On the website, they discuss the following:
"In the coming months Matty's Store will offer unique exclusive products unavailable anywhere else – including DC Universe Classics 2-packs and Justice League Unlimited 4-packs. MattyCollector.com will also be the only place you can get Mattel's all-new line of Masters of the Universe® Classics figures, with a new figure available every month starting with He-Man® in October!"
While they don't specifically discuss the future of CARS on the site itself, in gathering bits of info here and there, it looks like that is the intention for CARS also. There will be something new every month – now, it won't be as extravagant as a special paint, special accessory, special display CAR as the SD Lightning Storm McQueen but it'll be something available NOWHERE else so check back early and check back often.
And for international customers, GREAT NEWS!
"Do you ship to my country?
We ship to all countries except those with trade sanctions in place with the United States"
So as long as you don't live in those three or four countries (not bothering to actually look it up as it's highly unlikely there are any North Korean's trying to complete a CARS set … um, if you are, defect to South Korea and shoot us an email – after freedom and food, CARS is third, right? 🙂 )
And of course, some countries love the taxation …
"I live outside the US. Do I have to pay customs fees?
If you live outside the United States, custom and tariff fees may apply according to your country's import laws. These fees are not collected by this company, and this company does not have control of these fees"
As you can see, there is a limit of two Lightning Storm McQueen's and some people have wondered if you can get around it.
As they are not open yet, it's impossible to say but if you're anxious to try to get 4, here are some things to try/consider.
The site sets a cookie so you'll want to delete it after you place your first order. You might/may/probably want to clear the browser history also.
I'm going to presume you're going to need a different email address from your first order but I'm just guessing here … and like the Red Line Club, you might be able to use the same mailing/physical address. Then try to place your second order using the same address – if it works great – you're set. It does look like Mattel will mail to an address that is not your credit card billing address so you can mail your second set to another using the same credit card number. It's highly unlikely they will keep a database of credit card numbers to match – the potential for problems is to dangerous.
It's also possible that Mattel will track IP addresses to prevent you from signing on again but I highly doubt it – yes, it's easily technically possible but since a lot of people are on broadband or even if you work in a large office, you all will nearly will have the same IP address so it seems an extreme measure but if you can also try and surf through a "proxy server" which gives you an IP address of their server (this applies to AOL users as everyone appears they are in Virginia – one reason why IP "banning" is unlikely). Just surf through Google for 'proxy surfing' – note, many feature NSFW banners.
Um, good luck. I don't have a real confirmation but it appears they made another run of Lightning Storm McQueen's for the website launch (around 2,000?) … so, yes, I will adjust the CARS Rarest Top 10 post.
SITE NOW LIVE …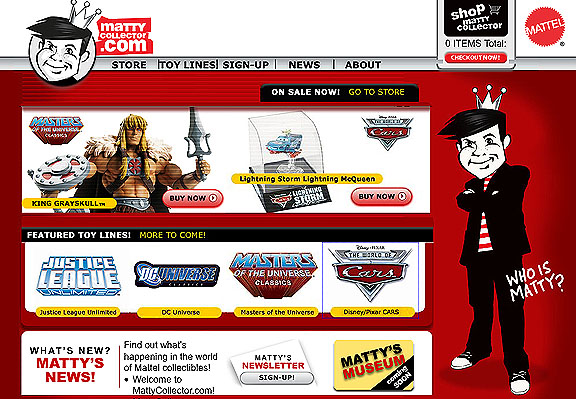 UPDATE: Yea, more than just you are having trouble getting the final confirmation:

I'm not planning on ordering any but clicking on ADD TO CART is a definite lag – took like 10 seconds to add and load – way longer than normal … and unlike the RedLine Club, we Californians now have to pay sales tax …
"For Minnesota, California and Washington state residents, applicable sales tax will be applied."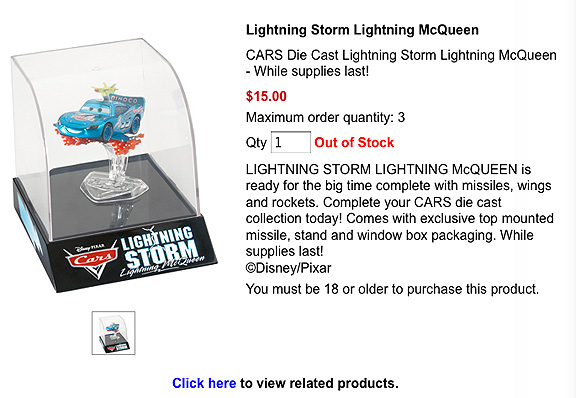 OUT OF STOCK (aka: Sold out) – around 2:50 PM on the West Coast or about 4 hours and I know many people had problems so in theory, it probably should have sold out sooner – how many were available for the website? 1,000? 2,000?
Anyone place more than 1 order?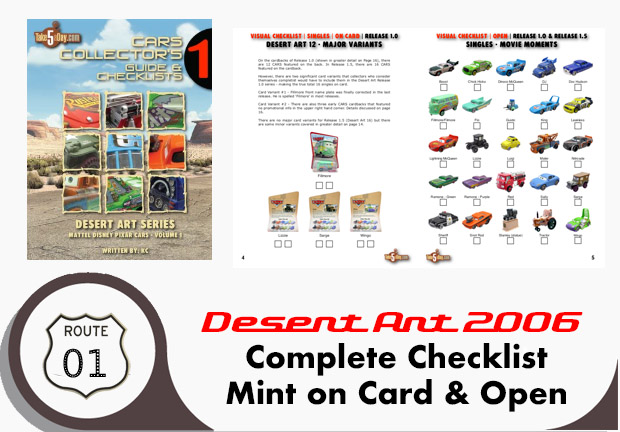 metroxing

28 July 2008

Advertising, Checklist, collecting, Design, Film, Financial, Marketing, Mattel Disney Pixar CARS, Media, Retail, Toys, TV


203 Comments