Home
»
Gadgets
World's Largest Scrabble Game Board
Is ginormous an acceptable Scrabble word?
From Hammacher Schlemmer.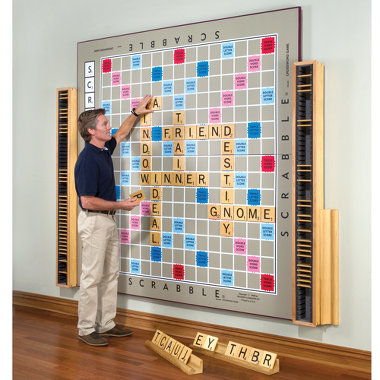 About 7′ by 7′ … Meticulously constructed from Russian birch plywood, the 3/4″-deep back board is overlaid with the classic purple-hued background of the original game, laminated with a galvanized steel sheet, and covered by a heavy vinyl print of the playing board which is protected by a satin laminate. Bordered by a 3/4″ x 2 1/2″ birch frame that wraps from the front to the back, the board attaches to a wall with included hardware. The two birch tile racks are grooved and lined with felt, each accepting 50 of the included 100 tiles. Made from rare earth magnet sandwiched between two pieces of birch plywood, each 4 3/8″ sq. x 3/8″ thick tile's letter is sandblasted to a depth of 1/64″, lacquered in black, sanded, and clear-coated to a finish that will last for generations.
People take Scrabble pretty seriously … "At this year's World Scrabble Championship in Poland Sunday, a player from Thailand accused his English opponent, Ed Martin, of hiding a letter "G," and supposedly demanded a strip search to prove it."
You can read more at CBS News.