Home
»
Disney Pixar CARS 3
,
Mattel Disney Pixar Diecast CARS 3
Mattel Disney Pixar CARS 2: Quick Changers Crash & Change Speedway Track Set
John H. sends along photos of this new Quick Changers Crash & Change Speedway Track Set in action.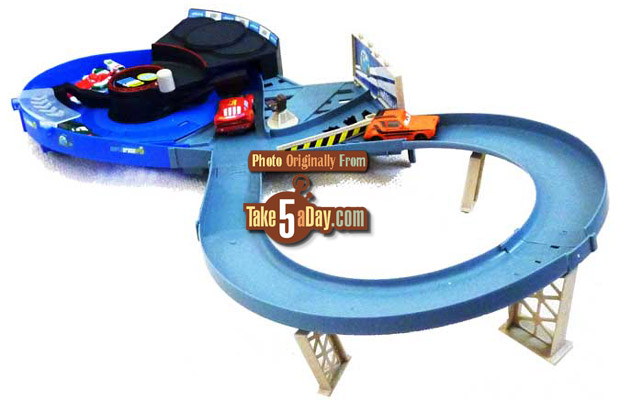 John H. also notes: "For a Mattel play set it is designed and built a bit better than usual. There is a strong clockwork spring powering the black arms beneath the 'winner's' platform. One winds it up by turning the crank with the 'necker's knob on it. As the arms spin around the cars shoot around the track. You get a couple of minutes of action on a full wind and the way its designed you can keep winding it up while the cars are running. The cars tend to bunch up and run nose to tail so there is not much crashing at the intersection.
There is also a lever that sends the cars off the track crashing through the two-piece billboard. The billboard does not reset by itself so there's not much play value there.
Die casts should work fine, but we'd never subject ours to such treatment. We have plenty of plastic 1:55 cars plus Action Agents to abuse.
There is also an exclusive Lightning McQueen that kicks out his drivers' side wheel and raises his back end in the air."
The box also claims "There are 3 Change Up activation points feature adding an extra twist at the winners circle."
Available at Amazon.
Thanks, John!

metroxing

18 March 2012

Disney Pixar CARS 3, Mattel Disney Pixar Diecast CARS 3


One Comment