Home
»
Food
Don't Be Bugged By Bug Eating – It's All in the Packaging
If it looks beautiful, eat it!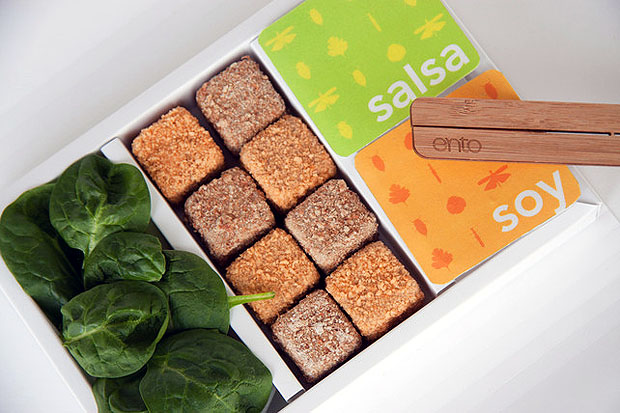 After many hours in the kitchen–and several more testing recipes on plucky eaters–they settled on a handful of deftly disguised creations, included dried cricket mince, honey caterpillar croquettes, and grasshopper pate.
Then, they got to work packaging the recipes for max shelf appeal. "We wanted insect foods to be presented in clean, crisp, and totally un-insecty way," Fraser says. "Our goal was to make the brand fit three key characteristics: futuristic, natural, and friendly." Indeed, the packaging has a fresh, simple quality that doesn't advertise the insects within. But it doesn't totally camouflage them, either. Note the products' unvarnished, prominently placed names and the small green insect icons on the labels. "The food is tasty and appetizing, so none of the packaging hides it, nor does it take the easy road and make a gimmick of the ingredients," Fraser says. "Our overriding message is the sustainability and nutritional benefits of edible insects, so the packaging was designed to convey this in an understandable and straightforward manner."
You can read the rest at FastCompanyDesign.