Home
»
IOS
,
ipad
New Apple iPad (3) Info Roundup
The new iPad (3) is simply called the iPad … which makes sense as there's no point in keeping track of all the numbers.
The main differences in the new iPad?
A 2048-by-1536 retina display, which is 3.1 million pixels (264 pixels per inch) – higher than most HD TV's with a 1080p display which has 1920-by-1080 resolution. (The iPad 2 is 1024-by-768-pixel resolution at 132 pixels per inch) so basically double the pixels).
iSight camera: 5-megapixel with autofocus; tap to focus; face detection in still images; video recording, HD (1080p) up to 30 frames per second with audio; video stabilization.
There is also voice dictation – not quite SIRI but useful for emails & notes if you do not want to type.
Now with LTE/4G coverage – launching in US & Canada for certain, international carriers to come*. If you get the WiFi+ LTE version (add $130 to each model – again, no change to current costs). You can buy month to month coverage outside of WiFi access – the Verizon & AT&T LTE versions are different. You can use it as a hotspot tether if your carrier allows/sells it to you.
1 GB RAM (rumored) – doubling the iPad 2.
It is also about 50 grams heavier than the iPad 2 and .03 inches thicker so your current case might not work with it.
Pricing stays the same – Prices are (all USD) $499/$599/$699 for Wi-Fi-only models in 16 GB, 32 GB and 64 GB.
The iPad 2 is still available with a $100 price drop – ONE MODEL ONLY – 16 GB Wi-Fi only – $399.
The new iPhoto for iPad app looks nice. It has an updated photo journal feature that lets you layout a travel journal really easily. You can add text or notes next to your photos, calendar elements, maps with the photo's location, even weather icon.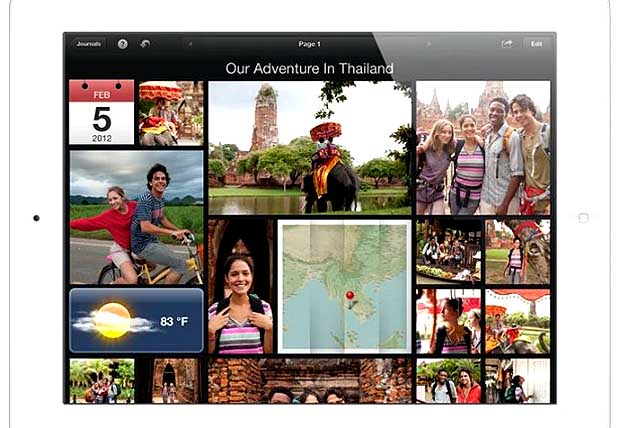 If you want to compare the new iPad & iPad 2 side by side, here's the page at Apple.
The built-in apps included with the iPad. Nothing really new other than Dictation – just updated.
There is also a FREE IOS 5.1 upgrade plus an iTunes update. one new addition is the CATALOG addition – which allows you to download shopping catalogs like magazines. The most important IOS 5.1 update addition is it allows you to edit which photos to upload in the iCloud photo stream, you know, when you party at one Air Force Base and you end up at another one without any shoes, and a kangaroo tied to your left arm … those photos you want to leave on your iPhone only. 🙂
WebProNews has a full list of the update features including if you want to speak Japanese to SIRI, now you can.
*Pre-orders are available today, and the updated iPad goes on sale March 16th in the US, Canada, UK, France, Germany, Switzerland, Japan, Hong Kong, Singapore and Australia.
It'll launch March 23rd in Austria, Belgium, Bulgaria, Czech Republic, Denmark, Finland, Greece, Hungary, Iceland, Ireland, Italy, Liechtenstein, Luxembourg, Macau, Mexico, the Netherlands, New Zealand, Norway, Poland, Portugal, Puerto Rico, Romania, Slovakia, Slovenia, Spain and Sweden.