Home
»
Film
,
Gadgets
Monty Python's Holy Grail + iPad App: Holy Book of Days
Monty Python & the Holy Grail is out on Blu Ray …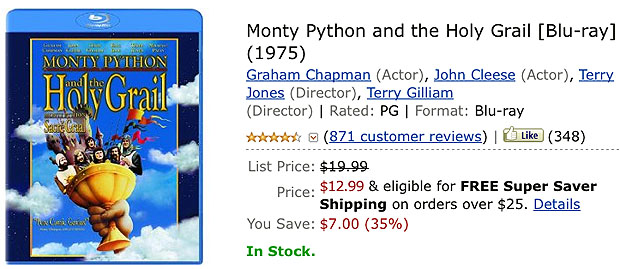 Lots of fun extras including:
Terry Jones Introduces the Outtakes
Enlightening Commentaries by Terry Gilliam & Terry Jones, Plus General Complaints and Back-Biting by John Cleese, Eric Idle & Michael Palin
Join Michael Palin and Terry Jones in their Special Documentary: The Quest For The Holy Grail Locations
Monty Python And The Holy Grail In Lego!
Japanese Version
How To Use Your Coconuts (An Educational Film)
BBC Film Night
Terry Gilliam Introduces His Lost Animation Reel
Henry IV Subtitle feature for those who hate the film and would rather read Henry IV … 🙂
PLUS MORE!
AND for a limited time, you get a $5 rebate on the accompanying iPad App.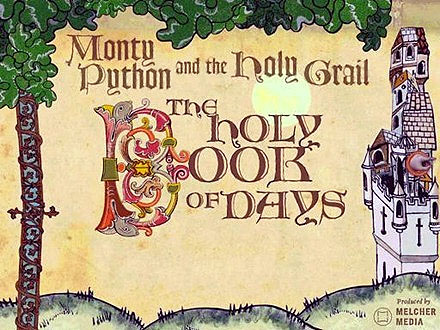 Middling reviews though. 🙂
Early buzz for The Holy Book of Days:
"HOW DO I GET OUT OF THIS THING SO I CAN CHECK MY EMAILS?" — John Cleese
"WILL IT SYNC UP WITH MY VHS COPY?" — Terry Gilliam
"MICHAEL IS OUT OF THE OFFICE RIGHT NOW BUT WILL BE BACK ON THE 10TH APRIL" — Michael Palin
"WOW!" — Eric Idle
"I CAN'T SEE A THING WITHOUT MY GLASSES" — Terry Jones
"WHAT'S AN IPAD?" — Graham Chapman
(not easy to get a review from Graham … 😆  ).