Home
»
Advertising
,
Checklist
,
collecting
,
diecast
,
Marketing
,
Mattel Disney Pixar CARS
,
Retail
,
Toys
,
TV
Mattel Pixar Diecast CARS: 'Stickers' McQueen Variants
Here is what the "normal" CHASE Lightning McQueen with Bumper Stickers CAR looks like: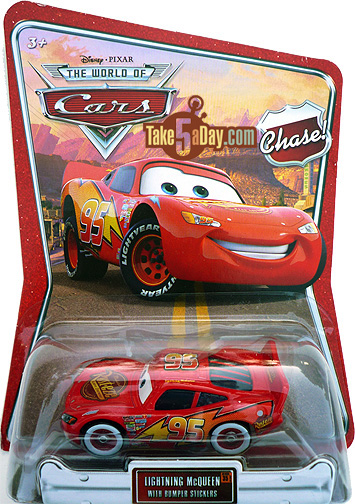 If you need a checklist to keep track of how he's "different" from regular 'ole McQueen?

Now, there are TWO other 'Lightning McQueen with Bumper Stickers' variations and ONE is definitely a packaging variant …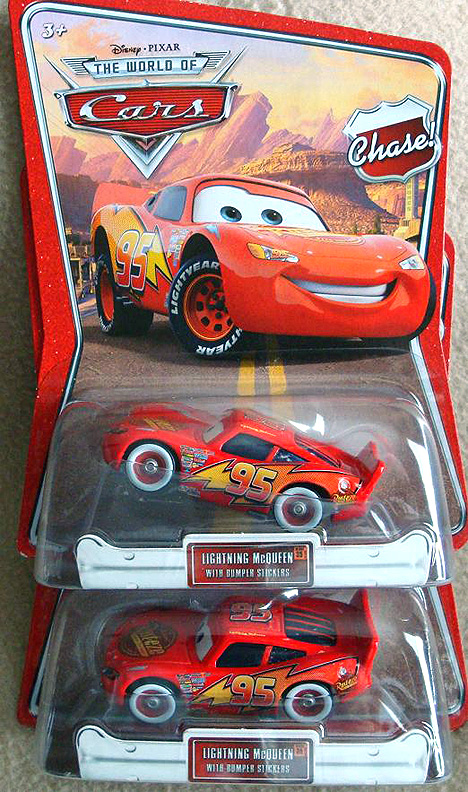 For 'Stickers McQueen #2' – as you can see, it's a packaging variant – where McQueen is positioned on a ramp-base – its significance and additional value is entirely up to you. Clearly, there are fewer of the ramp-like position than the flat versions … whether that's worth a dollar more, $5 dollars or $500 more is entirely your call (and your money to spend as you wish).
There is a third 'Stickers McQueen' that is probably more of an ERROR in packing than a variant because it looks like Whitewalls McQueen was accidentally packed in as Lightning McQueen with Bumper Stickers.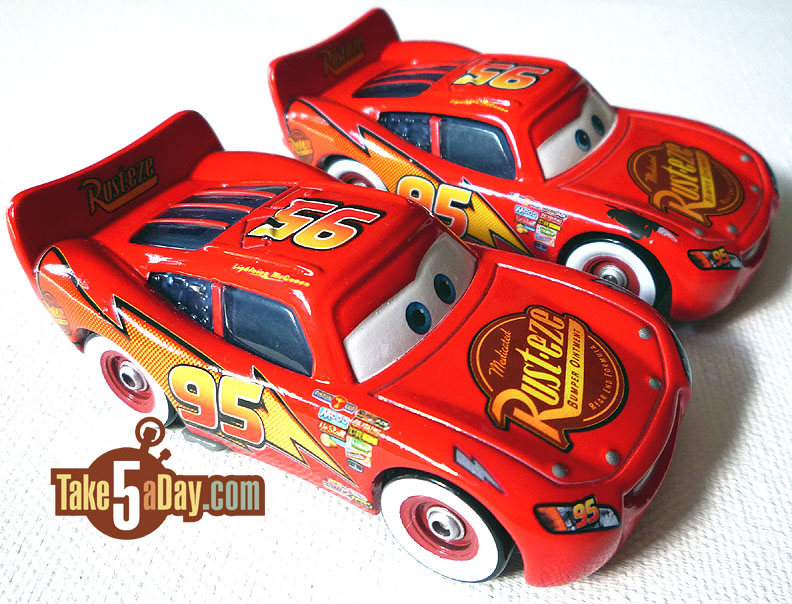 The differences are subtle but Whitewall McQueen has no tar, no "Route 66" bumper stickers and the lightning bolt is bordered in black …
It is scheduled as a "Movie Moment" 2-pack with Fillmore from this "movie moment" scene: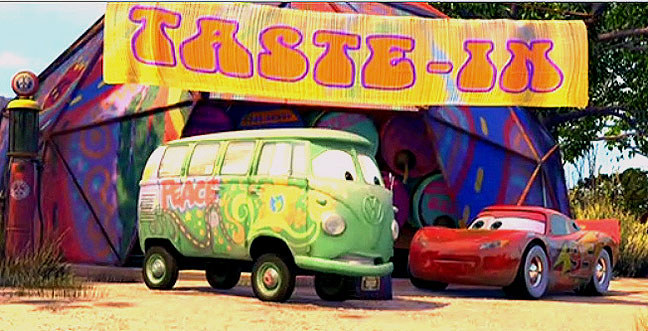 The full sequence of McQueen with tar to with bumper sticker to Crusin' is in this post.
It is PRESUMED this is Whitewalls McQueen since he's not out yet in the US (some international markets have received the 2-pack). But until he gets released in the US, we cannot saying 100% for sure just yet … if he is released with no tar, no "Route 66" bumper stickers and with a black border bolt (as pictured in the foreground photo above), then it is merely an ERROR in packing … and NOT considered a variant. It is more rare and more uncommon for a CHASE car to be mis-packed since there are fewer to go around but it's not unheard of … now, IF Whitewalls McQueen released in the US is DIFFRERENT than the photo above, then you have a much rare and rarer variant.
But it is looking like it is merely an error in packing and NOT truly a variant but the final verdict won't be certain until Whitewalls McQueen makes a US appearance. So, again, its value as an error (most likely) or as a variant (very slim odds) are both up to you. Enjoy spending your money as you wish … or if you're sellling, good luck!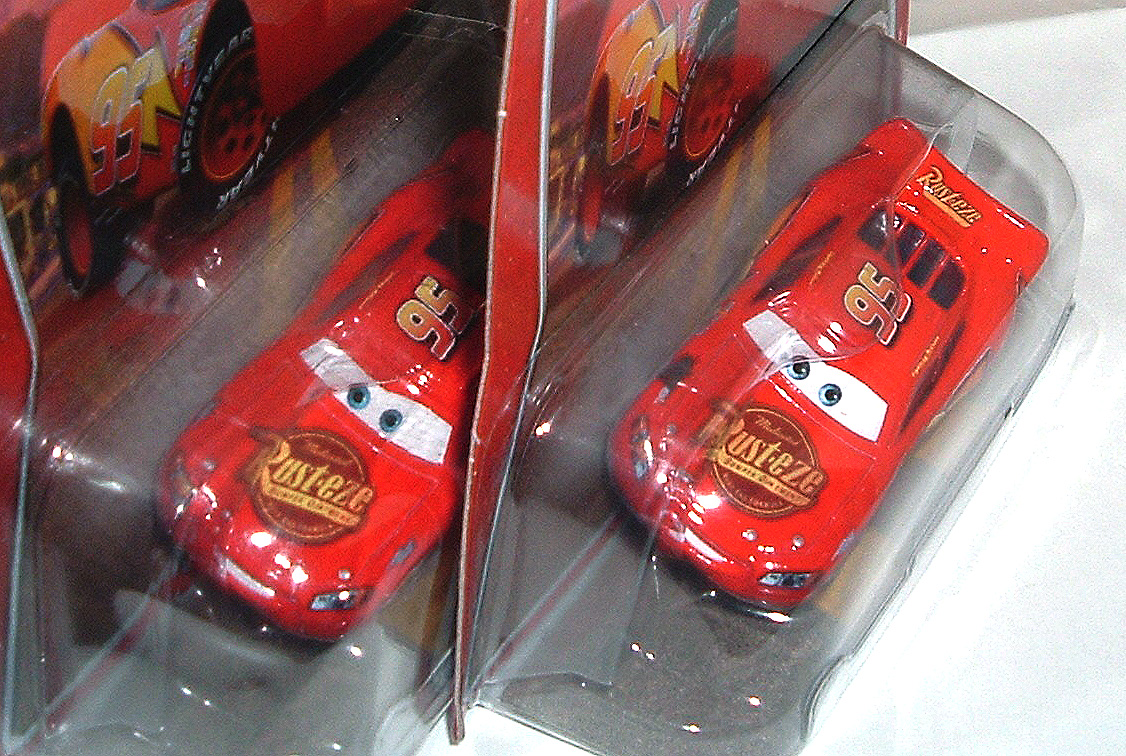 This is a close up of the CHASE card Lightning McQueen with Bumper Stickers – as you see, the right one is the "correct" one – the left contains Whitewalls McQueen.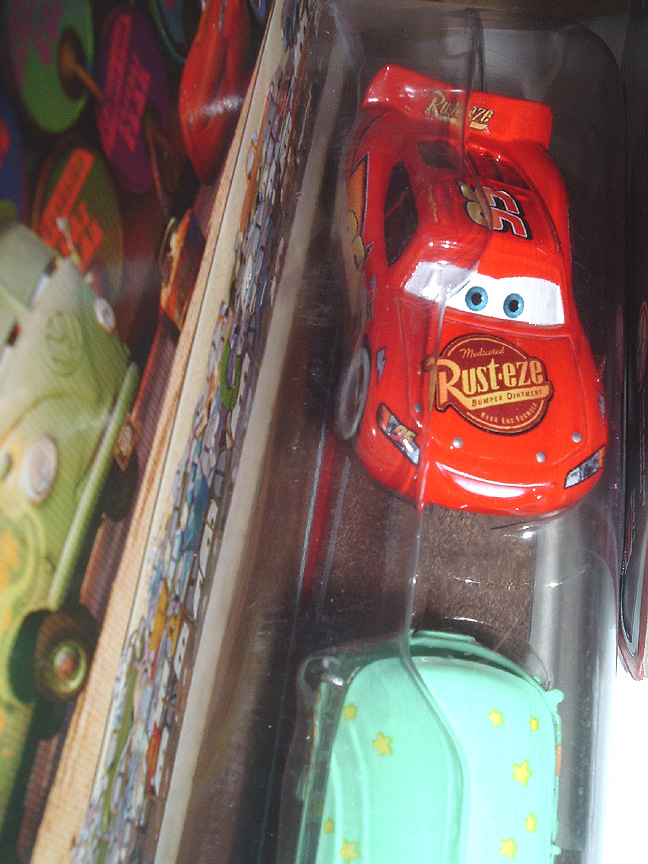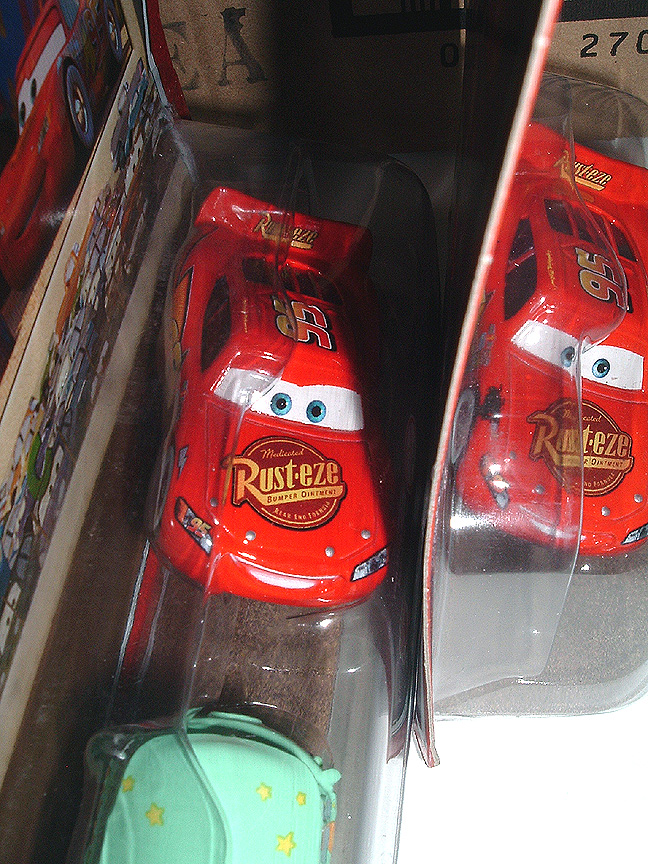 Photo of the International Fillmore & Whitewalls McQueen release – right side is "correct" Lightning McQueen with Bumper Stickers. Thanks for the great photos, Frank!
And thanks for pics of the ramp-packaging variant #2, NascarBroncoFan.
Read our earlier post to see the full differences between the 'Stickers' McQueen and Whitewall McQueen.


metroxing

28 September 2008

Advertising, Checklist, collecting, diecast, Marketing, Mattel Disney Pixar CARS, Retail, Toys, TV


One Comment