Home
»
Advertising
,
CARS
,
Checklist
,
collecting
,
diecast
,
Disney Pixar
,
Film
,
Internet
,
Marketing
,
Mattel Disney Pixar CARS
,
Retail
,
Toys
,
TV
Disney Pixar CARS: Kmart Sells CARS Stuff And …
Fiddlehead of Maine actually notes that Kmart.com is selling the Hot Wheels Event Day Hot Wheels by the box … humm, interesting…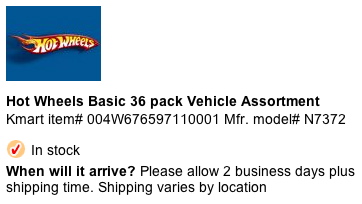 (CLICK ON GRAPHIC to go to Kmart.com & that HW Case page).
And no, I have no idea if this means the CARS Collectors Days CASE M1054-9998 will be available on their website after the event … presuming these are "left-overs." Kmart has been doing the HW ones for a while and some people claim they've seen 50 cases at their Kmart … but this being the first EVER CARS Collector's Days, it's hard to tell how they will be prepped for it. There are plenty of stores who have no idea it's coming (though it's still 3 weeks away … their parole date they might remember but a CARS event? …) so perhaps if they have extras, a few days after the event you might want to check – who knows … I'm sure there is a Kmart in some part of the country that no CARS person shows up in …or they put the table next to the the 22.7% interest credit card offer?
On the other hand, I did find some other CARS items that I had no idea existed but then if it's not the candy or toy department, I'm pretty much clueless … wow, so you put liquid soap in this bucket thing and you run it up and down your floor … mopping, you call this – interesting concept. So, is there a way to do this without me doing any physical exertion? Sign me up!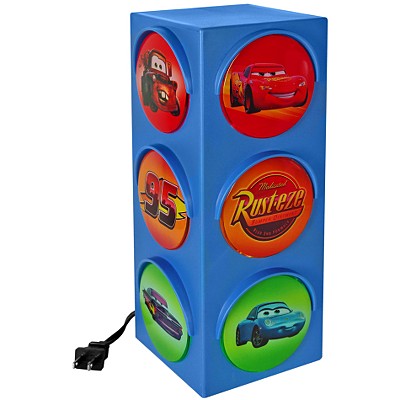 Solid concept but where I live, our traffic lights are RED, YELLOW & GREEN … um, hello, Yellow Ramone, Charlie Checker … come on people, learn about some the CARS before designing a product!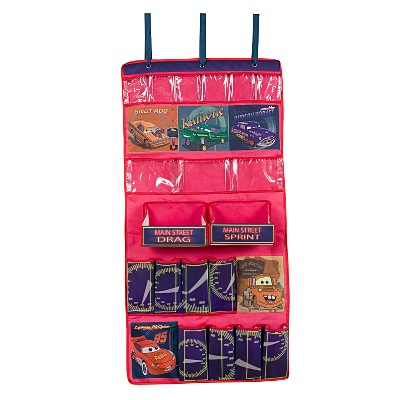 Of course, I know the Hot Wheels one but the photo confuses me – unlike the HW's one with like 72 pouches, are these different sizes? Does anyone actually have one? Drop us a comment below on what you think – Useful? Like it?
Apparently, you can use this to organize your kids clothes for the next few days – bwahahaha … really? People do that? Not just what's left relatively clean or relatively close to the right seasonal climate that you pull out of the pile … interesting concept … organized clothing wearing for little boys… what will they think of next?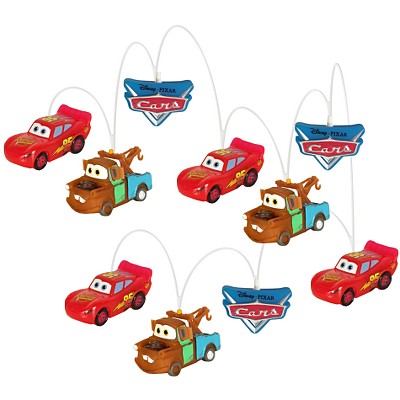 CARS lights – FINALLY, something useful – have these been out like 3 years and I missed them? I have devised a new way to do a tree so I might have to start over. The base of my tree is the 4′ across tangle of lights in a giant ball – on top of that, a two foot ball of tangled lights and on top, a 1′ tangle of lights – it's a bit warm and a serious fire hazard so I set the whole thing on some dry ice but now, I finally have lights to drape on my tannenbaum of tangeled light balls – woohoo!
Thanks for the Fiddleheadups …


metroxing

27 September 2008

Advertising, CARS, Checklist, collecting, diecast, Disney Pixar, Film, Internet, Marketing, Mattel Disney Pixar CARS, Retail, Toys, TV


42 Comments