Home
»
Advertising
,
collecting
,
diecast
,
Marketing
,
Mattel Disney Pixar CARS
,
Retail
,
Toys
,
TV
Mattel Pixar Diecast CARS: Available at Mervyn's & Long's Drugs
I think the last time I was in a Mervyn's was in 2006 because I heard it from a friend who heard it from a friend who heard it from another that they had CARS … back in day when you had to wonder if all the 12 or 16 CARS featured on the back of card actually existed …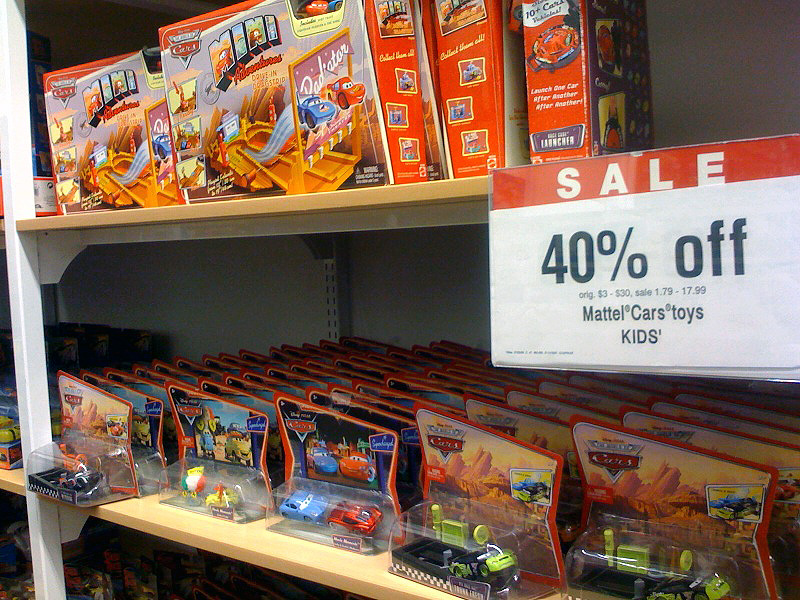 Well, it's like 2006, 2007 and 2008 all rolled into one – yes, they are CARS on the shelf and priced nicely. I didn't really buy anything as I had everything they were selling. I was thinking about gettng the Step-On-Speedway thing but it was on top of the 15-foot shelf and I was too lazy to look for an employee but if you are hesitating about the Pit Row Race Off launchers, looks like they had most of them at 40% off.
In fact, some Mattel sales person is getting a nice bonus, it looks like they managed to sell the remaining Speed Racer CARS, overstock Batman stuff and a bunch of SC stuff returned by Target & WM (presumably) all to Mervyn's, the whole toy section seems to only be selling Mattel stuff – impressive sales job!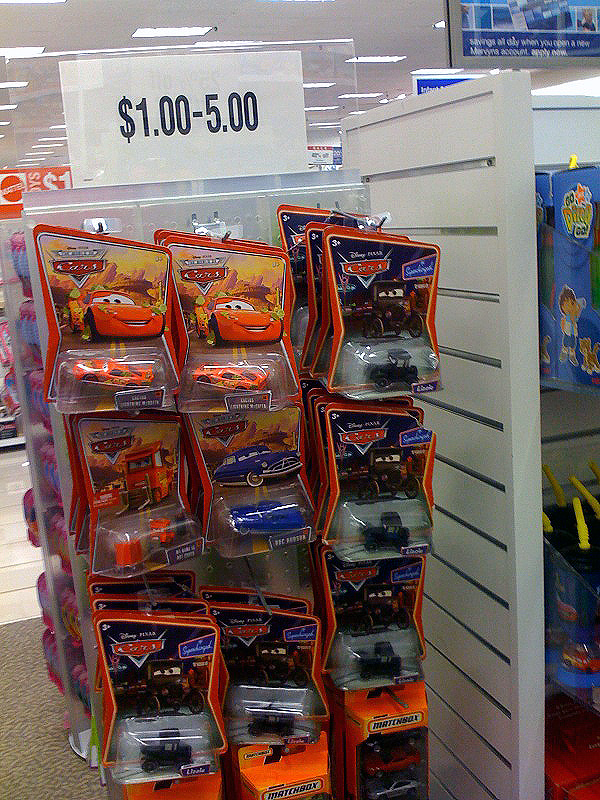 Since I see Cactus McQueen, it's safe to presume CASE R made an appearance … okay a few too many Lizzie's but at least 6-7 CARS choices so not too shabby. A good starter to CARS collecting selection. The singles are the only CARS not heavily discounted but the 3-packs are $7.19 and the most of the multi-packs are 30-40% off … now they have marked them a little so for instance, the 3-packs are 40% off $12.00 but still nice at $7.19 … They are the only place selling the Mini's 9-pack at @$17.99 after discount so not bad.
I even wandered next door to Long's Drugs to see what their selection looked like … more typical …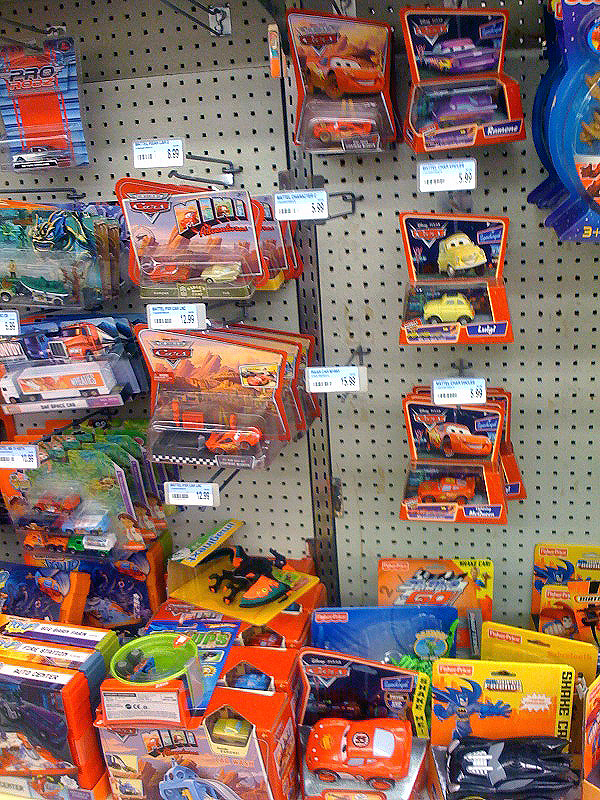 Yep, the pullbacks look pretty pristine so now's your chance to start and complete that in one fell swoop 🙂
I also went to JC Penneys – couldn't find a toy section, presume it'll be up for the holidays in the next week or so?


metroxing

29 September 2008

Advertising, collecting, diecast, Marketing, Mattel Disney Pixar CARS, Retail, Toys, TV


33 Comments