Home
»
Advertising
,
Checklist
,
collecting
,
Film
,
Marketing
,
Mattel Disney Pixar CARS
,
Retail
,
Toys
,
TV
Mattel Disney Pixar CARS: The Mainline (San Diego Comic Con)
Let's see: Storytellers Series, check … Oversized CARS coming in September, check. The nicest truck trailers for the Piston Cup racers, check. Chase CARS, check. Mini's – check … what else is there, there is something else, I just know it … I just know it …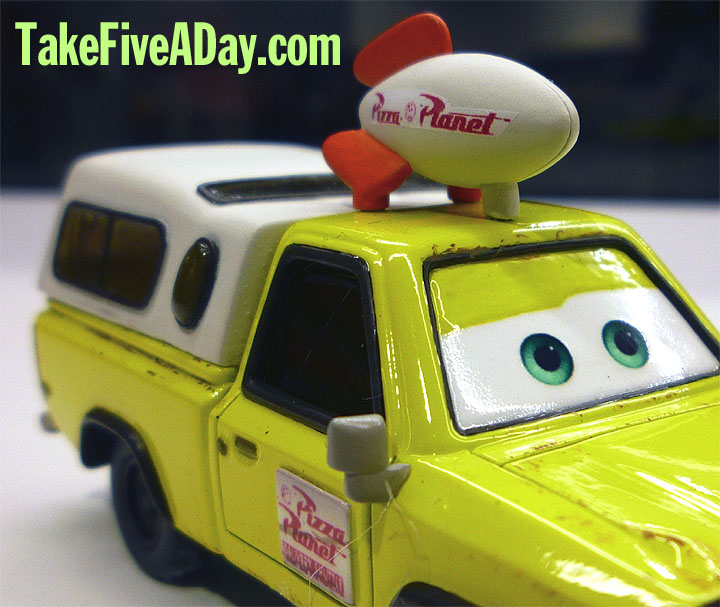 No, not pizza but something just as tasty … THE MAINLINE CARS!
Now, some of these might come in the new Target Movie Moments, Gift 3-packs or in Box sets but they are all scheduled to arrive – some as early as a few weeks from now – others maybe not until early next year … but hey, what's 10-12 new CARS a month for the next 6 months? 🙂
In alphabetical order …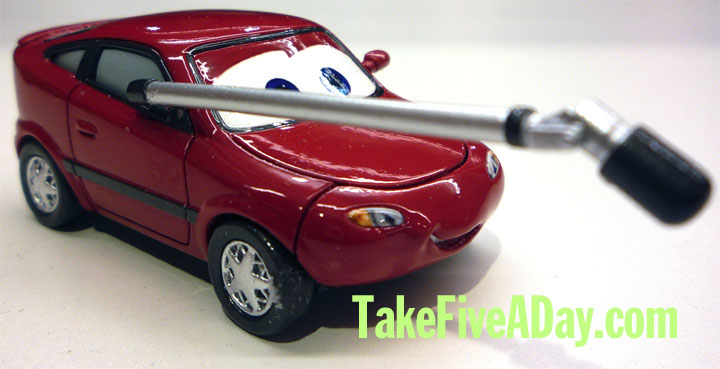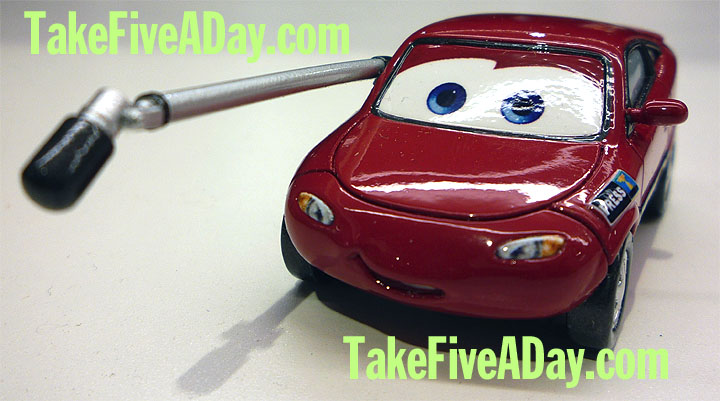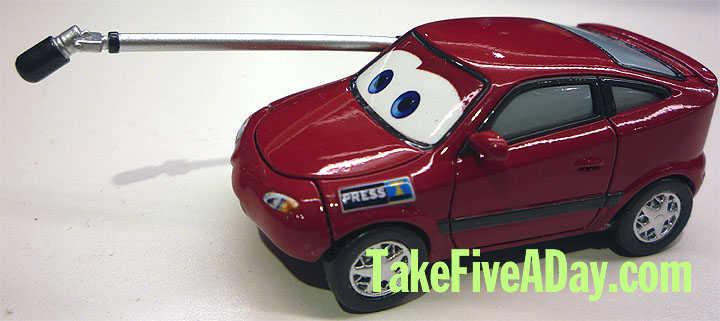 Andrea, the reporter – notice how her 'expression/front piece' is separate so they swap it out for other expressions and other reporters. (It also be Cora Cooper but Cora's holding a camera in the Blu Ray finder so presuming they're following the Blu Ray finder, this is most likely Andrea – though Andrea appears to be a holding a camera light in the Blu Ray finder … but I'll stick with guessing this is Andrea).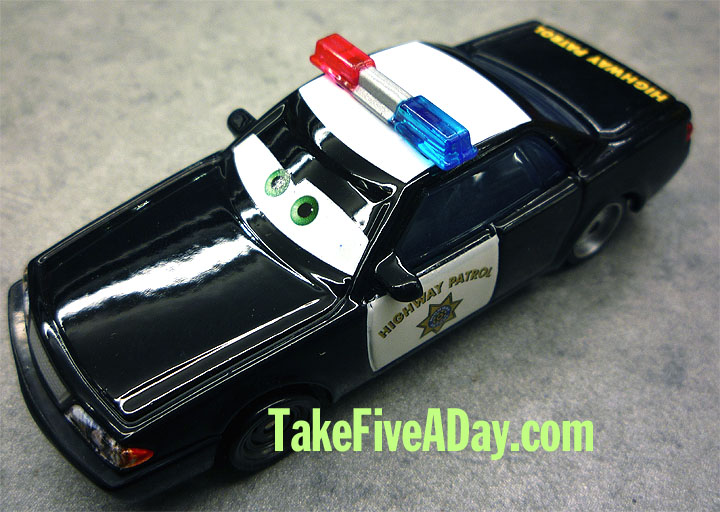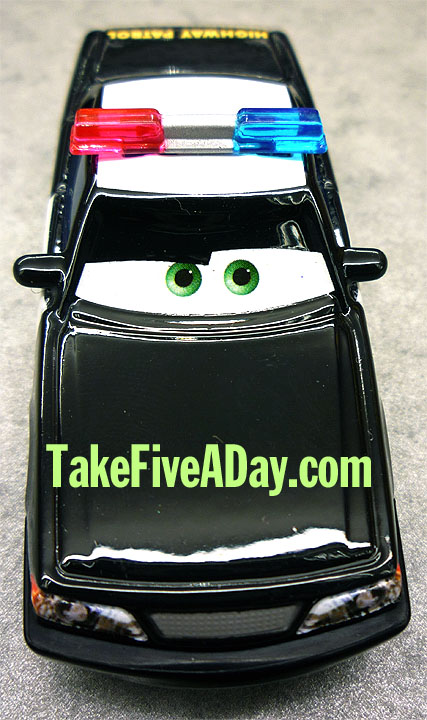 Axle escorts Mack & Lightning McQueen out of the Speedway of the South racetrack. Badge #153 according to the Blu Ray Finder.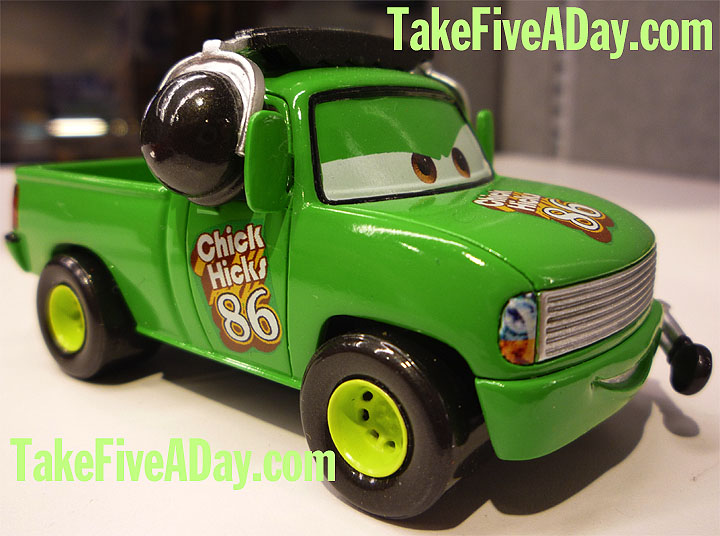 Chick Hicks Crew Chief … the attention to details is just amazing!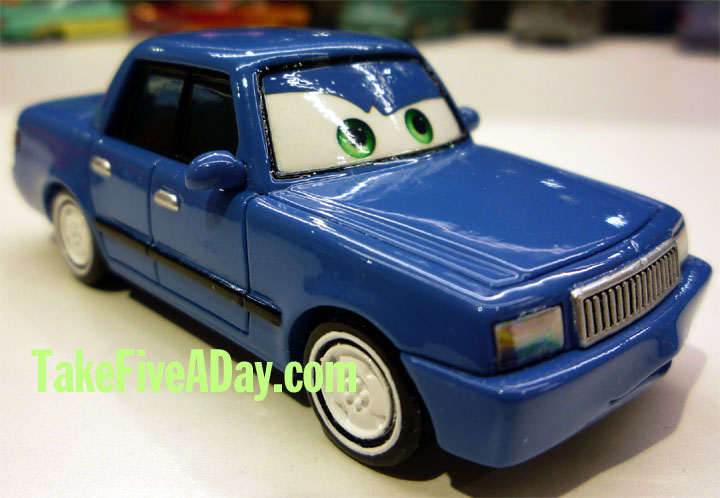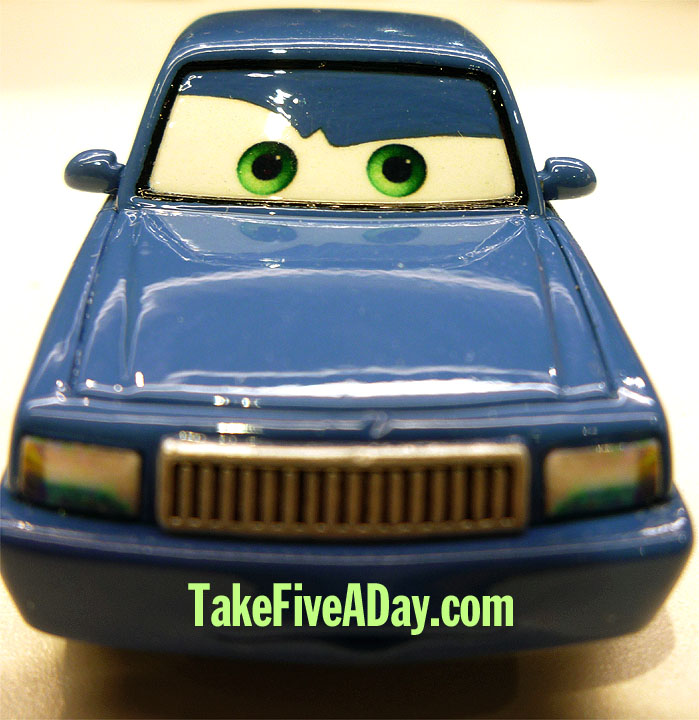 Chuck Manifold – Reporter, presumably the first ever Chrysler K-car diecast 🙂 but again, no detail is too small to get right.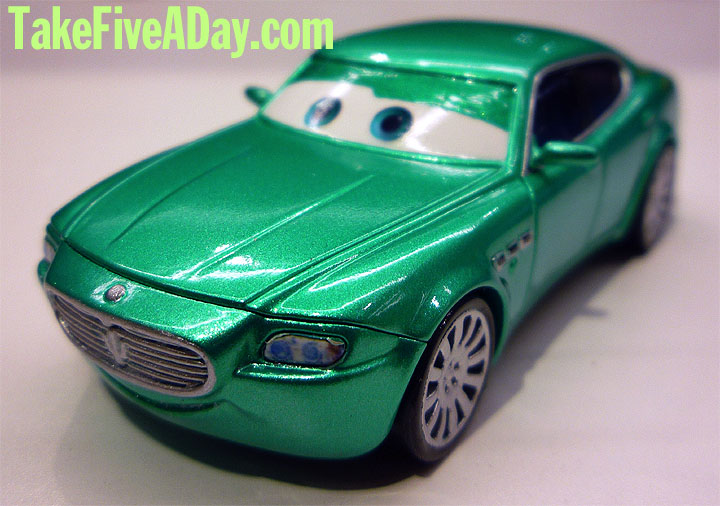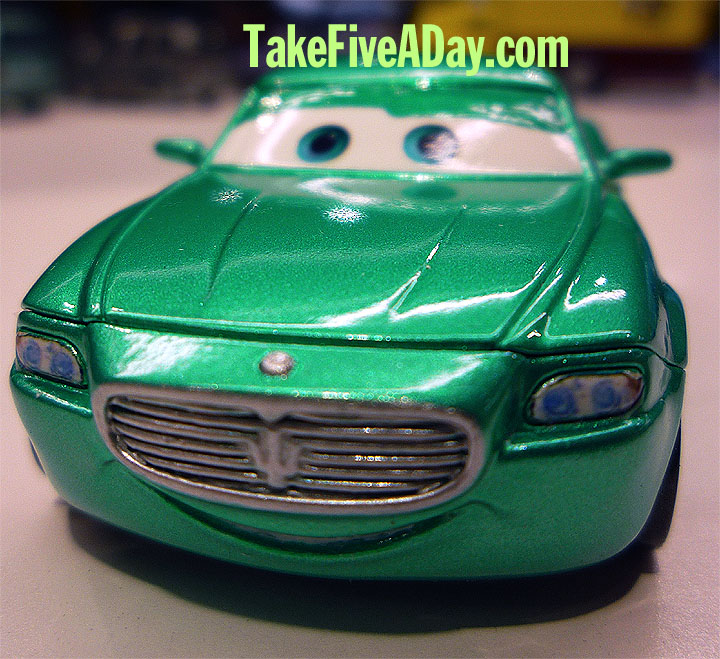 Maserati Costanzo Della Corsa, Michael Schumacher's friend who joins him on their visit to Radiator Springs.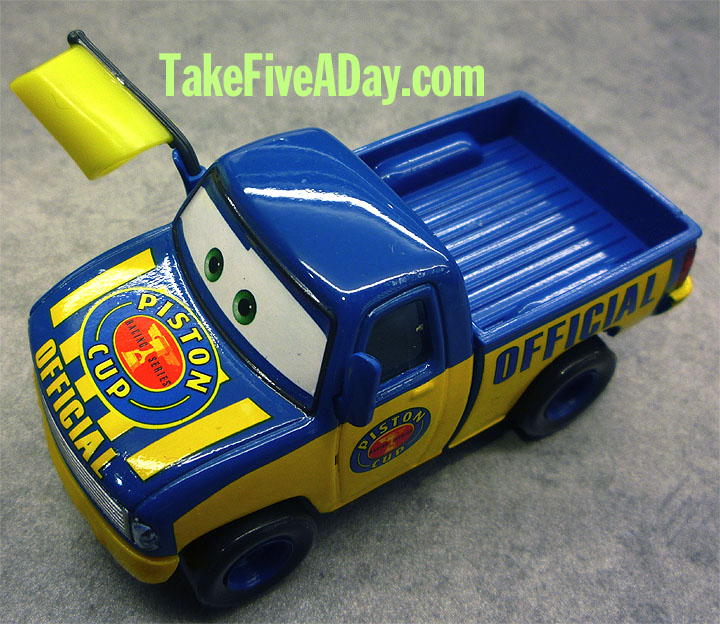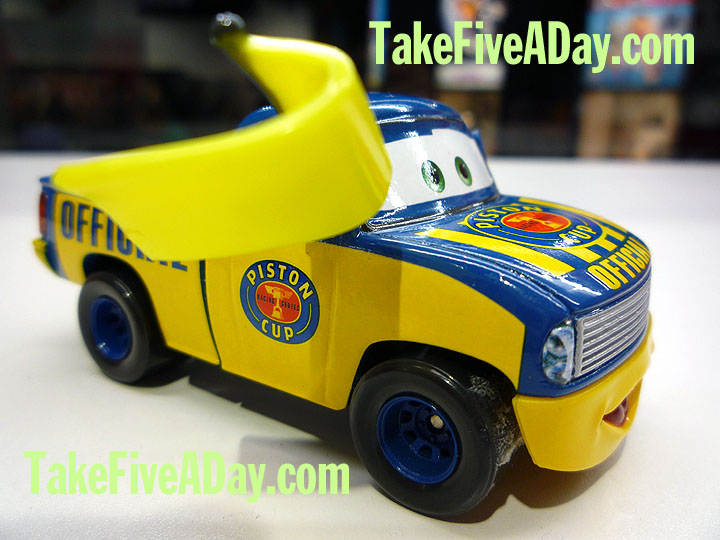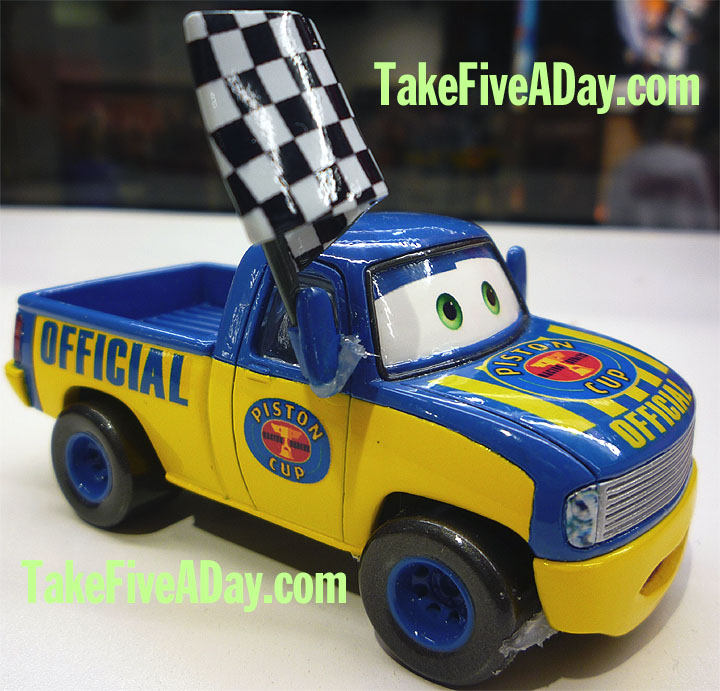 Dexter Hoover, the flag guy … now, all we need is a green flag version, a red flag version, the white-checkered flag version (for the last lap), the black version when you flag a driver and the brown version when he is signals that he wants a mocha cappuccino (okay, kidding on the last one 🙂 ).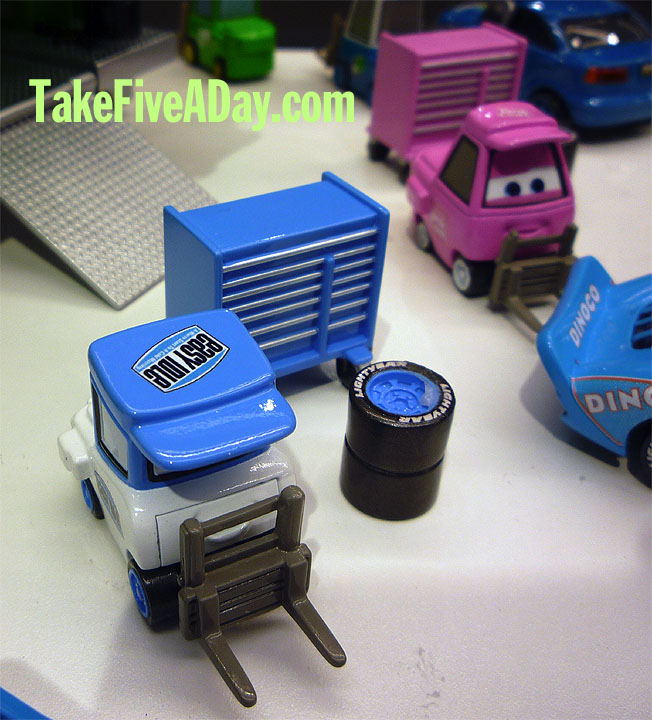 Easy Idle Pitty – I didn't bother to photograph most of them since we have a pretty good idea of what they look like or will look like … that of course is Tank Coat Pitty in the bg – he was first shown at Toyfair 2008.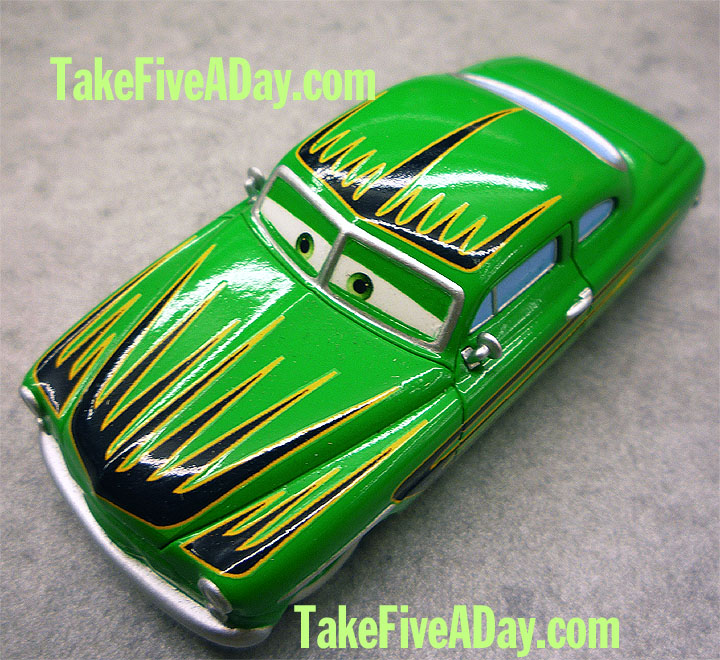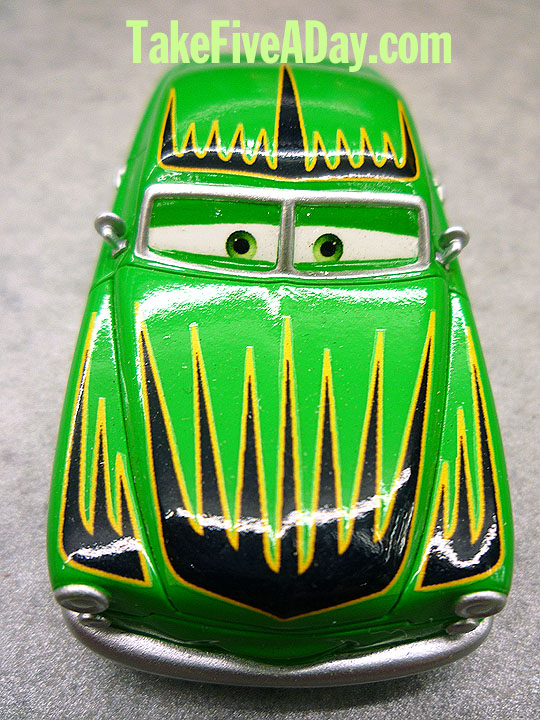 Edwin Kranks – one of the CARS in the flashback Radiator Springs scene.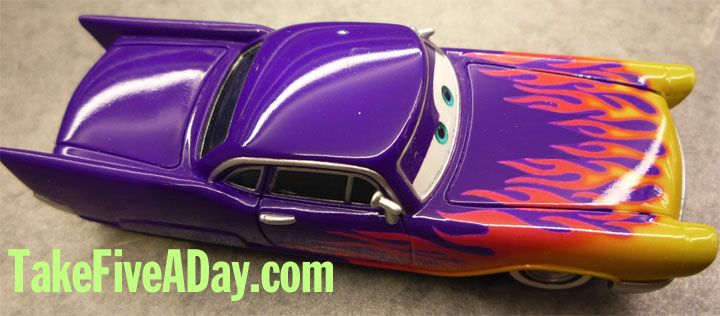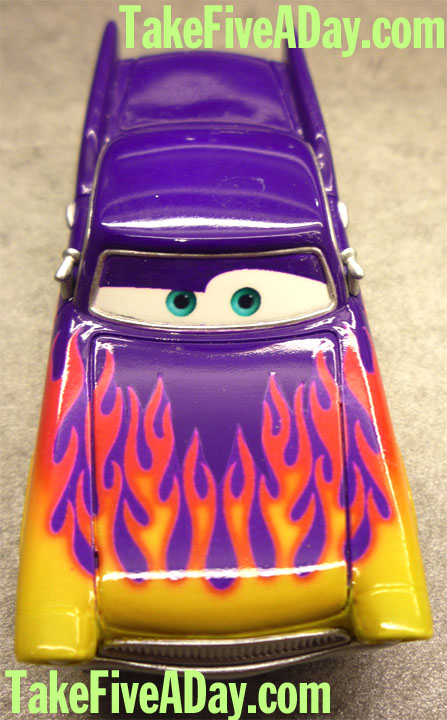 Greta, who comes out of Ramone's Body Art shop during the flashback scene.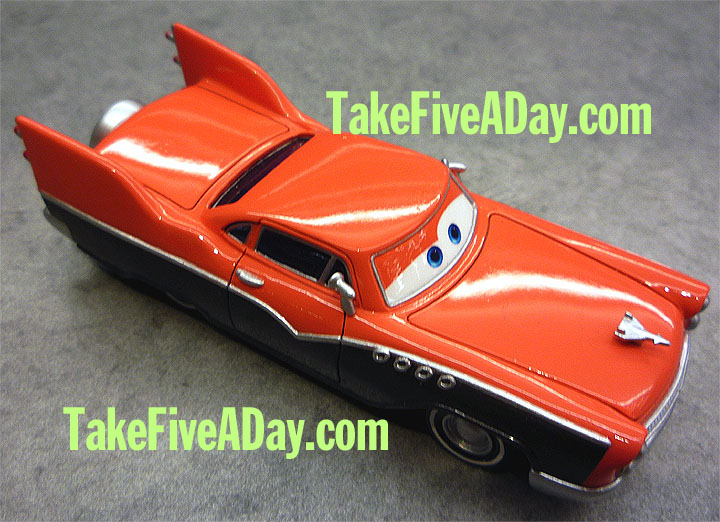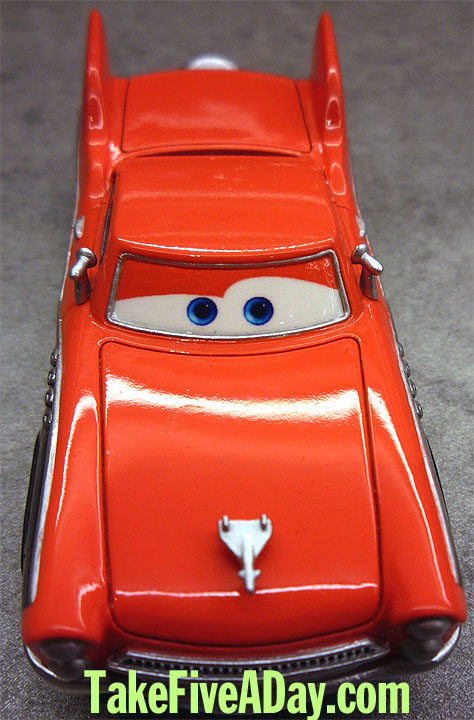 Hank 'Halloween' Murphy is going to be one heavy CAR.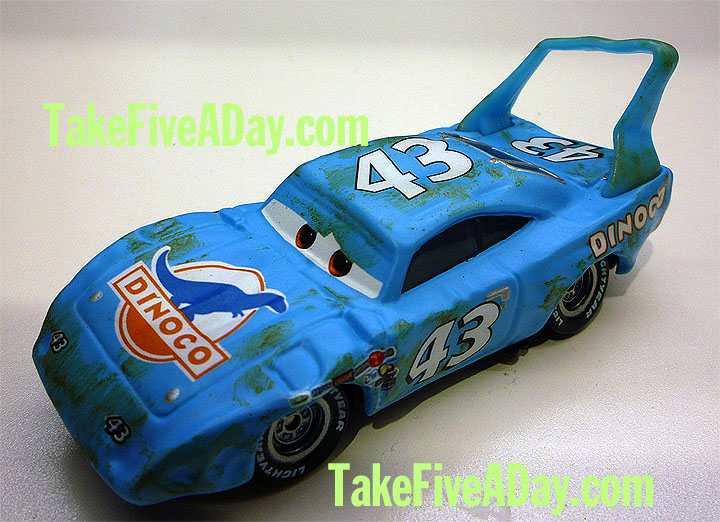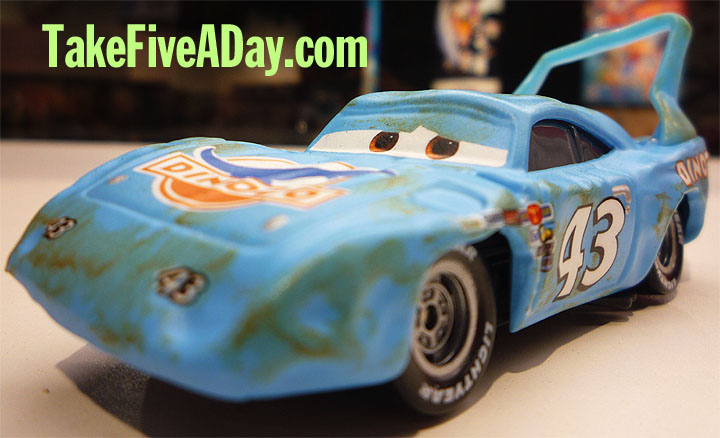 King – Race Damaged. Again, note the details and realism – not just smashing the regular King mold with a ball peen hammer, real art … and while the Race Damaged King was displayed next to the Piston Cup Chase CARS coming (Chick, Dinoco McQueen & King), Race Damaged KIng is NOT a Chase CAR. He was originally scheduled with LM in a Movie Moment.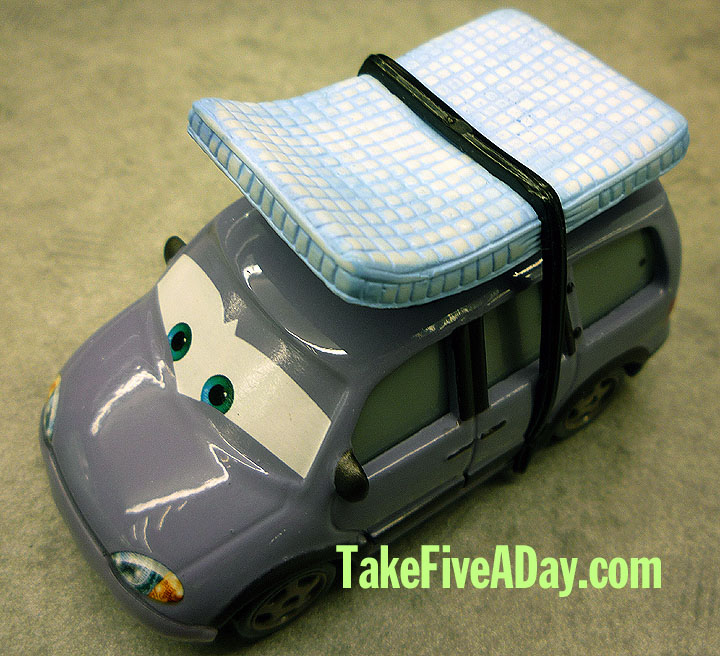 Leroy Traffik – coming in Case R. Again, the details in the mattress, good enough to lie down on …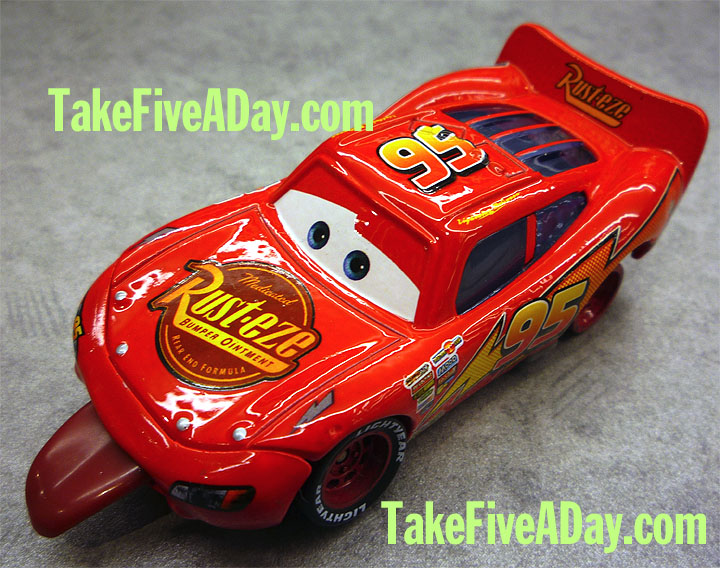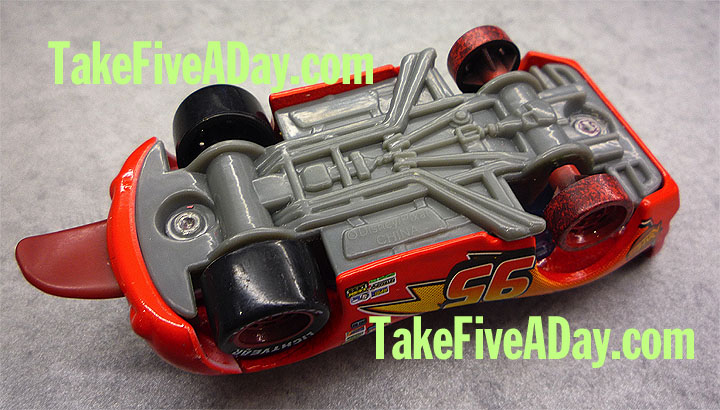 "Finish Line" McQueen (not his official name). Of course, when he takes no tires and blows two in the home stretch, he needs all his tongue to tie Chick & The King.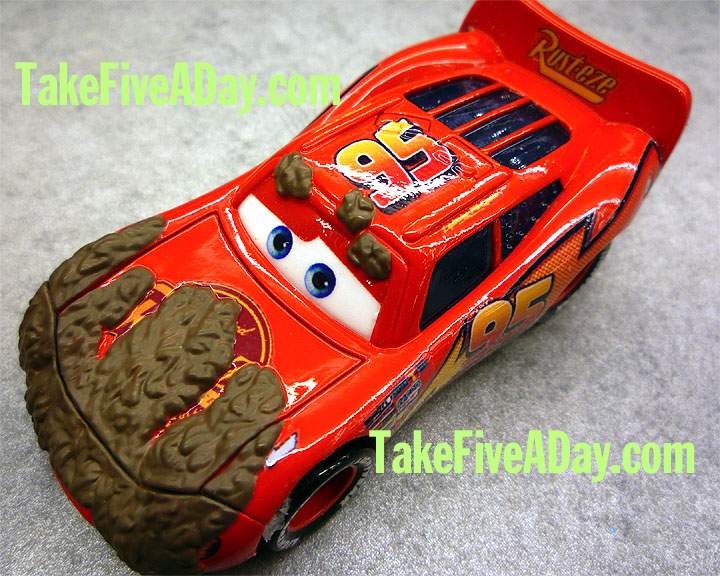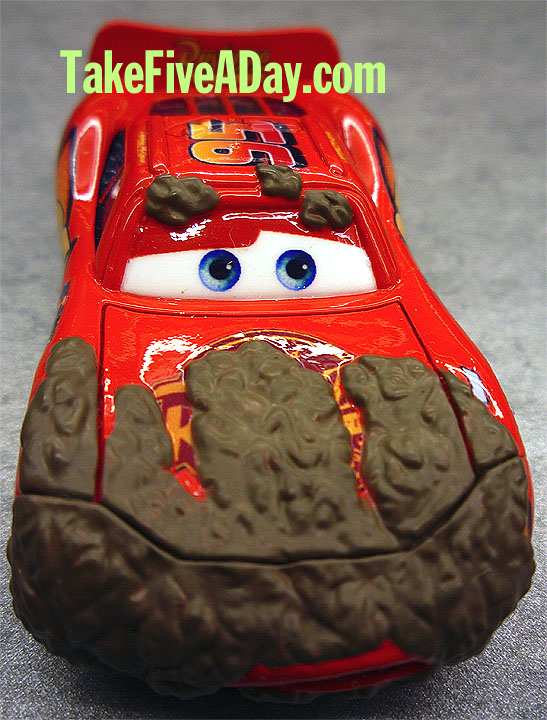 "Mud Face" McQueen (not his official name) – from his drive with Sally outside Radiator Springs.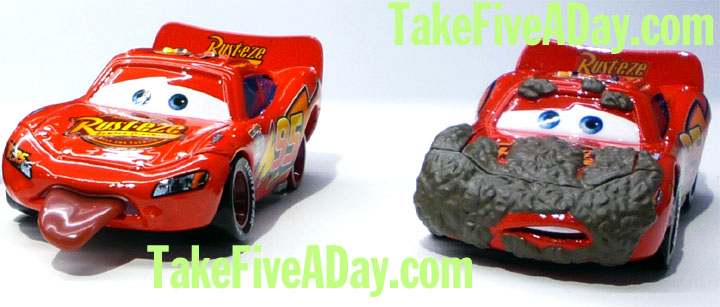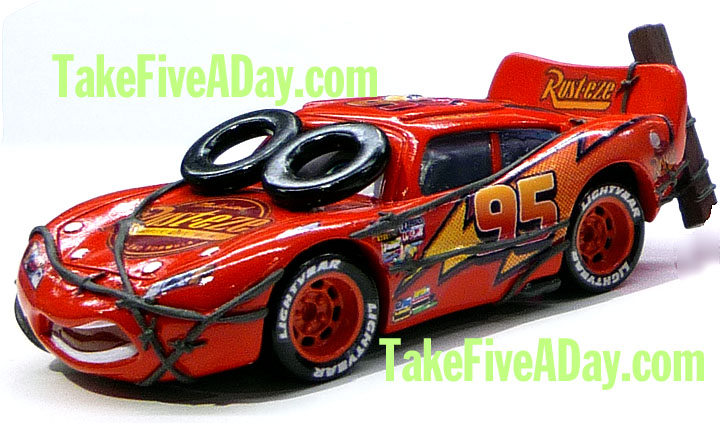 Tires McQueen – more amazing detailing.
There's also Camo McQueen with Night Vision scope (thought I photographed but couldn't find so here's a screenshot from the film).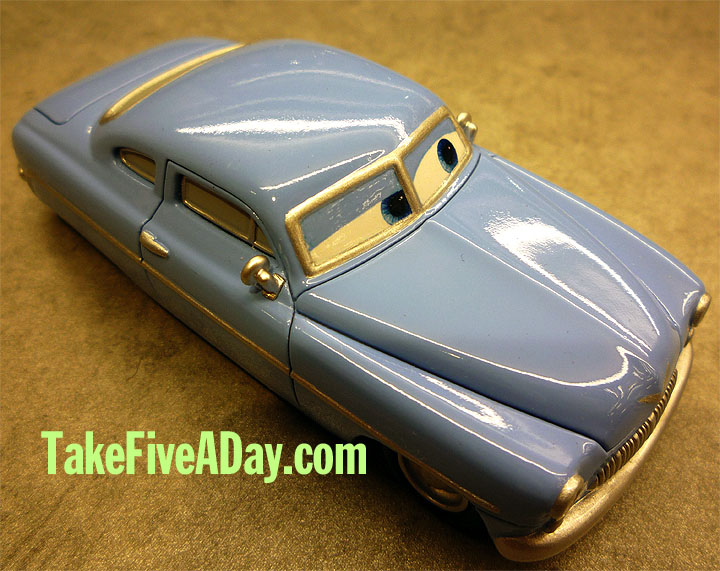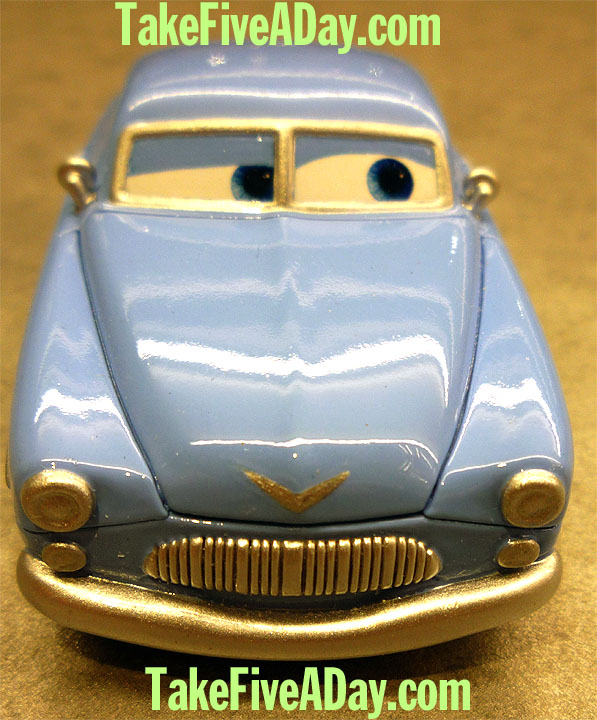 Milton Calypeer – another flashback CAR.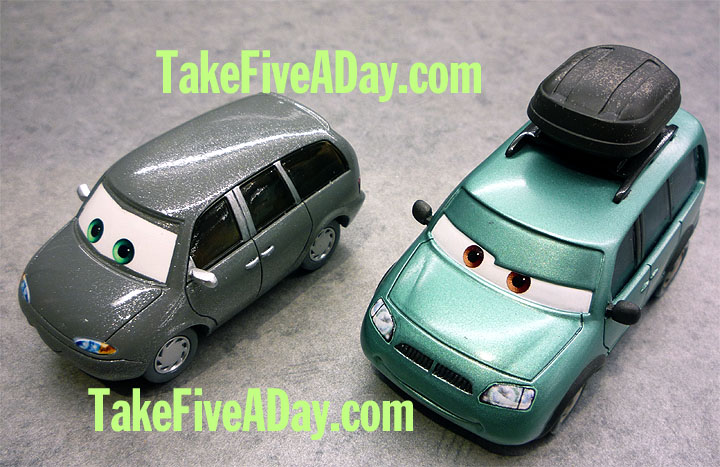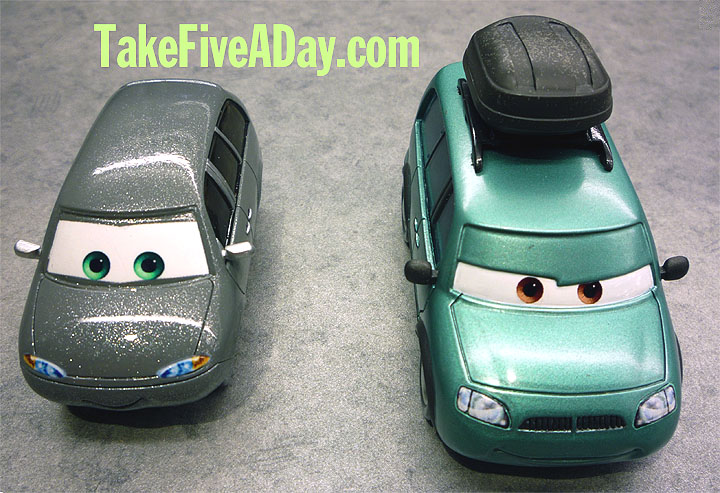 Mini & Van … note the sun weathering spots on Van's roof carrier … no detail too small.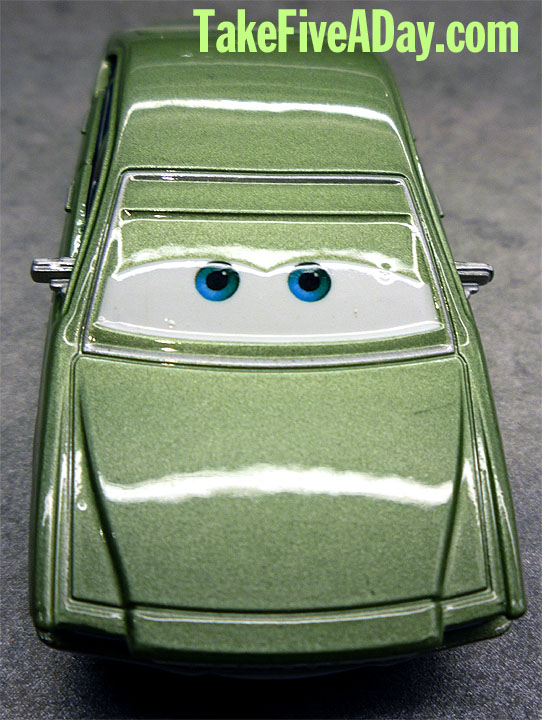 Patty – Mario Andrett's assistant – scheduled for a Movie Moments pack with Mario – perfect opportunity to fix his rims?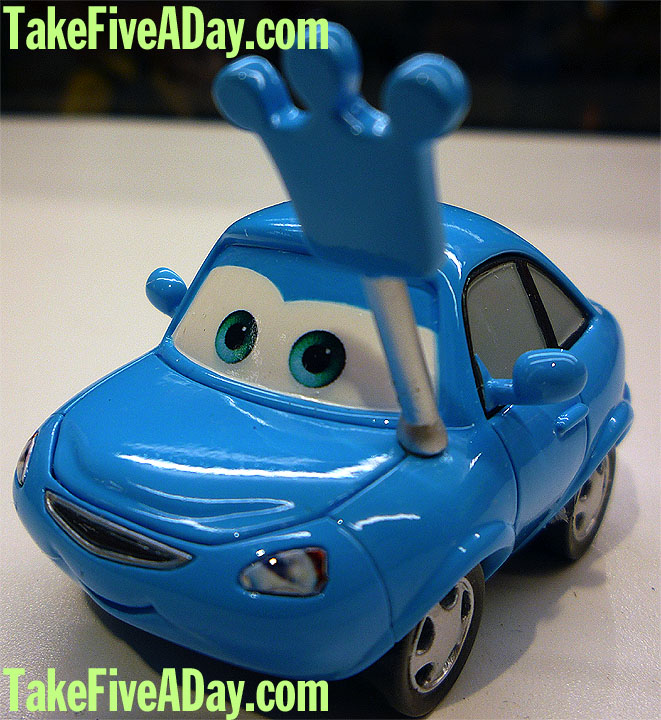 Polly Puddlejumper – King fan.
Ron Hover – Sports reporter.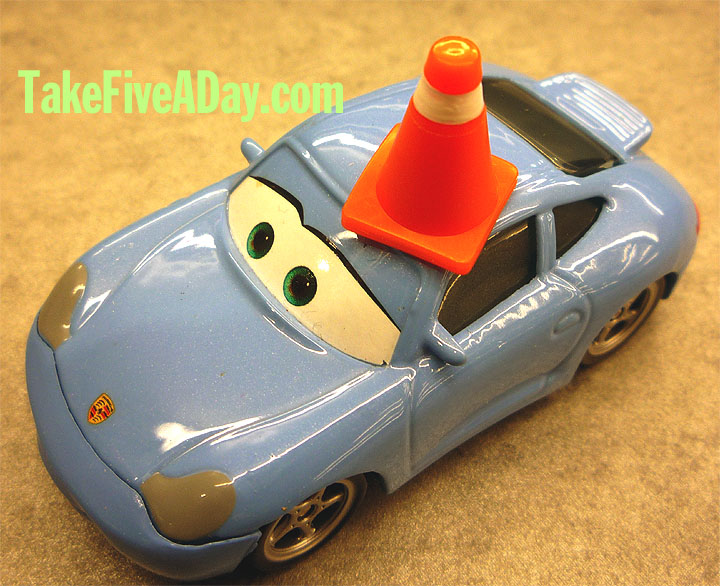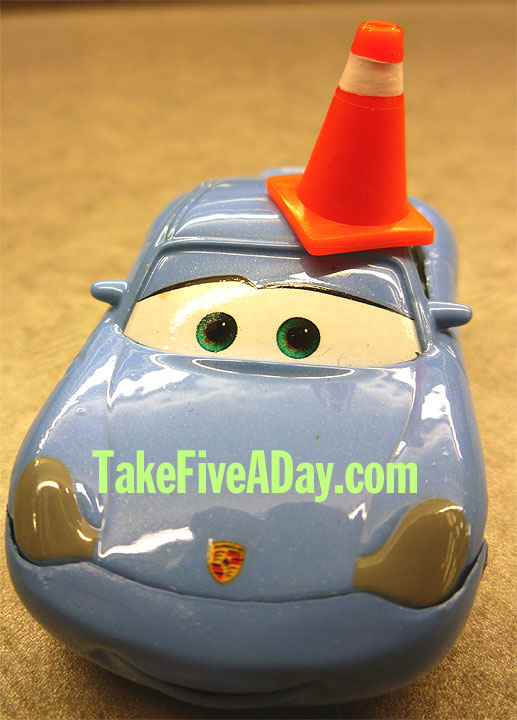 Sally Cone.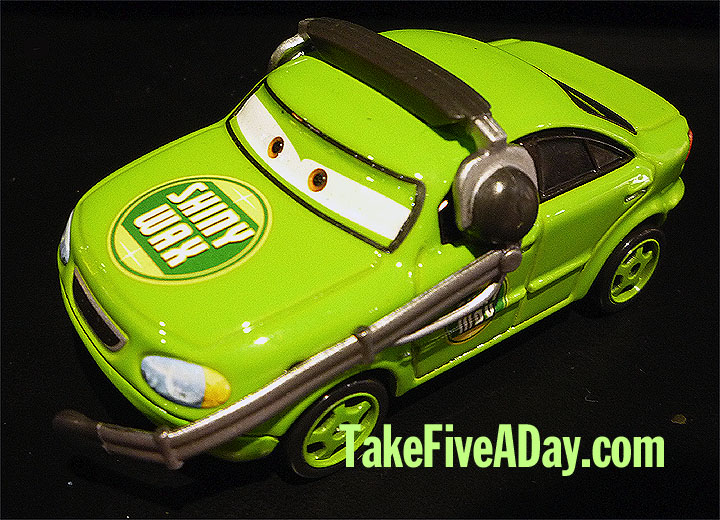 (SARGE? Moved to CHASE).
Shiny Wax Crew Chief.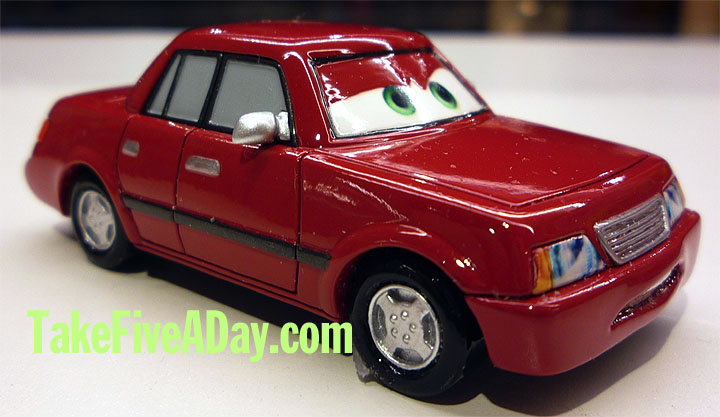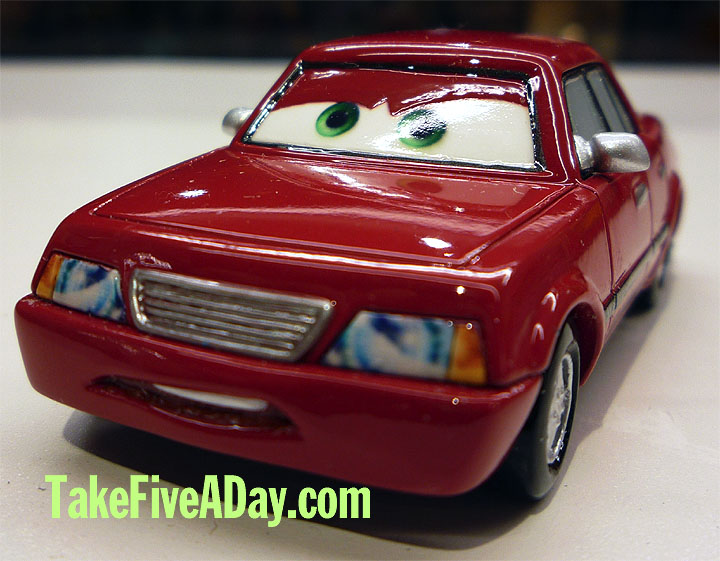 Skip Ricter – Host of "The Racing Machine." Hey, is that another Chrysler K-Car? 🙂 Though I think Martin Arriola & his team at Mattel put more effort into this K-Car than Chrysler did with the real one 🙂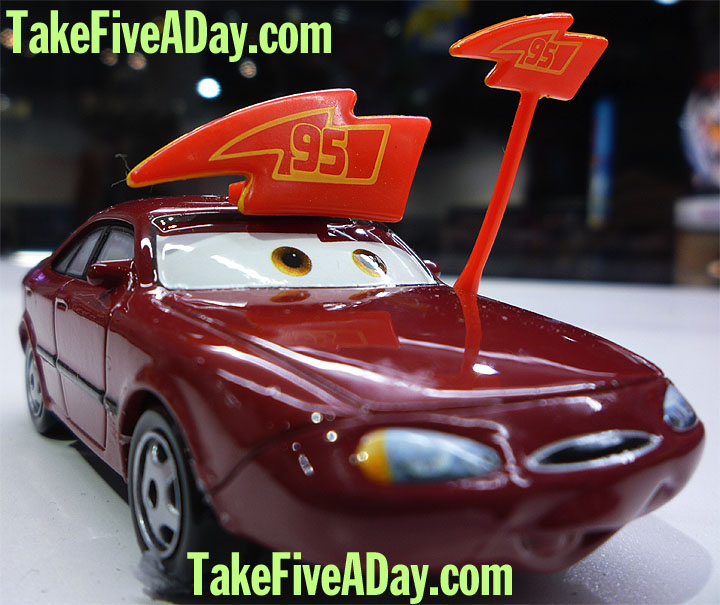 Timothy Twostroke – McQueen fan (though not his biggest fan 🙂  ).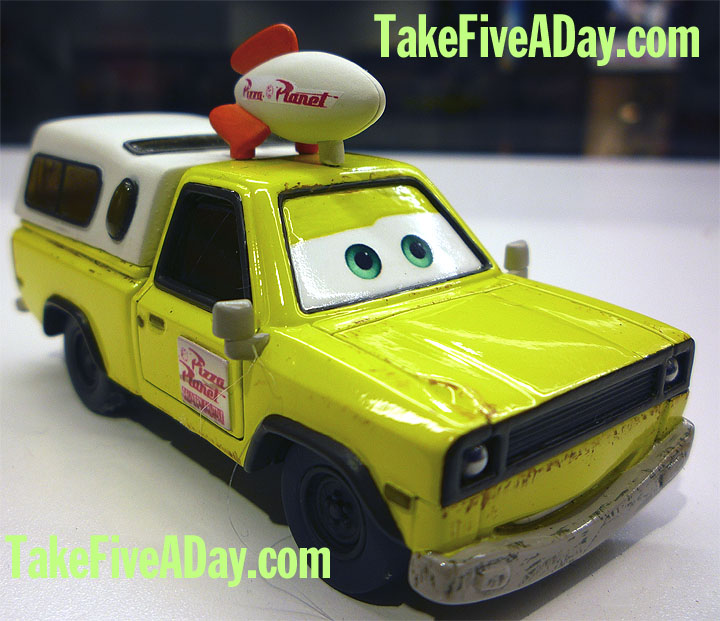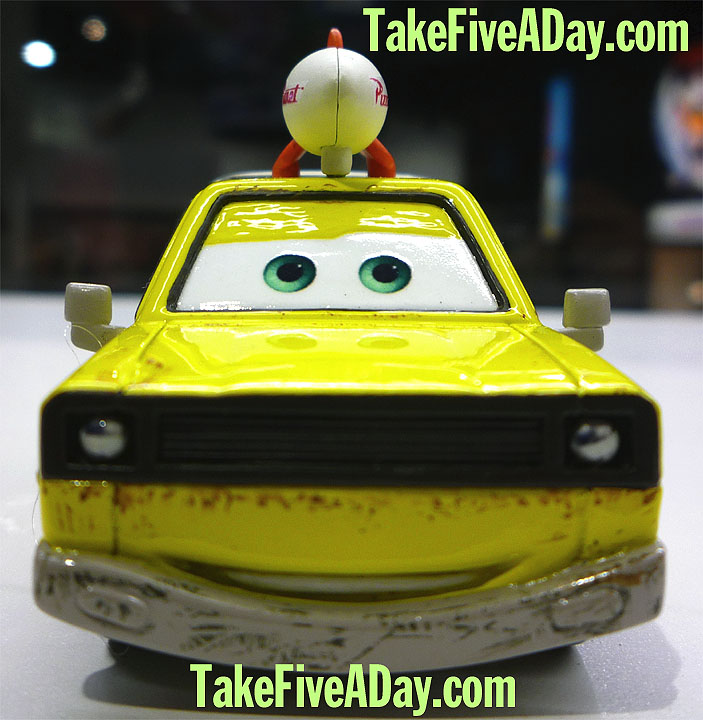 Todd – the Pizza Planet pickup … yea, they might sell a few of these also.
$3.49 buys you a truck that features – what – 75 details done right? See the dirt build-up long the back camper shell sill? Daamnnn.
I'm pretty sure this is all a dream – no way are we getting this many great cars and trucks.
Of course, in my other dream, I'm a billionaire but the only things released for the CARS movie are Al Oft the Blimp in 1:100, 1:87, 1:64. 1:55, 1:24, 1:18 and 1:12 scales.
Well, at least in the poorhouse on this Earth, I'll have 500 CARS 🙂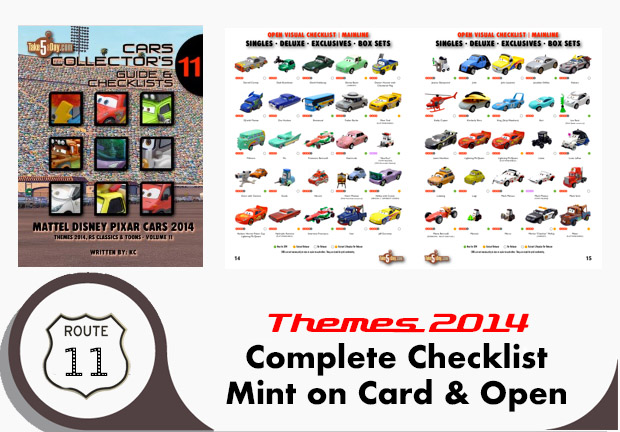 metroxing

8 August 2008

Advertising, Checklist, collecting, Film, Marketing, Mattel Disney Pixar CARS, Retail, Toys, TV


2 Comments