Home
»
Advertising
,
CARS
,
Checklist
,
collecting
,
Film
,
Marketing
,
Mattel Disney Pixar CARS
,
Retail
,
Toys
,
TV
Mattel Disney Pixar CARS: The Expanded Universe-Storytellers (Updated)
A few weeks ago when I first posted with more details and photos regarding the STORYTELLER series coming, I discussed and asked if we were straying from the movie as the "sole universe" of the characters for the diecast line … well, it turns out the STORYTELLER series is edging closer to the EXPANDED UNIVERSE scope … and since CARS is the STAR WARS of diecast, might as well steal the moniker they use 🙂
So, presenting CARS: EXPANDED UNIVERSE – the STORYTELLERS.
Each will be directly related to interstitials that will air on THE DISNEY CHANNEL this Fall. "Interstitials" are short form-programming that will in the gaps between shows since the Disney Channel airs ads and sponsorships more like European television in one block at the end of a show. These interstititials will be short films that offer background stories of the townies of Radiator Springs.
UPDATE: Um, not so much … Expanded Universe concept – correct but we're back to the original thought, these are part of a book series (not included with the CARS) – these have nothing to do with the interstitials – which is ANOTHER "Expanded Universe."
The full list of 12 CARS in the series with the 4 NEW CARS in RED is:
Brand New Mater
Doc Hudson
Dusty Rust-Eze
Flo
Fred
Retro Ramone
Red
Rusty Dust-Eze
Smell Swell Lightning McQueen
Sponsorless Lightning McQueen
Tractor
Wedding Day Ramone
(Yes, all 1:55 scale – the other 8 not-new CARS are directly from the "mainline.")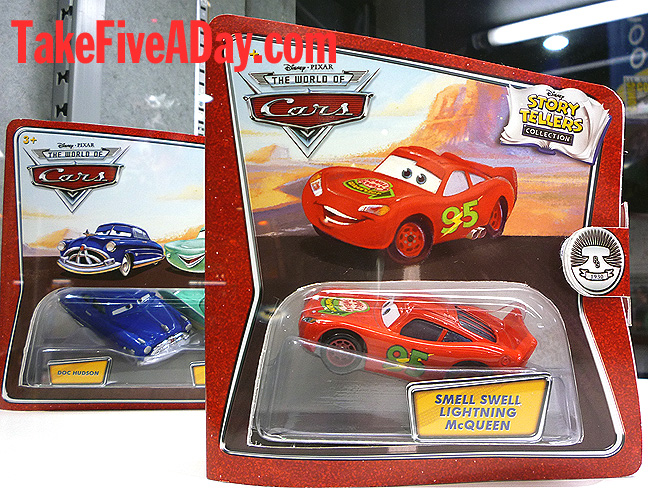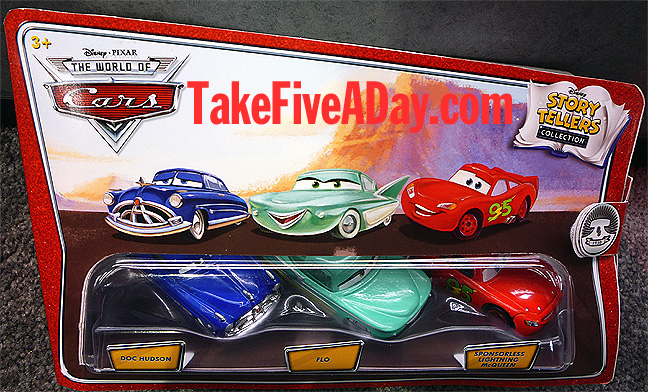 (FRONT OF CARD – VELCRO TAB on RIGHT CLASPS IT TOGETHER)
UPDATE: Every CAR below will be available in its own single pack except for Guido & Luigi. There is one confusion as there is no info listed for any three-packs though obviously it exists and seems ready to go.
So, this seems to be the first opportunity to own Tractor and or Red on their own card though with the special clasp packaging, it's definitely going to be more than $3.49 or whatever the current retail is in your stores for solo cards.
And this also seems be an extra opportunity to own the new 're-scaled" Fred.
And for some reason, if you only want Dusty or only want Rusty, here's your chance to buy just the one.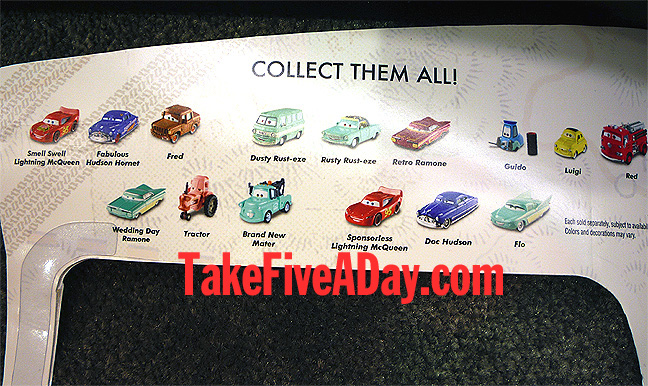 (OPENED – LEFT SIDE OF THREE-PACK CARD)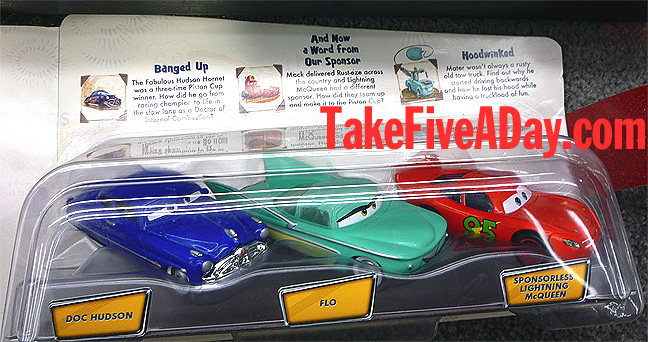 (OPENED – RIGHT SIDE OF THREE-PACK CARD)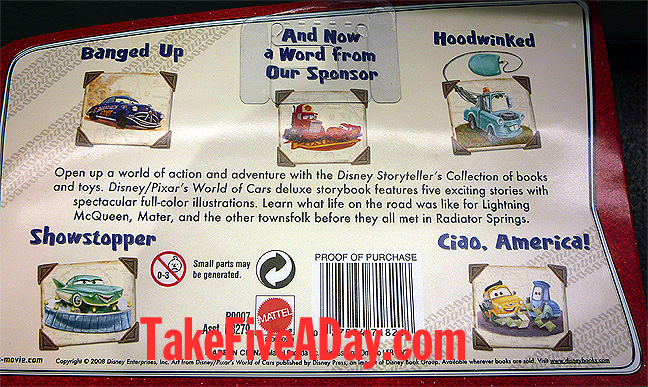 (BACK OF THREE-PACK)
Based on this, it looks like there are 5 Story Books – and since there are 5 "groups" of CARS shown together on the left side of the card above, it seems safe to guess that there are five 3-packs.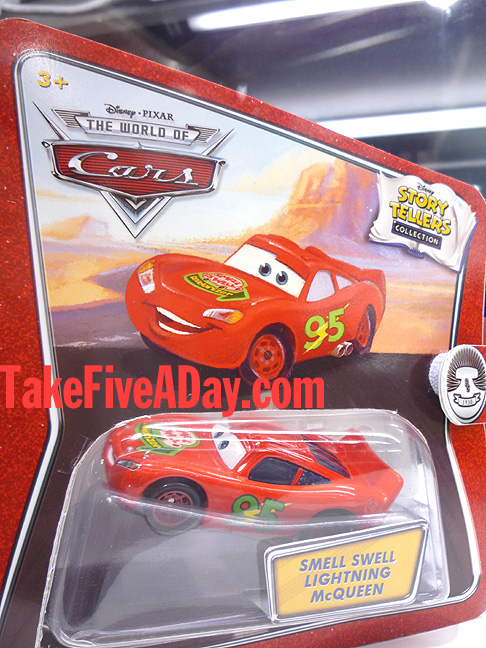 (OPEN – SINGLE CARD – 10 CARS FEATURED ON LEFT)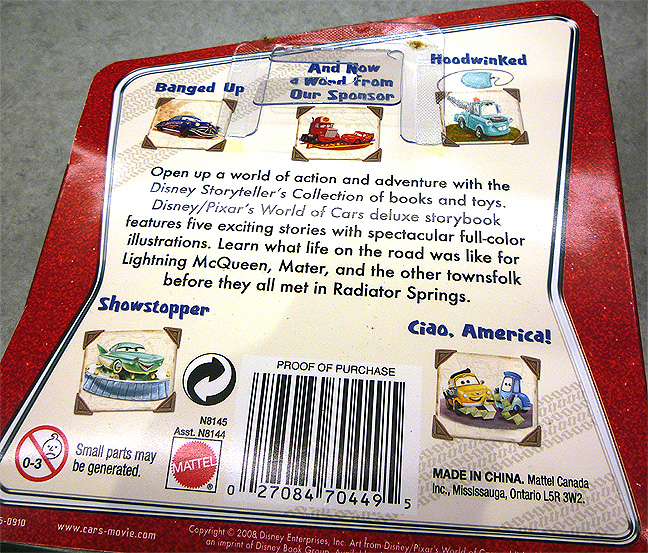 (BACK OF SOLO CARD)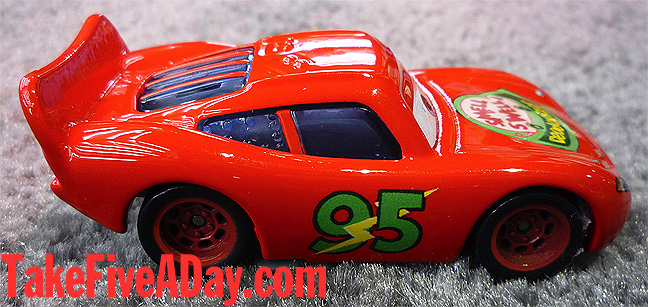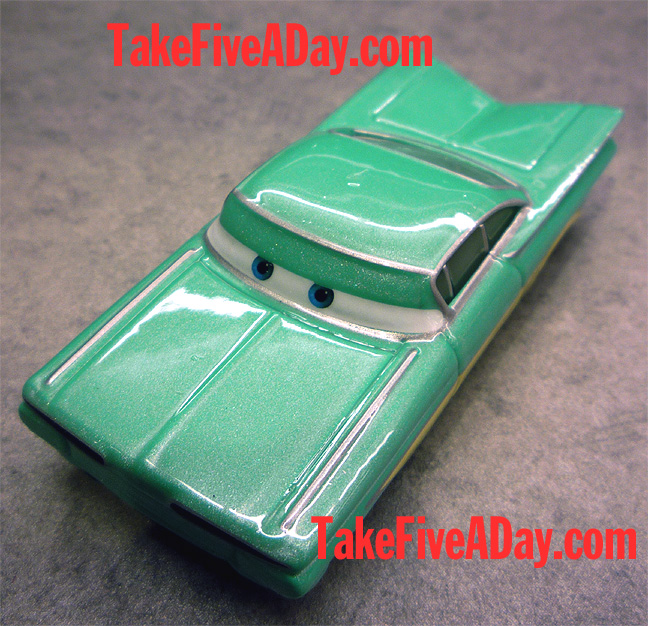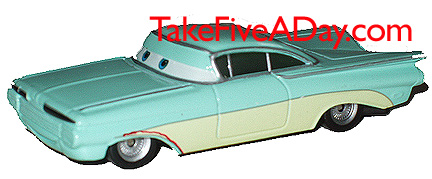 Wedding Day Ramone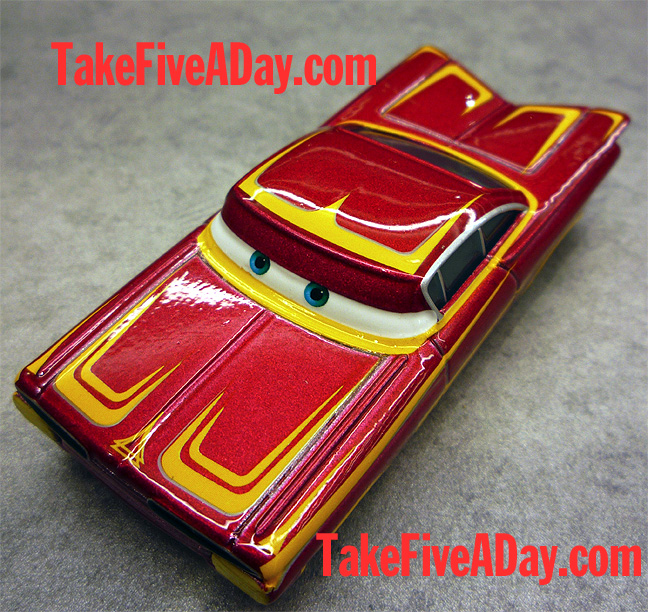 Retro Ramone (that is his listed name – not a guess)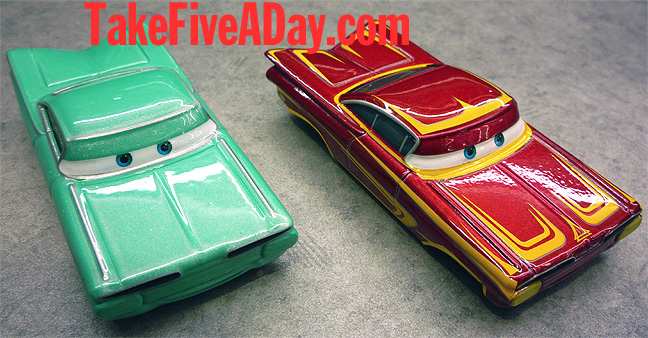 The Five Books Available Are:
AND NOW A WORD FROM OUR SPONSOR
(3-Pack of: Dusty Rust-Eze, Rusty Dust-Eze & Retro Ramone)
"Mack delivers Rust-eze across the country and Lightning McQueen has a different sponsor. How did they team up to make it to the Piston Cup?"
BANGED UP
(3-Pack of: Smell Swell McQueen, Fabulous Hudson Hornet & Fred)
"The Fabulous Hudson Hornet was a three-time Piston Cup winner. How did he go from racing champion to life in the slow lane as a Doctor of Internal Combustion?"
CIAO, AMERICA!
(3-Pack of: Guido, Luigi & Red)
NO DESCRIPTION AVAILABLE YET.
HOOKWINKED
(3-Pack of: Wedding Day Ramone, Brand New Mater & Tractor)
"Mater wasn't always a rusty old tow truck. Find out why he started driving backwards and how he lost his hood while having a truckload of fun"
SHOWSTOPPER
(3-Pack of: Sponsorless Lightning McQueen, Flo & Doc Hudson)
NO DESCRIPTION AVAILABLE YET.
All coming this Fall …
Almost forgot, Smell Swell McQueen is also available with The Simpletown Speedway track (track currently available with two-piece McQueen).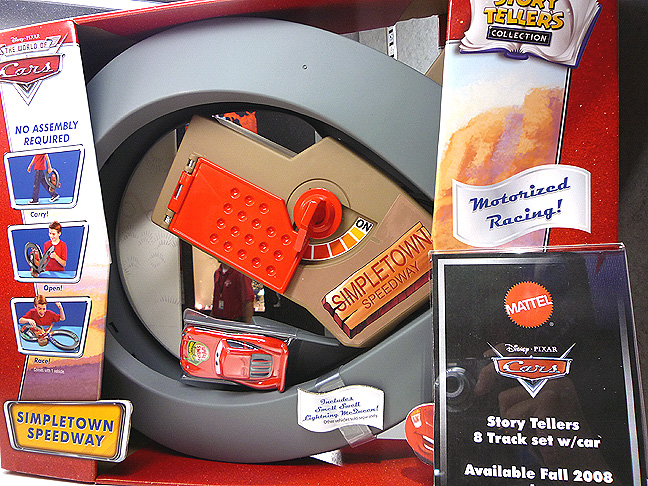 Note – there are no books that come with the CARS being sold by Mattel but are available separately.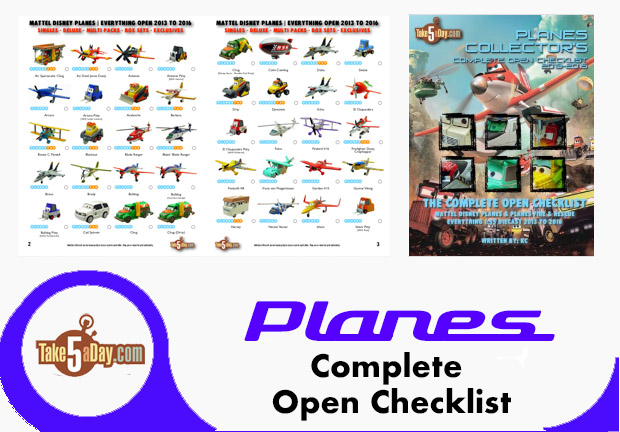 metroxing

29 July 2008

Advertising, CARS, Checklist, collecting, Film, Marketing, Mattel Disney Pixar CARS, Retail, Toys, TV


One Comment