Home
»
Advertising
,
collecting
,
Film
,
Marketing
,
Mattel Disney Pixar CARS
,
Toys
,
TV
Mattel Disney Pixar CARS: The Speedway of the South Truck Trailers
Along the way, we've had a bunch of Mack's available as part of the CARS line – some accurate enough …

Some not actually appearing in the movie (and out of scale) …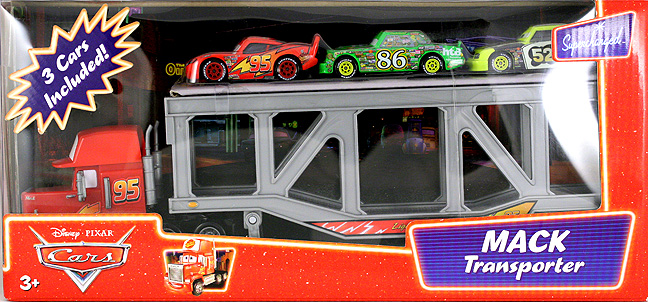 And some that mock not just scale but also mock collectors who crave realism … let's have Mack carry three different parts of town!
While the Mack Truck Playset/Bachelor Pad featured a Mack cab that was in scale to the other 1:55 CARS, one problem is that he was all plastic … but as part of the Golden Age of CARS, we are now getting Mack properly done … his cab as metal, his cap & expression plastic but in great details.
Now some people might quibble the Wal-Mart exclusive is not canon …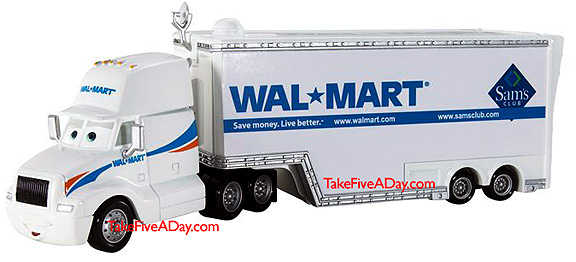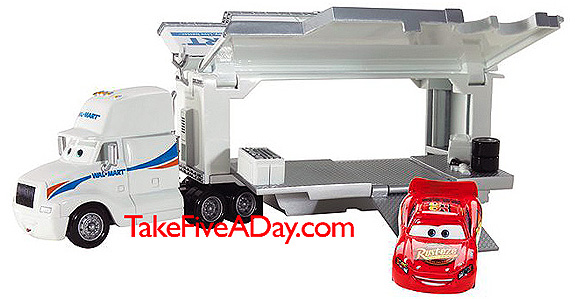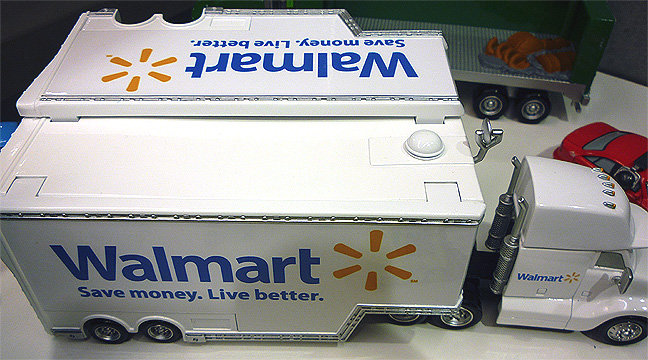 This above Comic Con photo shows the new WM logo …
But no one is questioning the Mack Speedway trailer coming …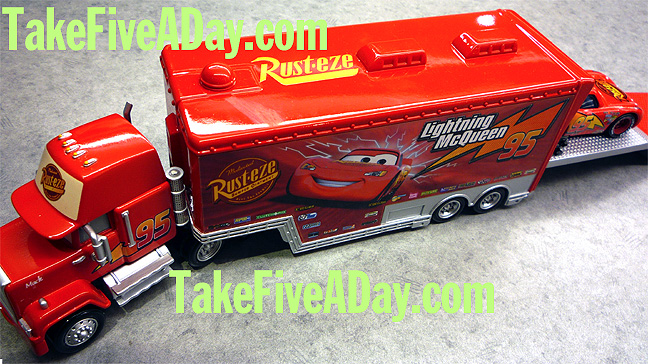 Again, Mack is all metal except for his cap & the front expression plate …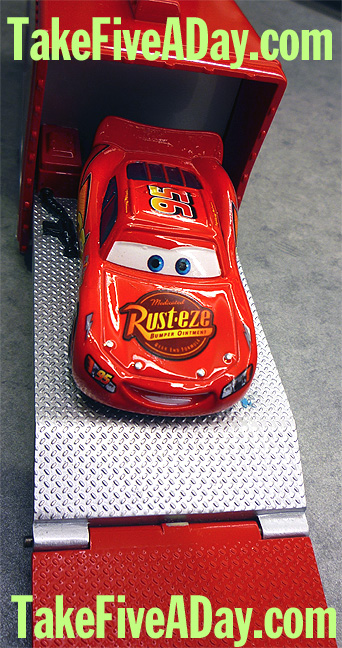 While the back trailer is all plastic and so is the ramp, note the attention to details with the metal skid plate look & feel … You can view the prototype photos here.
And while this Mack & trailer with a vinyl covering is not 'canon' (appearing no where in the film), it's not only the the right scale, it's also the way the artwork pops on the vinyl and the attention to detail that makes it a must-have … (Doc & LM are not included, just for show).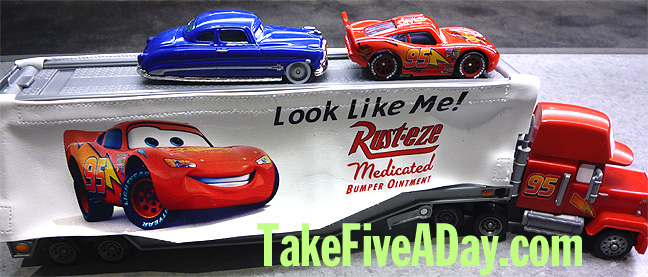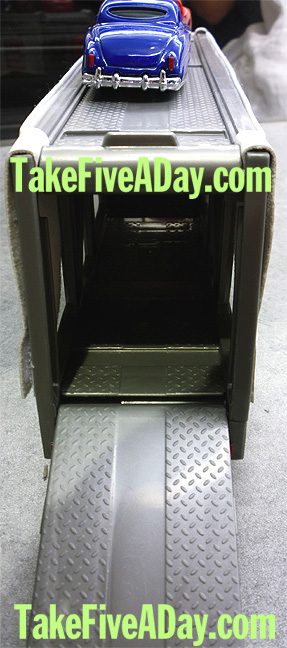 Back ramp of Mack Vinyl Hauler (not official name).
So, in most circumstances, having the addition of these three Macks would be great news … but because we are in the Golden Age of CARS, now only is that not the half of the story … it's more like the 7% of it … how about EVERY Piston Cup Racer trailer + a few extras just for fun?
Yea, That's right – get ready for over 40 cabs & trailers … all will be priced at $14.99 for starters. BETTER NEWS – they will start at $12.99.
The ones you see here should be flowing out in the next few months and if they sell well (bwahahaha, not sell well? as if!), then we'll see more and of course, eventually prices might trend up but for now – around $12.99.
And yes, eventually we will see an Apple trailer …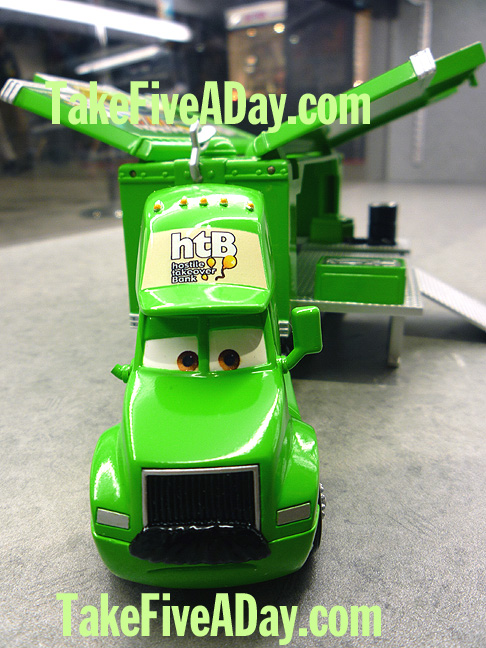 Rally 'Stache!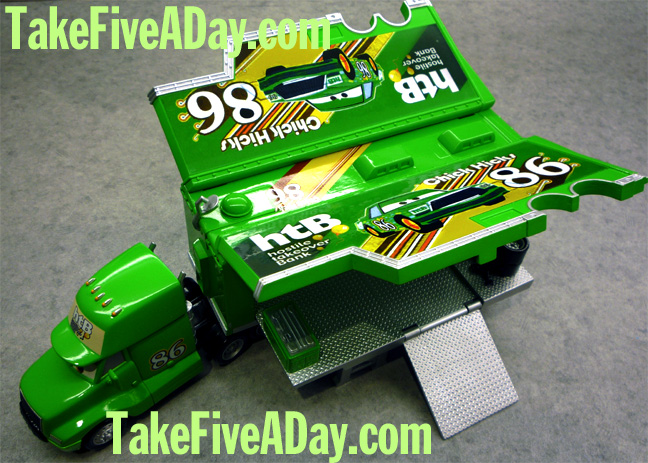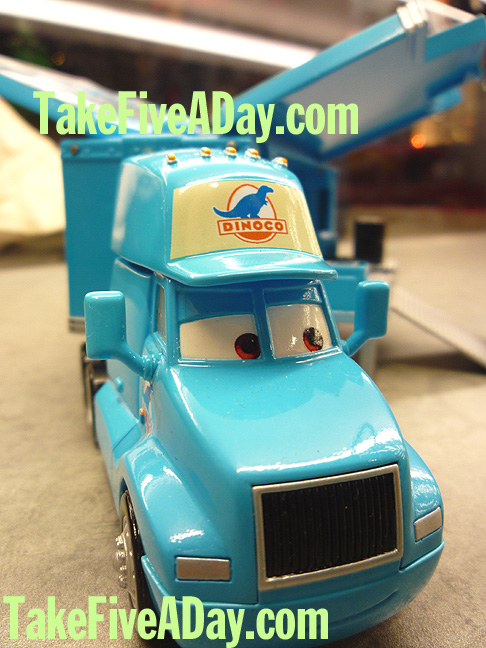 Oh and BTW, EACH & EVERY truck will open in a different way and feature a different interior … unlike most truck & trailer series that are mostly the same trucks with new stickers, just look at the amount of detailing and artistry in not just capturing the real life trucks but also in making them a different CARS character.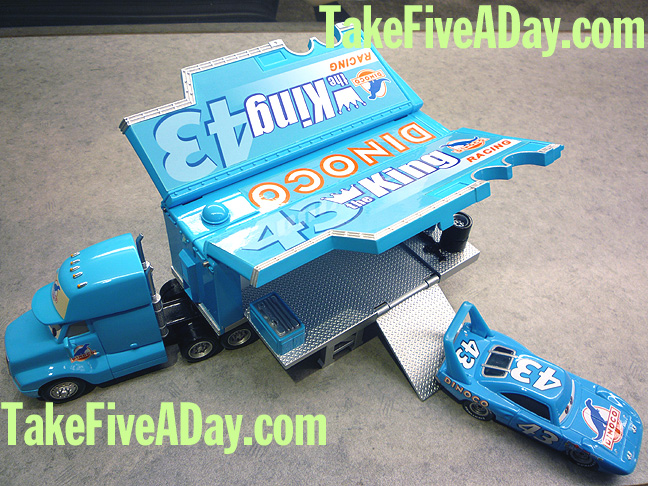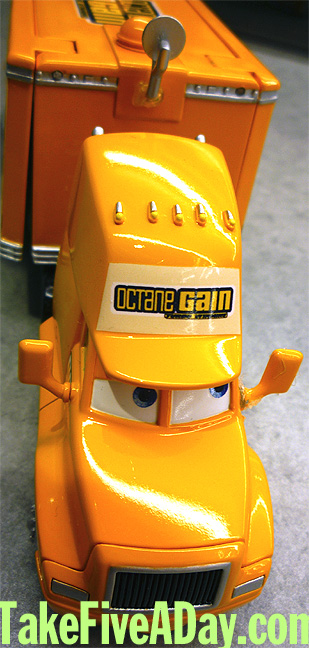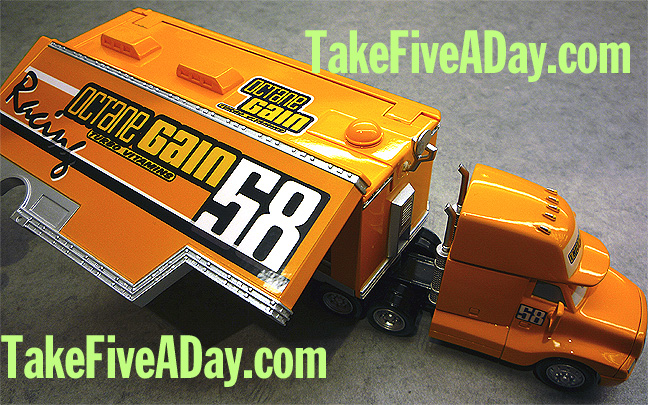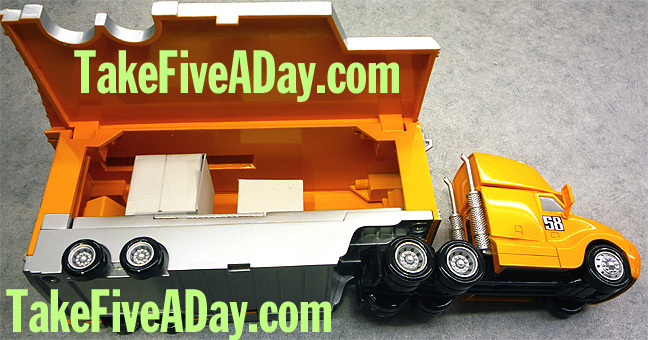 This is a prototype so the door doesn't stay up – the finished one will allow the side door to stay open.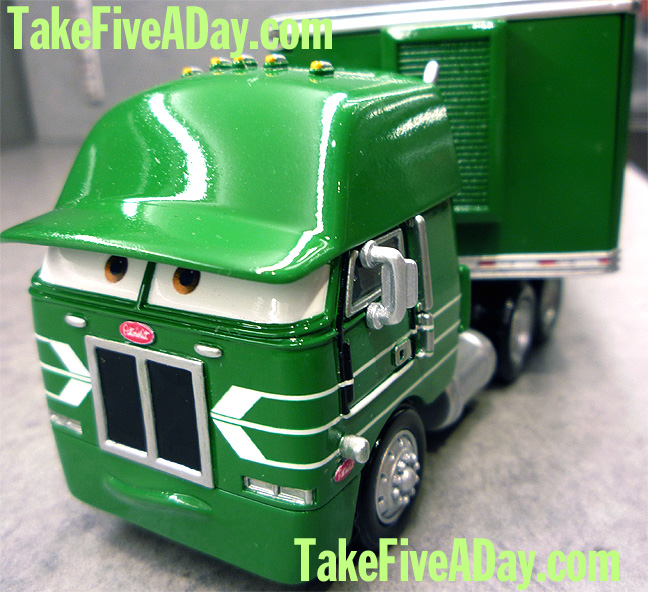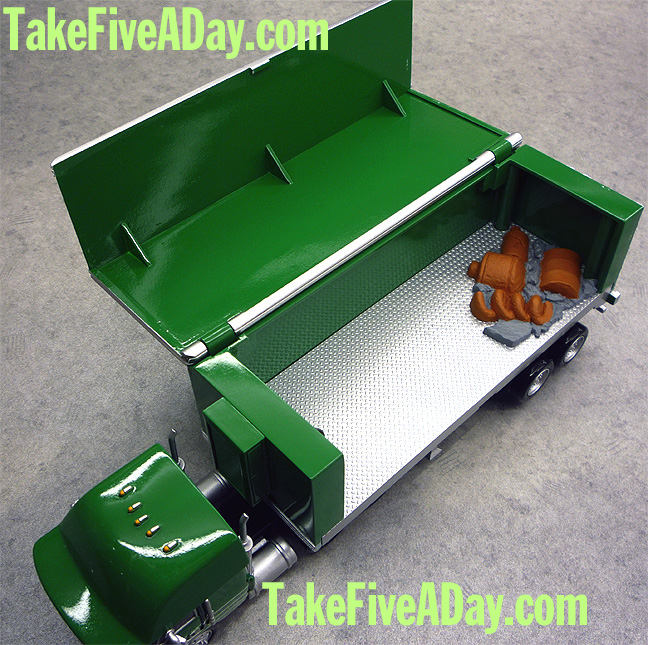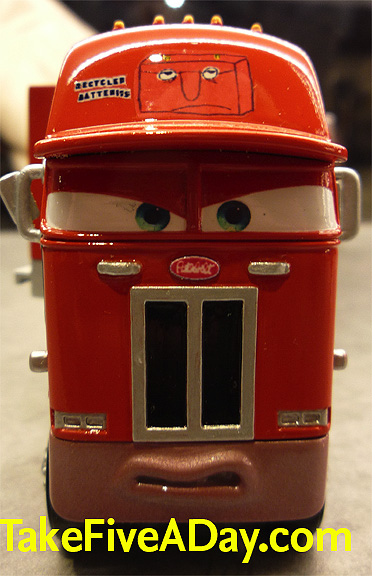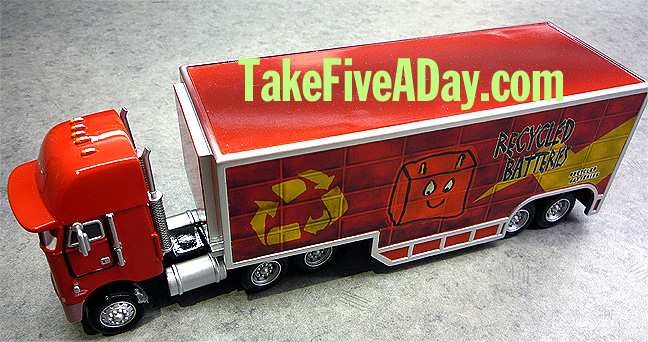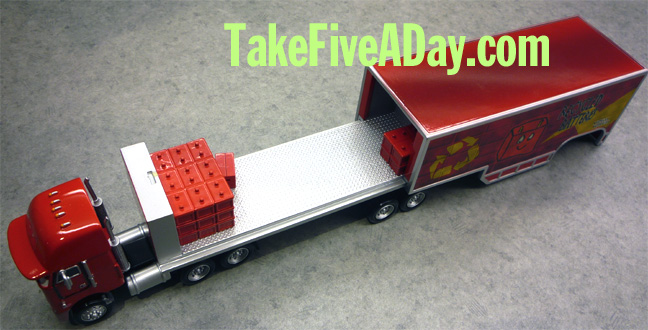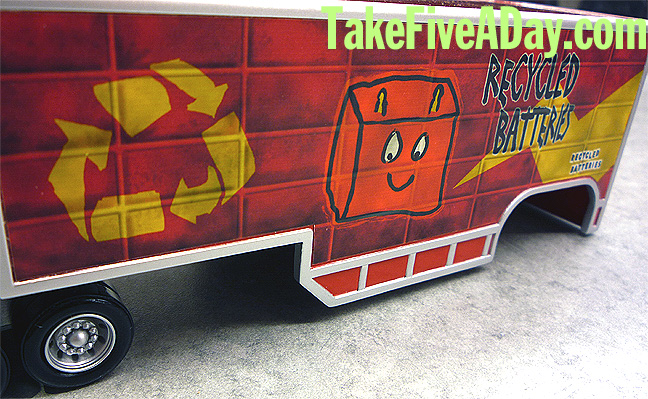 Recycled Batteries logo designed by John Lassetter's son.
And for scale to the Pitty's …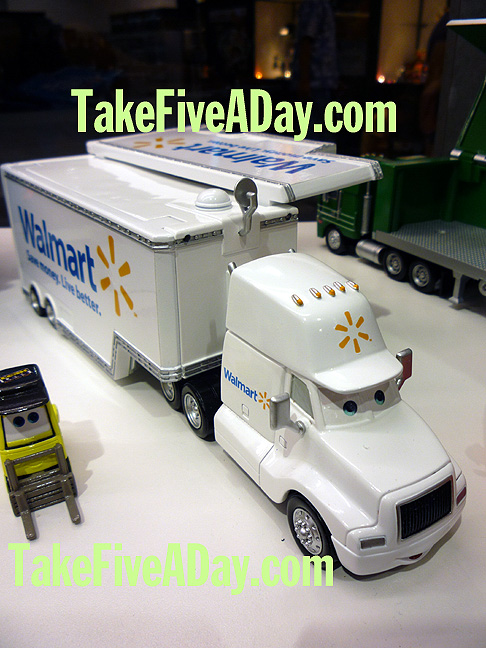 So, 36 Piston Cup racers, 36 Crew Chiefs, 36 Trailers and 180 Pitty's (5 per team?) …
See YOU at the finish line …
New release schedule is here along with chart on completing PIt Row setup.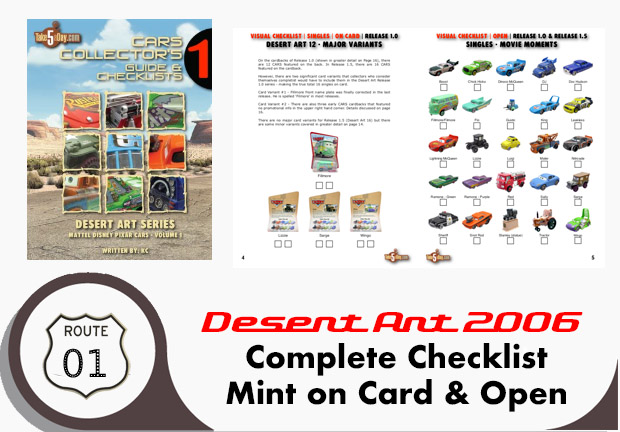 metroxing

31 July 2008

Advertising, collecting, Film, Marketing, Mattel Disney Pixar CARS, Toys, TV


One Comment