Home
»
Disney Pixar
,
Disney Pixar CARS 3
,
Mattel Disney Pixar Diecast CARS
Mattel Disney Pixar CARS: Radiator Springs Classic Review
The Radiator Springs Classic line at Toys R Us only are diecast re-releases from CARS 1. While the card alludes to "favorites" from the original CARS movie as to why these re-releases are available, some of these releases are truth in blurb writing, others merely fall into line with production going on in the other line as repaints (such as Mel Dorado is simply Tex Dinoco with glasses and minus the horns) or other choices seemly are totally random choices but for newbie collectors or those who want a replacement, it's nice that they are available on the store shelves again at around $4. Also note, many in the line are also available in the "regular" lineup on the CARS 2013 "themes" cards.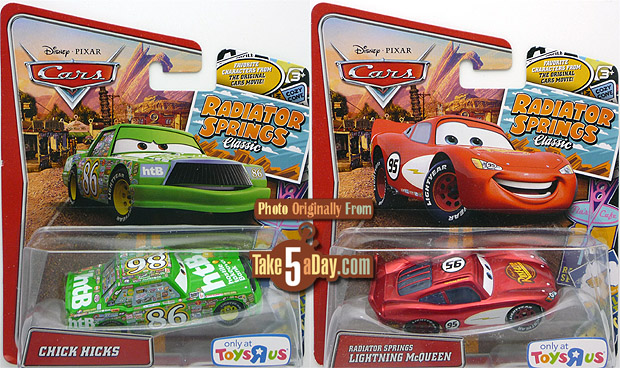 But how do the these releases stack up? Are they variants? Any production changes?
MATER
He looks like the last Final Lap era releases with some minor paint production differences but nothing really worth mentioning. He still features the less metal as in the later production models – where his exposed engine is plastic – you can spot them with the obvious edge gap from the top versus the older releases where his entire front cab and engine are metal.
KING
For some oddball reason, they seem to have gone back to the 2006 mold (or at the 2006 mold design) with an extra clip off the rear wheel well. Not a terribly exciting variant but if you want a 2006 design King with clipped rear wheel well, now you can own one without paying 2012 price for a 2006 King … you can pay 2012 price for a 2012 2006 King look alike. Confused? 🙂
PURPLE RAMONE
He is more sparkly/more metallic paint flakes – not really a variant but if you want a shinier, sparklier purple Ramone, here ya go.
SHERIFF
Like the London Rescue 12-pack review, he looks shinier and a lot less paint slop but unlike the 9-grade on the 12-pack, the singles are excellent but more like an 8 so if you just want a Sheriff or a Sheriff replacement and are not buying the 12-pack, this is an upgrade. I'm also presuming this one rides slightly lower (and matches the 12-pack version). But otherwise, not a major variant.
Really the ONLY variant!
DEXTER HOOVER
He is a variant or rather he is Dexter Hoover with Green Flag but with a yellow flag instead. The original Dexter Hoover with yellow flag had a white mouth and very thin windshield eyebrows. The original Dexter Hoover with green flag had a red tongue visible and longer eyebrows. This Dexter Hoover looks EXACTLY like the Green Flag version but with a yellow flag … so if you need a green flag Dexter Hoover, just buy this one and color in his flag green – a sharpie should work. 🙂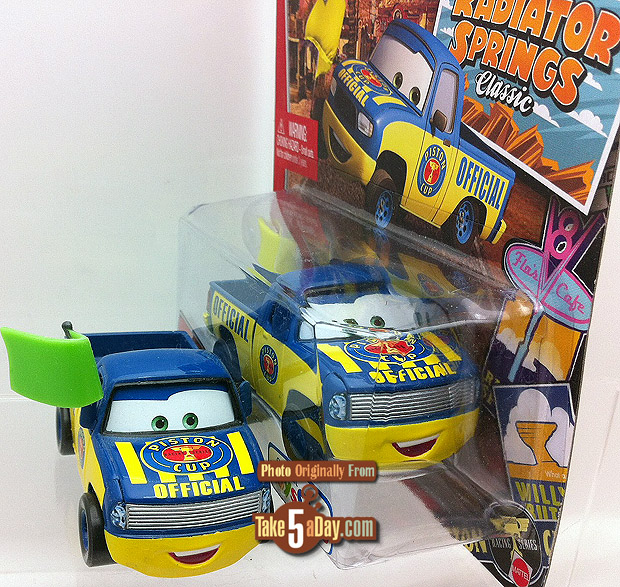 Though philosophically, you could argue it's really Green Flag Dexter Hoover with a variant yellow flag … Or is he Yellow Flag Dexter Hoover with a face/expression/windshield variant since he is sporting a yellow flag on the packaging? Let the heated debate commence!
The others are all essentially the same as the last classic release/rubber tire release so if you're not a card completist and and an opener and you already have it – you are set. The Piston Cup racers are a skoosh shinier and brighter so if you want have chipped versions, you might want to replace but otherwise, they are merely very minor production differences as is the case with all mass market items.
There are only 15 singles on the list – everything is out – whether more will get released or whether these 15 singles (plus the 3 box sets) will continually be re-released is hard to say. We won't see a late Spring or Summer list until probably after Toy Fair.
You can find the CARS 1 re-releases checklist here broken out by Toys R Us only Radiator Springs Classic line and the CARS 2013 Themes card motif (all retailers).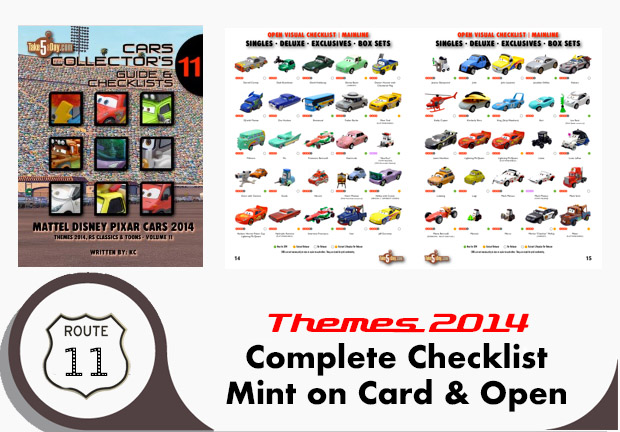 metroxing

29 December 2012

Disney Pixar, Disney Pixar CARS 3, Mattel Disney Pixar Diecast CARS


5 Comments