Article Archive for 13 December 2012

TakeFive Makes You Money – Starbucks Stainless Steel Card Hot on eBay!
Posted in
Food
on 13 December 2012
Stats: and
3 Comments
See, if you listened, we posted the special Starbucks Stainless Steel Gift card – available for $450 for $400 worth of Starbucks plus free gold membership of coffee and snacks … NOW, a few days later, most are re-selling for $1,000 or a listing for $8,000 … "Cards with an asking price in the range […]

Make Your Own 20% Discount at Target
Posted in
Mattel Disney Pixar Diecast CARS
on 13 December 2012
Stats: and
5 Comments
Simply go to this page and HIT PRINT COUPON. Don't print this page out, this is not the actual coupon. The GiftCard is good on your next trip to Target.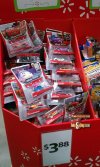 Mattel Disney Pixar CARS 2 Diecast: Themes 2013 – Going Well So Far!
Posted in
Disney Pixar
,
Disney Pixar CARS 3
,
Mattel Disney Pixar Diecast CARS
,
Mattel Disney Pixar Diecast CARS 3
on 13 December 2012
Stats: and
11 Comments
Hard to believe but things are normalizing! For those of you collecting in March 2009 – that's when things were mostly normal. You know, if you wanted to buy CARS, read TakeFive, order a case or go to the stores a few hours to a week after photos appeared and buy CARS on the pegs […]