Home
»
Disney Pixar CARS 3
,
Mattel Disney Pixar Diecast CARS 3
Mattel Disney Pixar CARS 2: McQueen Alive Unboxing & Video Review
McQueen Alive is a 1:55ish scale plastic Lightning McQueen that does some amazing things:
Tap the roof to "activate" it. It talks, moves about, shimmies, turns its lights on and off, moves his eyes around and even his mouth moves in conjunction with his words.
It flies forward and/or reverse. It can also make full 360 turns and does drifting turns and doughnuts.
And it does appear to be the voice of Owen Wilson – there are 40 phrases.
But let's start from the start.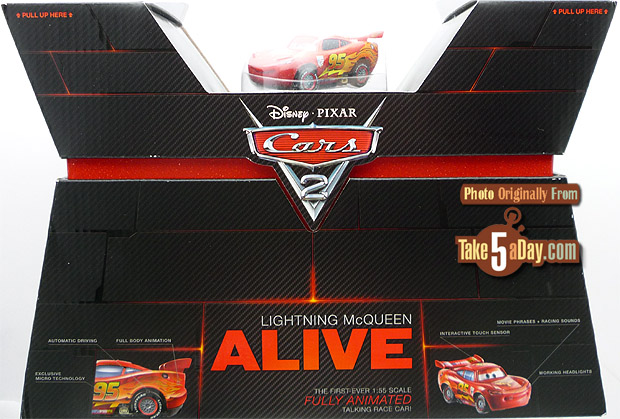 If you read T5, you what this is but for a dazzling showcase that is supposed to show off the prowess of Mattel technology, this box pretty much says nothing. There is zero sense of action, movement, animation or powerful technology. This box is literally a brick and makes it that much harder to sell a $60 item.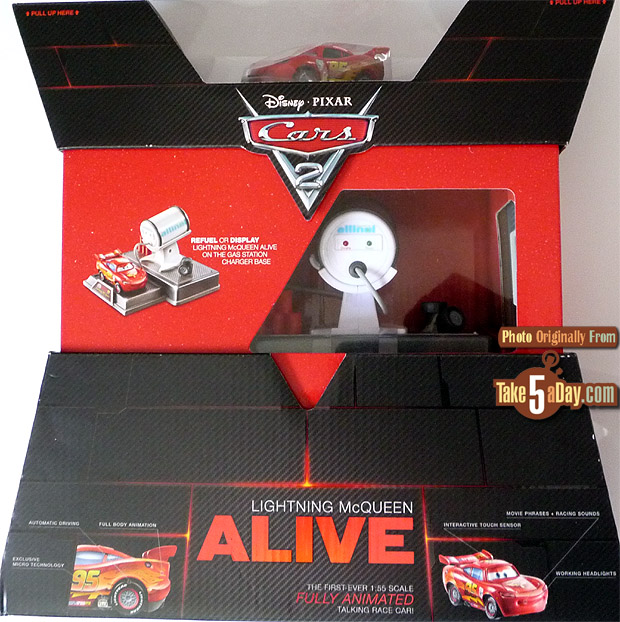 If you pull up, the Allinol stand is revealed but the stand is a pretty small showcase of the technology so again, pretty much a non-starter deign element.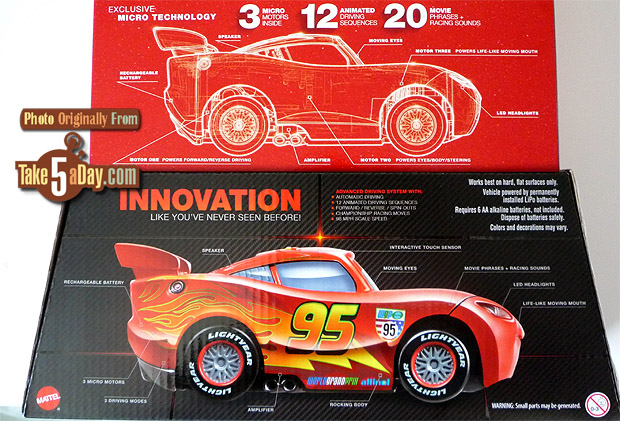 The back at least discusses all the features but since the front is a black brick (literally), is anyone even going to pick up the box to read the back?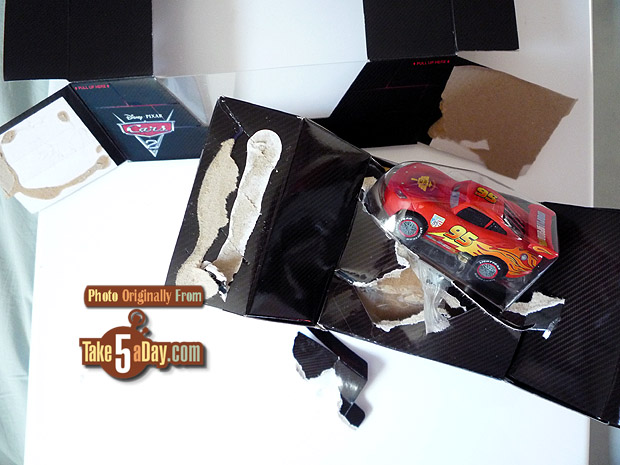 As you might guess, not really collector friendly. I hate to point fingers at a FAIL but clearly either this box designer is a newb (or noob) or was given bad direction on where to go. So, not only does the designer do NOTHING to sell a pretty cool car but also fails down 1,000% for collectors …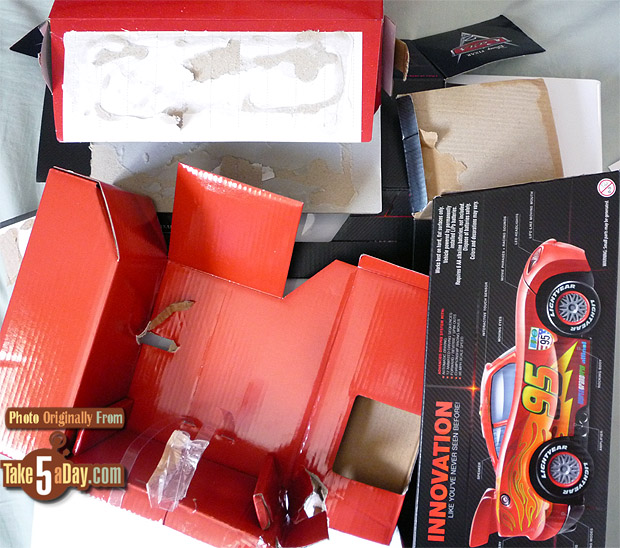 Yep, you pretty much have to rip everything apart to get at the TWO pieces to this package – the car and the charging stand. I'm surprised there weren't rainforest teak shavings just to weigh it down …
PACKAGING REVIEW – D
PACKAGING COLLECTOR REVIEW – F
The charging stand is nicely done. It looks good as a display item. You do have to insert 6 AA batteries at the bottom which charges the re-chargable batteries in the car. The 6 AA batteries not so great but the fact the mini battery running McQueen is rechargeable is nice as they can be pretty expensive to replace.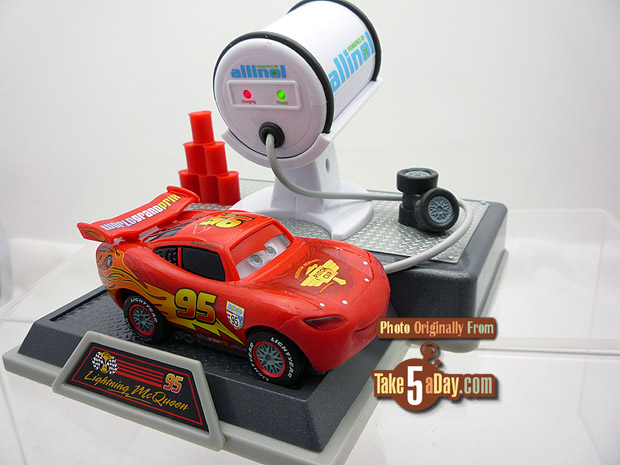 However, the design stand guy (or gal) clearly did not seem to talk to the car design person – not exactly sure why the "hose/recharging cable" needed to be so long …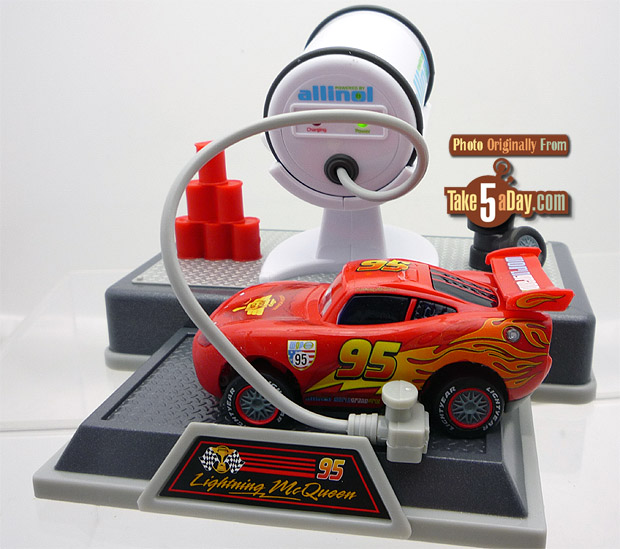 Okay, so you can fuel him up facing the other way but necessary? As some mentioned, it would've been cool if his "fuel cap" could be the "fuel/charge" cap for this version of LM. Maybe that never occurred to them and/or because the charging plug is kind of squarish (like a MINI USB) so it would've been too large and weird on the back quarter panel or not stable … or they didn't bother to see if it could be round and smaller. But not a tragedy – just not 100% perfect.
There is a "latch" (on left – hidden in photo on barrel) where you can hang the hose.
What does McQueen look like scaled?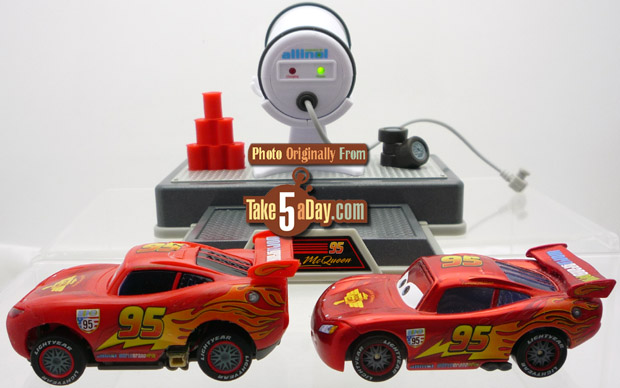 It would've been much cooler if his body was metal – ultimately, it's acceptable once you seen it in action.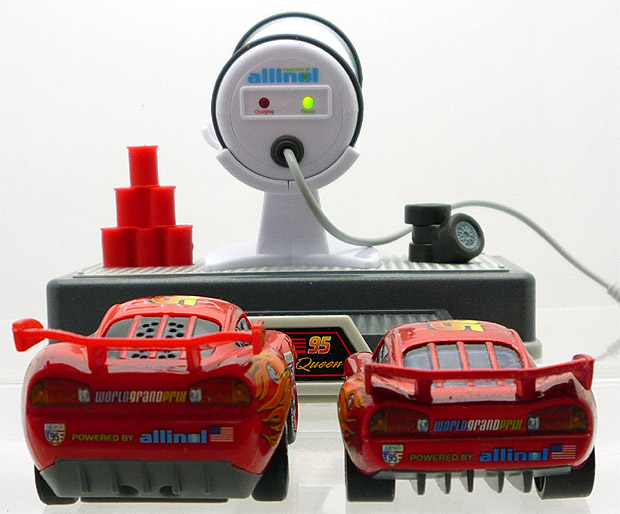 On – off switch for car (there's a separate on off for charger). The red button lets you choose from three modes: Short Driving, Test & Long Distance. While his phrases generally repeat from mode to mode, selecting a different mode (such as short driving) means he only drives in a small area while talking and doing other things.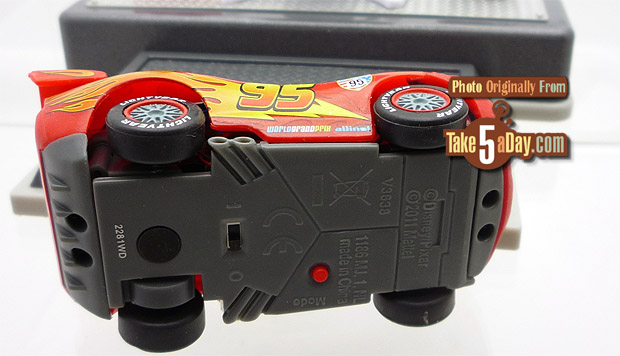 Here is a short video of it in action. I edited out me touching his roof … and at the end, keep a wet lint free towel handy when he drives himself behind a bookcase … of course, the dust makes him looks like was on a 3-day bender. 🙂
So, the car itself is actually pretty cool when you see him "shrug," move his eye, shimmy or drive around and when "talking," the mouth moves in sync. It is pretty impressive technology. And he flies as an "RC' car and the donuts and spins are also pretty cool. Is it $60 cool? That's ultimately a personal decision – probably when they started planning this 2 years ago, they presumed the economy would be as-was and everyone would want this even at $60. But now, $60 is asking a lot for a really fun and cool toy – on the other hand, it does not take up a lot of room.
I think because of the economy and the fairly horrible box design, this will not get a lot of attention at retail so some of you might just want to wait it out for a markdown. And since the inside of the box is as poorly designed as the outside, it's no loss to buy a beat up box as you'll have to rip it to shreds to get at the car & the charger unit.
So, final review breakdown:
CAR ITSELF gets an A-, pretty amazing technology, fun, original voice, a little spooky to see McQueen move his mouth and talk … 🙂  … only slight downgrade to A- as body itself is not metal.
PRICE – B – understandably there's a lot of technology in there but at $60, it's not going to be a mass market hit in this economy and with the poor box design. So, it's unlikely we'll see a cool Mater Alive.
CHARGER – Solid B – could be better but still makes for a nice display and the rechargeable McQueen battery is a nice touch.
PACKAGING REVIEW – sad to say, a D. This is NOT the box display & design of a $60 item. It does not showcase the item, it does not draw attention, it is not classy, it is not aspirational. Normally, it's not a big deal but since this does NOTHING to sell it at retail, it pretty much means this will be the only "alive" car in the CARS lineup. And for that, it's a HUGE missed opportunity. And for all know, $10 in the price might be tied up in this idiotic design.
PACKAGING COLLECTOR REVIEW – F. It's bad enough the design does nothing to sell or showcase the technology, you cannot remove ANYTHING from the packaging without ripping the ENTIRE thing to pieces.
So, pretty great car. We'll see how the rest of the factors – packaging and the economy affects its pricing down the line.
Amazon is out of stock as of right now – Kmart has it in stock.

metroxing

30 October 2011

Disney Pixar CARS 3, Mattel Disney Pixar Diecast CARS 3


5 Comments