Home
»
Disney Pixar CARS 3
Disney Pixar CARS 2: DVD Blu Ray Coupons, Rebates & Offers
The DVD-Blu Ray comes out tomorrow. If you did not pre-order, Disney is offering a $5 coupon off any 5-disc version purchase.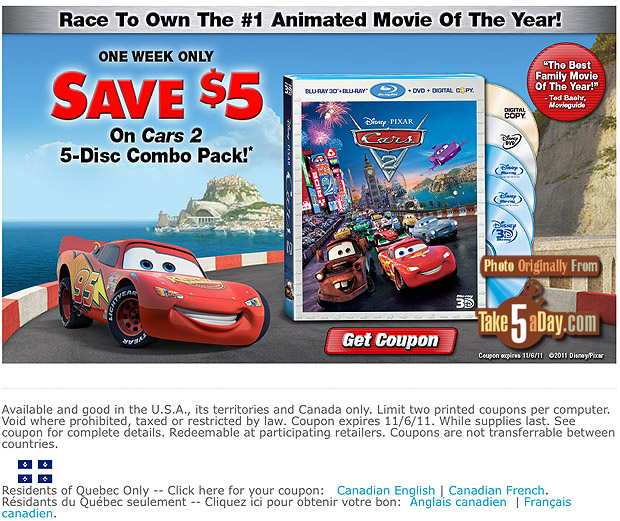 Even good in Canada! Click on the link (or graphic) to go the Disney Rewards site, you have to be a member (free signup) and you have to download their "coupon printing app." (fairly painless – this is to prevent people from printing thousands to give away – you are only allowed to print 2 er membership/computer).
There are four versions of the 5-disc set which comes with EVERYTHING – the 3D version, the Blu Ray version, the DVD version + a digital copy. You also get all the extras associated with CARS 2. And with the $5 coupon, it's only about $2-3 more than the 2-disc version so even if you don't have 3D, you are "future-proofed" for a few bucks more plus you get a digital copy to load onto your iPhone/iPad or other portable device.
THIS COUPON is only good for a week so don't dally!
5-disc set:
MAIN – Contains 3D Blu Ray, Blu Ray, DVD, Blu Ray extras + digital copy (SD).
TARGET ONLY – EVERYTHING plus a lightup globe display.
TOYS R US ONLY – EVERYTHING plus an extra Lego CARS 2 video disc (Lego extras SD?)
DISNEY STORES – EVERYTHING plus 4 lithograph posters (MUST PRE-ORDER BY END of DAY TODAY – October 31, 2011).
You can check out the full chart here.
In addition, if you're buying batteries and Kimberly Clark stuff, you can get another $5 to $10 bucks back.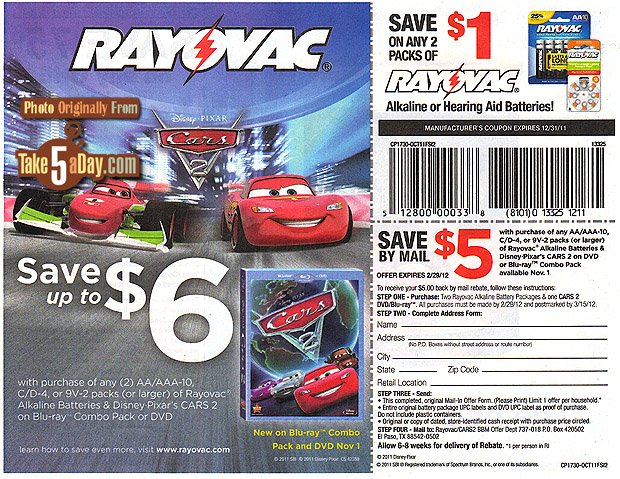 Both offers require mailing in your DVD/Blu Ray Proof of Purchase – some DVD packaging have more than one so I'm not sure if you combine both offers? But if you're buying Kimberly Clark stuff and batteries, plus the Disney coupon, you could potentially get $20 off your CARS 2 Blu Ray purchase …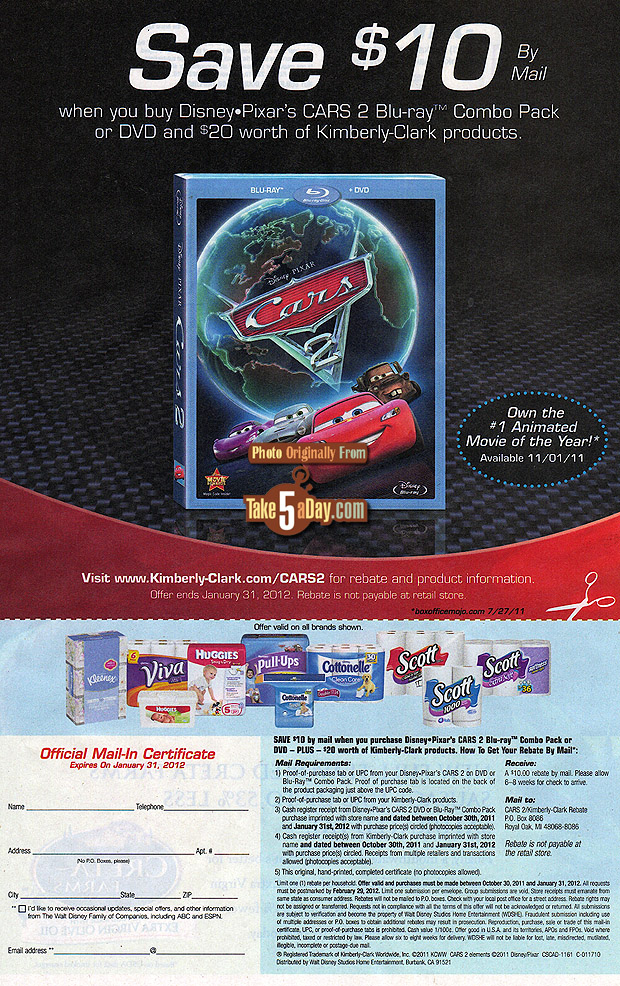 metroxing

31 October 2011

Disney Pixar CARS 3


13 Comments