Home
»
Disney Pixar CARS 3
Disney Pixar CARS 2: Blu Ray-DVD Combo Choices & Options Final
Of course, once I completed the chart, Target added a new option (thanks for heads up BMW). There's also some more info and a correction – so, now, this should be the final chart of Blu Ray-DVD options for CARS 2.
Basically – if you want ALL THE EXTRAS, you need to buy either the 5-disc set (s) or the 11-disc set.
The 11-disc is redundant with CARS 1 Blu Ray + Mater Tall Tales Blu Ray if you already purchased those though you do get the diecast CAR and one nice box to house everything CARS.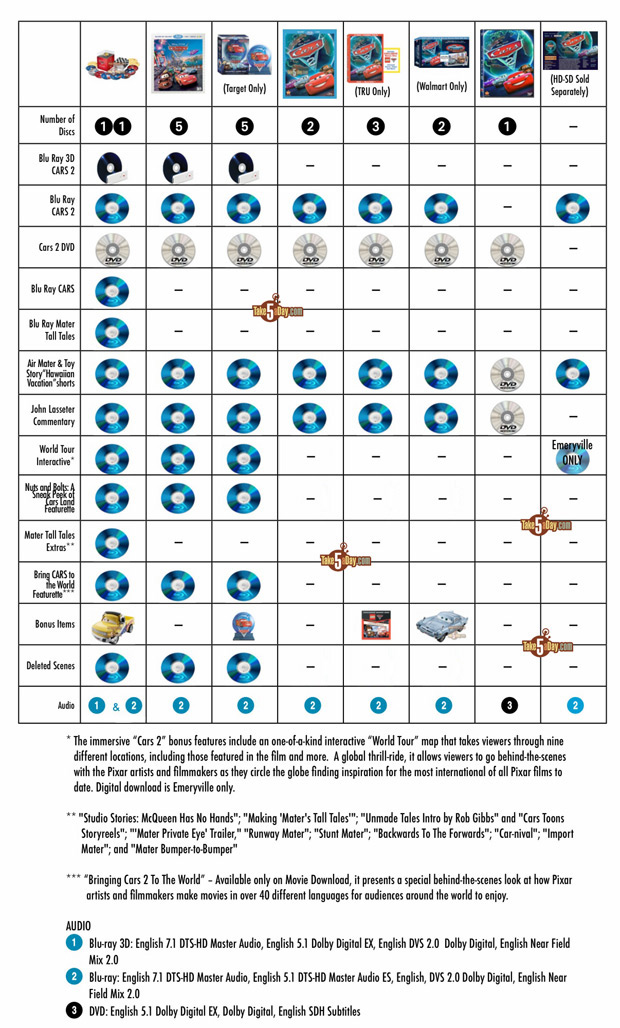 You can find all your Amazon's choices HERE for pre-ordering. Amazon is still offering $7 off if you also purchase another Pixar Blu Ray Combo Set which now includes the other versions of the CARS 2 Combo packs so if you need another as a gift or as a backup. 🙂
The MASSIVE Director's Edition – this set comes with a diecast, "John Lassetire."
Available at Amazon or at Walmart (with free shipping offer).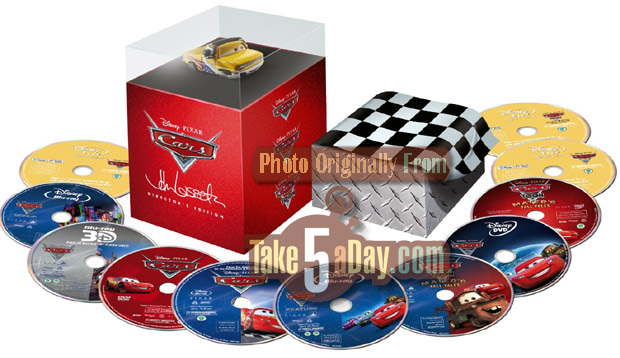 The new Target offering is the 5-disc Blu Ray & 3D Blu Ray Combo Set with a Snow Globe display that "lights up" as you press down on it.
Not on the chart is the DISNEY STORE offer since the posters are available elsewhere (and it's not a diecast) but it's not a bad deal with some math involved. 🙂
If you have a 3D TV and don't want the 11-disc version, the Disney Stores is offering a nice deal. If you pre-order, you get 4 (10″x14″) lithos of the retro posters as part of the deal AND you get a "coupon code" for $20 off your next $40+ purchase at the Disney Stores or $10 off your next $39.99 or below purchase. You only have two weeks to use this coupon code so if you plan on buying other products, it's a nice deal. (click on the link for more details) but you do have to pre-order online by October 31, 2011 to get both extra offers.
If you don't have a 3D TV, Disney is offering the same exact deal on the regular Blu Ray + DVD + 4 Mini Lithos + Coupon if you pre order by October 31, 2011 (click on link or graphic below).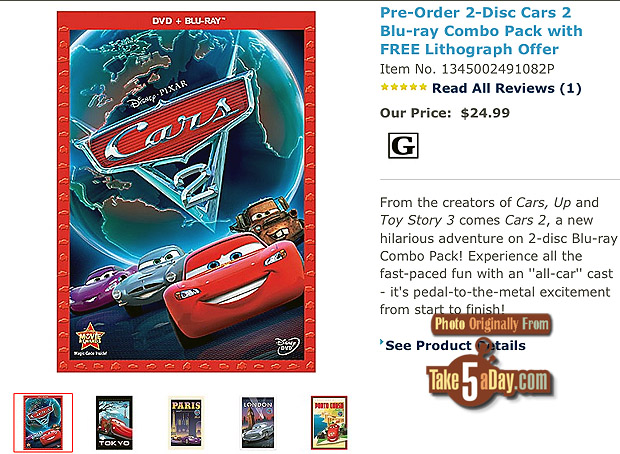 Note, this 2-disc set does not contain all the extras on the 5-disc set – see the chart above. This 2-disc Blu Ray + DVD set is the basis for the Walmart with Finn set & the TRU with Lego Bonus Disc set.
WALMART EXCLUSIVE: CARS 2 Blu Ray Combo Pack Gift Set.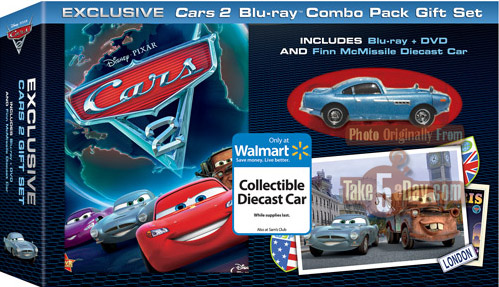 You get the Blu Ray disc, a DVD version + a Finn McMissile diecast. As far as I can tell, it looks like the regular Finn McMissile but we'll keep you posted. This set does not include the 3D version of CARS 2.
For VUDU streamers, Walmart.com also offers a Blu Ray + DVD + VUDU Digital Copy version. Vudu is Walmart's new streaming service – you can read more about it here.
TRU is offering the 2-disc Blu Ray DVD set with a bonus Lego CARS 2 disc. Best Buy is offering the free steel case.
The iTunes pre-order link is also up now if you just want a digital copy.
Target also an exclusive Pirates of the Caribbean 4-3D that comes with a mini Lego Black Pearl.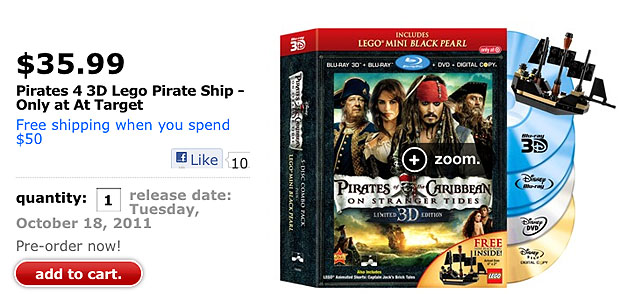 metroxing

4 October 2011

Disney Pixar CARS 3


14 Comments