Home
»
Mattel Disney Pixar CARS
,
Retail
Mattel Disney Pixar Diecast CARS: Collecting CARS – New Year, Last Year and Welcome to CARS Diecast
Hello all if you're new to CARS or just starting recently … here's a state of the state …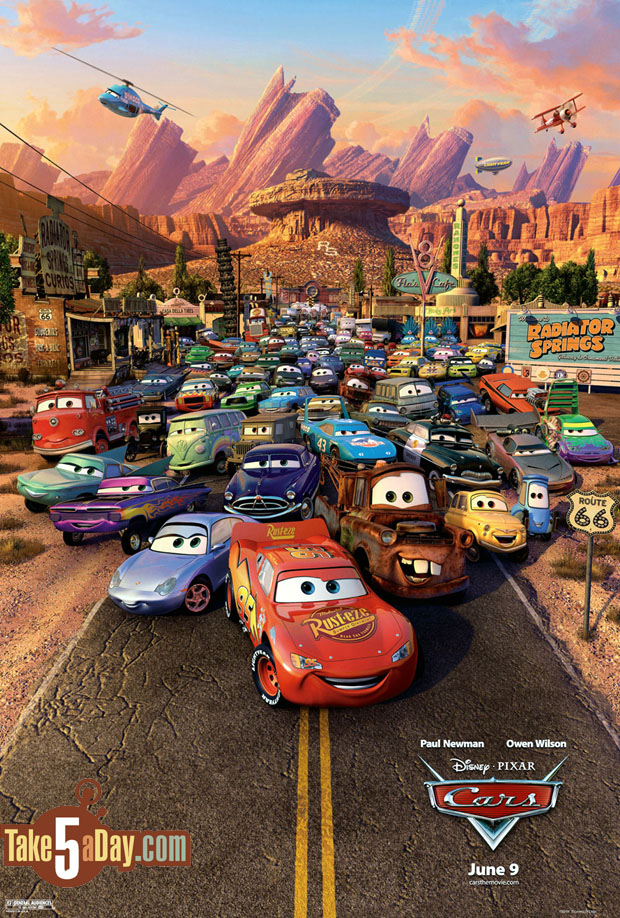 Oh boy, where do we start.
Well, some of us have been at it since 2006 so you have a little catching up to do … this poster will give you a snapshot of what your collection will look after 5 years … well, actually this post shortchanges about 200 characters so it's literally as far as the eye can see. Don't be scared but just think it as hoarding zinc with wheels.
You can do it!
It's actually very simple to collect CARS diecasts. You simply buy everything you see.
It's like that old joke about a seafood diet.
First, there are two main metal "diecast" series, the Mattel 1:55 scale which comprises the grand kahuna island of CARS diecast collecting and after 5 years, there are over 600 releases (with repeats).
And the Disney Store 1:43 scale which is a branch line – nice but not the main focus. There are fewer than 100 diecasts in this lineup.
Most of the information concerns the Mattel lineup as it's the "mainline." (yes, adult allusion to injecting the vein and instant pleasure).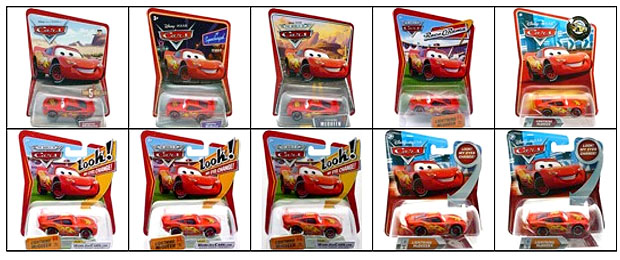 The mainline releases generally are available as "singles."
You see these hanging cards almost everywhere.
Generally around October of each year, Mattel changes the design "motif" (of the packaging) to create new marketing buzz. Also generally with CARS, if the name plate (on the front of the card is the same, it's the same CAR as before. It's NOT always the case but for the casual collector, you can generally accept that.
For instance on the top row, all the Lightning McQueen's (as on the name plate) are essentially the same through the first four releases from 2006-2009. The card looks different but the CARS are the same … the current release on the top row, far right is from the FINAL LAP COLLECTION and contains a Rust-eze decal spoiler on the back. It is now "more correct," but otherwise, the same CAR.
So, for many collectors, if you bought him once, there's no real need to buy him again – especially for those opening the package (openers). But of course you are free to collect as you like.
That brings us to the "lenticular" examples which are a perfect showcase for the "variant" concept.
Variants are production changes to a CAR (or other toy/collectible). Sometimes it's to correct an error (like McQueen should have a decal on his back spoiler) but other times, it's just a change. Some are significant (as in one example, FRED was resized completely and about 40% of its original size) and other times, it's just a change. So, some collectors do not need feel the need to re-buy a CAR if all that changed was the tail-light color.
This is also one reason it's impossible to put a precise figure on the total "different" releases because each collector collects in a different way. But there are approximately 300 "different" unique releases – not counting the Toons series – covered at the end.
(You can read more about the variants concept in the link above).
So, anyway, why are there 5 lenticulars shown?
Clearly, one difference is the packaging, there are two different designs.
But beyond that, you do have to look closer. Starting from the left:
Race O Rama motif – Open & closed lenticular eyes position.
Race O Rama motif – Open & closed lenticular eyes position & two piece design, face-mouth plate is a separate piece.
Race O Rama motif – Winking lenticular eyes position.
"Night Skyline" motif – Lenticular Eyes shift from left to right.
"Night Skyline" motif – Lenticular Eyes shift from left to right & two piece design, face-mouth plate is a separate piece.
So, do you collect-buy all 5, 3 or 1?
Your call 🙂
The main thing you have to understand is that collecting CARS is harder than it should be. When you accept this fact – you will at least attain a higher level of consciousness (so on your deathbed, you have that going for you).*
*Note, I did not say zen like consciousness … just an understanding that strangling clerks is no way to get through your to-do list for today.
Repeat again – Collecting CARS is harder than it should be.
Accept it.
If you need to, find a CARS buddy who can text this to you when you wish to strangle someone (outside your family & in-laws when you locked in with them for 64-hours during a snow blizzard – you are on your own there).
Collecting CARS is harder than it should be.
In addition to the sheer mass of different CARS available and not all are available since it's initial release – not just from 2006 but some from 2010 are nearly impossible to find on the shelves …
There is no one factor to blame but a lot of things heaping together.
Part of the fact is retailers don't care that much about toys other than like candy at the cash register aisles. So, if you come in for toys and if they don't have it, maybe you wander around and buy some cereal and a t-shirt. BUT these same retailers will throw their weight around in trying to lock out other retailers so it's not exactly a healthy relationship.
In the US, the big three retailer's control both the financial & distribution of toys. Walmart, Target & to a lesser extent Toys R Us (TRU). Mattel has a special relationship with Kmart but Kmart is generally a minor player in the toy retail winds.
Other than that, there are regional chains that carry toys so it's worth a look but can vary greater from store to store. These include Belk's, Kohl's, Meijer, Fred Meyer and others. They generally get special displays a few times a year but not a steady state of CARS.
In theory, having WM, Target and TRU as the main distribution point for CARS is in theory a positive … as they have close to 8,000 retail stores plus internet estores.
But their ordering (and interest) in toys has been VERY SPORADIC … so keep that in mind as we traverse the shopping, collecting and CARS landscape.
So let's start with the present and work our way back.
"Night Skyline" Final Lap & "Lenticulars (2009-2011)
2010 is the MOST confusing year to start because the line has been splintered in two. There is the original "classic" non-moving eyes releases ONLY available at Target under a release banner called FINAL LAP COLLECTION.
And there is a "new" lenticular series (launched June 2009) which comprise of releases with the lenticular movement eyes on the windshield. This series generally comprises of re-releases of CARS originally released with non-moving eyes from a few years back now re-appearing with lenticular eyes. This series is available to all retailers including Target.
So, while long time collectors starting prior to 2009 might only have to look for CARS to buy, you are now faced with two lines to choose from. If your intent is only to collect CARS that interest you & the kids, no big deal – feel free to grab what you see whenever you see them.
Now, if you plan on trying to complete a set (or try to), then you have a decision to make because neither is complete.
The classic non-moving eyes Final Lap releases contain a lot of new CARS never released before but only a handful of the townies of Radiator Springs. Now, recently WM offered 4-packs that are essentially starter sets and some box sets from TRU that will help you round out the "basic" characters but if you are planning on only buying new CARS from retail stores, then you will need to buy from the lenticular series. Obviously our trading forum or eBay will help you pick up the rest.
In mid 2009, Mattel launched or rather, re-launched previously released CARS with lenticular eyes. After about 18 months, we have approximately 80 diecasts with the lenticular eyes (not counting variants). Even presuming another couple dozen are coming in early 2011, it's unlikely all @300 classic eyes CARS are going to be available as lenticulars – leaving you "missing' at least 200-250 CARS from everything available . They are easier to find as they are available on most stores selling CARS. As of now, lenticulars look to end in mid may as CARS 2 CARS are available … however, it does look like CARS2 CARS are being designed with the deeper windshield so if they decide to bring back lenticulars, not everything has to be re-tooled so do not be surprised if lenticulars return in 2012.
And the distribution upheaval goes beyond just the splintering of Target and The Others during this "Night Skyline" era. Now, even certain assortment cases are-were sold to a particular retailer making buying and finding particular CARS difficult. So, if a case went only to Walmart, those that live surrounded by dozens of Walmart's had no trouble finding that shipment but for those in other parts of the country, that might not work out – and same with shipments only to TRU or Target … adding to the belief that there shortages when it's really more of a matter of retail distribution in-balance.
This Final Lap checklist needs a photo update but is accurate in its information.
Race O Rama Series (2008-2009)
The Race O Rama was the last series available at all retailers. The first release of lenticulars carried over the design look & feel of Race O Rama but did not feature the Race O Rama name.
The Race O Rama series was a series of firsts. While the oversized line (now called Deluxe) was really introduced with the prior World of CARS series – it really came to fruition with a vast and varied amount of releases under the Race O Rama motif. Race O Rama was also the year of the birth of the hauler series and while not technically ROR, the Toon line was also introduced during this year. This series also featured the releases of long sought after CARS … and that are still hard to find.
This post sums up the year + our 12 favorites from the Race O Rama era.
Or this summary post.
World of CARS Series (2007-2008)
World of CARS was the last series to feature EVERY CAR released from 2006 so it's a great starter series (since it's much more expensive to try and complete the original series).
You can read our recap HERE or HERE.
Supercharged (2006-2007)
The Supercharged series was splintered in two because Mattel was surprised by the success of the line and had to really re-start from scratch and then just as things were about to normalize, the Sarge "lead paint" recall created a 2-3 month embargo on CARS.
You can read all about it HERE.
"Desert Art" Original Series (2006)
The birth of the Greatest Diecast Line Ever started unassumingly "quaint," – just another small town in the desert … it is now like Las Vegas is just like another desert town.
All the details are here.
The Collector Guide Series of posts stops at 8 – if you're interested, here's post #7 on exclusives (very outdated now) and post #8 on multipacks.
Or if you prefer a printed visual checklist of every year, our visual checklist magazines are here.
Toons (Expanded Universe – Mater Tall Tales) (2009-2011)
There are also close to 100 CARS released under the Toons banner. From the Mater Tall Tales shorts, these are the CARS "Expanded Universe," series with CARS designs that are not featured in the original film but are only from the shorts. While some collectors frown upon them, they are hard to resist and are a fun showcase not just for the Pixar characters and storytelling but also for the dazzling ability of Mattel to translate them into 3-dimensional diecasts.
These two recent checklists will help you keep track of what's out there. Since these are all from the past year, it is much easier to get caught up. Deluxe (oversized) and singles.
There is also an Expanded Universe series based on two books – the "Storytellers" which number about 20 CARS including the Christmas CARS.
Or if you're here for more ketchup cake recipes, good luck!


metroxing

3 January 2011

Mattel Disney Pixar CARS, Retail


32 Comments