Home
»
Mattel Disney Pixar CARS
Mattel Disney Pixar Diecast CARS: Final Lap Visual Checklist – September 2010
Someone asked about re-releases of 'new' Final Lap CARS – so far? Not a lot of Final Lap 'new' CARS have appeared in subsequent cases, it's pretty much one and out  – will that change? Perhaps …
After 8 cases and 25 "NEW" Final Lap releases, that leaves us with @19 new CARS on the official list not released yet.*
Presuming CARS2 CARS will be out around April 2011, that leaves us about 8 months or about 2 a month. Since we probably won't see anything new in January at the minimal, that 7 months and 19 CARS or nearly 3 a month which is about average for the release pattern so far.
* The official list does not necessarily mean anything – they could easily add or subtract a vehicle. For instance, adding a Pitty is not very hard, it's just a repaint and some decals but for now, it is what it is.
So, here's what's left.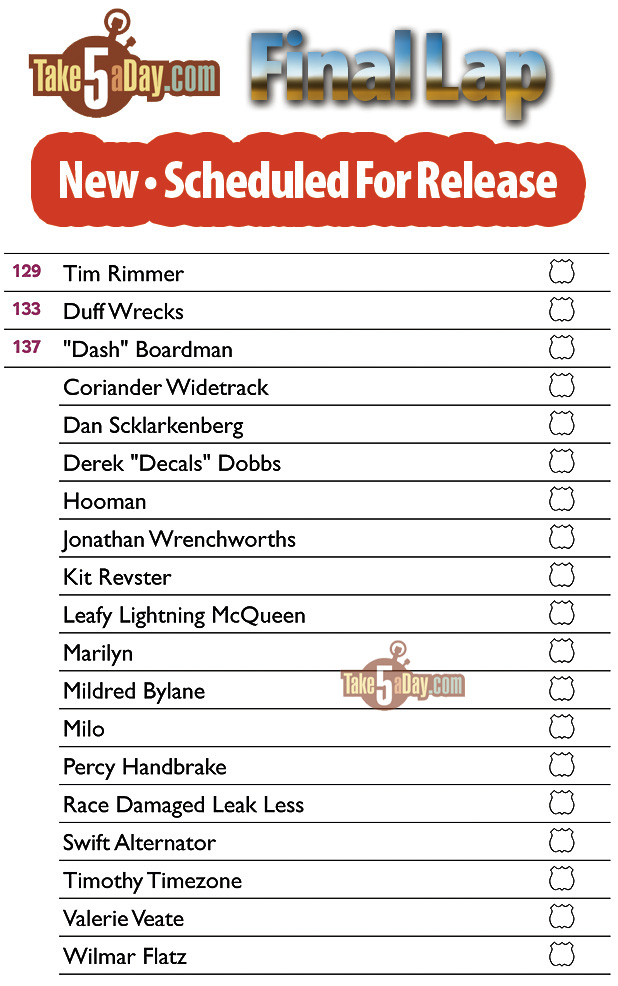 Now, there have only been 9 re-releases in the 8 CASES so far on Final Lap cards …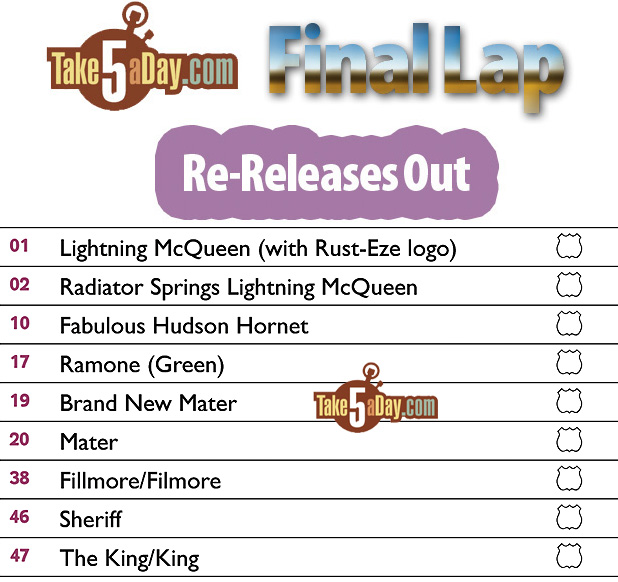 But the official list now numbers 33 additional re-releases …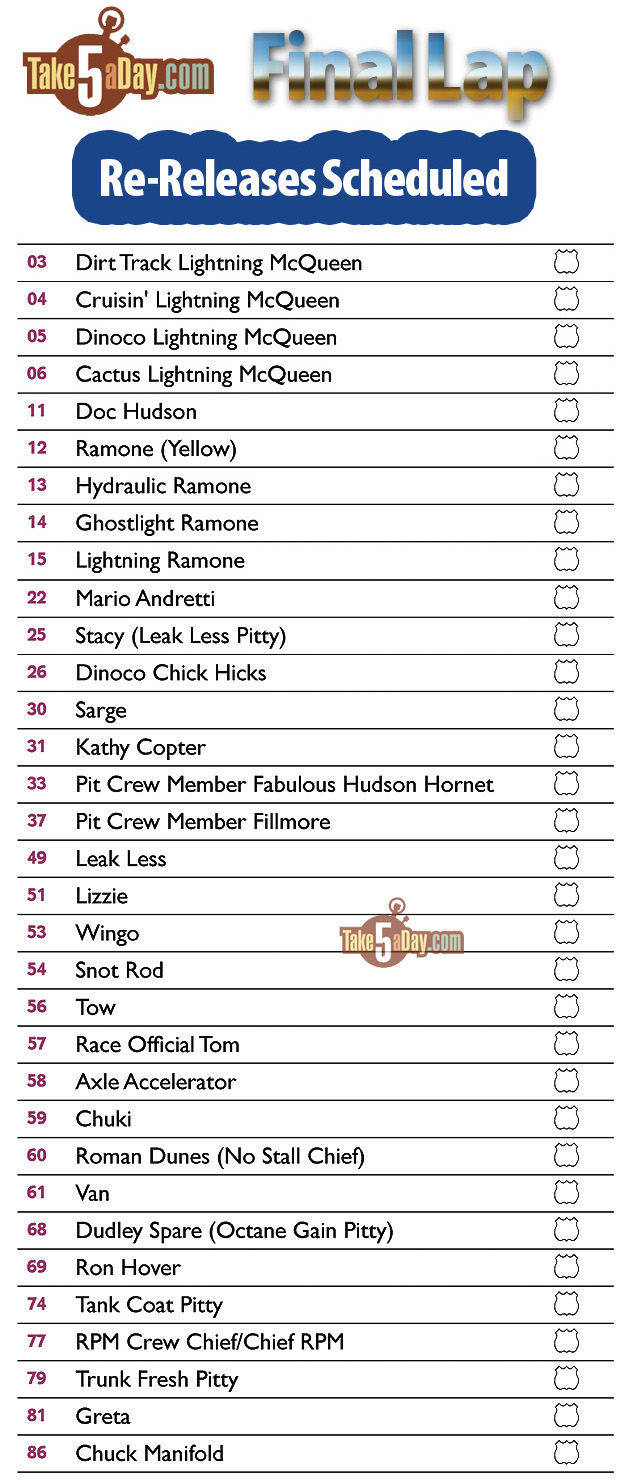 So, will we actually see a total of 42 re-releases (9 + 33)? Some are not much of a stretch, everything at the top of the re-release list has been re-released over & over again but some are interesting and some seem really, really unlikely (Trunk Fresh Pitty?) AND if anything, the Final Lap boxes are moving towards very FEW re-releases and more or ALL new CARS so this might be an old list and new plans are afoot. We might see a sprinkling of releases from the re-release list so we will get 7-8 more cases of Final Lap CARS spread out over the next 7-8 months with about 3 new CARS in the case of 12 with an occasional re-release … but not 33?
The FULL LIST is here (slightly out of date).
And now, the visual checklist of the new that's been released.
CASE H
Just hitting the shelves.

CASE G
Might be the easiest Final Lap case to find, seems to have been re-shipments.

CASE F
Relatively easy to find.

CASE E
Not much left on the shelves but Wet Lightning McQueen should still be hanging around. Vern is the next easiest to still find. Not likely to see many Damaged Mood Springs.

CASE D
Not shipped in great quantities so not easy to find.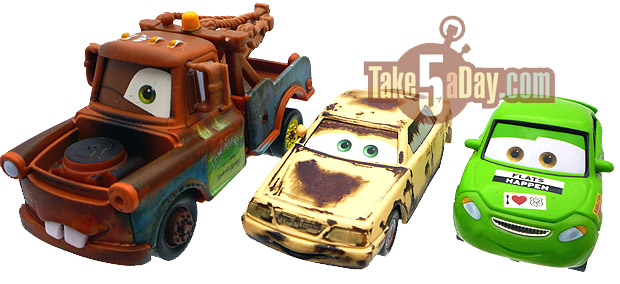 CASE C
Also not shipped in great quantities.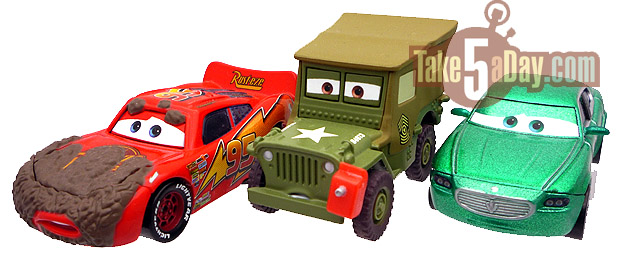 CASE B
Low run.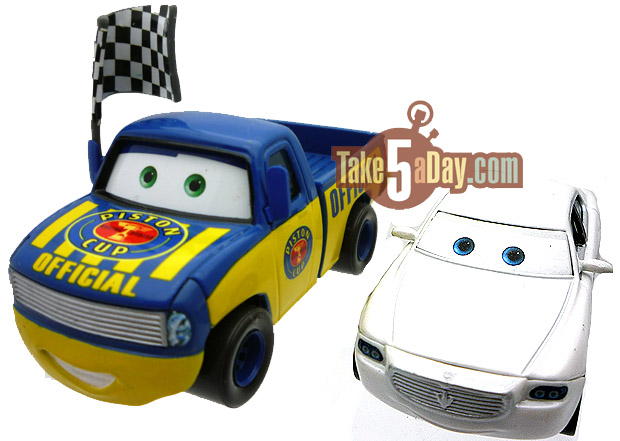 CASE A
Low run.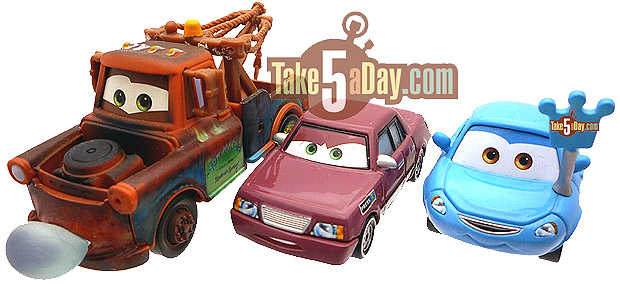 You can compare the original list from SDCC + the latest additions.


metroxing

27 August 2010

Mattel Disney Pixar CARS


15 Comments