Home
»
Advertising
,
collecting
,
Financial
,
Gadgets
,
Internet
,
Marketing
,
Mattel Disney Pixar CARS
,
Retail
,
Toys
,
TV
Mattel Pixar Diecast CARS: The State of the Retail Buying State
While the calendar year has a few more months to run (119 shopping days until you know what day) … the CARS year is just about over. In the next week or so, CASE T should ship and 2008 by the CARS Calendar will have come to a close. As part of the ancient ritual, I will chant the ancient words from my forefathers (well, technically the movie script from 2006), drive my favorite CARS (136 of them) across the nude bodies of Brazilian models*, drink vast quantities of liquids made from fermented vegetables and grains, and sacrifice a cow (by grilling and eating it in small pieces). I will then burn some Sidewall Shine promotion flyers as offering to the winds of change and the ushering in of the CARS Year 2009 – the Golden Age of CARS.
* okay, I hope to upgrade this year from photos in VOGUE to actual models but hey, can't have everything 🙂
After a brief nap, I will drive out to the plains, mountains and netherworld regions to see CARS. There might be some adult swearing, hex chanting and jumping up and down like a big baby. Or in the case of Toys R Us, all three.
In the U.S., the three big chains have about 80% of all the toy business. They are the mass market. That's not to say you can't have a nice business either selling or making toys without involving the big three but clearly, anything not available at the BIG THREE is a either a small(er) collectible/collector's market or flea-market knockoffs.Together, they comprise of about 6,000 brick & mortar locations in the US.
For Wal-Mart and Target, toys are a cute sideline business to bring in traffic. Parents will want to stop by to grab something for their kids and more importantly, during big popcorn movie releases, they get to ride on the buzz wave and makes the store look livier … for some reason, the giant wall of paper towels just doesn't excite people anymore …
Toys R Us by its very name of course has a greater need to make money from toys.
By their enormity is one reason why toy companies have to match them so companies like Mattel (with Barbie, Hot Wheels, CARS & DC figures) or Hasbro (Milton Bradley, Star Wars, etc …) can match their gamesmanship in bargaining … so ultimately, both sides need each other and can ill afford to walk away or offend any of them … for better or worse.
But of course, that also affects the portion most important to us, CARS. The retailers are only willing to commit so much money to toys & or CARS. For instance, early in the year when retailers committed a huge amount of resources to SPEED RACER or as they thought $PEED RACER was going to be the early summer kids blockbuster – they cut back on CARS spending during that period – why? Well, a new "shiny" movie release will always seem more enticing to them … ultimately, it was not too smart of a move financially but to WM or Target, there were enough sales and before Speed Racer actually came out, there was buzz and that's good enough for Target & WM. They got to ride the wave of 'fun buzz.'
Of course, they would prefer that the movie is a huge hit and they will sell more stuff but ultimately, if it sells for 7 months (the movie release plus the DVD release), that's good enough. So in the case of Target and WM, sometimes when you don't see stock, it's not really Mattel's fault. Honestly, because the retailers just don't care that much. How much do they make if they sell through a case of 18 CARS? About $18 in total profit not including the cost of running the store or the salaries of their employees … so if they ordered more, Mattel would certainly make more CARS … and case assortments? If you asked the retailers, they would just stare at you blankly. If Mattel offered them a box of assorted townies or a box of the Apple car and Dale Jr., they would just ask which was cheaper and they'll take that one – to them, it's @$1 profit a CAR so whatever. They'll certainly listen to suggestions but as long as they are reasonable certain the vendor (or Mattel) is continuing to supply them with something that will sell, great. But other times, they will pare back the budget for CARS because again, at best, all it is $18 return for those 3 pegs in their enormous store … nice but hardly dazzling (to them).
So unlike the days of yore, if you build it – nowadays, they might not care enough to make shelf space for it and in the case of CARS, hopefully that's where MattyCollector.com can come in and make a difference.
Toys R Us is a special case in more ways that one. For the past several years, they have been on a slippery financial slope and it seems they have righted the ship so at least they are not about to sink. Because toy sales (and profits) can change rapidly, they have had it tougher … unlike WM or Target who has literally 20,000 other products to sell, TRU pretty much counts on you buying toys … hence the increase of Babies R Us … which is a much more stable business – diapers and baby stuff. As every parent knows, you needed to buy a $50k SUV to haul the 2 tons of stuff that goes around a tiny, gurgling 12″ by 7″ baby 🙂 … but TRU also has had problems because WM or Target can pretty much decided to sell whatever toy they want to at no profit or at a loss because they know you're probably going to buy a couple dozen other things.
In the case of CARS, while it's great that TRU is willing to devote a quarter aisle to CARS, they seem mis-guided in thinking they can make up for the "low" margin single CARS by heaping the aisle full of higher margin RC CARS, $50 CARS race tracks and anything but the 1:55 CARS. Instead, TRU should be the retailer that always has 1:55 CARS to differentiate themselves from the other two toy retailers. And of course, there's no reason not to mix in higher margin items but they should be 1:55 CARS items such as with these two recent box sets.


While not the most exciting packs of all time, they are a great starter set for those just joining in on the fun or a nice gift for some kid – 5 CARS for $17.99.
Box sets make much more sense because they are a classy way to go – unlike the Movie Doubles.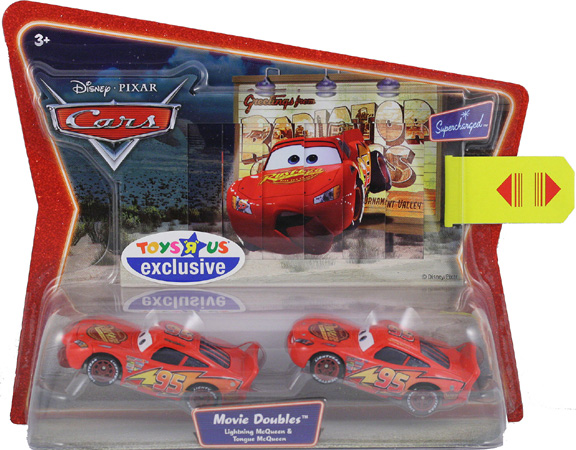 The problem is not that they are exclusives or even that they are re-packaged CARS out already but rather the presentation … to most gift-givers, they look at it and they wonder, why would I buy my kid, friend's kid or grandkid TWO of the SAME car? Sure, WE know it's different and while completists might want to add it to their collection, to most people, it's not that 'classy' of a choice … while if they were a box set, they would serve two markets – for gift giving and as a display item.
Or like the recent Target exclusive, Race & Chase set: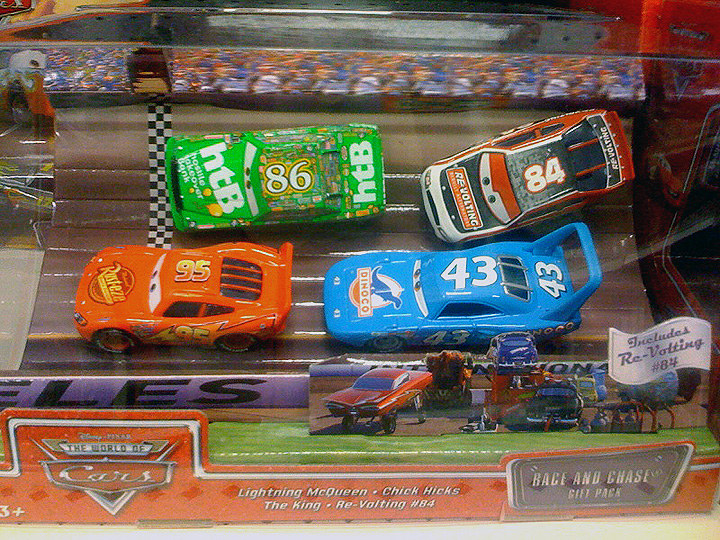 While not the greatest value, it's still not a bad value for $14.99 AND even presuming that most collectors have the other three CARS, it still makes for a great office display versus a blister card …
So, like the old saying, it's not that we're against "repeats" and "exclusives," they just have to be smart and instead of a blister – make it a box – it's a classier way to go for a classy line.
And as far as I can tell, both the two TRU boxes & the Target Race & Chase are selling well unlike the Movie Doubles.
That brings us to another crucial point. A lot of long time collectors are focused on what they believe are re-issues of older CARS and while some are definitely pegwarmers … if you look at the overall picture. Not counting the upcoming re-scaled Fred & Axle Accelerator in CASE T, we have 62 CARS available as WOC or as part of the current ongoing WOC line (not counting Lizzie/Sarge or the Chase McQueen) … even if you discount the latest 10 releases, that's still 52 CARS part of WOC – how many different ones do you see on your store shelves? If your store is like virtually all of them – at best, you have 10 choices on the shelf, right?
So, basically, 80% of all singles CARS sell out new or old – some immediately (Dale Jr.) and others might take a few more days (Fillmore) or a week (Wingo) but after a few weeks, what is really left on the shelf? 5 out of 62 available? 10 out of 62? How many stores have more than 15 out of 62 available? What does that tell you? That the line is healthy. That with the exception of some models that are available in other formats or simply shipped too often … good luck finding even Snot Rod or Leak Less on a WOC card … the line is healthy and for 50 to 55 of the CARS assortment, they are sold within weeks of arriving on the shelf … and for the lingerers? That is a problem …
Especially at TRU's which seems to have some oddities that are not readily explained … how does a store end up with 60 Supercharged Boosts?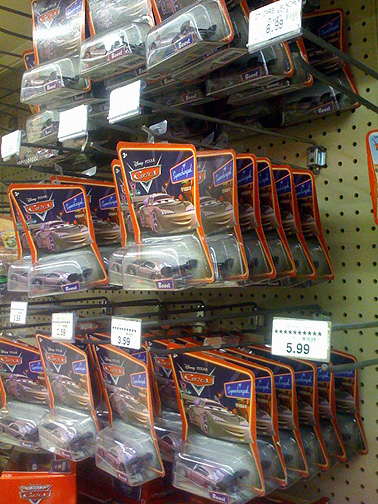 TRU closest to me in Dublin, CA.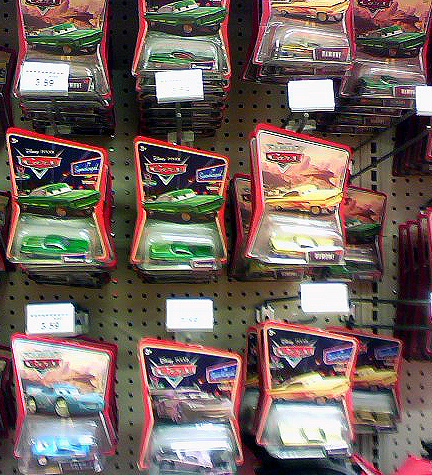 And other than 1 Bling Bling McQ, the rest are ALL Green  & Yellow Ramones (Kansas City, MO) …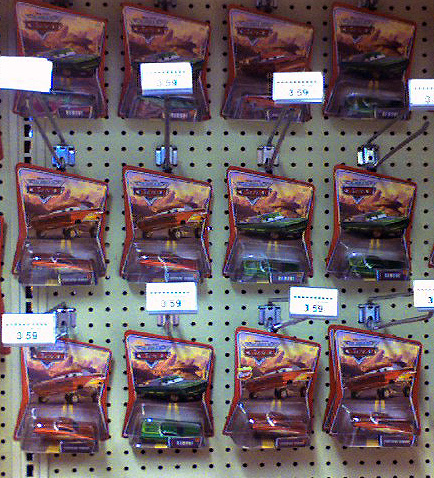 Or El Paso, Texas – again, just Green Ramones & Lightning Ramones … great for CARS to get 12 pegs but really, just a fallow situation and looks bad for Mattel & TRU.
Now, I can only really speak for the two TRU's closest to me since I am there once a week but this peg situation looks very similiar in 20-30 TRU's I've visted in the past couple years across the country. Clearly there is a disconnect somewhere.
Is this situation a result of TRU's poor inventory & re-ordering setup? Is the inventory computer waiting for CARS to sell down to ZERO before ordering a new shipment? I can tell you that the Dublin, CA TRU has not received a new case all summer. I vaguely recall they got a couple cases in early summer and sold through all those, leaving just the Boost's … so if the computer is waiting until the Boost's get down to zero before allowing another shipment to come in? Or is TRU unwilling to spend the money to fill 12 pegs?
Besides a sales and display problem, this situation directly impacts the Buy 5, Get Sidewall Shine promotions because how did they decide to arrive at this solution to clear the shelves? Is it based on a general nationwide count where TRU's 600 stores shows they have 40,000 CARS but how many TRU's have less than 10 choices out of 62 available CARS? While the Buy 5, Get Sidewall Shine is a good resolution – can TRU pull up an inventory by UPC and what will that inventory really tell them? Is it really a fair promotions in asking people to choose from 3 or 5 total CAR choices or in my case – in Dublin, CA – ONE choice? Buy 5 Boosts, get 1 Sidewall Shine?
So, while TRU seems to making a commitment to CARS – they seem focused on the wrong areas of CARS – having 15 $50-CARS slot tracks in each store in stock but but having virtually no 1:55 mainline CARS – which is really the driving force of the line … it's very puzzling. I know that Mattel has sales reps that service each account, from the CARS promotions memo, it seems to imply that the Mattel sales reps personally came by each store to drop off the flyers but isn't it part of their responsibility to see that stock is varied and/or plentiful also? So, whether the fault lies in TRU's lack of ordering for financial reasons, or by dint of a poor inventory computer or by their incorrect focus on high margin items versus actual sell-through items … or whether the problem is in that Mattel's sales reps not monitoring TRU – there is a huge disconnect somewhere that needs to be addressed now that we are moving into Golden Age of CARS with oversized blisters, haulers, Mini's, Storytellers and so forth … or is TRU going to continue just to stock $39 RC CARS just because the margins are higher?
BUT I think one thing that the three retailers may not realize is how much traffic the CARS line might just drive to the stores and maybe we can get some answers … I put together some questions on an Excel spreadsheet – download it and fill it and email back to us at metroxing (at) gmail.com. I will compile the results and maybe it will useful to increase the amount of CARS we'll see on the shelf. Thanks in advance for your time – just select a nickname on the sheet so I can keep the results matched up. I will NOT reveal any of your individual answers. I will also not match your current TakeFive nickname to the one on the survey so feel free to pick any or just a number. The Excel file direct download link is HERE (FILEDROPPER). Or you can go to EDITGRID and EXPORT THE FILE there (it is READ ONLY so you'll have to fill it out on your desktop). (EDITGRID also allows you to export it in other formats if you don't have EXCEL or would prefer another 'spreadsheet' format. Thanks!)
Our UPDATED What's-In-Store Now POST is HERE.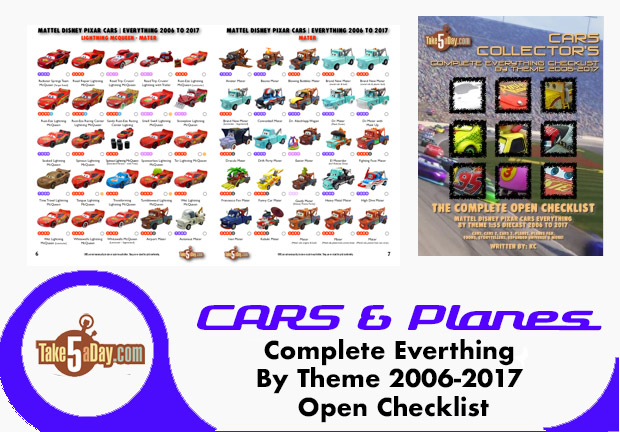 metroxing

27 August 2008

Advertising, collecting, Financial, Gadgets, Internet, Marketing, Mattel Disney Pixar CARS, Retail, Toys, TV


54 Comments