Home
»
Advertising
,
collecting
,
Film
,
Financial
,
Marketing
,
Mattel Disney Pixar CARS
,
Retail
,
TV
Mattel Disney Pixar CARS: What's In Stores-Online Right Now
SEPTEMBER 20, 2008 UPDATE
I know with the recent avalanche/cavalcade of good news, it's hard to sort out what's coming and what's in stores so here's a brief rundown of the newest things that are actually on the store shelves-hitting the stores shelves-about to hit and/or can be found online right about now.
SINGLES – MAIN LINE
The Last Singles CARS are … in order from top to bottom – "oldest" to newest.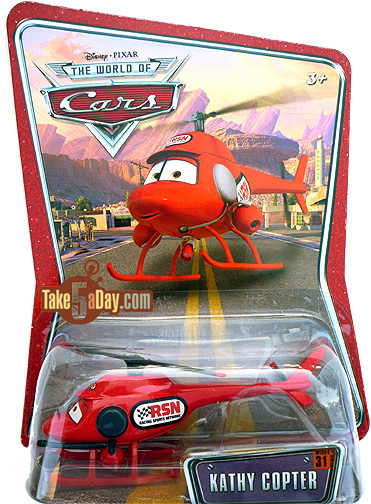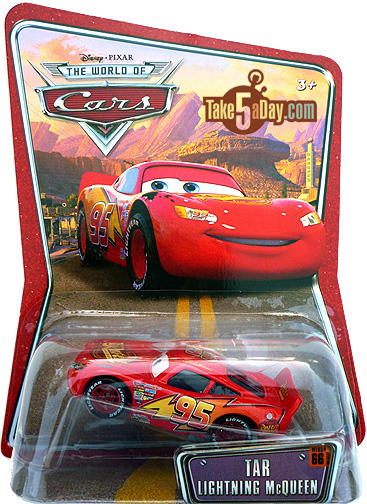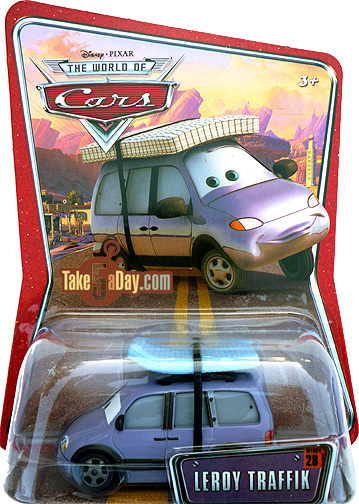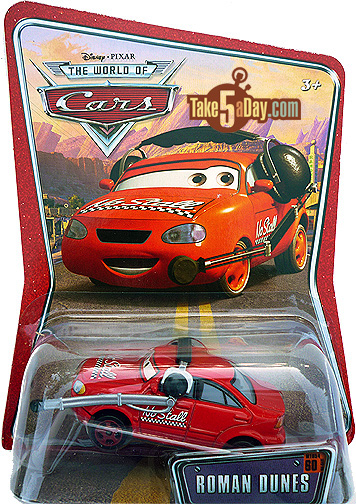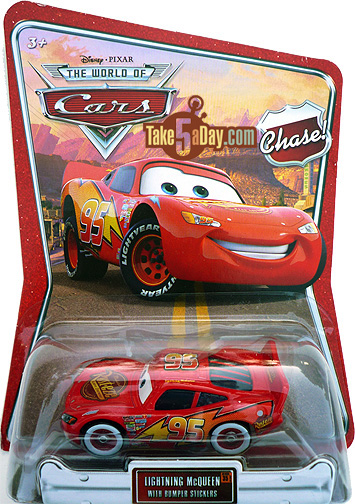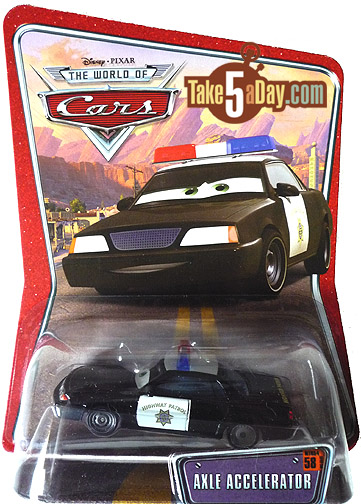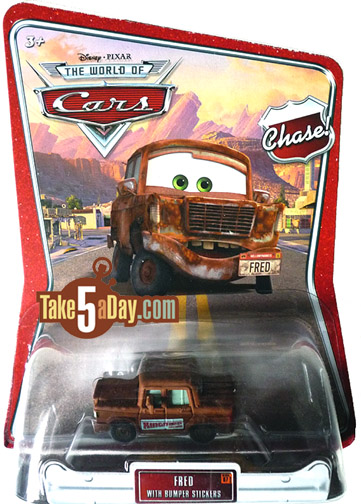 Tar Lightning McQueen is the last CAR to be available in the new & "blank" versions. Cactus McQueen presumably will not get the badge and neither will the two Chase CARS.
THREE PACK – MAIN LINE
The most recent four releases are … Look for the next one (Spare Mint Team) in early October.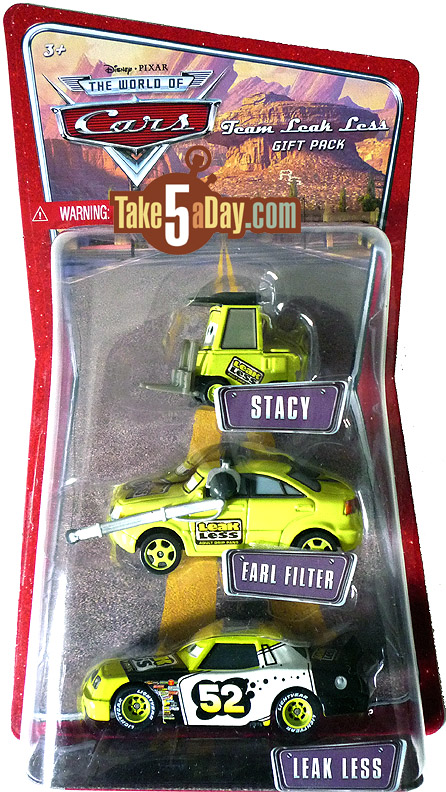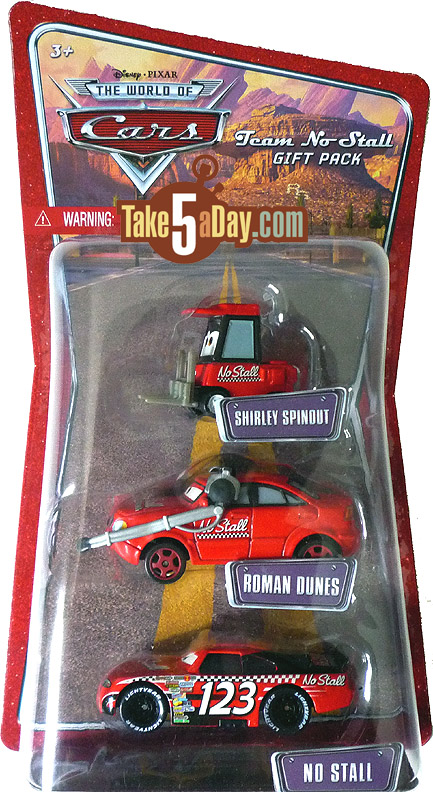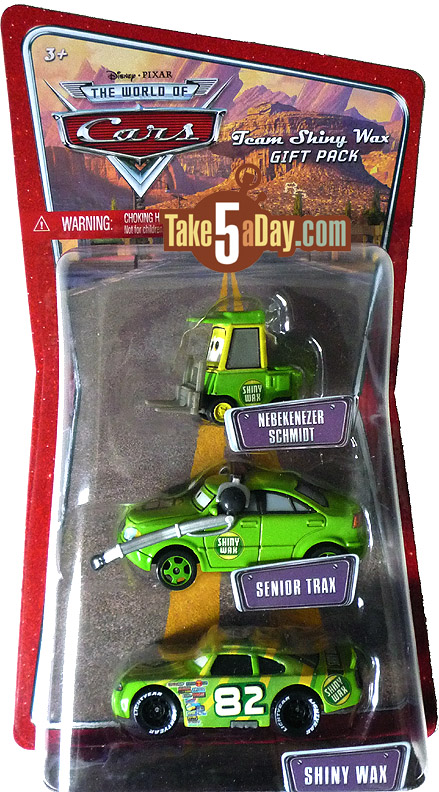 LAUNCHERS (PIT ROW RACE OFF) – MAIN LINE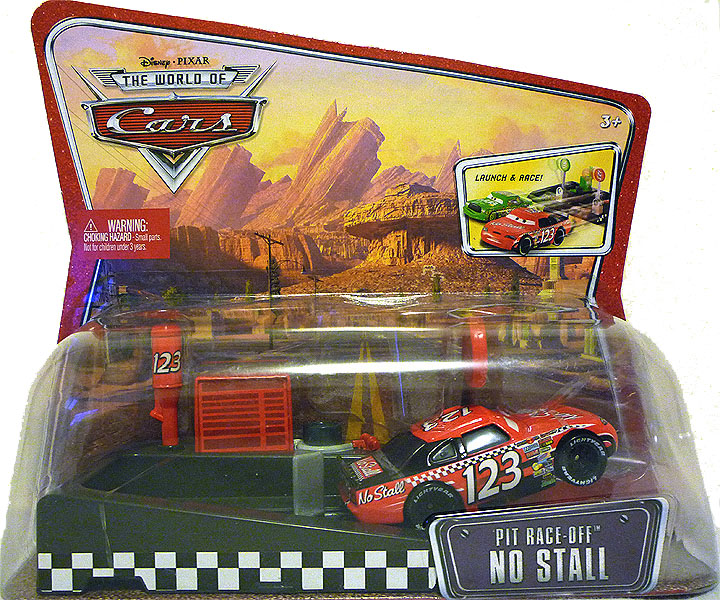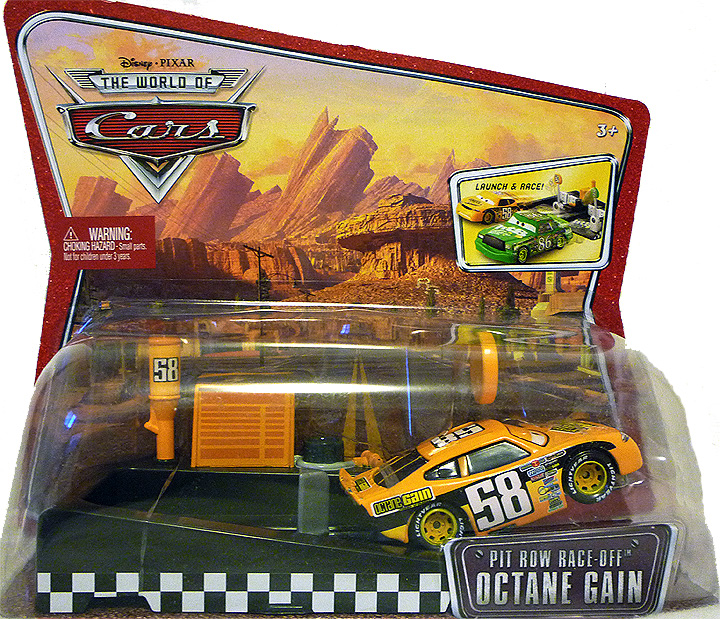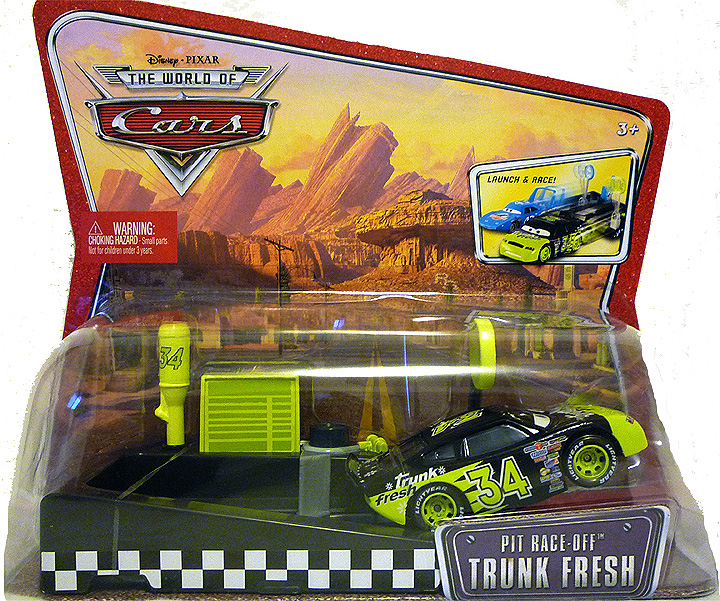 The latest 4 "launchers" – now that all the Piston Cup Truck Trailers are coming – might as well get them all, you know you want to 🙂 … though good news on saving a few bucks, keep reading to the Target section.
MOVIE MOMENTS – MAIN LINE
While it has been out a while, not all stores actually ordered the Movie Moments box this came in or Mattel has finally gotten around to shipping it …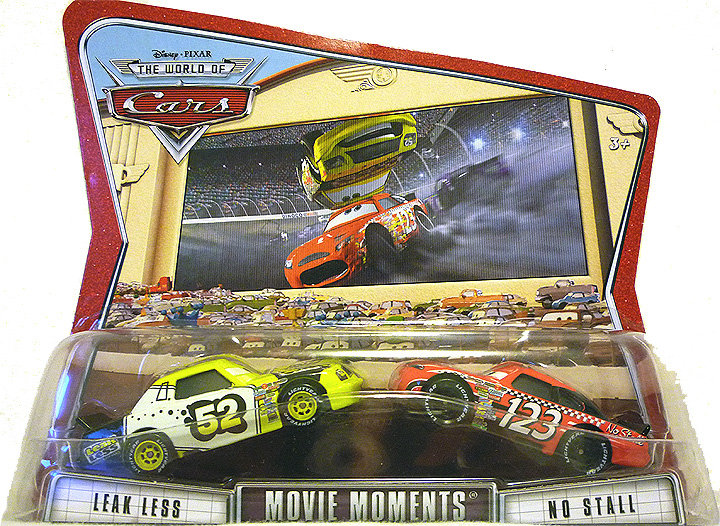 The latest Movie Moment … For those who thought they didn't want to pay for a launcher with NO STALL, you can now spring for NO STALL with a "free" LEAK LESS 🙂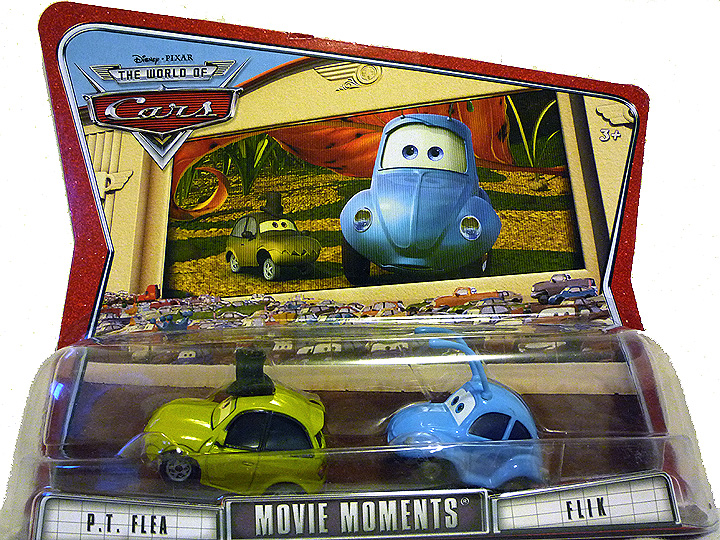 Again, not really new 'new' but difficult to find – so far appearing in only one Movie Moment shipment but good news – keep reading … yep, Pixar parody Movie Moments – either way too many or not enough …



TARGET EXCLUSIVE-MOVIE MOMENTS VALUE 2-PACK

"Reader Mike," spotted these in Southern CA and "Reader Matt" spotted them on the other side of the country in Georgia  (thanks for the photos, Matt – sorry I originally credited to Mike who also sent me some photos).
You get two packs of either Movie Moments or Pit Row Race Off (launchers) in a cardboard sleeve called a VALUE PACK at $14.99 $7.48!  … the launchers seem more enticing since they are mostly newer but there is a two-pack with PT Flea & Flik so for those worried or hoarding PT Flea & Flik since nothing new was announced … um SURPRISE! 😉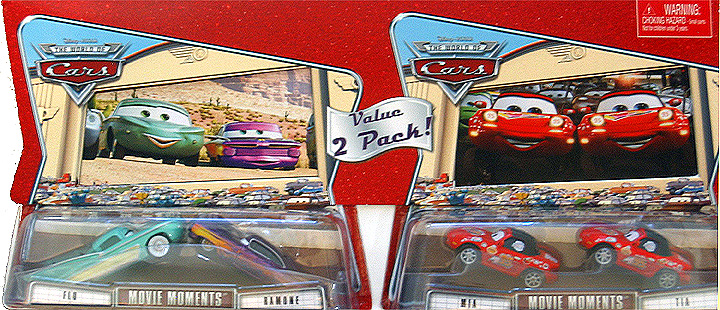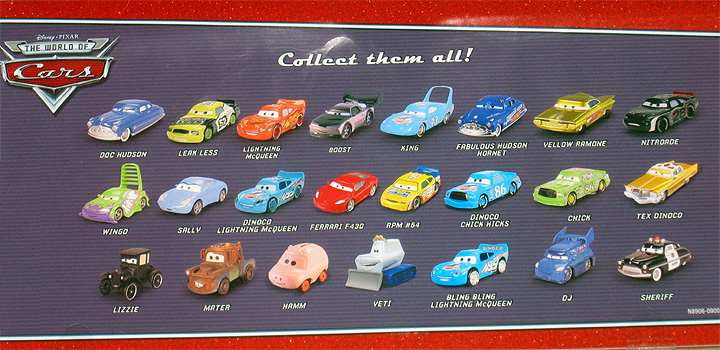 (Back of the Value 2-Pack MM sleeve – reuse of older artwork, clearly some/most CARS shown here not available as a Movie Moment CAR pack)
The two-fers Movie Moments available include: Flo-Ramone & Mia-Tia, PT Flea-Flik & Dinoco Mia-Tia, Snot Rod-Boost & Mia-Tia, & Rusty-Dusty & Luigi, Guido & Tractor, Snot Rod-Boost & Mr-Mrs The King … as there are some variations, unclear if the two-packs selected are just random or preset but the cardboard sleeve is clearly a quick-fix to offer something different for Target.
NOTE & ADVICE from "Reader EM" – "… You cannot buy them hoping to remove the sleeve and have the vehicles on a nice looking card. The cardboard sleeve is glued VERY securely to the card. In my experience, removing it will tear up the images on the cards.
I just wanted to give everyone a heads up. Of course if you are buying them as openers that is all irrelevant."
One reason of course is so that people don't buy one and try to return the other one to save even more money …
TARGET EXCLUSIVE-PIT ROW RACE OFF VALUE 2-PACK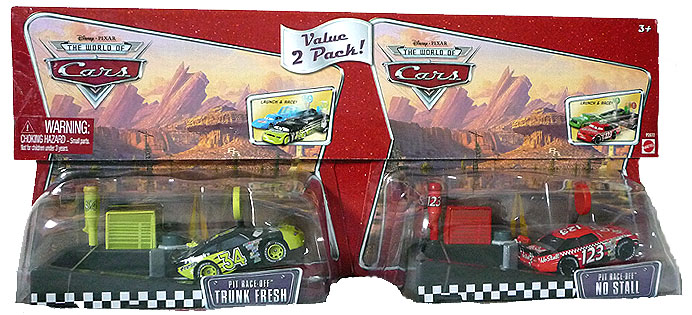 (Back of the Value 2-Pack Pit Row Race Off sleeve – reuse of older artwork from back of current "single" Pit Row Race Off/Launcher cards).
There have only been 9 Piston Cup Racers released in the Launcher series so presumably a mix of the 9 released are available as Pit Row Race Off Value 2-Packs – the 2-fer of Trunk Fresh & No Stall is nice and surprisingly as most people have had trouble finding any of the two individually let alone together and at a savings.
TARGET EXCLUSIVE-BOX SETS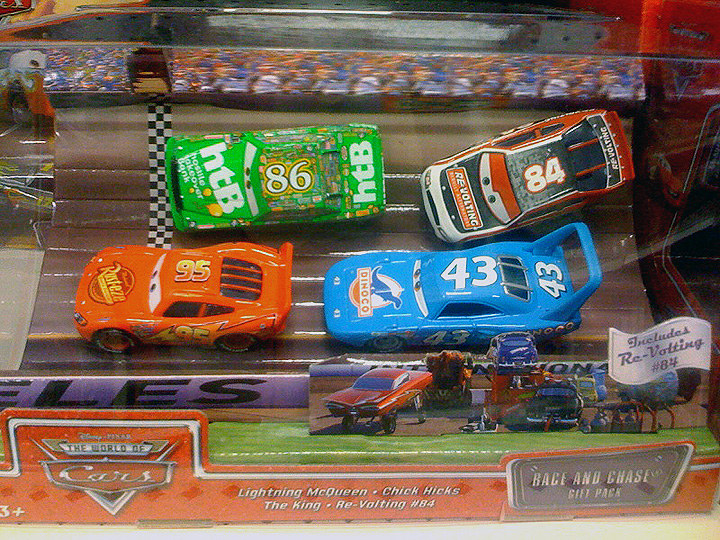 Not the greatest value but a very nice looking display box – $14.99 for 4 CARS. Great display for your office but for most, they have all the Piston Cup racers except for Re-Volting #84.

WALMART EXCLUSIVE-MINI'S VALUE PACKS
Walmart is offering two MINI's Value-Packs, while both a good price value, the Q&D packaging solution isn't nearly as enticing – three MINI's packs are simply shrinkedwrapped onto a red piece of cardboard. But if you're new to collecting MINI's, getting 6 for $10.94 is a much better deal. There are also about 8-10 variations of the packs within each 3-pack that are either random or appear to be random.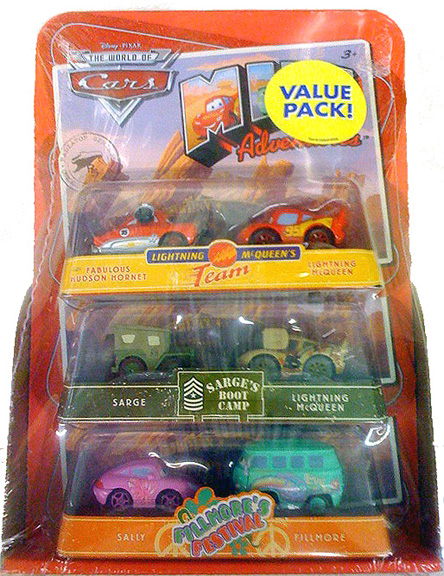 I did not check the pricing on the "playset value pack" below, I'm presuming it's the regular price of the Flo's MINI playset plus one "free" set of MINI's – saving you in theory @$5.99 versus previous options. Again, they are randomly packed and attached to Flo's with the addition of cardboard tray and shrinkwrapped together. The Flo's MINI playset originally was available for @19.94 at WM – there is no artwork on the back for either.


They have a couple new box sets EXCLUSIVES – nothing spectacular for long time collectors – but for those new to the cause, two nice starter sets:



NON-EXCLUSIVESOTHERS (NON 1:55 SCALE)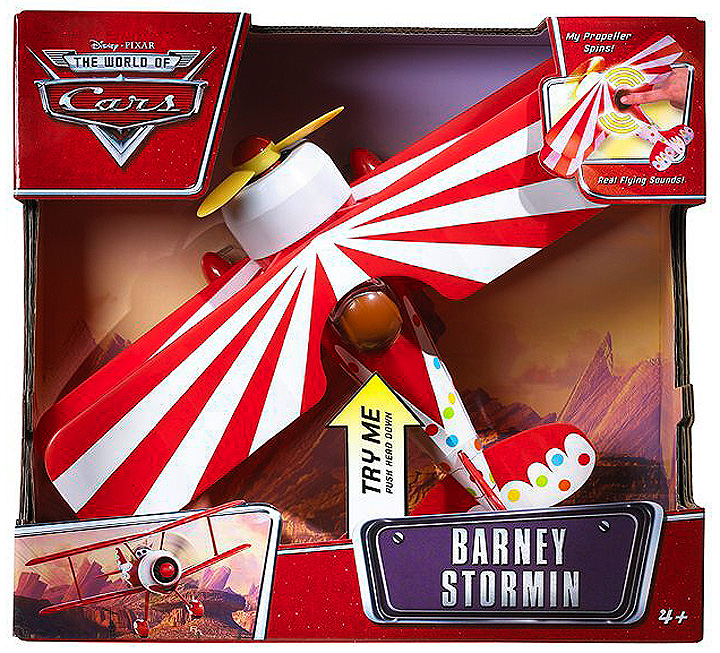 Giant Barney Stormin' with action & sounds – @$14.99. (Discounted at Target for $7.99)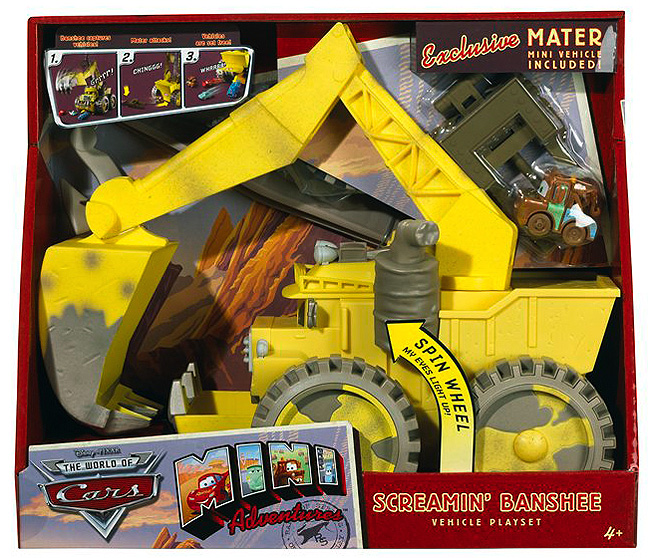 Screamin' Banshee – while in scale with the 1:55 CARS, part of the Mini Adventures line as he gobbles up Mini's and then shoot them out the side … comes with Mini Mater – around $35.
These just arrived – seems to be a Kmart item only for now – $24.99 – A Mini Adventures Gift Pack with 9 Mini's – Thanks Collectorsmom for the photos.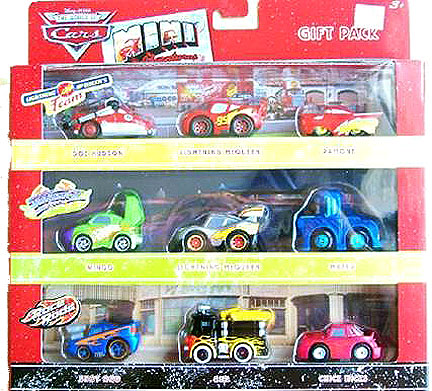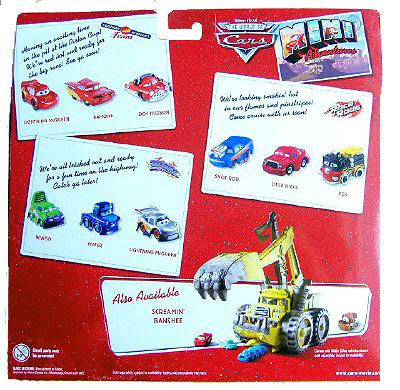 Up next – in another month or so, the Kmart CARS Collector Days and the week after, we should see the release of CASE W (Wal-Mart First Exclusive).
The Other Chase CARS Coming are posted here.
So good luck and happy hunting …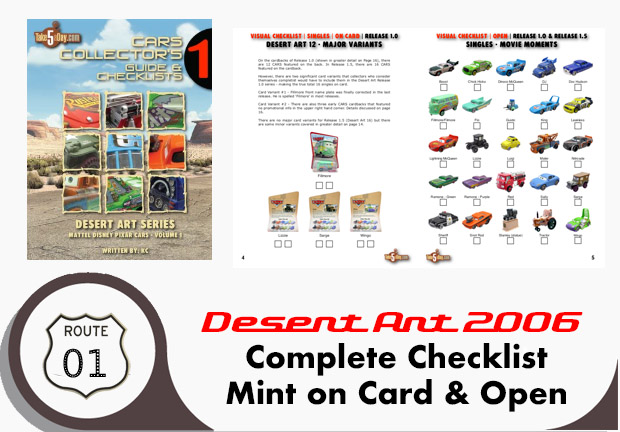 metroxing

1 August 2008

Advertising, collecting, Film, Financial, Marketing, Mattel Disney Pixar CARS, Retail, TV


114 Comments