Home
»
Disney Pixar
,
Disney Pixar CARS 3
,
Disney Planes
,
Mattel Disney Pixar Diecast CARS
,
Mattel Disney Pixar Diecast CARS 3
Mattel Disney Pixar CARS Collecting: Recap Start From the Start Checklists
If you've just started collecting CARS or want to go back and fill in the gaps now that some CAR 1 diecasts are being re-released – here's a recap of our grids, charts and checklist magazines.
If you're just looking for a "simple" mainline checklist, here is the last checklist that was complete at the time of the close of CARS 1. This checklist includes all the lenticulars. At the time, there was the anticipation-hope that 8 more Final Lap CARS would be released but it was not to be. This list is essentially up to date as the only new releases between then (March 2011) and today is Purple Hydraulic Ramone and Kit Revster.
While Purple Hydraulic Ramone was part of the CARS 2 releases, he really belongs with the CARS 1 group as he never appears in CARS 2 in purple hydraulically raised. Kit Revster was just released in the Target box set.
If you're also collecting the Expanded Universe additions (Toons, Storytellers, Disney Store in-scale), that "simple" checklist is here. This list does NOT includes CARS Take Flight diecasts.
So, counting mainline, lenticulars and expanded universe CARS diecast 2006 to 2011, we're at about 500-620 depending on if your collection includes rubber tire releases, major variants and lenticulars. You can subtract about 100 if you didn't collect the lenticulars "repeats" of classic fixed eyes CARS.
If you prefer checklists with photos, there are two that we offer that covers EVERYTHING from 2006 to 2011.
The CHRONOLOGICAL ONE with shows the first year or series as they arrived … so you can check them as collectors who started in 2006. Got it. Got it. Need it. 🙂
Of course, you can check out a full preview by clicking on PREVIEW under the magazine cover at MagCloud.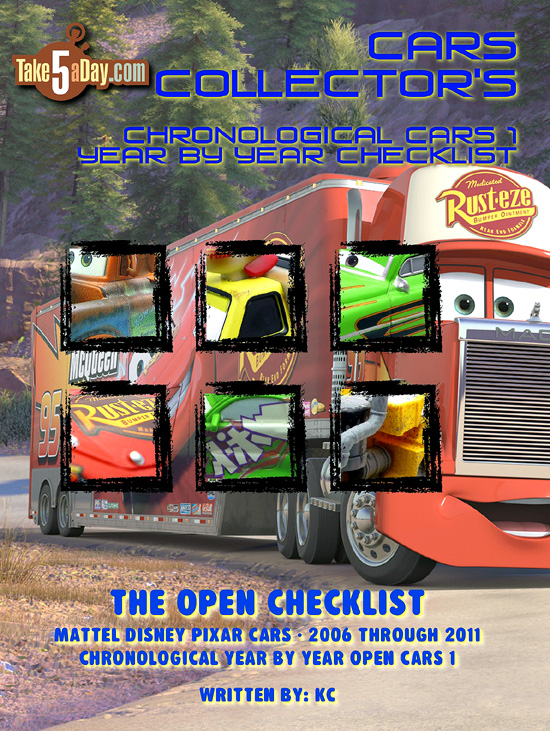 They are alphabetized with each series/design motif and/or within each wave. Early series tended to have gaps so some are grouped by wave.
Expanded Universe series are grouped by themselves at the end.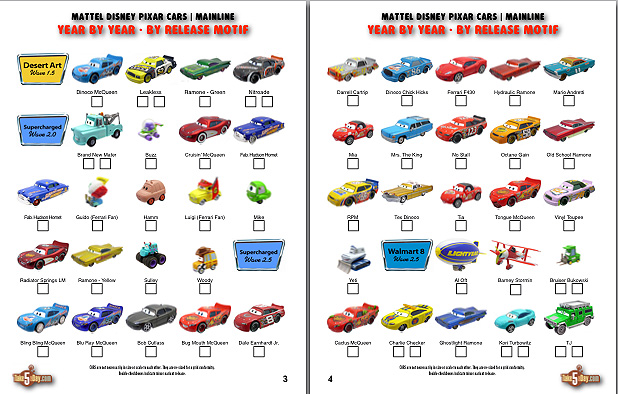 Or if you prefer a EVERYTHING ALPHABETIZED checklist, mainline and expanded universe CARS are grouped together with a little box underneath indicating what years/motif it was available.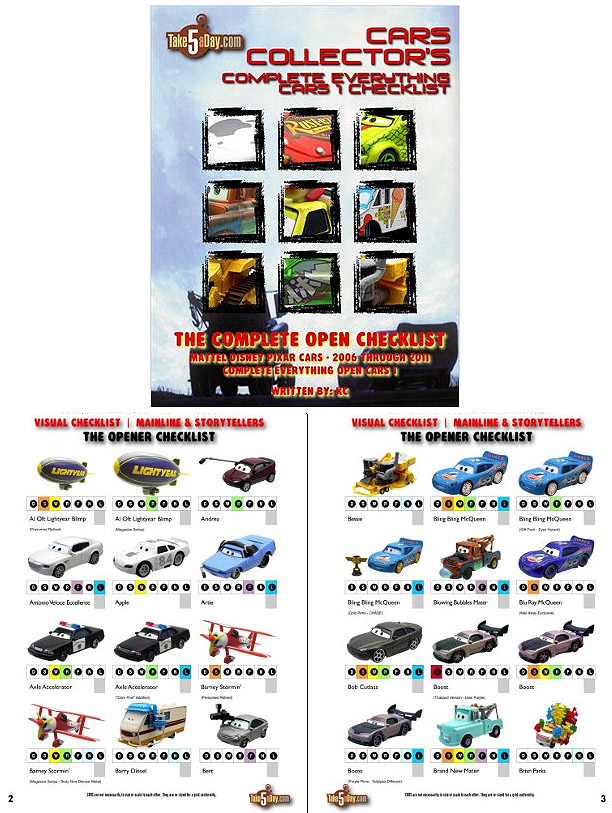 For those collecting on card, the other checklists are split year-design motif as Mattel tended to change every Autumn. You can read more in this post but remember, all the checklist magazines on MagCloud offer previews for you to check out if that's the one you want. Remember, each issue you buy supports TakeFive – thanks!


metroxing

5 January 2013

Disney Pixar, Disney Pixar CARS 3, Disney Planes, Mattel Disney Pixar Diecast CARS, Mattel Disney Pixar Diecast CARS 3


5 Comments