Home
»
Mattel Disney Pixar CARS
Mattel Disney Pixar Diecast CARS: The Everything Released Complete Open Check List 2006 to 2011 (v1.1)
Since we are closing in on the end of CARS Diecast – here is the nearly everything under the Sun released – complete checklist – Mainline singles-oversized-exclusives & haulers.
Expanded Universe complete checklist coming tomorrow.
I totally disregarded the numbering systems of the oversized-haulers, etc as they are just confusing – only the singles numbering system is considered.
There is a key at the end along with some additional notes. Note, this is an OPENER checklist so packaging variants are not considered.
Note: Updated as some lenticulars were not updated correctly – thanks Nikko & Mr. Brownstone for the reminder. This is now version 1.1 of the checklist – for classic collectors, only Rollin' Bowling Mater was updated so this version won't make much of a difference.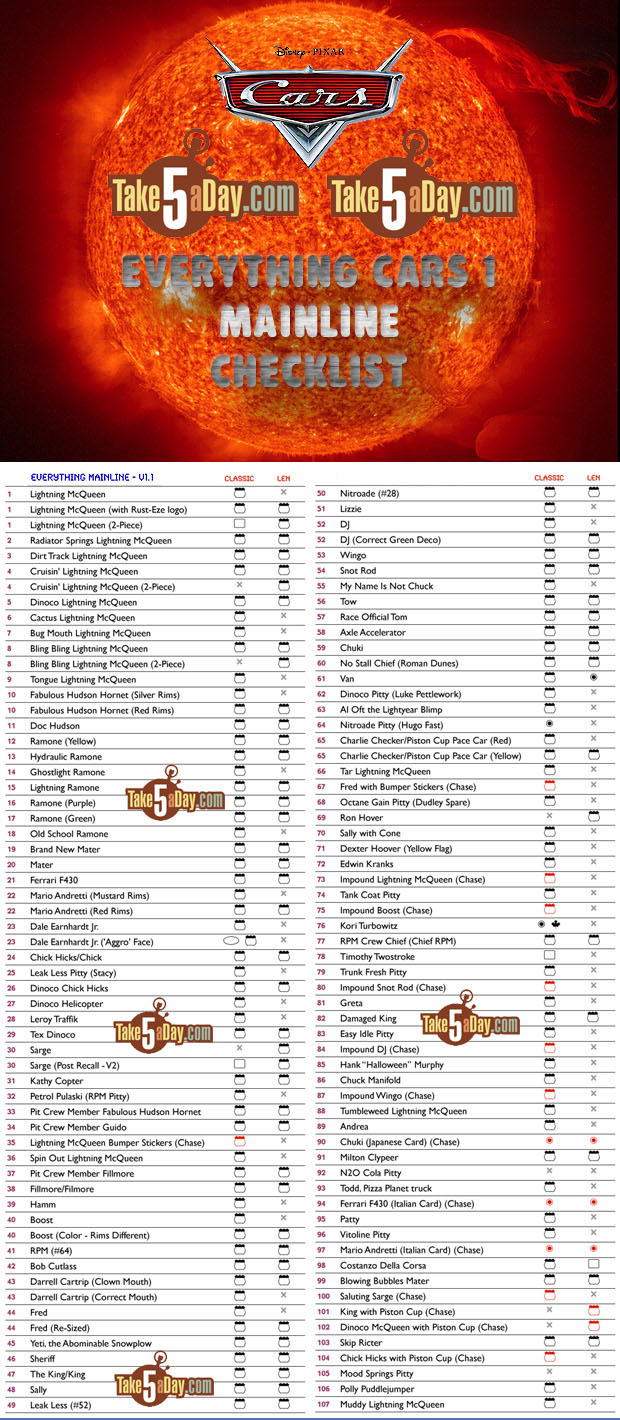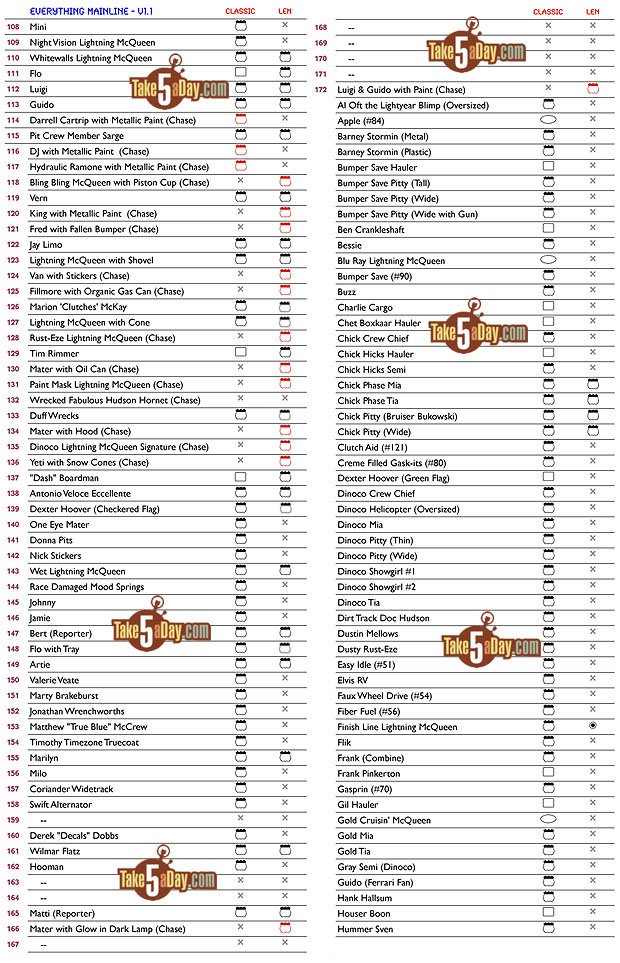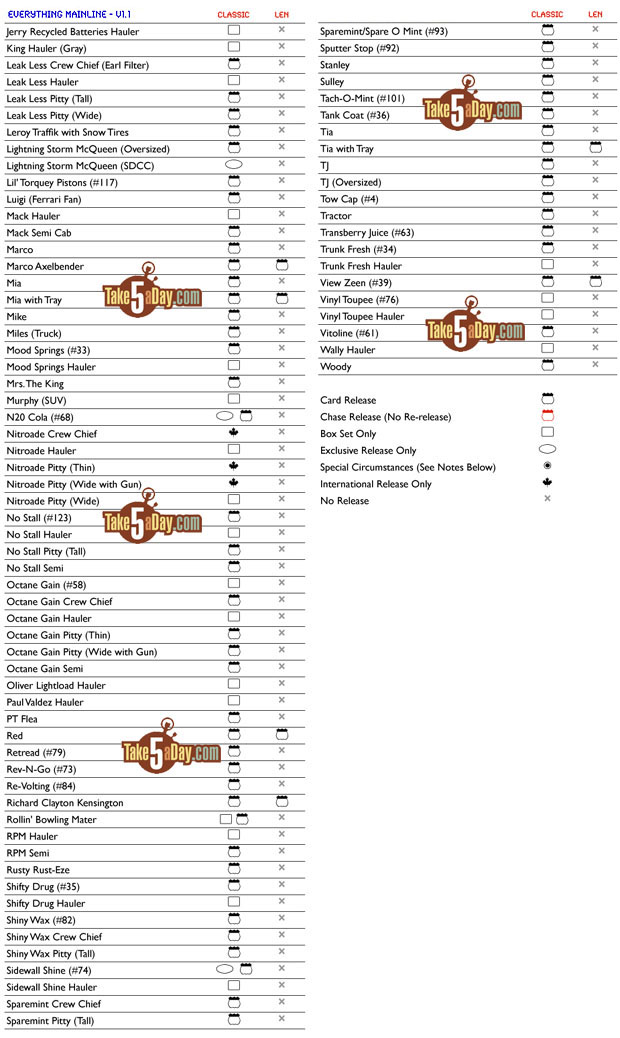 If anything was released on a card (I counted 3-packs as a 'card' also since they started out that way), it is listed as such even if many-most people might've bought them first in a box set. For example, most of the Piston Cup racers are listed as available 'on card' even though for most people, they probably bought them as launchers or in box sets before the rubber tire versions were released.
Conveniently there are 8 Final Laps on the To-Be-Released List and 8 "empty" unassigned numbers.
Only significant variants are listed (with description). There are certainly others that are variants and of course, you are free to collect them and add them to this list but I decided if you cannot see the difference from 2-feet away, it's not considered significant. I do not considered accessory variants as variants worthy of listing here.
If I count correctly, there are 290 releases – though while I did not list them separately, you can add 33 rubber tire CARS to the the count for a "basic set" of 323 CARS. I'm going on the presumption that if you bought the Motor Speedway of the South, you either purchased a full set along the way (via launchers, box sets, etc) (minus the Apple CAR) or the rubber tire versions.
Some repeat Pitty's where the eyes may be slightly different positions are not "re-count" or listed as a variant – however, if they came with a different body shape or tool, the are listed.
"Oversized" is only listed to differentiate it from the smaller release.
Special circumstance notes:
Kori Turbowitz was only available in the US on a WM card version but as an opener collector, the international movie moment 2-pack version is exactly the same CAR.
There were three CHASE CARS that were packaging only – Ferrari F430, Mario Andretti & Chuki so out of packaging, they are not really CHASE CARS and identical to the normal releases so they are subtracted from the overall releases.
While #78 Hugo Fast – Nitroade Pitty was not technically called that on the international only Nitroade Crew Chief & Pitty box set, that is essentially Hugo Fast so he is listed as such.
There are 101 Lenticular releases – yes, there are eye variants and changes so while technically, there are a few dozen more for the ultra completist, I think 101 is a acceptable number for a "complete set" of lenticulars. This does includes Artie & the Luigi-Guido with Paint.
Finish Line McQueen is listed even though he was released in a box set where he was labeled as Tongue Lightning McQueen – an error.
So, we currently stand at 323 + 8 Final Laps + Barry Diesel + Haulers?
Though of course, for anyone collecting since 2006 – you probably would've had to sell or give away another 100+ open CARS that were double or many more from box sets and such  to get to 323. 🙂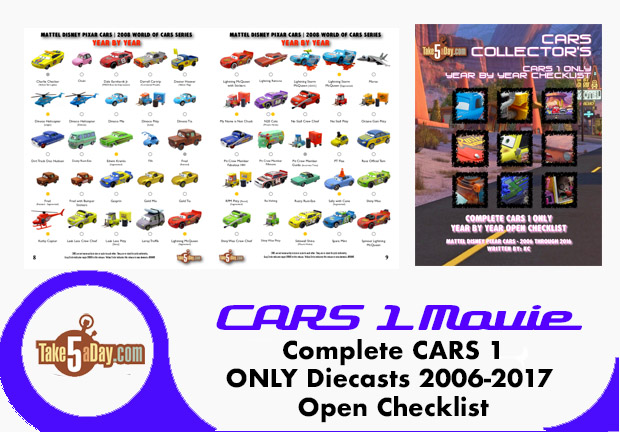 metroxing

28 March 2011

Mattel Disney Pixar CARS


31 Comments