Home
»
check list
,
Checklist
,
Disney Pixar
,
Mattel Disney Pixar CARS
,
Mattel Disney Pixar Diecast CARS 3
Mattel Disney Pixar CARS: The T5 Checklist Magazines
Just to recap the checklist magazines for newcomers.

Issues 1 through cover the first 6 years of CARS diecast collecting – for the most part, there was a design motif change once a year and each issue covers every diecast, playset, box sets, etc of the Mattel 1:55 series shown both mint on card, sealed and opened – in effect, everything released in that series. Available via MagCloud HERE.
#1 Desert Art (@ March 2006 to November 2006)
#2 Supercharged (@ November 2006 to October 2007)
#3 World of CARS (@October 2007 to October 2008)
#4 Race of Rama (@October 2008 to March 2009)
#5 Final Lap-Night Skyline (September 2009 to January 2011)
#6 Lenticular (ROR & Night Skyline) (April 2009 to January 2011)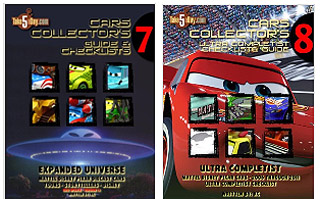 #7 Expanded Universe (covers Toons, Storytellers, Holiday, & Disney).
#8 Ultra Collectors (covers the hardest to find cards of each series, mail aways, exclusives and all the variants). There's much more text and includes oddball charts of things such as the Motor Speedway of the South production dates database and a more thorough discussion of the unauthorized factory CARS.
As with every issue above, click through the link to see the PREVIEW below – you can view every page to decide if that's the one you want.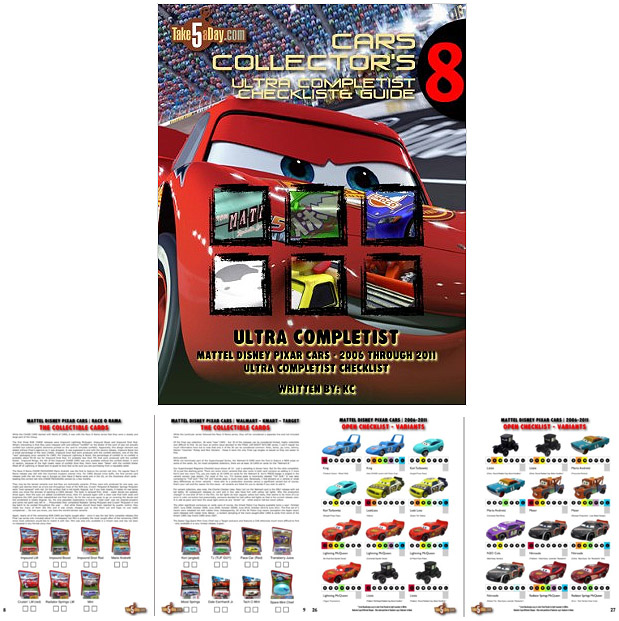 The year by year issues also shows EVERY item & CAR released that year in high resolution both sealed (whether on car, in box, etc …) AND opened. Again, check the preview.
We also have three OPEN checklist magazine issues that ONLY show the CARS open for those who just to check off open cars they own or simply would like to see them all together.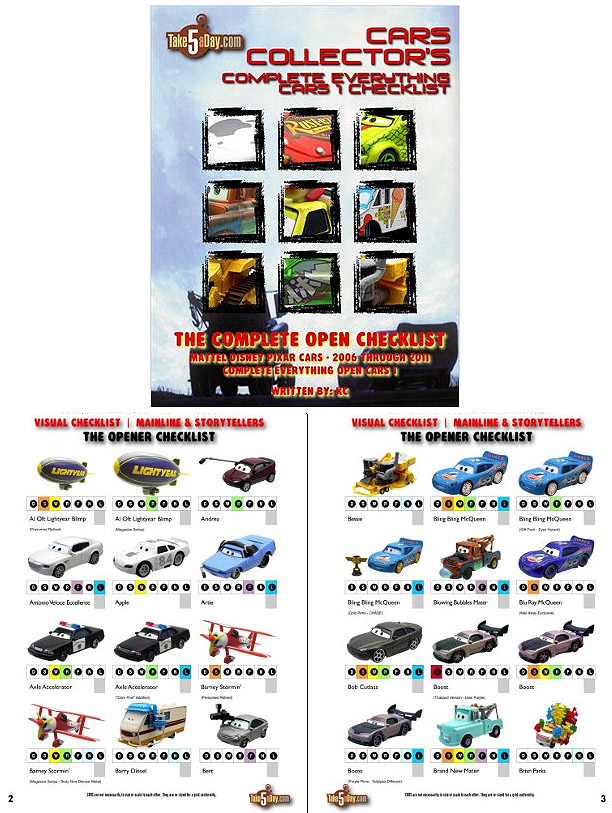 The Complete Everything CARS Open Checklist 2006-2011
This includes EVERY CAR released from 2006 to 2011 (even including Hydraulic Ramone released in CARS 2 but really belongs here). This includes every mainline, toon, storyteller, holiday, exclusive, mail-away, hauler and Disney CARS. This checklist magazine has the largest photos with information listing underneath what series it was released under.
Lenticular CARS are shown ONLY if they received no regular fixed eyes release (to save space).
So, for completists, you are looking at 514 releases which includes ALL the major variants plus the 10 lenticulars not available as a classic CAR. This number also includes 35 rubber tire racers.
For new collectors, you can see everything that was released since for the most part, CARS did not change much between different series releases – all alphabetized. And you can decide if you want to collect the variant.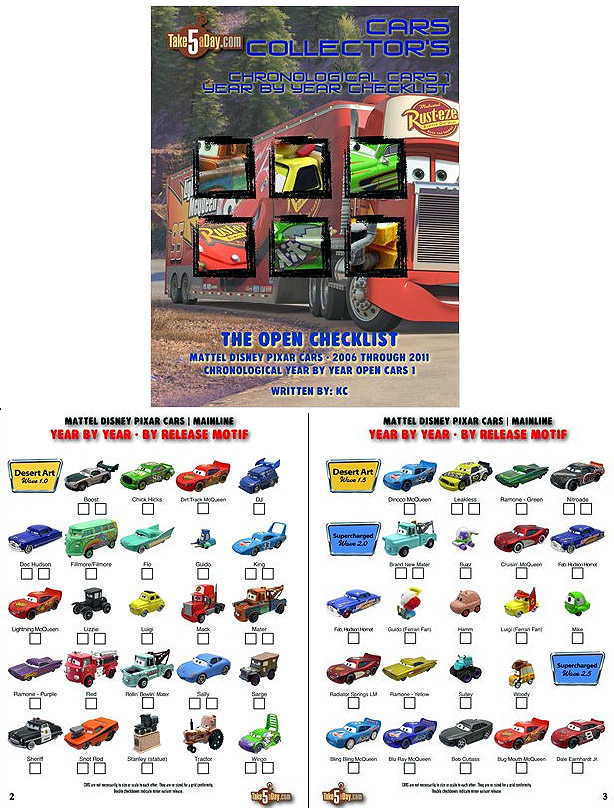 The Complete Year by Year Series CARS Open Checklist 2006-2011
The difference between this checklist magazine and the one above is that everything is shown in chronological order and variant re-releases are ONLY shown in the subsequent series if applicable (such as when LM got his Rust-Eze decal 2 years after his Desert Art release). The photos are also a tad smaller to save on page count. This does include every expanded universe CAR listed towards the back as part of each series (toon, storyteller, holiday, exclusive, mail-away, and Disney CARS). This issue does include lenticulars separately since they were in effect not released prior … so if you want a final, final count of every lenticular (including eye position variants), the FINAL, FINAL count is 620 for EVERYTHING, EVERYTHING.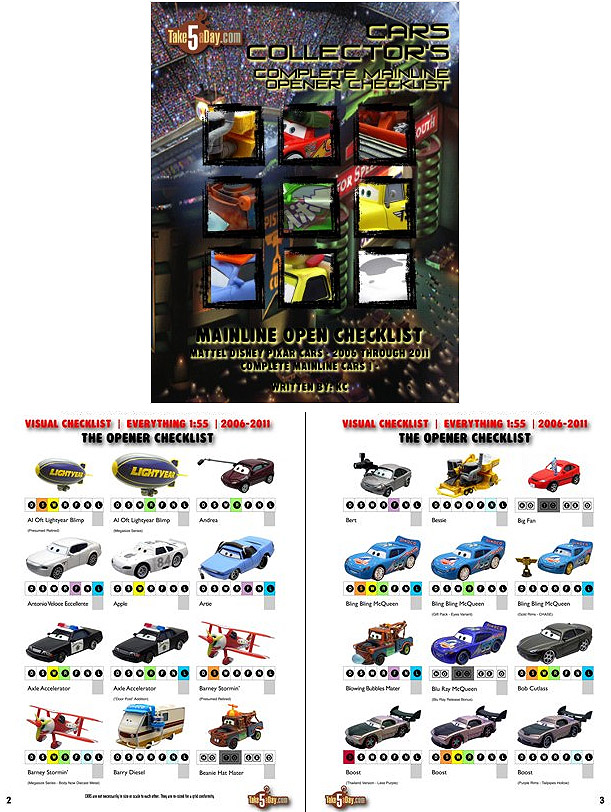 The Complete Mainline Opener Checklist 2006-2011
This one is the purist who does not believe in an expanded universe – that any CAR not in the film does not count. I don't believe there are a lot of collectors in this group but this was completed before all the expanded universe CARS and the lenticulars were still being released while fixed eye classic releases were pretty much done so I left it up for the few this is relevant for but the other two overall checklist magazines make more sense for most people.
These are printed on demand by MagCloud when you order them so there is a fixed price per page – and unlike a regular book publisher who can commit to inventory and a big print run (like the CARS Character Encyclopedia), these are printed as you order but each order you place supports T5, so thanks! Enjoy!
(Yes, there will be a CARS 2 issue as soon as the Porto Corsa design motif is finally put to rest …).

metroxing

26 September 2012

check list, Checklist, Disney Pixar, Mattel Disney Pixar CARS, Mattel Disney Pixar Diecast CARS 3


3 Comments