Home
»
Disney Pixar
John Lasseter to Get Hollywood Walk of Fame Star
John Lasseter has been selected to get a Hollywood Walk of Fame Star next year.

There's no specific date but I'm guessing it'll be just a few days before CARS Land opens next June or summer. 🙂
And Vin Diesel is on the list so it's not exactly like getting a Nobel Prize.
The full list of 2012 nominees are here. They have 5 years to accept & schedule a day to get their star … I'm guessing that nominees Walter Koenig and Adam West will accept and should be able to squeeze it into their schedule pretty quickly. 🙂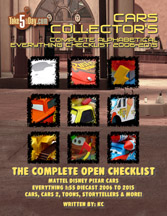 metroxing

24 October 2011

Disney Pixar


5 Comments