Home
»
Apple
,
Design
IOS 5 – How to Make Custom SMS Text, & Twitter Ringtones
Now that the iPad, iPad2 and iPod Touch have joined the iMessage family – and that Twitter has become a firm third party addition to the iOS5 family, there are suddenly a bunch more "ringtone" opportunities for text, mail, reminders, twitter, alerts, etc, etc … and while Apple gives you a bevy (more than 30 to pick from now), frankly, most are weak (or weird) and the other problem – if you live in an area where about 50% of the people also carry iPhones, you need a new sound so it's not a Pavlovian self grope every time we hear that familiar tinkle-bleep. 🙂
There is ONE weird import anomaly that perhaps is just affecting me but maybe not – if you have your file converted to .m4r, just skip to the bottom to read about getting it into iTunes and hopefully, your 'installs' are smoother than mine.
Now the most expensive and easiest thing to do is buy ringtones from Apple through iTunes. BUT you have to pay "twice." You must first buy the track, then highlight it in your iTunes playlist after it is finished downloading – then in iTunes, select STORE>MAKE RINGTONE. At the bottom of iTunes, you will see this menu, the song will load in the "loading" area. Then just drag the active bar around to select the portion of the song you want as a ringtone.

For the phone call ringtone itself, you will want something no more than 40 seconds* – anything between 25-35 seconds is about right. Then if you are satisfied, select BUY.
*Technically 40.04 seconds and NOT a millisecond more – LITERALLY. REALLY!
Yes, you will pay $.69-$1.29 AGAIN for the EXACT SAME SONG – only this time, you are ONLY buying 35-seconds of the song YOU JUST BOUGHT again but it is relatively straightforward and easy.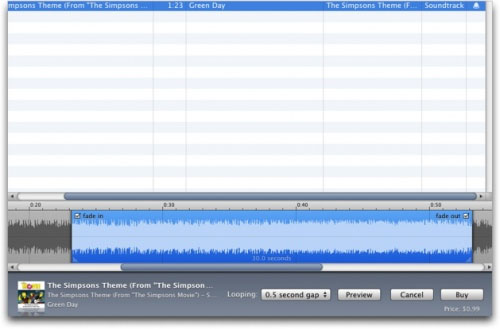 The other down side is there's no real editing – you simply slide the timeline scrollbar to the portion of the song you want (from 1-second to 39-seconds). Some songs naturally have a nice 30-35 seconds bridge/chorus/intro that is perfect for a ringtone but some-many do not so keep that in mind – listen to your selection to make sure it's exactly what you want. Listen to the beginning and end that it sounds ok and doesn't start or end abruptly or not cleanly. You can toggle FADE IN & FADE OUT.
Now the new text-alert-alarm-reminder ringtone is an even worse deal because you HAVE TO BUY THE TRACK AGAIN ALSO. I'm presuming you don't want the same phone ringtone for all your other audio functions of the phone but yes, you could pay as much as $1.29 for a 5-second clip. You have the music industry to thank.
Also keep in mind, the best "You have a new" TEXT TONE seems to be around 5-seconds but it's entirely up to you. It can be as long as 39-seconds but frankly, unless you only get 1-text a day, it's WAY TOO LONG.
But 5-seconds might be too short for an alert-calendar or other reminders so you might want to set those at a 10-seconds?
So, again, if you don't mind spending money for buying a music track AND every 5-second or 10-second or 39-second tone you want, iTunes can be the simplest way. There's no other software to think about and you it's $5-$9 and done. (presuming you have to buy 3 tracks and 3 separate ringtones above & beyond that).
And if you randomly select a track in your playlist, you get this error message: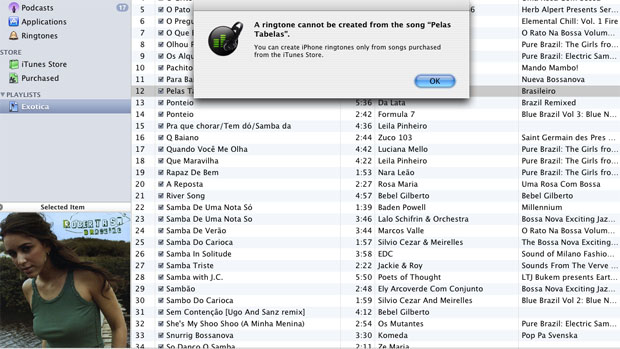 GARAGEBAND
If you have a Mac, GarageBand is free if you know your way around the software, just drag any "unlocked" mp3 or iTunes AAC track into the editing window. Clip, save and EXPORT as RINGTONE. Garageband is not exactly simple to understand so unless you know your way around the software, the one advantage is it's free if you want to fiddle around with it. You can save ALL the ringtones you want of any length of any song you have.
IMOVIE
iMovie is also free with every Mac so like Garageband, it's kludgy but it's free and if you know your way around the software, you can easily import an audio track, clip it and export it as an audio file.
ITUNES
iTunes will actually let you export a portion of a track. Again, this works if you do not need to edit a track or fiddle with a FADE IN or FADE OUT. Highlight your track in iTunes, go to FILE>GET INFO and this window will pop up: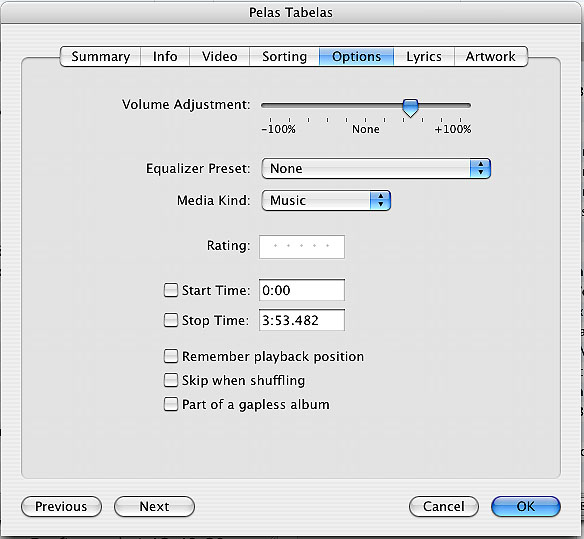 Select the OPTIONS tab and then select the START & STOP time. You of course have to listen to your track closely and note the start & stop times. Note that you can go to HUNDREDTHS of seconds so you might have to tweak it. Again, this is time consuming but it's free and you have the software.
Then in PREFERENCES, make sure you have the conversion set to AAC …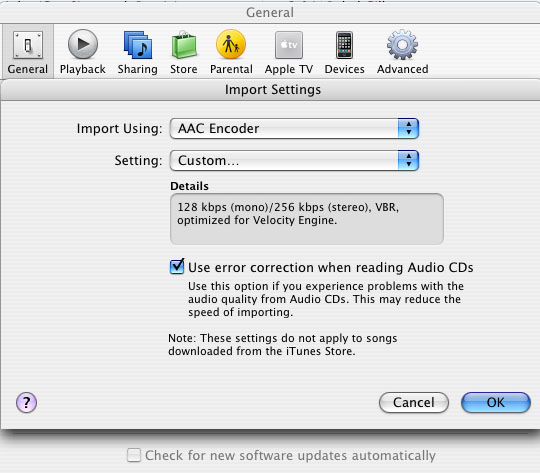 Then go back to iTunes and select ADVANCED>CREATE AAC VERSION.
You will now have a 5-39 second audio clip in .mp4 format.
You are almost there. 🙂
You can now change the SUFFIX from .mp4 to .m4r manually and you should be set. If it's not appearing on your iPhone after syncing or manually adding, try doing a hard reset of your iPhone by actually powering it down and then starting it back up.
For Mac users, you can download the free Make iPhone Ringtone courtesy of Rogue Amoeba.
Download the MAKEIPHONERINGTONE app. That is the direct link to the app – Rogue's blog notes are here.
It could not be simpler to use, drag your MP4 files to the open window, it makes .M4R files which IOS devices recognize as "ringtones."
If you want more precise audio editing software, Rogue Amoeba has FISSION for Mac users. There are freeware options, of course, chime in if you have a favorite.
Ultimately, you need an app that convert ALL the myriad of audio file formats to .M4R so your iPhone/iPad & iPod knows it's a ringtone.
Here is the one oddity I ran into. I dragged the files to my iTunes library and all the files were placed in the RINGTONES library playlist. Perhaps it's because my audio-video are not set to sync but manual. As you know, any RINGTONE you add is also added to the MAIN "MUSIC" playlist. The iPhone refused to accept the ringtones unless I dragged them NOT from the MAIN music playlist but from the RINGTONES library playlist to my device. So, maybe you are not having this problem but if you are – try from the RINGTONES library to your device versus from the (main) Music library playlist.
Again, keep in mind that for most people, it's much more natural and probably less annoying if you keep most alert ringtones short – about 2-5 seconds, some you might stretch to 10-seconds but your iPhone will play the alert in its entirety so keep that in mind.
Good luck!