Home
»
diecast
,
Disney Pixar
,
Disney Pixar CARS 3
Disney Pixar CARS 2: Fun Japan Blu Ray Box Set + Takara Tomy CARS 2 Update!
Jamar M. aka "jamarmiller" sends us a nice heads up on a Japan only item – a very cool looking CARS 2 Blu Ray-DVD Box Set version with the Art of CARS 2 book plus 5 Takara Tomy diecast CARS 2 CARS! Officially the カーズ2 コンプリート・ボックス (The CARS 2 Complete Box)*
*Humm, loses a little something in the translation.
Let's just call it the Big *** Japanese Blu Ray Box Set.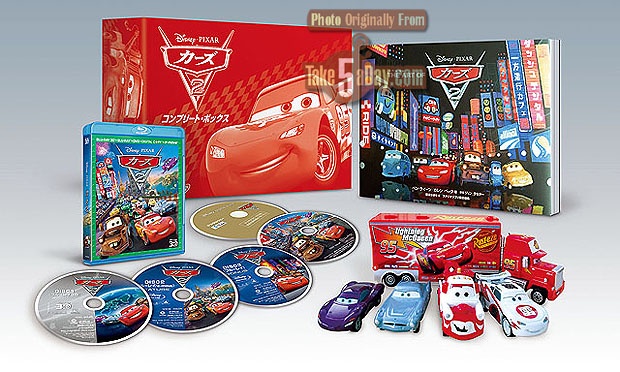 It's 18,711¥ which is approximately $243 USD in today's conversion or about 182€.
Most items on Amazon Japan are NOT available to ship overseas but "jamarmiller" has graciously said he will help you buy and ship if you're interested. PM him in the link.
The Blu Ray set is the same as the US/EU 5-disc set: CARS 2 3D-Blu Ray, CARS 2 Blu Ray, Cars 2 Blu Ray extras, CARS 2 DVD disc & CARS 2 digital copy (itunes or WMP).
Japan is part of the US/Canada A/1 region encoding so the discs will play fine on US-Canada Blu Ray players but of course, the film is in Japanese. You can probably turn on English subtitles. 🙂
To hear what Lightning, Mater, Finn and the gang sound like in Japanese, here's the trailer on the Disney-Japan site.
In addition, you get the Art of CARS 2 book (it looks like it is the US version and not all translated into Japanese? Some books because of cost and presumed small sales are not 100% translated into Japanese but there are included extra pages that are in Japanese).
Plus 5 Takara Tomy CARS 2 CARS (1:64 scale) (confirmed by Jamar).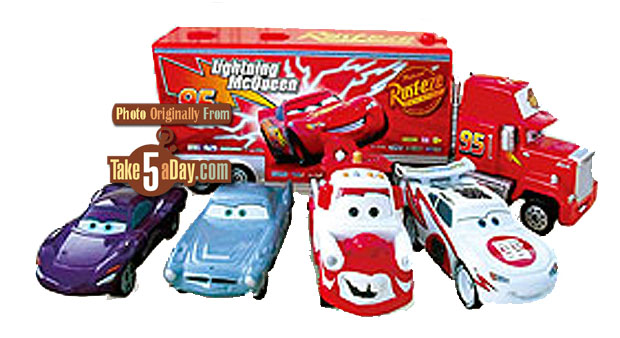 There is a Mattel 1:55 Kabuki Mater version listed as "coming," but the Japanese Lightning McQueen is "new."
Speaking of which, the other day we ran a checklist of Takara Tomy 1:64 CARS 2 diecasts 1-26 so if you're collecting the Tomy 1:64 CARS 2 CARS, add these to your list.
Coming on November 17th … Number #C-27
ジェフ・ゴルベット (aka: Jeff Gorvette)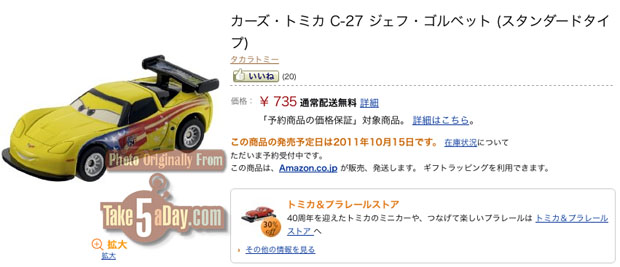 フィン・マックミサイル (空港警備タイプ) (aka: Finn McMissile Airport Security) #C-28

カルラ・ヴェローゾ (aka: Carla Veloso) #C-29

And a real cool surprise for CAR #C-30!
The great, iconic Datsun 240Z.
Very cool – so far, the Datsun 240Z is NOT on any Mattel 1:55 list.
But equally as fun from Takara Tomy, Beer Hour (aka: ビールアワー 辛口ブラック)

In the US, we can just call this BEER ME!
It basically replicates the draft pull at a bar with a foamy head by flipping the switch. Of course, it eliminates your only exercise of shaking a beer can and having to tilt your neck to get foamy suds. There is also a video.
As it promises, FUN TIME with BEER!
And there's no off switch to the geniuses at Takara Tomy – Clockman! (Yes, it's a little Japanese kid presumably extolling you to get up).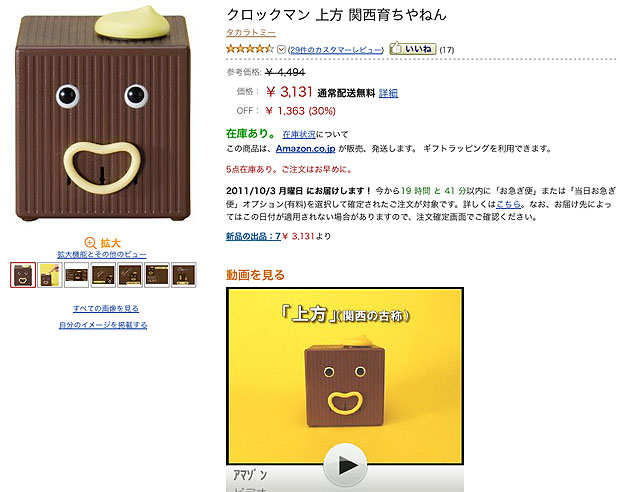 Yep, click on the link to check out the video – he also comes in 10 other color combinations.
Hilarious stack and pick 'em up game – me wantee …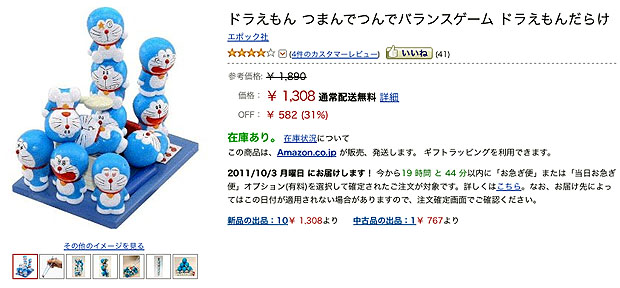 And the plastic dog who will eat all your change – WITH VIDEO!
Happy ショッピング.
Thanks Jamar!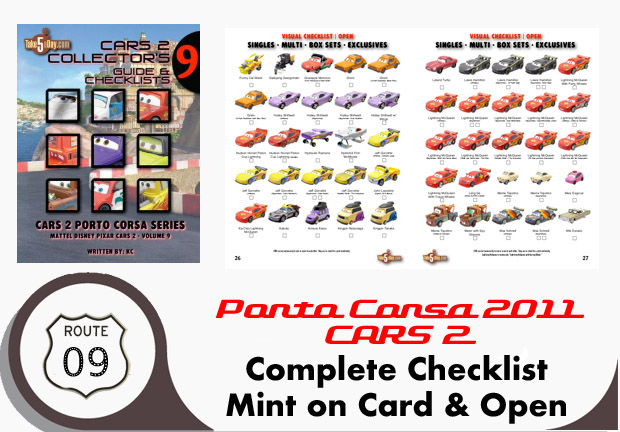 metroxing

2 October 2011

diecast, Disney Pixar, Disney Pixar CARS 3


8 Comments