Home
»
Mattel Disney Pixar CARS
,
Toys
Disney Pixar CARS: 42 Losers … A Little Light Shined on the Mystery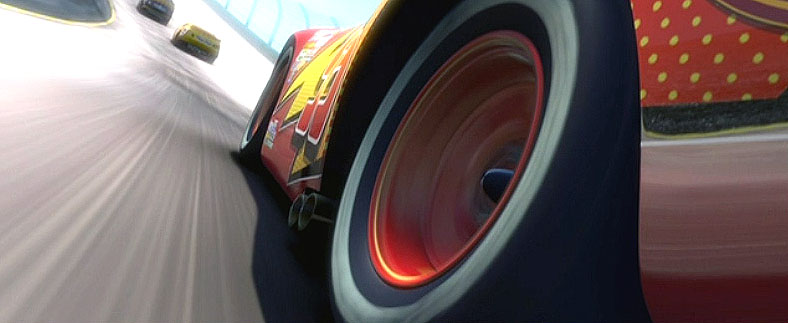 In one of the first lines we hear in "voice-over" from CARS is …
"1 winner, 42 losers, I eat losers for breakfast."
Meaning, of course, there are 42 OTHER racers out there … just as with a typical NASCAR starting grid – 43 cars out there.
We were sure of the 36 before the Motor Speedway of the South set came out and now, obviously we have confirmation. The 36 are …
In alphabetical order by sponsor:
Bumper Save (#90) – Ponchy Wipeout
Clutch Aid (#121) – Kevin Shiftright
Creme Filled Gask-its (#80) – Sage Vanderspin
Dale Jr. (#8) – Dale Earnhardt Jr.
Dinoco (#43) – Strip "The King" Weathers
Easy Idle (#51) – Ruby "Easy" Oakes
Faux Wheel Drive (#54) – Johnny Blamer
Fiber Fuel (#56) – Brush Curber
Gasprin (#70) – Floyn Mulvihill
Hostile Takeover Bank (HTB) (#86) – Chick Hicks
Leak Less (#52) – Claude Scruggs
Lil Torque Pistons (#117) – Ralph Carlow
Mac iCar (#84) – Axxelo Fission
Mood Springs (#33) – Chuck Armstrong
N20 (#68) – Manny Flywheel
Nitroade (#28) – Aiken Axler
No Stall (#123) – Todd "The Shockster" Marcus
Octane Gain (#58) – Billy Oilchanger
Re-Volting (#84) – Davey Apex
Retread (#79) – Paul Inngas
Rev-N-Go (#73) – Misti Motorkrass
RPM (#64) – Winford Bradford Rutherford
Rust-Eze (#95) – Lightning McQueen
Shifty Drug (#35) – Kevin Racingtire
Shiny Wax (#82) – Darren Leadfoot
Sidewall Shine (#74) – Slider Petrolski
Spare Mint (#93) – Earnie Gearson
Sputter Stop (#92) – Murray Clutchburn
Tach-O-Mint (#101) – Greg Candyman
Tank Coat (#36) – Eugene Carbureski
Tow Cap (#4) – Rusty Cornfuel
Transberry Juice (#63) – Lee Reukins
Trunk Fresh (#34) – Dirk D'Argostino
View-Zeen (#39) – Ryan Shields
Vinyl Toupee (#76) – Crusty Rotor
Vitoline (#61) – James Cleanair
So, where is the other 7?
The short answer (unconfirmed) is presumably they did not think anyone would bother to count … just as there are only 21 pit stalls.

Who is going to stop to count?
Little did they know that millions would raise their hands. 🙂
People have studied it frame by frame for 2 years now and while there are other "sponsors" stickers that appear throughout the track and in other scenes, there is no definitive proof that they are the main sponsors of a racer. There are no definitive haulers, for example, that we have not matched up with a Piston Cup racer. There is one faint possibility as there's one in a shadow where the answer is not obvious but it's not definitive and so … well, not definitive.
Now, there are "other" sponsors that appear in the original CARS movie trailer but again, nothing definitive.
Who are the other 7?
It turns out we actually have a real life parallel in NASCAR.
In theory, there are 43 competitors on the starting grid but it turns out that some NASCAR racers out there fall under the moniker, "start and park."
They are there for the show but not necessarily much more …
From AutoWeek magazine …
"It is easy to identify start-and-parkers. In Gateway's pit stall No. 1–the closest to the pit exit–the Dale Earnhardt Jr.-owned No. 88 team of pole sitter Brad Keselowski has 16 tires mounted on rims, with a full pit crew, a three-level pit box with six seats on top and several computer and TV screens. Keselowski is here to win.
In the second pit stall, chosen by the No. 90 team, sits a small, rolling toolbox that still has a vinyl cover on it. No tires. No jacks. No gas cans. No people. Former NASCAR driver Phil Parson owns this team, named MSRP, along with real-estate developer Randy Humphrey and their wives.
MSRP targets maximum financial return. Even its pit location is suspect: Well-funded Keselowski, contending for the championship, has no other pit box in front of his, and with MSRP directly behind, no vehicle will impede his progress into or out of his stall during the race. No one would say whether money changed hands for the arrangement.
MSRP fields two plain white cars, No. 90 for Johnny Chapman and No. 91 for Chase Miller; they finished 39th and 42nd at Gateway. Total winnings: $43,880. Total laps completed: six, in a 200-lap race. The payoff is good. Each car, with a skeleton crew, used one set of tires and barely warmed its engines. NASCAR requires teams to state a reason for retiring, so the official results say Chapman retired with a "brake problem" and Miller "overheated." After one lap.
None of the S&P cars lasted until the first caution on lap 69. Besides MSRP's Chevrolets, the rest finished as follows: Mark Green's Chevy ("engine") ran 61 laps, was 35th and won $22,330. Chad Blount's Toyota ("electrical") ran 12, was 36th and won $28,688. He won more than Green, though he finished behind him, thanks to NASCAR's arcane payout policy, which utilizes contingency programs that individual teams belong to and takes into account which manufacturers they run for."
You can read it the rest & the entire feature from AUTOWEEK MAGAZINE.
So, as with NASCAR, 43 racers were on the starting grid but apparently the other 7 racers are "start & park" racers just there to run a few laps, drink some free Nitroade, oogle the showgirls, & collect some simollians. Hello, TakeFive racer 🙂
So, CARS is 100% authentic … I guess the other 6 racers can be released as 'blank' piston cup racers … 🙂 with no sponsors … though we'd be happy to customize and sticker them, won't we?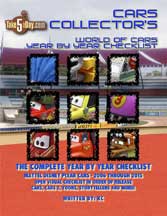 metroxing

14 August 2009

Mattel Disney Pixar CARS, Toys


27 Comments