Home
»
Film
,
Mattel Disney Pixar CARS
Mattel Disney Pixar Diecast CARS: Early CARS Trailer – Not So Canon … Except That …
The Pixar "Incredibles" release contained the CARS "preview trailer" on the DVD.
On the surface of it, it seems quite non-canonical with "McQueen" sporting a Corrosion Seal sponsor and wearing the #57 …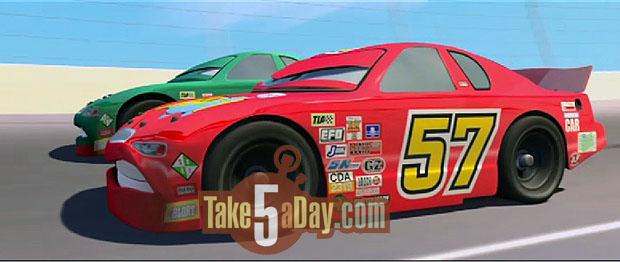 Plus a lot of oddball sponsors:
Papa Rivera's Low Fat Lard (Blue CAR) (Thanks, "BMW")
Corrosion Seal #57 (Red CAR)
Jumbo Pretzels (Yellow CAR)
Nitroade (Green CAR)
Open City (Orange CAR)
Tony's Frozen Corn Dogs
Trunk Fresh (Blue & Purple CAR)
Vitoline (Bright Green CAR)
(something) Queen (?) (Blue CAR)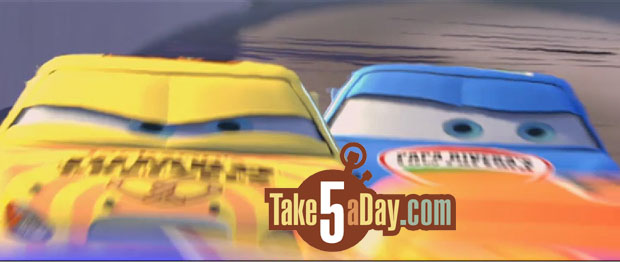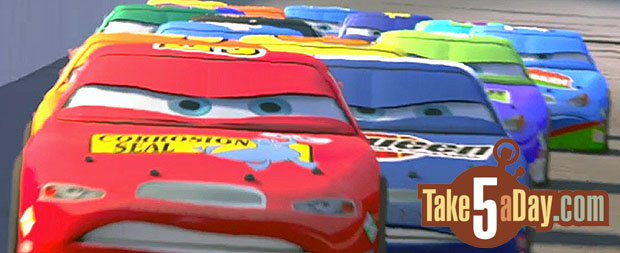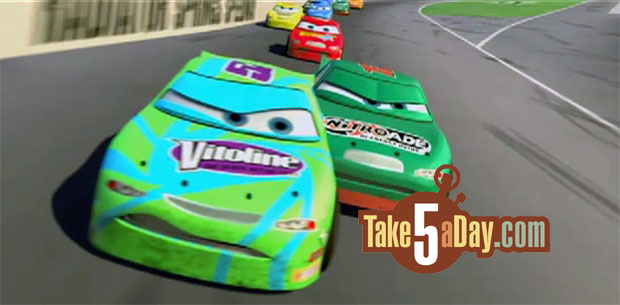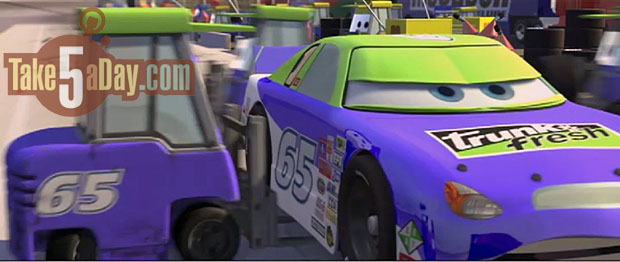 And lots of New-Different small sponsors … um, doesn't take a giant leap to figure out what some of the initials stand for or that some are completely random just to fill up the screen – after all, it's not like some idiot is going to pause a 3-year old trailer to go frame by frame.
"A Bug's Life"
"American Car"
"Blort"
"Brote" (?)
"CDA 2319"
"EFD"
"GZ"
"J Racing Gasketts"
"Lucky"
"Menu"
"PO (?) Racing Cams"
"Poly Vinyl Grommets(?)"
"S86!"
"SK Shifters"
"Shatterdaddy" (?)
"Supercharged JLP Animation"
"Tia"
"Toy Story2" (oh sure, like they could afford to sponsor Trunk Fresh 🙂 )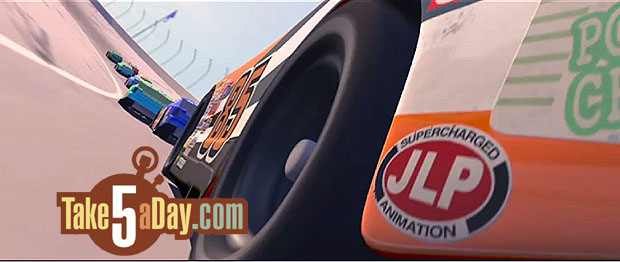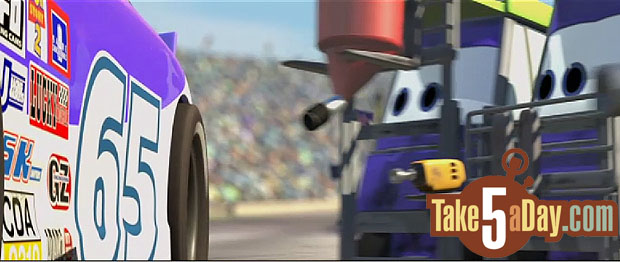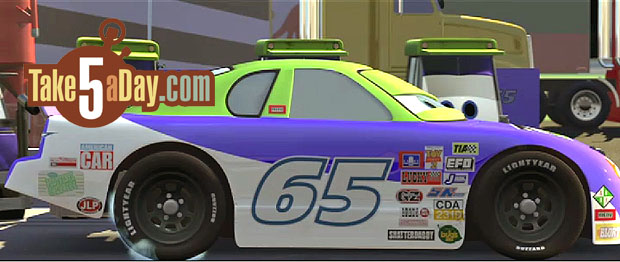 But after actually examining, it's ALL OKAY because AT NO POINT in the trailer does it say or even imply that the red car is Lightning McQueen or that the racing portion is meant to represent CARS, the film that we are going to watch …
The trailer opens with Mater getting splat with Wally B. (Bee) (or a look alike for those worried) and then McQueen gets splat …
Then it cuts to the racing sequence … and it's presumed the red CAR is McQueen and the Piston Cup racing sequence but you'll notice that McQueen is sporting #95 and looks essentially as his FINAL LOOK as he "looks" as a CAR in both the film and as the diecast and so does Mater in the scene above – including his missing headlamp.
AND then the racing sequence within the trailer. There is no dialogue nor voice over so nothing to say that the red Corrosion Seal sponsored #57 car is Lightning McQueen. In the trailer, we see him briefly and we sort of ASSUME that the red CAR is McQueen and of course, we are just getting introduced to McQueen as a red race car and as we do not any preconceptions of what should he look or not look like so by seeing him in the opening sequence of the trailer and then in the racing sequence within the trailer above, we ASSUME #57 is McQueen but nothing is said in the dialogue or voice over to indicate that it is correct.
In fact, clearly #57 does not look like McQueen …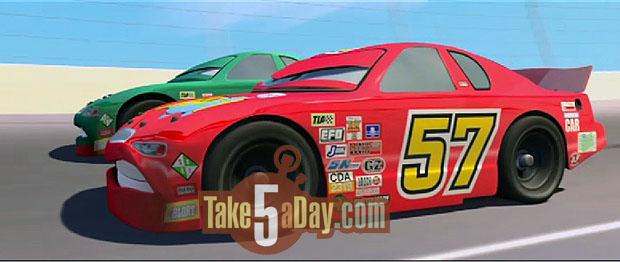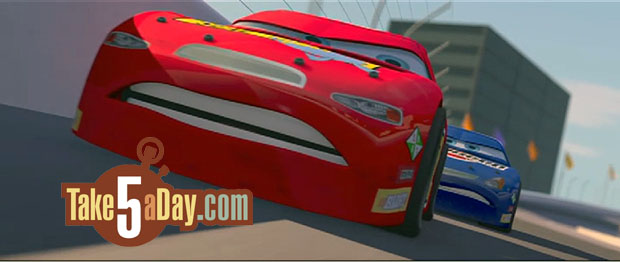 OTHER than the fact he is red … in fact, "our" trailer ends that gives us the final clue …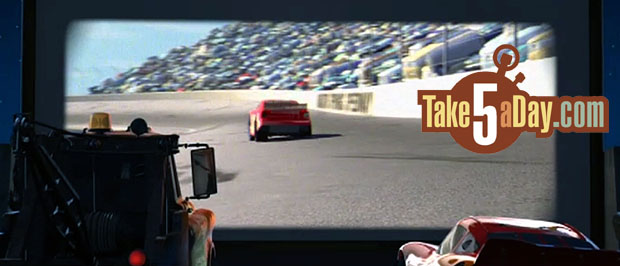 Mater & McQueen are actually watching a trailer for a movie called CARS in Radiator Springs. In essence, while we are watching a trailer of Mater & McQueen watching a trailer … for a racing movie starring a red car sponsored by Corrosion Seal. In other words, we are watching CARS watching "Cars Days of Thunder." 🙂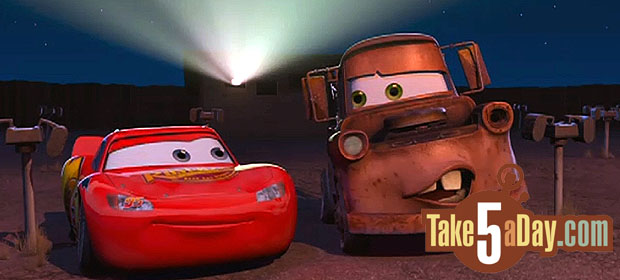 Again, as the end of "our" trailer cuts back to Mater & McQueen talking, McQueen is NOT dressed as Corrosion Seal but rather as we pretty know him – sponsored by Rust-Eze. AND Mater does pretty much all the talking at the end, while he says he'll drive through broken glass to see that movie – at no point does he say, "I get to see Lightning McQueen, etc, etc …" Going strictly by the evidence presented, Mater & McQueen were watching a preview for a race car movie … coincidentally also called CARS but the trailer they are previewing for their race car movie does not feature Lightning McQueen … does that make sense?
In CARS world, they are going to have a racing movie (no one calls it the Piston Cup, BTW) with a red #57 as the lead and I guess if the little CARS-kids are lucky, they will have little diecasts to play with 🙂 but for us, the cars in the movie trailer Mater & McQueen were watching are not characters from CARS … but rather like props or accessories – make sense?
So, no, you don't have to explain why Nitroade is green because he's not green in the CARS world in our space time continuum.
Yea, there is one oddity …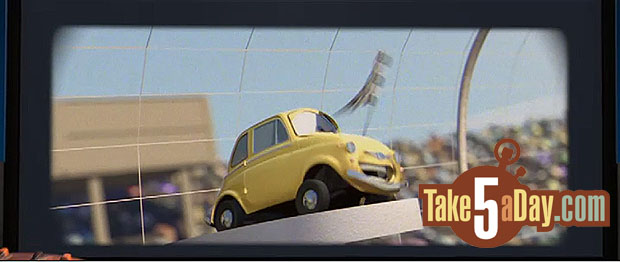 But maybe the "cars" film Mater & McQueen were watching was funded in Italy so of course, the great Italian Italian CAR actor Marcello Fiat would make a cameo as the flag man (he looks like Luigi or rather Luigi looks like Marcello Fiat … so there … all okay now?)
🙂
So, maybe in 2017, we'll get a series of CARS in 1:200 scale as appropriate scale that 1:55 CARS kids would play with 🙂
Okay to move on?
(Okay, now, you want a real world explanation for our us, humans? 🙂 Clearly they had rendered all this CARS footage of an older type but now McQueen was different in both design and depth of rendering and as they were feverishly updating and fixing CARS (at that point in early 2005 – about a year+ from completion with the extra 7 months as CARS was moved from November 2005 to June 2006 … they probably just had static footage or incomplete racing footage so they devised the drive in "wrap around" to get around that ultimately we were not seeing footage from the 'real movie' CARS but of course, at that point 4 years ago, we presumed the racing footage was from the film itself …).
Mystery solved. NEXT!
(Thanks Megaheat for the reminder).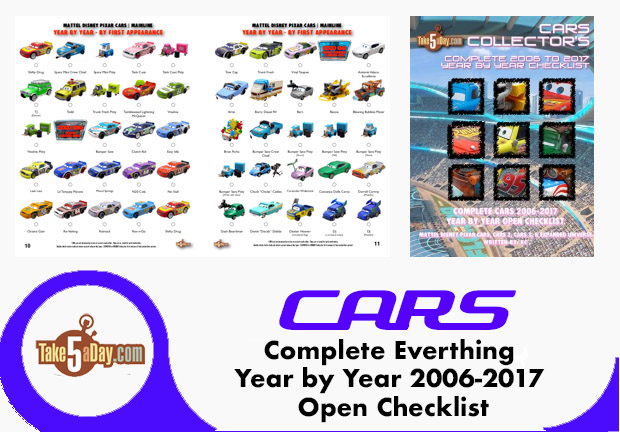 metroxing

28 June 2009

Film, Mattel Disney Pixar CARS


41 Comments