Home
»
Mattel Disney Pixar CARS
,
Toys
Mattel Disney Pixar Diecast CARS: 1:24 McQueen on Matty + No Clown CARS? Not For Long …
Thanks to "jubilutus" who spotted the long, long, long, long thought to be mythical 1:24 Lightning McQueen with grooved tires FINALLY showing up on Matty. Okay, it's not available to order but it is something.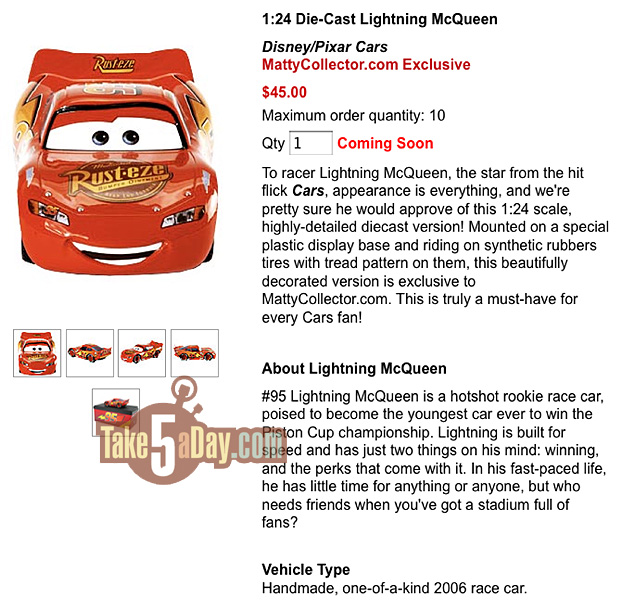 You can click on the above graphic to to the Matty page.
To see more pics of this Matty version, read out post here which also has a link with pics to the "other" version – the "retail" 1:24 version.
But the real good news is that Matty is slowly waking from his slumber because there was an item listed but it was hard to believe it would actually make it to Matty but now that we know Matty knows some HTML  – it's almost safe to say it's coming – though not until 2010 at the earliest.
You asked for it by name and now, it's actually coming true …
The 5-CAR CLOWN BOX SET.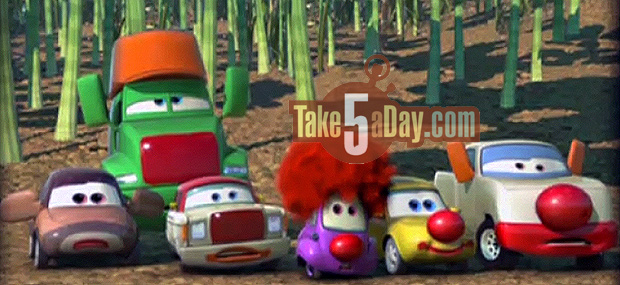 My guess is Mack is the 6th & odd CAR out.
Since they all look like repaints and re-releases by 2010 … Nick Stickers with dog ears … Darrell Cartrip (clown lips are back!), Guido with nose & afro (it's back!), Chuki or Showgirls with nose & no feathers and pickup truck (Ford F-150) …
"Clowns to the left of me,
Jokers to the right, here I am …"
And no, I'm not making it up – it even has a UPC number though it's official name is not known, nor its price or release date but it's coming to Matty in 2010 sometime.
Matty might even get a hug in 2010 and not a knuckle sandwich …
Maybe …
🙂
And if you can disassociate this from RESERVOIR DOGS … then everyone …
Well I don't know why I came here tonight,
I got the feeling that something ain't right,
I'm so scared in case I fall off my chair,
And I'm wondering how I'll get down the stairs,
Clowns to the left of me,
Jokers to the right, here I am,
Stuck in the middle with you.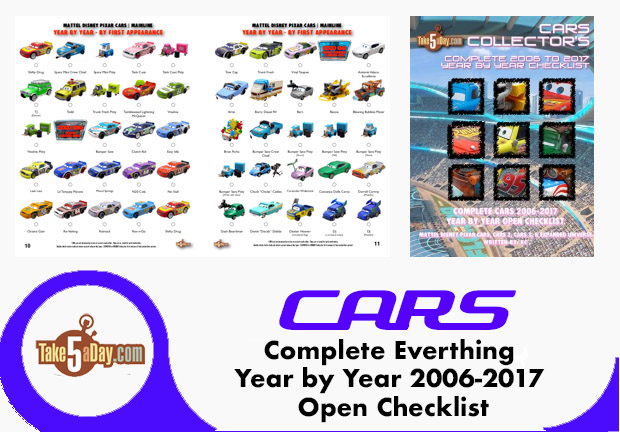 metroxing

14 August 2009

Mattel Disney Pixar CARS, Toys


93 Comments