Home
»
Advertising
,
collecting
,
diecast
,
Film
,
Internet
,
Marketing
,
Mattel Disney Pixar CARS
,
Retail
,
Toys
,
TV
Mattel Disney Pixar Diecast CARS: Faux Wheel Drive UK Promo Update
Original details or the promo which ends at the end of January 2009.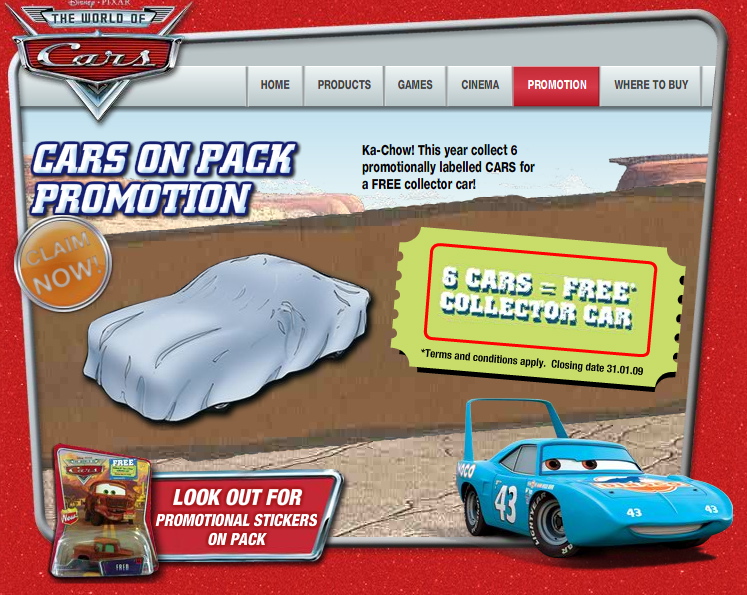 Unlike the US which requires mailing in proof of CARS and proof of life, all you need are the promo stickers with a special code … but apparently the CARS with special promo stickers are hard to find. Imagine that. That sounds so familiar … what does that remind me of? Humm, a certain TRU – mail 5 in promo where you can't find any five new CARS to buy? Hummm??
Anyway, Dave. S. was kind enough to give us all an update as to what's going and where best to shop. Thanks Dave and good luck to all UKers … (this promo is also going on in Germany though that ends at the end of 2008)
But take it away Dave! (UPDATED!)
I've got a little bit more information about the scarcity of the UK Promo stickered Cars if you want to pass it on to anyone…I made a tour of Glasgow and Edinburgh yesterday, hitting every Toys 'R' Us, Argos, Tesco & ASDA (including a few ASDA/Wal*Mart Superstores) that I could.
– ASDA/Wal*Mart have thankfully joined in the promotion, judging by my local store.  They had a load of stickered stock dumped on top of the endless Ramones. They do now all have a few Movie Moments packs that are very rare here, including PT Flea & Flik.  I'd never seen that one on sale here.
– Toys 'R' Us: Seem to have the promo packs in the back; they were waiting for the stock on the shelves to sell first.  The staff were obviously scalping the promo packs at one in Glasgow; the girls on Customer Services looked very guilty when I enquired and gave me an immediate "no" to whether they had any.  Everywhere else went in the back to look at least, and were prepared to bring them out if they had any.
– Argos: Still have some old stock, but they're gradually feeding the promo packs to the stores.  Anything new they get in seems to be stickered.
– Woolworths: Haven't been ordering any new stock for weeks as they're going bankrupt; they have no stickered stock.  Avoid; they have a 20% discount on toys at the moment, but they're more expensive anyway, so it just brings them down to a similar price to everyone else.
– Tesco: Might not be taking part either.  I didn't see any stickered stock anywhere, and my local one just got two boxes in after being out of Cars for a week; none of them were stickered, which makes me think they're working through a bunch of old stock at the moment.  They also seem to have the US packaging instead of the European ones (Car names in English only; they're normally in a bunch of languages, including Greek), which makes me think they might not be getting the UK stickered packs..
– Sainsbury's: I only tried a couple, but they both had a few stickered ones; maybe they'll be getting more as time wears on.
Oh, we're finally seeing some of this 'glue problem' too – the cars were hanging off quite a few of the stickered packs that I saw.
The same glue problem is being reported in France so it was clealy a bad glue month three months back.
Thanks Dave S. for the update. Good luck all!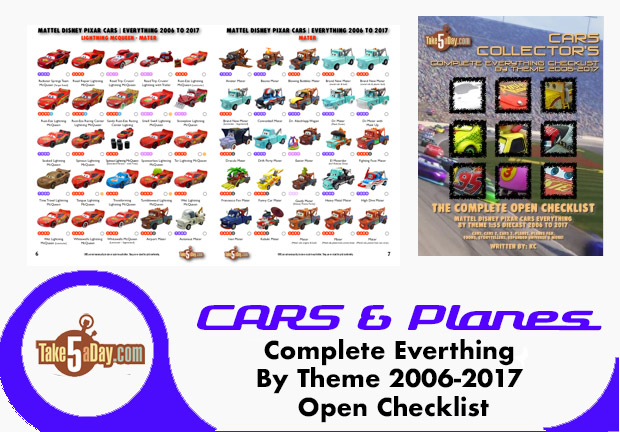 metroxing

13 December 2008

Advertising, collecting, diecast, Film, Internet, Marketing, Mattel Disney Pixar CARS, Retail, Toys, TV


26 Comments