Home
»
Advertising
,
Checklist
,
collecting
,
Film
,
Internet
,
Marketing
,
Mattel Disney Pixar CARS
,
Toys
,
TV
Mattel Pixar Diecast CARS: German Faux Wheel Drive Promo (Hey, Mach Mit!)
Speaking of Faux Wheel Drive, Mattel has launched a German promotions much like the UK one of yore and the similar ongoing US one.
Buy 6 CARS, send in your UPC, get FAUX WHEEL DRIVE.
Buy 12 CARS, get the CARS Track Shaped Carrying Case.
Buy 18 CARS, get both!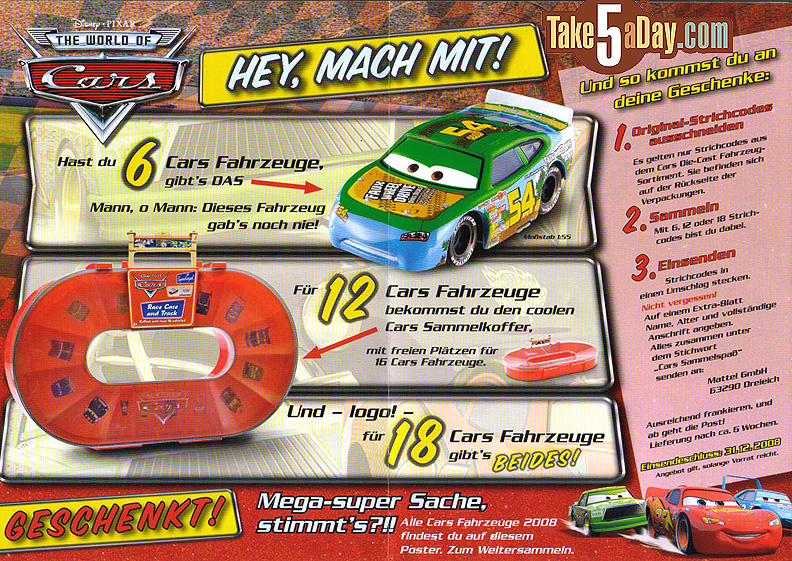 Though there's two more reason for Euro CARS diecast fans to hate us …
We only have to buy five for our "free" Sideway Shine and while we can hardly find any CARS that we really want at TRU, at least we only have to pay @$3.60 each … in Europe, €7 to €8 Euro for one CAR or €7 Euro is @$10.15 each or €8 or about $11.79 (including taxes?) …but then we can't drive 150 MPH on no autobahn highway so …
BTW, Mach Mit! means "Be a Sport," or "Come on In!" though at $11.79, I think be a sport is more like it. 'Hey' is now apparently some universal word, I take it … that and "Mega-Super," I'm practically a native German speaker … The only other word I know is 'Bier" and Prosit! (Cheers!) so if I can somehow combine Mach Mit, Bier, Prosit, Hey! and Mega-Super … I'm apparently ready to move to Berlin 🙂
Thanks 'Oliver' for the scan of the offer!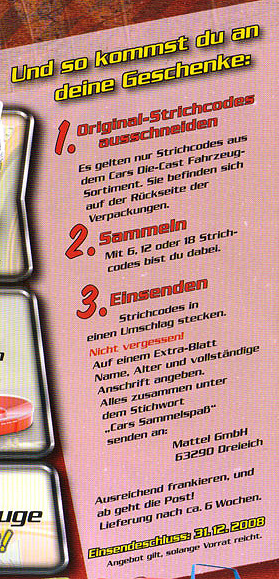 Here's a blowup of the right side on the redemption rules. Anyone care to translate? The basic rules are pretty straightforward.
Send the 6 barcodes to them with your name, age and address on a separate paper to: Mattel GmbH, 63290 Dreieich, Germany. Offer ends 12-31-2008.
There is also no hint which barcodes will match up – all 2008 WOC's UPC?
U.S. UPC's different than ones from Germany? Don't know.
Anyone want to translate anything further?



metroxing

24 August 2008

Advertising, Checklist, collecting, Film, Internet, Marketing, Mattel Disney Pixar CARS, Toys, TV


21 Comments