Home
»
Advertising
,
collecting
,
diecast
,
Film
,
Marketing
,
Mattel Disney Pixar CARS
,
Retail
,
Toys
,
TV
Mattel Disney Pixar Diecast CARS: Buying Strategy December 2008
With just a little over two weeks left for holiday/Christmas shopping, how complete is your CARS list being fulfilled.
FIRST UP, Advice for CHRISTMAS-HOLIDAY shoppes who want these CARS BEFORE the 25th of December.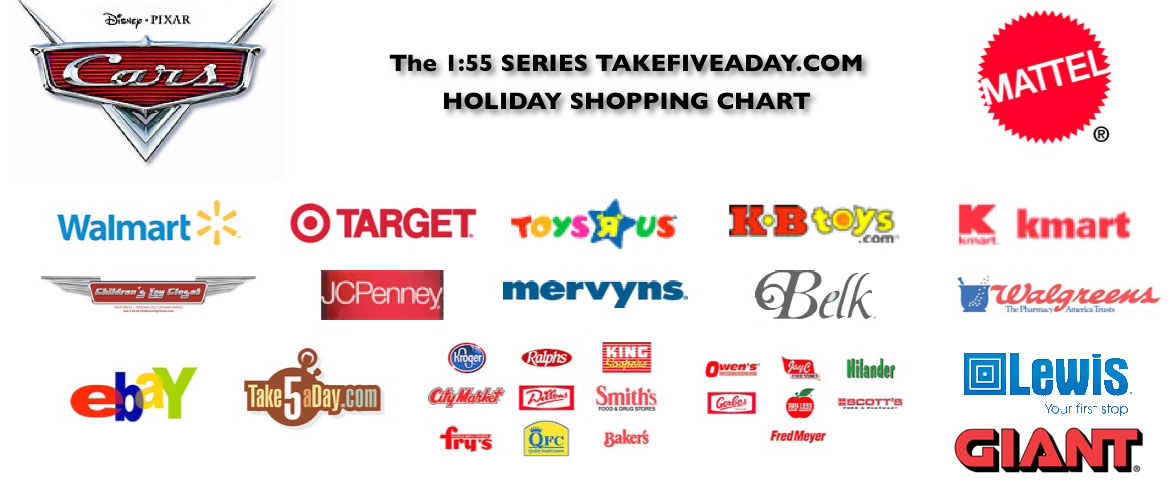 If you're like most, you wonder what is going on.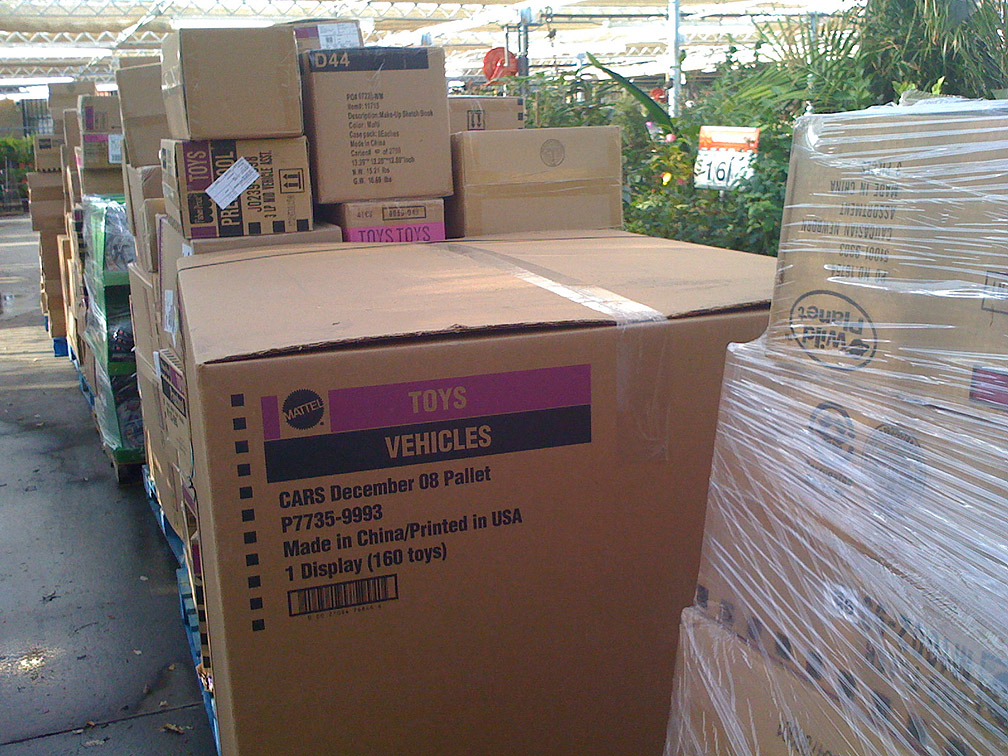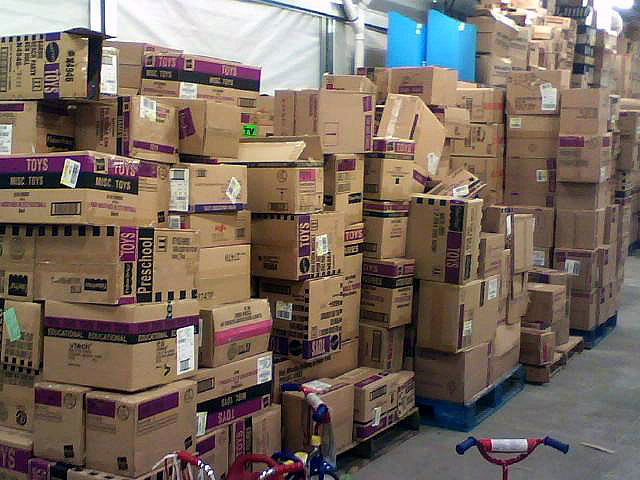 Why are stacks, and stacks and stacks of CARS (and toys) unopened in gardening at WM?
No logical explanation but here's what's new that's out there for CARS Collectors: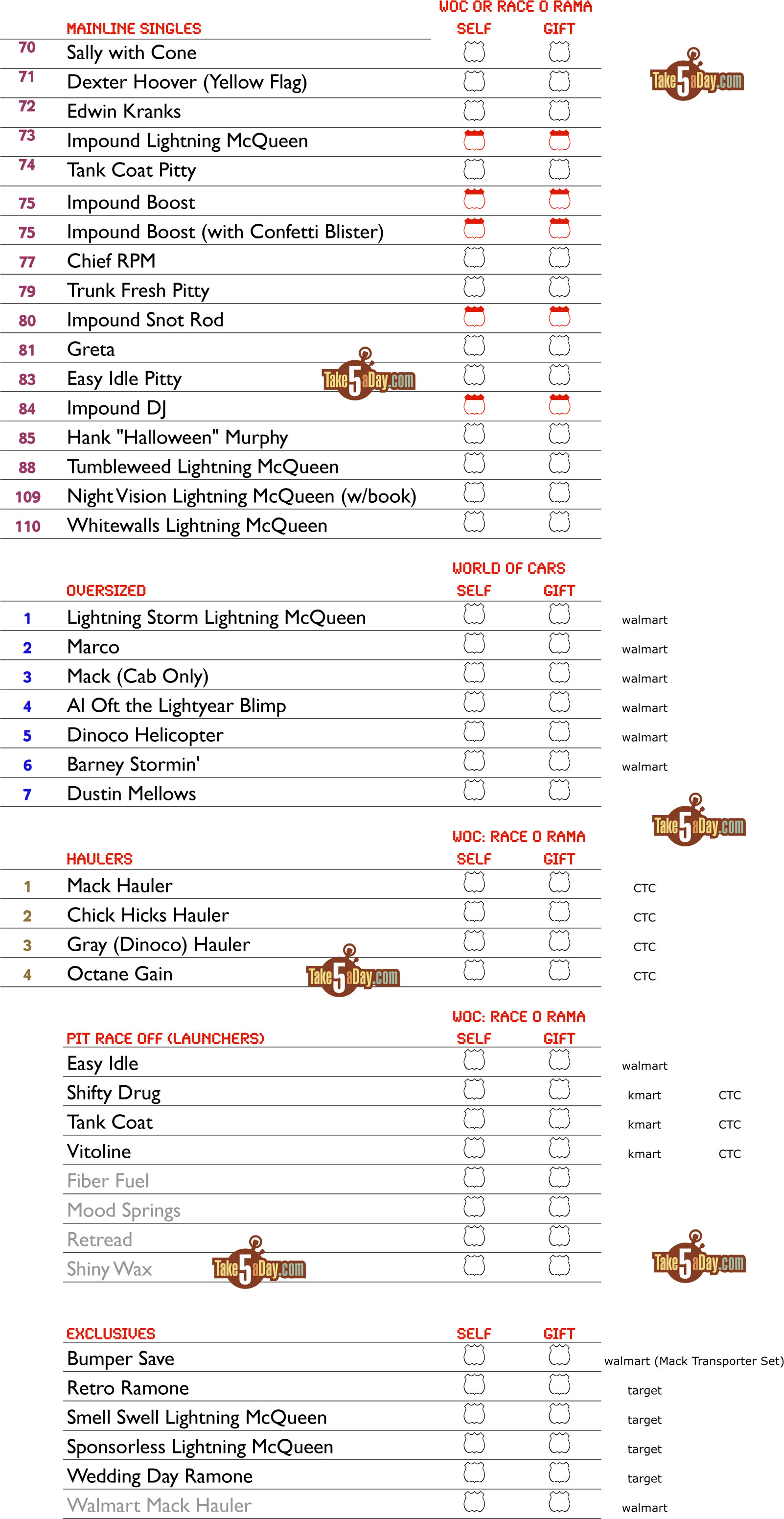 In a perfect world, it would be shopping for soup. You go to the aisle, you fill up your cart. You pay for it and leave.
CARS?
Um, yea, good luck with that. Through the fact that people still are buying up lots of CARS, through ordering malarky and stocking strangeness, CARS is not that easy to buy, collect or complete.
STILL LOOKING FOR CASE B?
WALMART-TARGET
In the correct scenario, Walmart stores got and placed out in the aisles at least one if not TWO CARS pallets with CARS from CASE B. But as you see from the photos above, in certain stores, the pallet is still out in gardening – unavailable for purchasing. Most Target stores seem to have gotten CASE B but Target also places one box out at a time so they might still be restocking CASE B – but if you see a a lot of Doc Hudson's or Radiator Springs McQueen on Race O Rama cards, most of the 'new' things from CASE B have probably been sold and picked clean but you can always ask.
TRU
Why are there no new cases at TRU, nevermind CASE C, D or E, mega sized or anything else? It's hard to say but I think it's safe to say TRU wants you to spend $14.99 to $79.99 so if you show up and there are no $3.59 CARS, you might buy something else. Smart strategy? Guess we'll find out in January …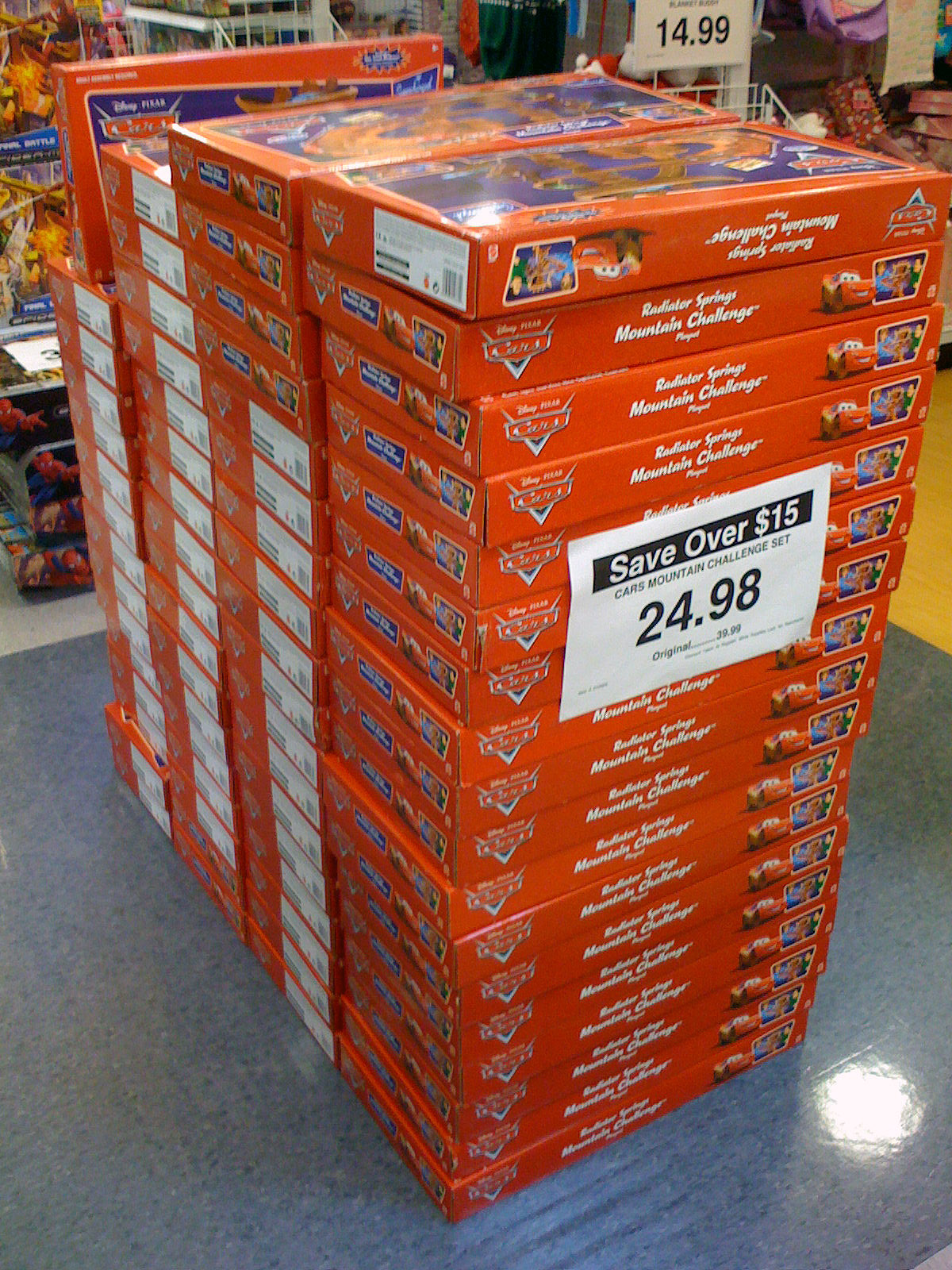 OTHER RETAILERS
It varies from store to store and town to town but all the other retailers listed above carry CARS in some degree. It might be 3 CARS on a peg at a small Walgreen's or at Lewis Drugs where the first Launchers were found. For instance, JCPenneys or Sears that have a holiday toy section are most likely to have CASE B or the remanents of it.
The CARS on CASE B should be the easiest to find.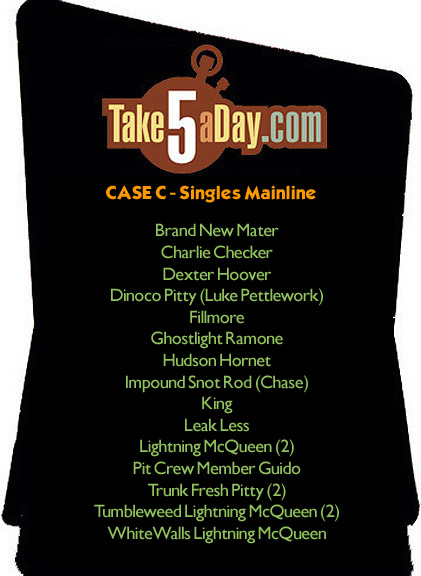 CASE C has just arrived so many stores have already put it out – look for the tell tale slower sellers on Race O Rama cards such Charlie Checker or Pit Crew Member Guido as signs that CASE C has arrived and the 'newer' ones have been picked off already.
In stores such as Target, you can ask if they have more.
However, a lot of stores have not or will not receive this case or it's clotted in their backroom somewhere.
As we get closer to December 25, while WM seems to be a sinkhole so if you don't seem the CASE B pallet out, it might be wishful thinking to think they'll get CASE C out. Other stores might be more interested in making sure the $79 doll is out on the floor versus a $3.50 CAR so if you definitely want CARS off of this case, your best bet is to order it online.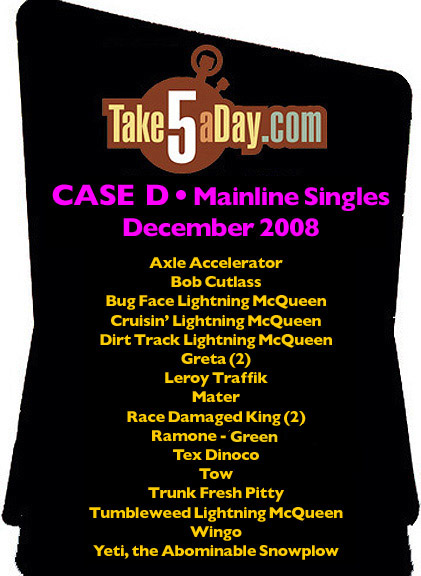 What's true of CASE C and its difficulty in seeing it on the actual shelf goes double for D as if just shipped from Mattel's warehouse. I would say in 90% scenario for retailers that actually ordered this case – it will not be out on the store shelves before Christmas. Again, you could live in the lucky 10% area but for CHRISTMAS-HOLIDAY shoppers who want CARS from this case before the 25th, your odds of finding them on a actual store shelf are not great – though anything is possible.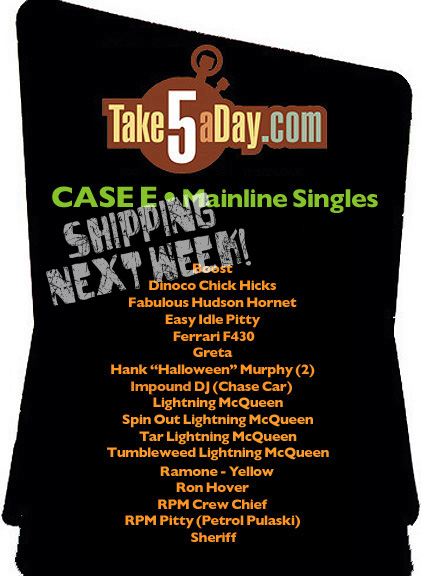 And E which is shipping NEXT WEEK is essentially going to be a 99% online availability ONLY BEFORE Christmas item … in fact, if you want it before Christmas, you might have to pay for 2nd Day or even overnight shipping – but check with your online retailer.
For the OVERSIZED-MEGA SIZED, other than online sales, since Target & TRU were told it was a WM first shipment way back in Spring 2008 when they placed the order – there was no more moneies left to buy any even after Mattel let everyone buy so other than online or small retailers, your odds of finding these on a retail store shelf pretty much lies only at WM. Again, it's hit or miss – some WM stores have a few but not complete sets … while others seem to have them all in backroom somewhere … good luck.
HAULERS – WM really dropped the ball on this one and no one is quite sure where the Haulers are – only that the odds are now unlikely they are appearing BEFORE Christmas (though a pallet is coming on Monday – we might get a surprise?) so again, if you want Haulers before Christmas – your safest bet is online.
NIGHT SCOPE & COLLECTOR'S GUIDE – It's available from Mattel and there's stock on hand – beyond that, no one is quite sure. Both Target & WM have it in their system but the only hint is that it might be on WM's January pallet (coming on the 26th of December). So, again, if you want it before CHRISTMAS – online is your safest bet.
LAUNCHERS/PIT RACE OFF – It was listed to be on WM's December pallet but pallet #1 only contained older launchers … second pallet due Monday might have Easy Idle & Tank Coat? No one knows now but let us know on Monday if you spot any … So, while Easy Idle is not yet avaialble online – again, you can definitely get them online before Christmas.
THE BLACK HOLE OF RETAIL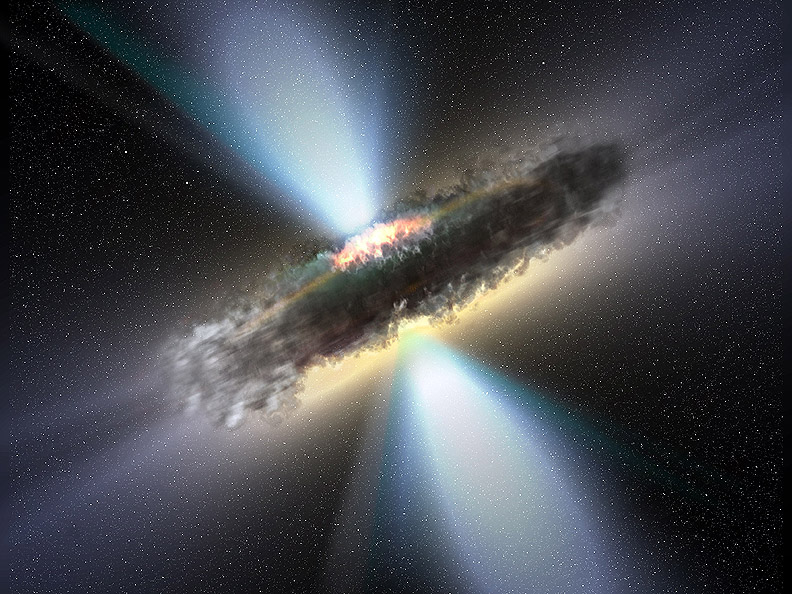 So, through poor planning, through error, through ineptitude or through poor decision making, no is quite sure why 15-20 Christmas-Holiday CARS item have fallen into some retailer black hole. The online retailers have gotten their cases from Mattel and are selling and shipping so if your needs, desires and wants are the 1:55 rolling pieces of art before December 25th, you want to make sure the pointy mouse in your house is stirring and clicking away.
HOWEVER, if you're not in that much of a hurry and are willing to buy time with lives … er, whoops, wrong blog … if you're willing to trade time for money, just wait a few weeks.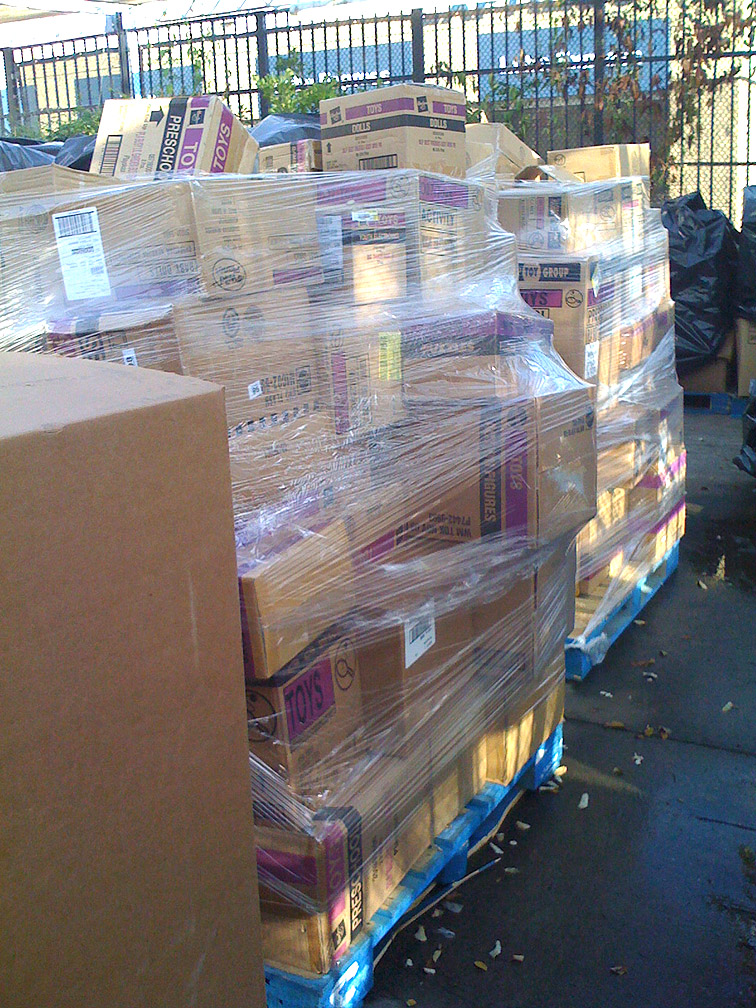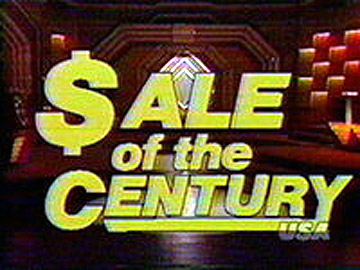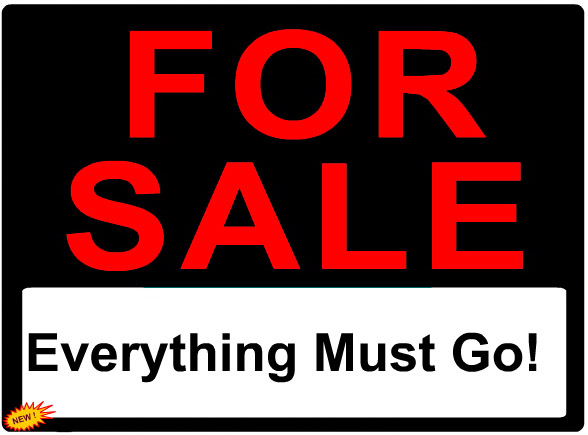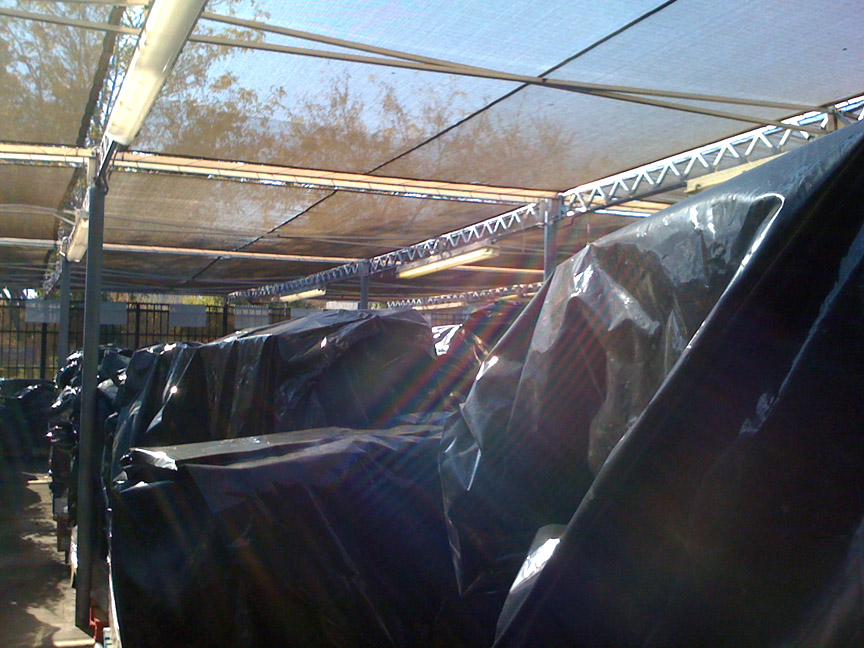 Because there is NO WAY they're going to sell ALL THIS in the next two weeks – even under the best economic circumstances, you cannot sell 25 pallets of anything – nevermind anything under a tarp so in a few weeks – MASSIVE SALES. Now, while the sales are going to start almost immediately, it might take them another 4 weeks to uncover and actually put everything out but I'll bet there will be some WM in late January where you suddenly spot a CARS pallet or two and then spot 50 Marco's. And of course, 98% of the stuff under the tarps is not CARS but toys – however, I think toys will be the cornerstone of January clearance items and it will be quite an interesting fight when WM tries to claim toy sales are slow.
The WM toy reset is scheduled for January 12 so December 26-January 11, 2009 should see some massive toy sales if not starting on the 20th as they begin to panic.
We also need to keep in mind that most all of these were ordered by WM way back in the Spring of 2008 when life was peachy so next year will be a harsh year for many toys … hopefully, retailers will wake and realize that CARS is an evergreen line now.
And while there are jobs losses and personal losses in the closures of KB and Mervyn's* – along with the WM toy clearance wildfire of 2009 … January will definitely not be dull. So, while singles CARS probably won't be discounted by much, anything else will be fair game so if you are not in need of it today or in the next few weeks, you might want to wait a few more weeks and see how it plays out. At worst, you'll save a few bucks but it be be CRRRAZZZZZYYYY WAAAALLLLYYYYY – Our prices are insane! Buy toys direct from gardening and save! Save! Save!
So, happy shopping!
*Keep in mind that the first liquidation sales might actually not be as good of a pricing as third party liquidators tend to raise prices before hauling out the 50% OFF signs.
And of course, if you plan on giving a certain CARS book as a gift, better hurry to save on shipping! 🙂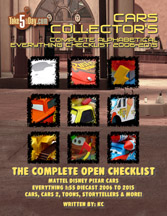 metroxing

13 December 2008

Advertising, collecting, diecast, Film, Marketing, Mattel Disney Pixar CARS, Retail, Toys, TV


55 Comments