Home
»
Advertising
,
Checklist
,
collecting
,
diecast
,
Marketing
,
Mattel Disney Pixar CARS
,
Retail
,
Toys
,
TV
Mattel Pixar CARS: Oversized Blister Cards Check List
They are still in the warehouse but we have better photos to show you …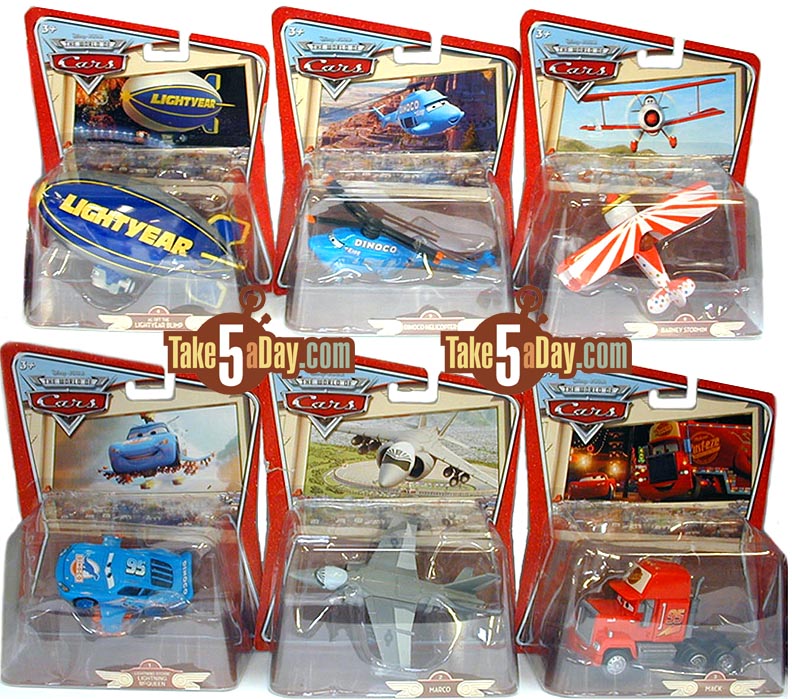 Yes, from this angle, it doesn't look like Blimp is larger (aka: oversized from before) but both Blimpy & Dinoco are 5″ now – about 2″ longer than before.
Or in Marketing speak – OVER 30% MORE FUN THAN BEFORE 😉
Like, of course, we need to be "sold" on buying these …
Bring 'em on – Next year the oversized, oversized lineup!
There is some confusion in that because the CARDS are OVERSIZED and that this lineup is called the OVERSIZED CARDS line, people presume that ALL the CARS/Planes/Blimps/whatever are "oversized."
Yes, there are oversized CARS on the oversized cards but some of the CARS are not really cars and no, they are not oversized but on an oversized card in the oversized lineup.
Does that clear it up?
Okay, how's about a chart?

*Barney Stormin' is probably a tad too short but close enough as some bi-planes are shorter than others.
I hope this chart clears it up. Some of these are "oversized" in the general visual cue criteria BUT that does not mean they are inaccurate such as Mack.
There are others that are oversized visually but still NOT ovesized enough for true and correct scale (even based on an animated world since we can generally see and get a sense of their size).
In real life (our world), a blimp such the Goodyear one is about 200 feet long so in scale, Al Oft should be about 37″ long … the longest helicopter in the world is about 95 feet so Dinoco Helicopter should be at 15″+ inches long.
CASE ASSORTMENT & DIFFERENCES between these and other releases:
CASE A
Al Oft the Lightyear Blimp (2)
Barney Stormin' (2)
Lightning Storm McQueen (2)
Some things to note:
Al Oft the Lightyear Blimp – now @5″ long – still NOT in relative scale to the 1:55 CARS.
Barney Stormin' – NO size change – previous wings made of plastic, NOW METAL.
Lightning Storm McQueen – The "regular" release version. No Ransburg chrome, no top rockets, fewer lower rockets and less detailed paint. Essentially 1:55 Dinoco McQueen with rockets.
CASE B
Dinoco Helicopter (2)
Mack (cab only) (2)
Marco (2)
Some things to note:
Dinoco Helicopter – now more in scale from its real life counterpart (presumably the Bell 430?)
Mack – Cab portion ONLY, body mostly metal – cap and mouth expression area still plastic.
Marco – ALL METAL … there is a variant version but I do not believe Marco is a "chase" CAR with variants here in Box B … I think the variant will actually be announced and sold separately.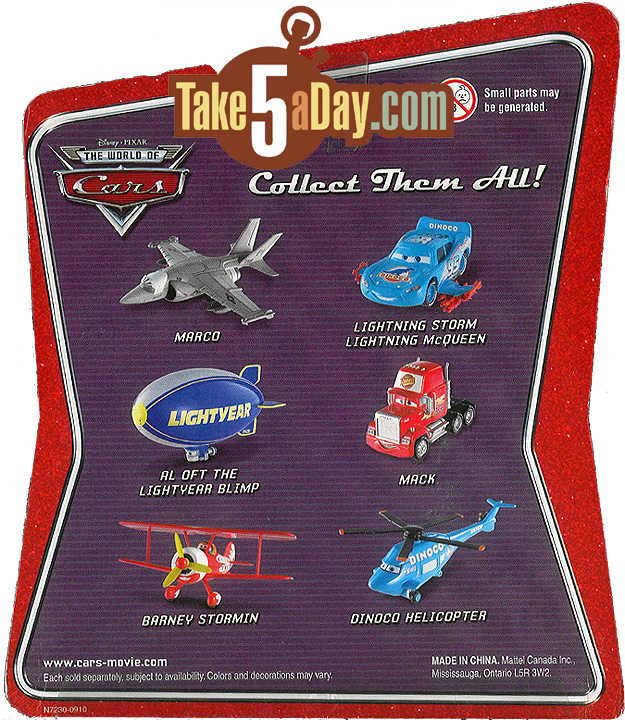 Oh yea, and don't hate me for pointing this out but the other cards I saw had the NEW snipe on them so you might have to presume there is one version of each card unless evidence & real-world release proves otherwise …
Happy hunting!

metroxing

25 September 2008

Advertising, Checklist, collecting, diecast, Marketing, Mattel Disney Pixar CARS, Retail, Toys, TV


58 Comments