Home
»
Advertising
,
Financial
,
Gadgets
,
Internet
,
Magazine
,
Marketing
,
Retail
Esquire E-Ink Cover: 21st Century 0, Recycling Police 1
Hey, I'm all about the gimmicky … I mean, who doesn't want candy you can reconfigure 33 different ways?
For the Octover issue, Esquire mag added an e-ink element to the front cover …
E-ink in theory will be cool one day, a wafer thing sheet of an LCD like screen that can be re-fresh, updated and you can carry it around – the perpetual newspaper or magazine without having to cut down trees … but Esquire is calling it the beginning of the 21st century … um, not so much.
I've seen more technology on a $2 watch from Walgreen's.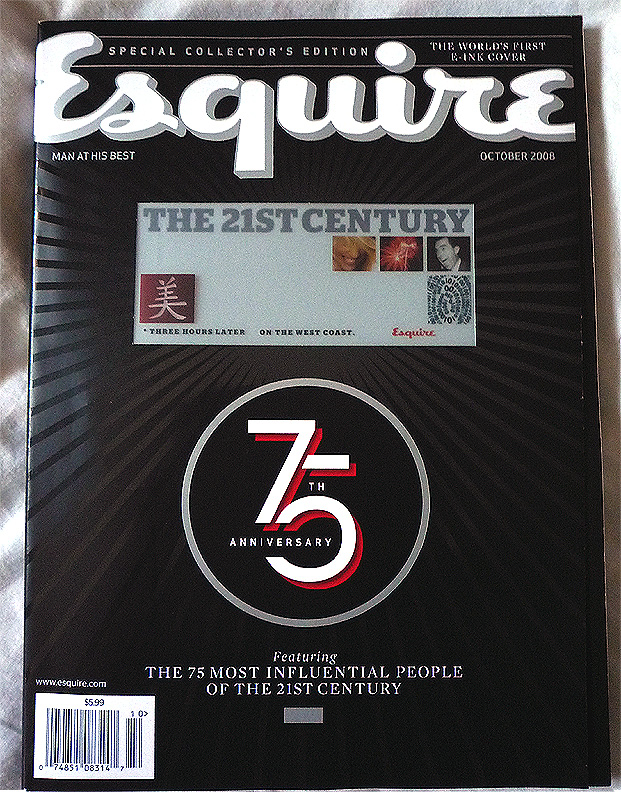 The words THE 21ST CENTURY BEGINS NOW flash on in sequential order and the four photos have a light source that blink on to brighten them and the three blocks of text at the bottom of "Now" also blink on & off.
Yep, that's it.
Not updatable, e-ink only in the barest minimalistic sense – in fact, if you don't literally put it in the freezer, it'll stop working in 90 days …
Yep, I've got more programmability from an LED belt buckle though in theory, you can hack this. Esquire isn't sure how – they want you to try.
Costs $2 more than normal … and only available at Barnes & Nobles and Borders.
Print run 100,000.
They did think of the recycling equation …
"Simply tear off the cover and dispose of the display unit in your recycling. The electronic components and lithium batteries are not regulated as hazardous waste. The entire electronic assembly is RoHS (Restriction of Hazardous Substances) compliant and marked as such on the printed circuit board in the cover. All of it can be recycled through your local municipal waste program in the same manner as you dispose of household batteries. (Check local regulations for any further restrictions.) The paper can go in your paper recycling, and the protective foam in your plastic recycling."


metroxing

12 September 2008

Advertising, Financial, Gadgets, Internet, Magazine, Marketing, Retail


5 Comments