Home
»
Advertising
,
Film
,
Gadgets
,
Marketing
,
Mattel Disney Pixar CARS
,
Retail
,
Toys
,
TV
Mattel Pixar Cars: The LIMITED & EXCLUSIVE Disney Blu-Ray "Blu" Dinoco McQueen (LAST WEEK!)
Well, it was nice while it lasted.
The Mattel Pixars CARS line – nothing really exclusive … nothing really limited but that dream world had to end …
Mattel is designating 15,000 of these CARS as a limited time & production exclusive.
In order to get one, you have to buy the CARS Blu-Ray DVD*
Then sign up at Disney Movie Rewards (free signup).
What is Disney Movie Rewards? You earn points for DVD's and theater ticket purchases … benefits? As they note …
"Disney Movie Rewards is an exciting adventure where you get rewarded by doing what you and your family enjoy doing already watching Disney movies!
Enjoy these great member benefits:
* Access to exclusive Disney Movie Rewards one-of-a-kind experiences, digital downloads and Disney merchandise
* Savings and special offers on Disney DVDs
* Special preview opportunities
* Chances to win exciting prizes in our Disney Movie Rewards Instant Win Games
* Special Disney Movie Rewards eNewsletter on exciting upcoming Disney movie releases
In this case, by purchasing the Blu-Ray DVD version of CARS, you get a code to enter …
(BTW, the code below is incomplete and has already been used, it can only be used once).
While the CAR is "free," you do have to pay $3.50 + tax (in certain states) to have it shipped to you.
Each DVD comes with its own code so only one car per Blu-Ray DVD.
You can however purchase more than one Blu-Ray DVD and get a "free"/$3.50 CAR with each purchase but you'll need to sign up with a DIFFERENT email address for another Disney Rewards Club membership – membership is free but your points will be diluted since you're not keeping all your points in one account but two.
AGAIN, one CAR per email account.
It's fine to use the same STREET/MAILING address but no PO Boxes.
The CAR will be sent in a plastic bag – no card! (in a padded envelope).
Also NOTE: Their website seems to be easily bogged down so if you want your transaction to go smoothly, do it very early in the morning or very late at night!
DEAL GETS EVEN BETTER!
BTW, Disney is now offering a $10 rebate if you own the original CARS DVD & are buying or have bought the CARS Blu-Ray disc. You can download the PDF at the Disney Blu Ray DVD site so you can do the math if it's better to buy the BR disc minus $10 (presuming you have the regaular CARS DVD) and mail it in the next few days or …
EBAY?
The Blu Ray CAR has shipped and as of this week – selling for around $40 with shipping … though pricing may be skewed as it might be a gift so people are willing to spend a few dollars more – in the next few days, we will be closer to actual pricing though the CAR might be a sellout in a few days or presumably before January 1 and then what will pricing patterns be?
PROBLEM?
A lot of people have run into problems with getting a confirmation number back after you submit your credit card info – instead they get a weird error code – but it seems what happens is your information got submitted okay but the return page from the website gets messed up. If that happened/happens to you, email them from the EMAIL address you gave and you should get a response that your order was accepted.
If you don't a reposnse in a few days, then try their customer service number is: 1-866-246-8646 Monday through Friday, 9:30 a.m. to 6:30 p.m. Central Time.
And yea, open to US and non-Quebec Canadians ONLY – sorry everyone else …
Shipping time should be fast as fufillment is ongoing.
You can check your status of your order by going here.
Here is a photo of the actual CAR in its beautiful plastic baggie … and yes, it seems to be more purople than blue …
Here's the offer on the sleeve of the Blu-Ray DVD
ALSO – Don't panic or think if the DVD has no sticker on the front in regards to the Blu CAR promotion – IT'S ALL FINE! Every Disney DVD comes with a Disney Reward code inside. As noted, the memberships points and the CAR are separate issues so after you enter the number, it's smart to realize you just purchased a DVD that qualifies you for the CAR offer … for instance, I purchased the Ratatouille DVD which has a separate number and after keying that in, I get the Ratatouille offer which are Disney pins to buy or an entry into their sweepstakes. Buy the Blu-Ray CAR DVD, get the Blu CAR offer AUTOMATICALLY whether there is a sticker on the front of the DVD or not.
And of course, the Blu CAR is ONLY offered with the Blu-Ray DVD purchase and NOT with the regular DVD (that came out last November).
So, okay, go! Good luck! Promotion ENDS on January 30, 2008 so HURRY!
As of today (January 20), people are still reporting no problems in coding in and getting a conformation but you only have a little over a week so hurry!
* In case you're wondering what is Blu-Ray or how does it compare to HD DVD or regular DVD, here's our take on the matter.
Full Sized Screenshots at out FLICKR page.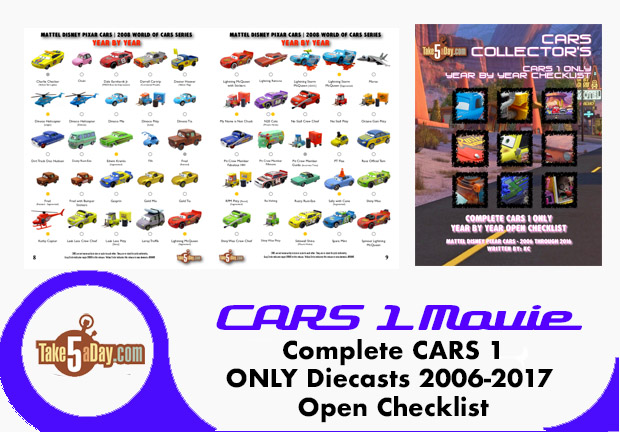 metroxing

10 November 2007

Advertising, Film, Gadgets, Marketing, Mattel Disney Pixar CARS, Retail, Toys, TV


31 Comments