Home
»
Advertising
,
Checklist
,
collecting
,
Marketing
,
Mattel Disney Pixar CARS
,
Retail
,
Toys
,
TV
Mattel Disney Pixar CARS: Launcher Release Schedule (Fall 2008 Update)
While it was easy to be initially dismissive of the Pit Row Race Off (launchers) upon first release, in actuality once you opened it – it was quite nice.  Sturdy and works well. You can clip them together to form one race line.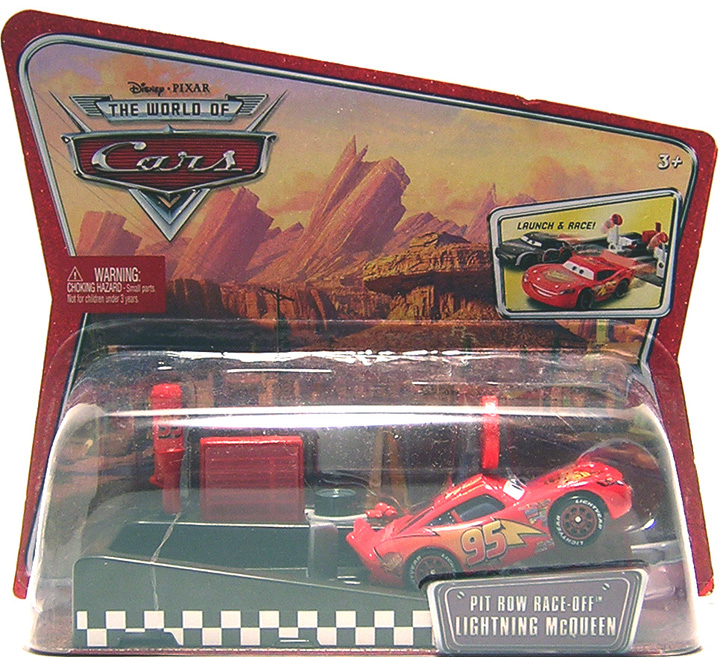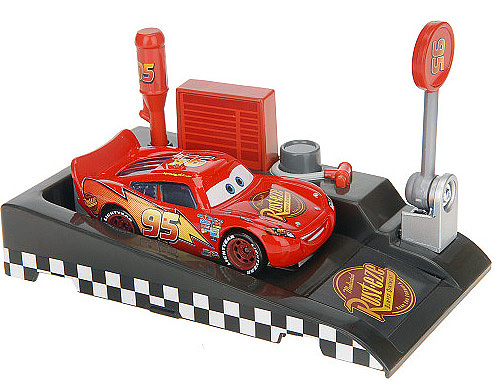 As pictured here, you get a CAR and its Pir Row setup including matching color schemes and sponsor logo …
The first release wave was 6 of the PIston Cup racers including: McQueen, King, Chick Hicks, Leak Less & Nitroade – technically, Octane Gain was part of the first six but did not really ship until months later: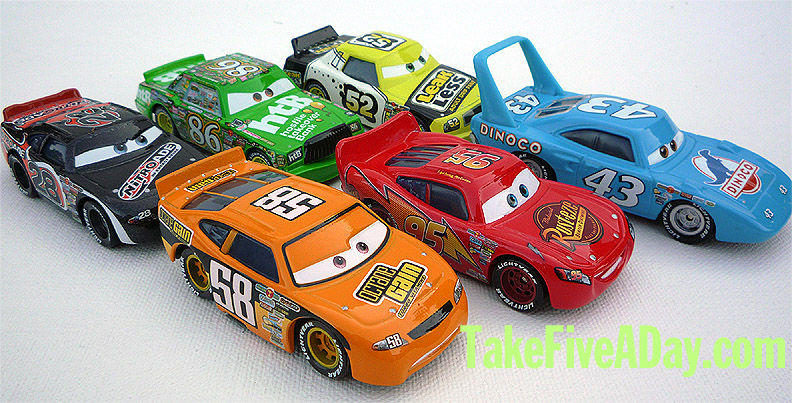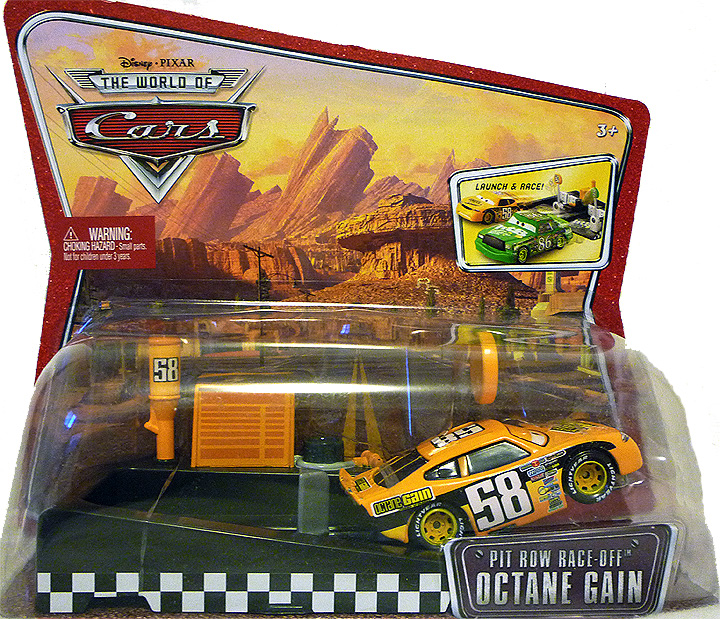 Then there was quite a break until the appearance of the blue WM "cube," (pallet drop) which featured three Piston Cup racers available as a launcher: Trunk Fresh, RPM & No Stall – while only Trunk Fresh was truely new, it was still nice to get a "pit box" for RPM & No Stall also.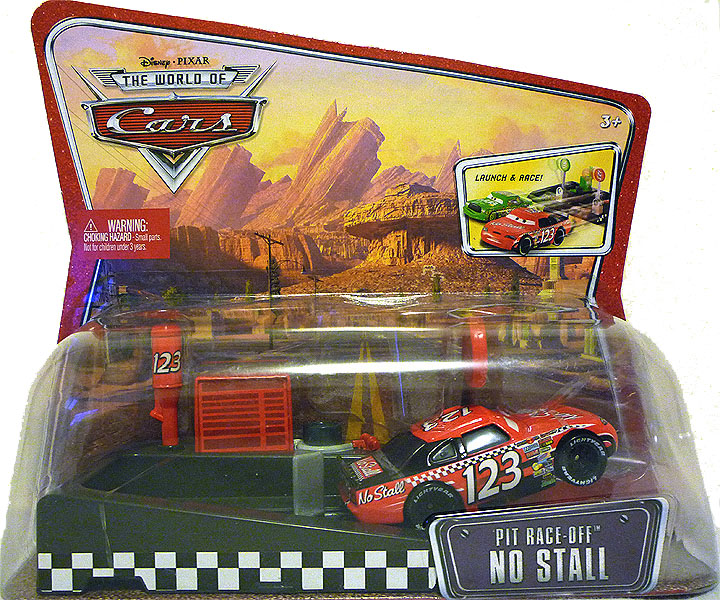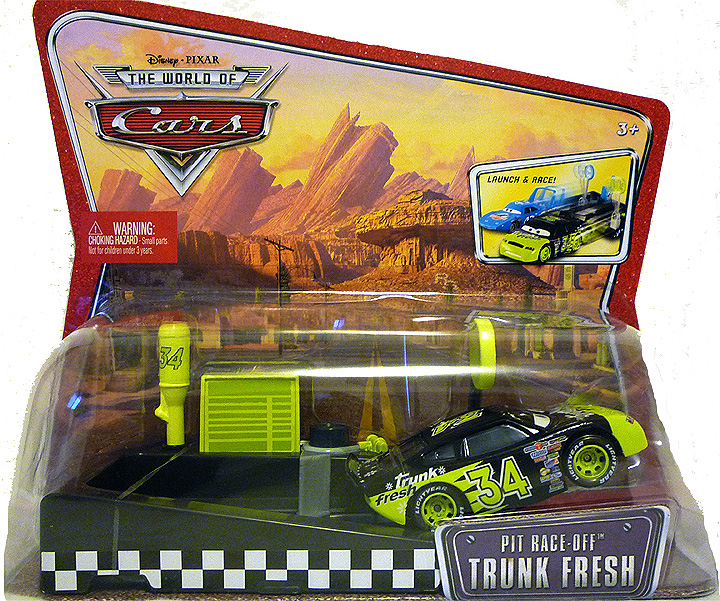 Currently, you can also find two launchers together at Target as a "Value 2-Pack."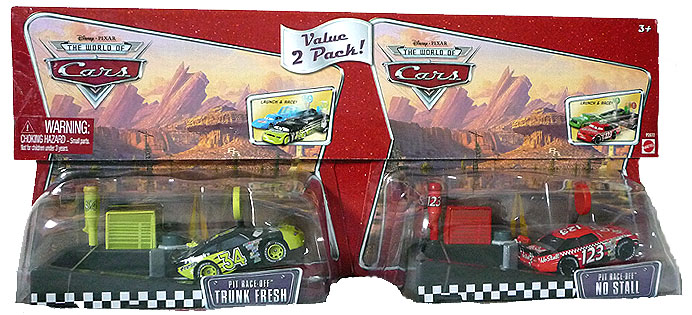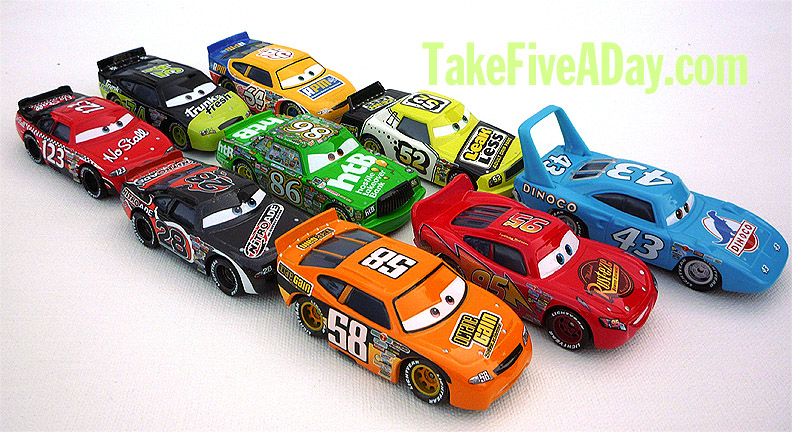 Here is the complete photo checklist of racers available as launchers.
What are the next two launchers on the schedule?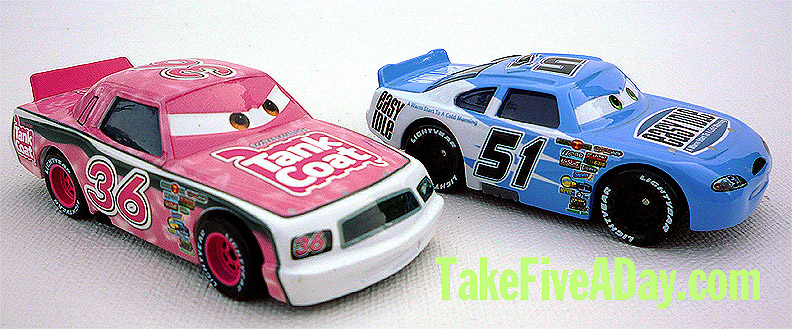 They were already listed on our Piston Cup-What's Next countdown post & chart. Of course, EASY IDLE & TANK COAT.
Well, we have more good news – especially for the the very vocal MOOD SPRINGS fans, yep – you can add him to the list of Piston Cup racers coming as launchers … in fact, another 6 are listed – no specific release date but presumably all in the next 3 to 5 months.

Fiber Fuel, Mood Springs, Retread, Shifty Drug & Vitoline. (Shiny Wax will also be released as a launcher but the Gift 3-pack version should be out first).
So, for those keeping track at home, in 6 months, we should have about 26 of the 36 racers available including these three scheduled but almost certainly NOT launchers …

And of course, these already available separately and or coming in other formats –
just not as launchers (for now) …
A full recap of the Piston Cup racers out and scheduled is in this post.
The trailer/haulers that accompany each racer – preview here! Release schedule & chart on completing your Pit Row setup.
Piston Cup racers coming in the Gift 3-packs are listed here.


metroxing

17 August 2008

Advertising, Checklist, collecting, Marketing, Mattel Disney Pixar CARS, Retail, Toys, TV


12 Comments