Home
»
Advertising
,
collecting
,
Film
,
Marketing
,
Mattel Disney Pixar CARS
,
Retail
,
Toys
,
TV
Mattel Disney Pixar CARS: Shopping for "Stickers McQueen"
Sometimes it's easy …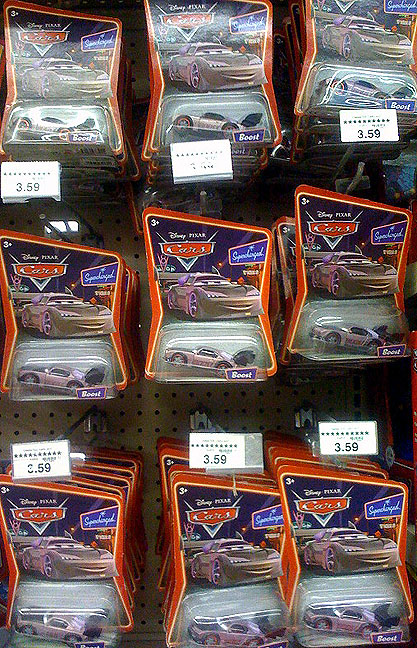 … To tell if you are NOT about to find "Stickers McQueen" …
Or really any other CAR released since Supercharged Boost. Okay, there are a couple Green Ramones but if you look real closely, they're not just Boosts hanging on the front of the peg but each peg is about 6 deep with Boosts … so if you were planning on stopping by the Dublin, CA TRU … uh, don't bother unless you plan on filling a case with 18 Boost's before your collecting neighbor gets home as you signed for his R case … gather round kids, see why some humor is inappropriate and how to dodge an R case filled with Boosts coming at your head …
In case you're wondering what the fuss is about …
In case you are looking at the pegs and wondering if CASE R has come and gone, the most obvious clues are probably Hamm (first appearance on WOC cards) and Cactus McQueen (several releases already in other cards and forms but first on WOC cards) – the most likely two on the pegs that most buyers will skip over … so good luck in the stores this weekend and remember "Stickers McQueen" has a white base!
And in case you missed it – the CHASE post has been updated, three additional CARS have been added to the Chase listing.
And get ready for CASE T, the next "Chase" box with "Stickers" Fred – coming in 3 weeks or so. No word yet on what's after T – keep reading! 🙂

metroxing

16 August 2008

Advertising, collecting, Film, Marketing, Mattel Disney Pixar CARS, Retail, Toys, TV


178 Comments